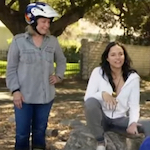 In this age of streaming and crowdfunding and what not there has been a new wave of documentaries about movie topics I'm interested in. The history of Cannon Films, of martial arts cinema, of '80s horror, etc. Some are great and comprehensive, some take on too broad of a topic and can't really get very far, some are just amusing surface level "remember that?" tours through basic things you likely already know if you watched the movie on purpose. So I try not to expect much more than a cursory talking-heads-and-clip-montages glance at a compelling subject.
STUNTWOMEN: THE UNTOLD HOLLYWOOD STORY – which Shout! Studios is releasing to digital platforms tomorrow, September 22nd – gave me much more. Credited as an adaptation of the book of the same title by Mollie Gregory and directed by April Wright (GOING ATTRACTIONS: THE DEFINITIVE STORY OF THE AMERICAN DRIVE-IN MOVIE), it has interesting things to say about the history of women in cinematic stunts, addresses industry issues that hadn't all occurred to me before, and most of all gives a glimpse into the lives and work of some really fascinating, amazing women.
It also finds subtle ways to spruce up the very act of interviewing. I was thrilled to see it cold open with my favorite underrated action star Amy Johnston (LADY BLOODFIGHT) training by jogging in the street at 4 am, but it doesn't turn out to go into much detail about her career. Instead, she and fellow stuntwoman Alyma Dorsey (MERCENARIES), sometimes with narrator Michelle Rodriguez, act sort of as hosts or tour guides, as they're set up to meet stuntwomen from previous eras. So most of the time people aren't talking right to the camera – it's much more natural and conversational. Johnston visits Jeannie Epper (Wonder Woman) at home, Dorsey visits Pam Grier's double Jadie David, and you see the younger women listening, laughing, being amazed how things have changed, or nodding in recognition of things that haven't. Johnston seems awed that Epper had to fall feet-first out of windows and keep her legs straight so they could reverse it to create a super jump into the window.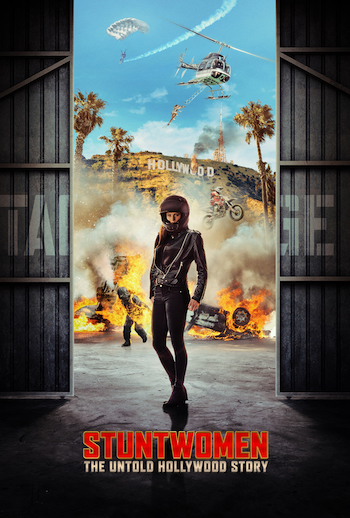 They also talk to more of the current and upcoming crops of stuntwomen, including sisters Heidi and Renae Moneymaker, who talk about fighting each other as Michelle Rodriguez and Ronda Rousey in FURIOUS SEVEN. There are interviews where people talk in between pull-ups, or jumping on trampolines, or where people are doing flips in the background. I forget which veteran mentioned becoming aware of stunts because of HOOPER, but Melissa Stubbs explains that she "wanted to be a high fall specialist" so she "bought a retired air bag from the Colorado Fire Department…" Imagine knowing someone with that kind of initiative!
They tell detailed stories about specific stunts, some of them absolutely harrowing. Sometimes they went wrong (like one in ROLLERCOASTER that injured David's back), and there's a heartbreaking section about the guilt some of them carry from productions that people died on. But maybe the very best thing in the movie is Donna Keegan trying to describe what went through her mind when she jumped from the sunroof of a moving limo to hang from a helicopter as the limo drove off a destroyed bridge and exploded in TRUE LIES. That was real! I realize I didn't truly appreciate how astonishing that stunt is until thinking about it from the perspective of the person doing it.
They talk about things specific to women in the job, like their costumes not allowing as much padding, and issues of unfairness – the practice of "wigging a guy" even when there are women available to do it, or letting a woman do every stunt except the money shot that pays the most, giving questionable reasons why it's "too dangerous." They all seem to have great reverence for Julie Ann Johnson (PLAY MISTY FOR ME), both for her work and for speaking out against dangerous practices on Charlie's Angels, which got her blacklisted for years. One topic they bring up that I never thought about is the difficulty of being cast for utility stunts – like, say, the extras getting run over and shot in a terrorist attack. Apparently many stunt coordinators lean toward all-male crowds, making it harder for the women to get jobs.
Early in the movie they talk to a couple non-stunt-industry men, which had me a little nervous. Film scholar Ben Mankewicz is chosen to explain some important history from the silent film era, when women pioneered and dominated stuntwork. I thought okay, this is interesting, but can't we have Rodriguez narrate this instead of making her and actual stuntwomen Johnston and Dorsey listen to a man talk about it? But I ended up feeling it was a clever reversal to have a man come in to talk worshipfully about this job women do and then show all the women in the movie go out and actually do it.
Because along with the stories of the past, they come up with ways to have action in the present. Dorsey doesn't want her skills to get rusty, so she goes to practice high falls and precision driving that she hasn't done in a while. After Johnston hears a ton of great stories from Trinity's motorcycle double Debbie Evans and her sister Donna (sitting in a backyard garage area with a bunch of vehicles) we learn that Debbie is Michelle Rodriguez's driving double in the FAST AND FURIOUS movies, and then Rodriguez shows up for some rare actress/double hang out time. Rodriguez laughs as Evans drives a motorcycle over a car right next to her, then in the passenger seat during a roaring car chase with Evans' son. I assumed these roads were on some kind of closed off compound, but then Rodriguez says, "I love that your neighbors are cool!"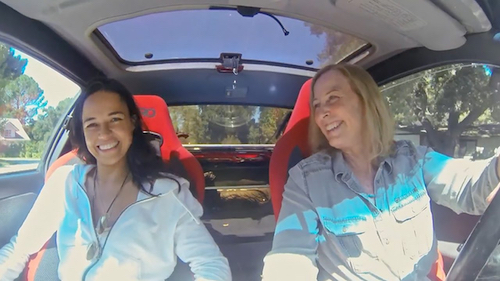 So this is a high-achieving behind-the-scenes movie documentary. It shares a history, it makes some points, it brings you on a ride (sometimes literally), and avoids the most common sin of getting repetitive. I was surprised that it even gets really emotional, not just in the parts about tragedy, but a scene where Epper tears up about aging out of the industry and Johnston holds her hand and gives her a pep talk. By accident, they find yet another interesting side of the subject: these women can be extraordinarily hard and fearless without being emotionally closed off.
Epper is also one of the stars of the other great documentary about stuntwomen, DOUBLE DARE (2004), and it's impressive how little the two overlap. Since that movie exists they don't need to cover Zöe Bell, though Johnston talks about her admiration for her and how excited she was to fight her in RAZE. Maybe some day down the line we'll get one with someone talking about looking up to her.
Thanks to Fred Topel for hooking me up with Shout Factory to review this.
APPENDIX:
Selected movies I've reviewed that a few of these women did stunts in:
Amy Johnston:
IRON MAN THREE
CAPTAIN AMERICA: THE WINTER SOLDIER (double for Scarlett Johansson)
DEADPOOL
SUICIDE SQUAD
SPIDER-MAN: FAR FROM HOME
TERMINATOR: DARK FATE
Acts in: RAZE, LADY BLOODFIGHT, FEMALE FIGHT SQUAD, ACCIDENT MAN
Alyma Dorsey:
LEE DANIELS' THE BUTLER
THE PURGE: ANARCHY
THE HATEFUL EIGHT (double for Belinda Owino)
CAPTAIN AMERICA: CIVIL WAR
GHOSTBUSTERS (double for Leslie Jones)
PEPPERMINT
DESTROYER
JOKER
DOLEMITE IS MY NAME
21 BRIDGES
BIRDS OF PREY
Appears in: MERCENARIES
Heidi Moneymaker:
CONSTANTINE
xXx: STATE OF THE UNION
WAR OF THE WORLDS
SERENITY
MISSION: IMPOSSIBLE 3 (double for Keri Russell)
NEXT
RAMBO (double for Julie Benz)
STREET FIGHTER: THE LEGEND OF CHUN-LI (double for Moon Bloodgood)
FAST & FURIOUS (double for Michelle Rodriguez)
SUCKER PUNCH (double for Emily Browning)
JOHN WICK: CHAPTER 2 (double for Ruby Rose)
AVENGERS: ENDGAME (double for Scarlett Johansson)
Played "Athena" in WOLF WARRIOR 2
Renae Moneymaker:
SCREAM 4
YOU'RE NEXT (double for Amy Seimetz and Sharni Vinson)
THE HUNGER GAMES (double for Jennifer Lawrence)
X-MEN DAYS OF FUTURE PAST (fight coordinator and double for Jennifer Lawrence)
CAPTAIN MARVEL (double for Brie Larson)
Melissa R. Stubbs:
SNAKE EATER III… HIS LAW
TIMECOP (double for Mia Sara)
RED SCORPION 2
RUMBLE IN THE BRONX
ASSASSINS
BATMAN & ROBIN (double for Alicia Silverstone)
NICK FURY: AGENT OF SHIELD
THE 13TH WARRIOR
stunt coordinator: BALLISTIC: ECKS VS. SEVER, X2: X-MEN UNITED, X-MEN: THE LAST STAND, MY BLOODY VALENTINE, HUNT TO KILL, THE ASSIGNMENT, TULLY
Donna Keegan:
SCARFACE
INDIANA JONES AND THE TEMPLE OF DOOM
TO LIVE AND DIE IN L.A.
TOP GUN
PHANTASM III
THE MASK
stunt coordinator: HALLOWEEN H20: 20 YEARS LATER, HALLOWEEN: RESURRECTION
Debbie Evans:
STREETS OF FIRE
NEVER TOO YOUNG TO DIE (double for Vanity)
THE WITCHES OF EASTWICK (double for Michelle Pfeiffer)
DEATH WISH 4: THE CRACKDOWN
TERMINATOR 2: JUDGMENT DAY (double for Linda Hamilton)
BARB WIRE (double for Pamela Anderson)
MISSION: IMPOSSIBLE 2 (driving double for Thandie Newton)
THE PUNISHER (double for Samantha Mathis)
WANTED (stunt driving double for Angelina Jolie)
MONSTER TRUCKS (stunt driver)
Jadie David:
THE LEGEND OF CHARLEY
FRIDAY FOSTER
HOOPER
PENITENTIARY II
WHITE DOG
SUDDEN IMPACT
ESCAPE FROM L.A.
SET IT OFF
Jeannie Epper:
EATEN ALIVE
1941
THE NINTH CONFIGURATION
THE BEASTMASTER
THE ROOKIE
INNOCENT BLOOD
DEMOLITION MAN
MONEY TRAIN
SOLDIER
WILD WILD WEST
MYSTERY MEN
RUSH HOUR 2
FLIGHT
This entry was posted on Monday, September 21st, 2020 at 11:03 am and is filed under
Documentary
,
Reviews
. You can follow any responses to this entry through the
RSS 2.0
feed. You can skip to the end and leave a response. Pinging is currently not allowed.