Outlaw Music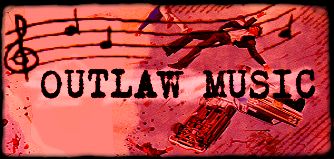 Well sometimes there comes a time in a man's life or in a Writer's career when he really has no choice, he must move on to explore the other Arts besides the films of Cinema. The Universe is pointing him in that direction and he does what he has to do. That is why I have decided to begin my studies in the medium of Music.
It is a great challenge to put into words the feelings a good chunk of music puts into a man's (or woman's) heart and soul. However I am not about to pussy out on this one in my opinion and that is why I have decided to challenge myself with the task of studying and discussing one of the most legendary and influential bodies of music in the world, the catalog of Motown records out of Motor City, Detroit Michigan home of the american automobile and the geographic heart of soul music.
Motown is the label that brought us the Jackson 5 and Stevie Wonder for one, and on my budget it would probaly be impossible to review their entire output at this point. However this is an important mission, and I am willing to put it on the line and say that over the course of the next few years I will attempt do just that, right here in Outlaw Music. I hope that my growing success as a film Writer will help me to fund this project, until then I will use the generosity of friends and the public library who share their love of the music with each and every one of us motherfuckers.
Piece by piece I hope my Motown essays will begin to paint a picture of how this one company has changed the landscape of music forever. Our journey will encompass many artists, many lives, many stories. We will visit giants like Marvin Gaye, Diana Ross, The Temptations, Smokey Robinson & the Miracles, The Four Tops as well as people like Rick James, The Dazz Band, Jr. Walker, Brenda Holloway, Teena Marie, Rare Earth, even The Jazz Crusaders. We will see how these two prodigies Stevie and Michael could begin as child star novelties and still grow into, respectively, our greatest songwriter and our greatest performer. This will be an epic journey through american music and culture and what not.
To start things off on an interesting note I have decided to begin with a less obvious choice, an important but fairly obscure record from an otherwise slow period in Motown's history, the year 1987.
Although this album features backup vocals by The Temptations and Siedah Garrett, and an appearance by Booker T. Jones on the Hammond organ, it is primarily performed by lesser known Motown studio musicians who take the opportunity to shine, giving a contemporized spin to many soul standards as well as a few originals. The album is mostly forgotten outside the halls of academia and the homes of motown historians, BUT it has proven to be a VERY fucking influential work which stretches its reach even outside of the soul and rhythm and blues camps and as far as the genre of contemporary country.
This album in my opinion laid the groundwork for Garth Brooks's top selling 1999 concept album In the Life of Chris Gaines in which Garth presented the "greatest hits" of a fictional goofball rockstar Chris Gaines which apparently the dude plans to make into a movie for whatever reason. This Motown album we are dealing with here today introduced the same concept more than a decade earlier. The songs represent different musical eras from throughout a character's fictional career, a career chronicled in the liner notes and in a little seen film. The name of the album is of course The Return of Bruno by Bruce Willis (MOTC-6222).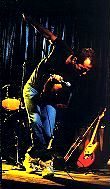 Many would argue that Bruno was fighting to jump out of Bruce long before this album. On Moonlighting he charmed the hearts of women and children with his impromptu renditioning of the old songs such as doo wah diddy etc. And also on the television he and his band did a famous advertisement singing the song "Seagram's Golden Wine Cooler." The inside of the cover explains that Bruno first performed in 1967 with a band called "The Bad Boys". Then blah blah blah it tells how he recorded these great albums but the masters were lost, he was ahead of his time, invented all different styles of music, and idolizes Steve McQueen and everybody wants to jam with him blah blah blah. At least he doesn't take it as seriously as garth brooks.
I believe the only song on the album that received any airplay was "Under the Boardwalk," however you will recognize some of the other songs anyway – "Respect Yourself," "Secret Agent Man" etc. He sings about "it's fun time" and "down in hollywood" and "I'm a youngblood", "i wanna lose myself in love tonight" and etc. His voice is kind of halfway between singing and the recognizable bruce willis voice. I mean you will not forget that this is Bruce.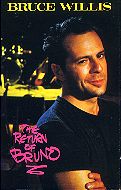 I gotta be honest though bud this album is pretty much unlistenable garbage. BUT i feel it is historically important for many reasons. Bruce was doing embarassing singing projects before all the other action stars – steven seagal, Jackie Chan, michael knight, Hulk Hogan all followed in his footsteps. As a known TV comedian Bruce also broke the barrier for comedians who can't stop themselves from doing karaoke such as Michael Meyers, Adam Sandler, Jamie Foxx and I believe Eddie Murphie. Okay yeah you could say that the Blue Brothers was white comedians doing Detroit rhythm and blues karaoke a decade earlier than bruce and even somehow against all odds turned into a classic movie. but so the fuck what man what your trying to say i don't have a legitimate point about Bruce being ahead of his time? cool it bud, jesus.
More importantly this album cleansed bruce of his "bruno" rock star ambitions just in time for him to leave that garbage behind and star in 1988's little seen action piece "Die hard" and change the action world of Cinema FOREVER. In fact it is even possible that bruce was so embarassed by this garbagey album that he made the leap into action films to keep him from looking like a pansy. Well we'll never know. Anyway the album did the trick, Bruce never brought "Bruno" back again until a cartoon in the mid 90s and by then he had changed the idea so much that bruno was no longer even a singer, he was a little kid who is a spy and flies around in a rocket. Before then Bruce was able to leave the prancing around behind and focus on his true work in Cinema, although he had a few lapses into baby movies and then did armageddon. Still in my opinion he is one of the more important comedian artists in Motown history.
---
other outlaw music reviews:
THE STEVEN SEAGAL BLUES BAND, live at the Tractor Tavern, Seattle, May 27th, 2006
Hey bud stay tuned for more Outlaw Music