SUCKER PUNCH is such an extreme movie stylistically that I feel like I oughta have an extreme reaction to it. Something along the lines of either I want to set up a bunch of traps to torture this movie while I preach to it through a series of self-aggrandizing recordings and puppet displays or I am currently giving this movie an erotic massage and we'll see where it goes next but spoiler alert it's not gonna be Biblically approved. Unfortunately I am too much of a centrist. Actually I feel kinda similar about all of Zack Snyder's movies so far: it doesn't entirely work, but it's kind of awesome, I enjoyed it. I guess he's consistently inconsistent.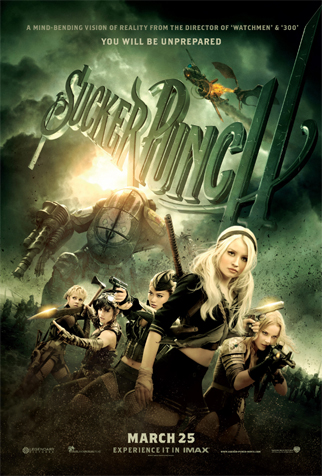 Let's start with the "awesome" part: this is just a pure, unadulterated, I-have-complete-confidence-in-what-I-want-to-do-so-give-me-millions-of-dollars-and-go-away type of vision. You could also say that about a few of the worst big budget movies of all time (specifically BATMAN AND ROBIN and TRANSFORMERS 2: REVENGE OF THE TRANSFORMERS FROM PART 1) but Snyder has a gift for filmatic language and visual storytelling, he takes his characters and stories seriously instead of lamely making fun of them every two seconds, and he seems very sincere about what he's trying to say. His movies have an implied "Hello friend, are you on the same wavelength as me?" instead of the ol' "Here you go assholes, you like this type of shit don't you? Then pay up, asswipe."
In fact I'm not sure how Snyder got so lucky. DAWN OF THE DEAD was a hit, 300 was huge, but then he got to do three uncompromised dream project movies in a row (WATCHMEN, OWLS OF G'AHOOLE, this). The first two didn't do too hot and even if this one bites the dust he could still conceivably recover because he's doing that Superman movie. We'll see. For now I'll enjoy watching what the guy does with the credit card before it's reported stolen.
Zack Snyder Movie #5 is so highly stylized it looks less real than #4, which was animated. It's about a girl named Baby Doll trying to lead other girls with names like Rocket and Sweet Pea in a plan to escape an asylum/brothel. It takes place in a fantasy world within a fantasy world within a play within a movie, give or take a couple levels of reality. It seems most influenced by Alice in Wonderland, MOULIN ROUGE, anime, BRAZIL, RETURN TO OZ, GIRL INTERRUPTED, samurai movies, war movies, video games and rock operas like THE WALL. It almost plays as a musical, with its four huge set pieces modeled around songs and an opening sequence (maybe others, I forget) that plays out entirely as a music video.
(proposal for new rule: nobody is allowed to complain about music videos in movies if they also complain about MTV not showing music videos)
This avalanche of stylistic conceits is gonna be way too much for some people, but what can I say? I got a sweet tooth. I can take it.
And I think Snyder is completely sincere. After his first two movies I was convinced he was a real talented filmatist but wondered if he had a brain in his head. I thought maybe all he could do was fluff (or marshmallow creme if you prefer), because he had done two movies in a row that seemed inherently political but with him clearly not meaning any of it. Now I'm thinking he's maybe not a supergenius, but at least a thoughtful guy. I think as shiny and sculpted of plastic as these characters are he really cares about them and hates the torment that his world puts them through. I think he does have some things to say in this movie, they're not the deepest or most original ideas in the world, but he means them. Because he also layers the movie in 22 layers of frosting I think lots of people will mistake it for having no substance at all, but that's their problem, not his.
The most elaborate parts of the movie are the action sequences, which involve swords, guns, jetpacks, biplanes, dragons, orcs, robots, explosions, samurais, speeding trains, giant robots, etc. I don't like the frame-skipping he does on some of it, and his visuals are starting to get so detailed they're more chaotic than before, but he still knows how to put together an action sequence. He loves a clear, powerful hit and (especially in this movie) an awesome pose. Baby does more super heroic landing poses than Spider-man.
300 used its storytelling framing as an excuse to exaggerate, and these sequences use "it's a fantasy" as an excuse to combine all time periods and mythologies into one big pasta primavera of things Harry uses dick metaphors to describe. But I think there's still a logic to the story as a whole. I like the simple, repetitive structure of it. She has a list of 4 items she has to get in order to escape. In the closer-to-real-world of the asylum she and her friends have to sneak around to obtain those items. For each item one of the girls takes the lead while Baby dances to distract the men in the building. While she dances she escapes to the fantasy world, where the girls go on a parallel mission for a similar item (for example crystals cut from the chest of a baby dragon instead of a Zippo lighter with a dragon engraved on it). Each of these mission scenes is based around a modernized cover of a classic song, performed this time by a woman, representing the song that Baby is dancing to.
Although their overall feeling is glossy and cool, all of Snyder's movies take place in horrible worlds: a world where the dead walk (well, actually run) the earth, a world where everyone is raised from birth to fight wars unless they're ugly and then they're thrown off a cliff, a world where if a baby owl falls out of a tree he'll get owlnapped, zombified and forced to work in a mine digging through droppings for specks of magic metal. In Snyderworld even a fuckin bird can't escape combat! They gotta wear helmets!
SUCKER PUNCH is no exception, it's a world of extreme male domination. Even inmates in a mental hospital have to look like Bratz dolls, because they're also burlesque performers. The villains are a disgusting, abusive stepfather, a disgusting, rape-enjoying overweight cook and a cruel, pencil-mustached pimp and/or asylum doctor willing to lobotomize a patient for a $2,000 bribe, then fondle her. The heroine, Baby Doll, has two outstanding skills: finding and brandishing a weapon when a girl she cares about is being attacked, and dancing so sexy it hypnotizes men.
I think Snyder's dedication to girl power is exactly equal to his dedication to owl power, and his portrait of the female in SUCKER PUNCH to his portrait of the male in 300. Still, alot of people are making a big deal about the gender politics of the movie, writing about "is it exploitation or empowerment?" as if those are the only two choices. I think the fact that Snyder never shows Baby Doll dance signals that he really is on the girl's side. Yeah, it's still girls running around with stockings and school girl uniforms firing guns, it's a nerd fetish movie. And like I always say there's a huge difference between Ripley in ALIENS and the any-hot-girl-with-a-gun characters that have followed in her wake. But can't a man root for a bunch of girls with no pants on to chop up a train full of killer robots without ogling their butts? Honestly guys, I don't really got a thing for girls that young anymore, I don't feel like a male gazer in their presence, and the gay guys in the row in front of me seemed to do all right.
I don't know. I'll leave it to the gender studies classes to straighten out. But I kind of see a parallel with the original I SPIT ON YOUR GRAVE. Whatever you think about its empowerment of women or titillation of creepos I think the director was sincerely going for the first one. In its own PG-13 way the SUCKER PUNCH men are as hatable and unglamorous as those redneck rapists. The only one that's not a bastard is the imaginary one. If you're not watching this movie through the girls' eyes you're watching it wrong.
Let's get to the "doesn't entirely work" part. It's mostly the old problem of not sticking the landing. The crossing-off-the-list-of-items is supposed to lead to a fifth unknown item, that item does not turn out to be as surprising or satisfying as you'd hope. The movie plays a trick that was set up from the beginning but I'm not sure I like the trick, and after reading a couple reviews I wonder if I even understand what it was supposed to mean. Both the beginning and ending have some pretty laughably corny (but sincere, I still think) narration that I wish I could get behind more. And I'm not sure why (SPOILER) this girl doesn't get to have a straight up triumphant victory. Doesn't she deserve one? I think it might be a case of confusing fucked-up with grown-up. But honestly I'm not clear enough on the intent of the ending to be sure.
The action taking place in the world of imagination is not as big of a problem as you might think, but it does hold it back a little. In those scenes Baby is a super hero, it doesn't seem like she can be hurt. In fact, by the logic of the movie I think she can. If she got her head bit off by the dragon it would mean she got stabbed by the pimp in the hospital, or something like that. But for me anyway I didn't feel danger or gravity in those scenes the way I did back in the hospital. So they have a visual kick that hasn't really been done like that in movies before but it's missing some of the kick of the great action sequences, or at least the ones I like best – the feeling that they just got away by the skin of their teeth, or at least oh shit that guy's nuts are really hurting after what Seagal just did to them.
The other thing is more a matter of taste than an actual criticism. This type of music they got in the movie is not for me, and the music is way more prevalent than in most movies. The gal I saw it with (simmer down fellas, it's totally innocent) wasn't bothered by the gender politics at all, but was really offended that they would cover some of these songs. That wasn't an issue for me, I just don't care for that particular style of warbling too much. Could be worse though if it was Baha Men or Billy Ray Cyrus.
Anyway since some of the music is a little grating to me (didn't Nevildine/Taylor kill all covers of "Sweet Dreams" when they played the Marilyn Manson version twice in GAMER?) So at times I felt like I could respect it more than enjoy it. Kind of like when I saw that movie EVITA. It was like "Ooooh, that's beautiful. Man, I hate this shit. Wow, gorgeous. Should I just leave?" Or I was the same with SWEENEY TODD. Pretty well executed, but not my glass of Pepsi.
So it's an ambitious movie, I'm not sure it gets a full grip on what it's reaching for, and some of it isn't really my bag. But it's trying, it's doing its own thing, it's pure, and it has young girls running around with machine guns and swords and a giant robot massacring a platoon of clockwork zombie Germans. Why? If you you have to ask, this is not the movie for you. This is the movie for people who would say "cute girls running around with machine guns and swords and a giant robot massacring a platoon of clockwork zombie Germans? I'm intrigued." I'm not saying that's all a movie needs, but I do consider it a plus.
I didn't feel like the Cinerama crowd of 98% dudes and 42% goatees was really with this movie. But I got a hunch if it was all 12-14 year old girls they would've loved it. They just don't know that's a movie they want to see. It's all about alienation and being locked up and bossed around and girls in-fighting but then learning to work together and have each other's backs but dude the world is fucked up. I think it speaks to the sullen teenage girl. It's operatic and blown out of proportion and wearing too much makeup, and it's trying desperately to express itself. Poor little thing.
For those of you who hated the movie I offer this question: what if it had been made starring the Spice Girls? Of course Baby Spice would play Baby Doll, she even has the blonde ponytails. Like in the actual movie each of the ladies would take the lead for one fantasy mission, the only real change being that their Spice Power or whatever would be worked into the scene. For example, Sporty Spice would have to dribble a soccer ball through a WWI battlefield, and Scary Spice would turn into a werewolf to fight vikings. And obviously it would be the same cover songs except performed by the Spice Girls.
I think with that simple change SUCKER PUNCH would've 100% for sure been an all time classic cult movie for the ages. As it is at least it's pretty cool.
This entry was posted on Saturday, March 26th, 2011 at 11:53 pm and is filed under
Action
,
Fantasy/Swords
,
Reviews
. You can follow any responses to this entry through the
RSS 2.0
feed. You can skip to the end and leave a response. Pinging is currently not allowed.