This year's ActionFest featured a tribute to the legendary stuntman Buddy Joe Hooker, and as part of the celebration they showed this light-hearted dramedy about Burt Reynolds as a stuntman who starts to see he might be getting too old for this shit. Hooker did some of the stunts for both the Hooper character and his younger rival/partner "Ski" Shidski (Jan Michael Vincent).
In time Hooker would become legendary for stunts in movies including FIRST BLOOD, SCARFACE, ROAD HOUSE… He's been a constant through multiple eras of action. In the '70s he was stunt coordinating for Burt Reynolds and Wonder Woman, in the '90s he did Seagal (HARD TO KILL), Dolph (PENTATHLON), Lambert (THE HUNTED). He had a major hand in the best car chases of the '80s (TO LIVE AND DIE IN L.A.) and the 2000s (he drove as Stuntman Mike in DEATH PROOF). Shit, I think he even did Brad Pitt getting hit by that car in MEET JOE BLACK.
But in 1978 when HOOPER was made Hooker was more of a solid professional than a legendary veteran, having been in the game for about a decade. He'd done stunts in OMEGA MAN, WHITE LIGHTNING, THREE THE HARD WAY, WHITE LINE FEVER, he even rode a motorcycle in GAME OF DEATH. But he was still early in his career, so if anybody's based on him in this movie it's not Hooper, it's Ski, the young hotshot who idolizes Hooper but his youth and modern ways obviously make Hooper nervous and competitive. (If you've seen CRAZY HEART, Ski is Colin Farrell and Hooper is Jeff Bridges. He wants to hate this young buck who's threatening his dominance, but it's hard because the kid is too damn nice.)
I gotta assume Hooper's kind of autobiographical for director Hal Needham, who was a major stuntman on western TV shows in the '60s, doubled for Reynolds in the '70s and then became a big time director when Reynolds agreed to star in his screenplay SMOKEY AND THE BANDIT. It's kind of cool to see a movie about a topic like this and know that it's actually very personal for the director.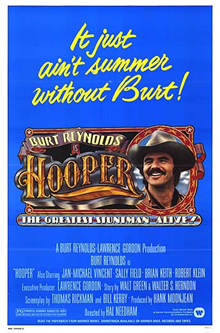 HOOPER begins with a stuntman version of the ol' Rambo style suit-up sequence: we see Hooper, neck down only, body covered in scars, taping himself up, pulling on protective padding, putting on his clothes, his leather jacket, his motorcycle helmet. Then he goes out on set and crashes a motorcycle into a car.
It's hard out here for a stuntman. His body's all beat up and worn out, so he takes shots and pain pills, which his girl (Academy Award winner Sally Field) is not happy about. The assistant director makes him do crazy shit (like hold an actual dog in a building fall) and then he has to take the blame for it. The director (Robert Klein) is an asshole. Everybody's always telling him how awesome this young guy Ski is, and the guy actually is awesome, so it makes Hooper jealous and he starts getting reckless trying to outdo him right at the time in his life when he should start to mellow out. And then if he wises up and tries to back out of a suicidal stunt he promised to do then he and his friends will get fired. Also his house is a fuckin mess.
On the other hand it's fun to be a stuntman. They go out drinking every night, they laugh all the time, they get in huge brawls with some dudes in town for a S.W.A.T. convention (who become their fight brothers because they're impressed by their moves), and Adam West (who Hooper is doubling in the James Bond ripoff THE SPY WHO LAUGHED AT DANGER) at least is nice to them.
There are a few references to the real life stunt world. You see "BUDDY JOE HOOKER" written on some masking tape attached to a drawer in the background of a shot, and later he's mentioned as one of the handful of people besides Hooper who could do a certain crazy car stunt. Ski is said to be a member of Stunts Unlimited (a company that Needham co-founded) and their logo is seen many times.
This is a stuntsploitation movie – it shows you the world of the stuntmen and uses it as an excuse to string together a series of great stunts. They don't even have to come up with a plot that would tie together all these stunts, you just have to assume that The Spy Who Laughed At Danger has a logical reason to jump off a building holding a dog, rappel down a building and shoot a bunch of guys, and jump a rocket car across a broken bridge.
But unlike most stuntsploitation movies there's no high concept to it. They're not stuntmen doing black ops like DEATH CHEATERS, or a fugitive hiding out on a movie set like THE STUNTMAN, they're just stuntmen doing stunts. So it's a simple and modest story that works as a love letter to the stunt business, or a plea for love from the stunt business. At the time it was just saying "hey, let's give some credit to these stunt guys, they're working hard behind the scenes," but now it has an extra bit of "remember, before computers, when people actually did this shit? Wasn't that better? Also check out these mustaches, that's what they looked like when they weren't ironic."
If you can enjoy your usual Burt Reynolds lovable-fuck-up type of character (and I can) this is another one for you. Vincent doesn't have a huge amount of screen time, but he's much more likable than he was in a similar role within the hitman world in THE MECHANIC.
HOOPER is nothin big, but it has a charm to it. These guys are tough, they have fun, they're loyal to each other, and they like to jump off of skyscrapers. And now it has an extra bonus charm because it's paying tribute to what now seems like kind of a lost art in the digital age. Of course it's not really – there are still plenty of stuntmen, it's just that they're more hidden than ever. Alot of the big money shots are either gonna be done with the computers or they're gonna computer the lead actor's face over the stuntman's. And then people are gonna assume that since you can do anything with computers these days that means nobody really flipped that car or got thrown face first through that plate glass window or whatever. But they're still working, even in the computerized movies. AVATAR has about 65 stunt people listed on the credits.
One problem these meta-infra-inside-x-ray Hollywood movies can have is that they talk up their fictional movies-within-movies and make them sound great, then when we see a piece of them it doesn't live up to the hype. HOOPER really seems to be painting itself into that type of a corner when they start planning the big dangerous stunt to end all big dangerous stunts: a two man rocket car jump across a cavern.
It's a stunt that Ski over-confidently suggests, and Hooper's ego forces him to volunteer for it. Later he thinks better of it, his girl is gonna leave him for it, his best friend is gonna lose his job over it, and begs him not to do it. It's gonna turn THE SPY WHO LAUGHED AT DANGER into an instant classic if they pull it off, or it's gonna kill the movie if they bite it. Meanwhile it causes a problem for HOOPER because we're pretty sure when they show the stunt it's not gonna be as death-defying as they say it is. Of course it turns out to be cool but clearly not the reckless endangerment the story has promised.
But they have a brilliant way to make that not matter. Inspired by the promise of the rocket car stunt the asshole director rewrites the entire climax of his movie to include the most ridiculous stunts he can imagine. Now Hooper (doubling Adam West) is in a car being chased when suddenly an earthquake happens. He keeps driving as buildings blow up and collapse all around him, then a bridge goes out and he uses the rocket jets to jump across.
Hooper supposedly does all of this in one take, one long tracking shot, which of course the movie itself doesn't duplicate. But it doesn't matter because they really deliver on all the crazy mayhem. Needham was able to purchase and destroy an abandoned military hospital in Alabama, so it's an incredible parade of fiery destruction and car stunts. My favorite is a shot of a huge smokestack collapsing and just as it's almost to the ground Hooper's car zooms through right underneath it, barely avoiding getting crushed.
It's also worth noting that when Hooper drops 232 feet without a parachute to break the world record the real stuntman (A.J. Bakunas) really was dropping 232 feet without a parachute to break the world record. And it probly wasn't a coincidence, in my opinion.
this one's not bad
This entry was posted on Thursday, April 14th, 2011 at 2:28 am and is filed under
Comedy/Laffs
,
Drama
,
Reviews
. You can follow any responses to this entry through the
RSS 2.0
feed. You can skip to the end and leave a response. Pinging is currently not allowed.