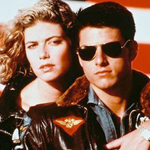 I'm pretty sure this is the first time I've watched the whole TOP GUN since the '80s. But I wasn't too surprised to watch it and see the primordial matter that eventually crawled out and grew into the works of Michael Bay. It's a mix of gorgeous sunsets, heat trails, fetishized military hardware, bosses played by grizzled character actors (Michael Ironside, Tom Skerritt, the principal guy from BACK TO THE FUTURE), sweaty foreheads, sunglasses, electric guitars, crisp uniforms, the glorification of glistening bodies (in this case mostly male, and good at volleyball), and profoundly unprofessional hot shot yahoos who are supposed to represent the best of the American best.
One difference: less spectacle. This is an impressively small story. For all its bluster this isn't RED DAWN positing a communist invasion of America. This is about a guy involved in two small international incidents, basically just encounters between jets from opposing armies (nationality unspecified, but you fuckin know it's Ivan Drago under that helmet). And though it has a reputation as a Navy recruiting film, since it famously worked as one, it's not politically propagandistic. There's nothing to make these "Bogies" evil. They're just part of a system, people doing their job. They see American fighters where they're not supposed to be, so they try to scare them off. The reverse of what happened in the opening.
What did surprise me was how much the antagonist Iceman (Val Kilmer, MINDHUNTERS) was clearly right. The way I remembered it he was some prick who had it in for Maverick and what is his problem. That's how the movie frames it, and how Kilmer plays it. But every time they get in each other's faces about something Iceman is clearly correct. He's always concerned about safety. Maverick pulled some show off move that could've gotten people killed, and Iceman wonders if that sort of behavior contributed to the accident that ended their mutual friend's career. Who wouldn't wonder that? Only somebody who wasn't paying attention.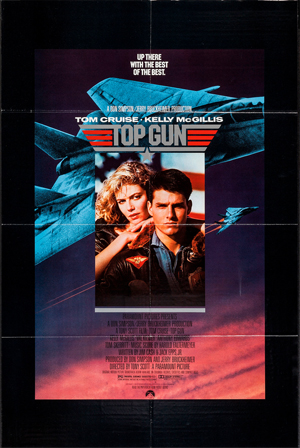 In the end Maverick does learn from Iceman, but it almost feels like he didn't, because the emphasis all throughout the movie is on Maverick is awesome, ha ha, that guy got upset at what he did. What a pussy.
The love story also feels a little goofier outside of that Reagan era air we were breathing. Here's this beautiful Navy instructor (Kelly McGillis, THE INNKEEPERS) who correctly turns down the obnoxious student who tries to pick her up at a bar (and follows her into the women's restroom!). But when she finds out he personally got a close-up look at an elusive enemy  airplane she invites him over to question him about it and next thing you know they're in love somehow.
Sometimes there are famous scenes that seem at the time like they make sense, and then years later you're not sure what we as a civilization were thinking at the time. One example is that beloved comedy about the oppressed nerds who get their revenge on the popular kids by starting a fraternity and then spycamming and raping the sorority girls. This one's not as drastic but it still puzzles me: what was it about the '80s that we thought it was so cool for dudes to sing songs from the oldies station? It worked for Maverick, it worked for David Addison, it even worked for the kids in STAND BY ME. Was this activity filling a hole in the national psyche that existed until karaoke became popular in the States? Or is it vice versa, did karaoke spread so far and fast because there weren't enough scenes like this in movies? Sure, we had public serenading scenes in 10 THINGS I HATE ABOUT YOU, MY BEST FRIEND'S WEDDING and SCREAM 2, but it was too little too late.
At the time of TOP GUN, "You've Lost That Lovin' Feelin'" (which, by the way, is clearly about an ending relationship, it's not easy to misunderstand like "I Will Always Love You," so what the fuck is he thinking?) had been a #1 hit twenty years earlier. So for a movie to do something equivalent as of this writing in 2015 there would be some really good possibilities. "Kiss From A Rose" be Seal featuring Batman's Nipples is the most obvious, but there's also "On Bended Knee" by Boyz II Men, "Fantasy" by Mariah Carey, "One Sweet Day" by Mariah Carey and Boyz II Men, "Waterfalls" by TLC, "This Is How We Do It" by Montell Jordan, "Have You Ever Really Loved a Woman?" by Bryan Adams, "Take a Bow" by Madonna, "You Are Not Alone" by Michael Jackson, "Gangsta's Paradise" by Coolio. "Creep" by TLC would be a good choice for a "Lovin' Feelin'" type obvious inappropriateness (it's about cheating), but I think I gotta go with "Exhale (Shoop Shoop)" by Whitney Houston. That one would be good because you're at a bar and you're hitting on this woman by singing that "If you're searching for a place you know / a familiar face / somewhere to go / You should look inside yourself / You're halfway there." Also all that "Shoop shoop shoop shoo be doop" stuff is kinda like the "badoomp badoomp badoom boom boom" that the other guys sing in TOP GUN (indicating that he has done this to get laid a whole bunch of times before and they want to help).
I don't know man. I don't know why you would do that, why it would work, why you would choose that song. It was a different time. Maybe there was a certain entitlement to it. In my opinion I am the best pilot there is, therefore you motherfuckers have to pretend whatever stupid shit I do is cool. It's weird. If Tom Cruise tried that shit now everybody would say it was some bizarre Scientology thing, but at the time everyone was like "Remember how he badly sang that song at her in front of everybody! I LOVED THAT!"
Contemporary 1986 music was even more important to TOP GUN than oldies were. Obviously "Take My Breath Away" was a huge hit, and "Highway to the Danger Zone" perfectly captures that corny white dude version of awesome that makes the decade so adorable in retrospect. And with Harold "Axel F Theme" Faltermeyer doing the score and Giorgio "SCARFACE" Moroder producing the songs you got a lot of good keyboard shit, that's guaranteed.
One thing I am not clear on is if they ever did get to the Danger Zone, or if they were just traveling in that direction. Is the Danger Zone that place over the border where they're not supposed to go, is a state of being where you are just a reckless jackass who will most likely get your friends and colleagues killed because you think you're so awesome, is it a zone of inappropriate relationships that could destroy your girlfriend's career if found out? I don't know but it does sound in the song like it's a pretty cool zone.
And the cinematography! Holy shit. I don't think the dog fight scenes, with the lingo and maneuvering and targeting and shit, are all that exciting. But you can really see how much real footage they have of the jets, and how well they shot them. It was new at the time and even now it's not something we've seen alot of. I'm not one of those anti-digital zealots, but this is the type of movie that makes you miss the days before computers were a shortcut.
The coloring on the blu-ray is so stunning, so modern, I honestly wonder if it really was supposed to look like that. It might be one of those digital age re-colorings that is not faithfully re-creating how it looked when projected. I don't remember movies looking like that back then. But it looks great.
Writers Jim Cash & Jack Epps Jr. went on to write LEGAL EAGLES, THE SECRET OF MY SUCCE$S, TURNER & HOOCH, DICK TRACY, ANACONDA, THE FLINSTONES IN VIVA ROCK VEGAS, and ANACONDAS: SEARCH FOR THE BLOOD ORCHID (story). This one was inspired by a magazine article, much like THE FAST AND THE FURIOUS.
For Tony Scott, of course, it was the mainstream breakthrough after THE HUNGER (and a previous drama called LOVING MEMORY) that would define the rest of his career. He did even dumber movies (BEVERLY HILLS COP II) and smarter ones (TRUE ROMANCE, CRIMSON TIDE) and he developed that crazy A.D.D. style he became known for later, but TOP GUN pretty much defined a certain Tony Scott vibe that never left him. It didn't seem all that shocking that he was considering TOP GUN 2 at the time of his death.
I do not believe this is a good movie. It's a really fuckin stupid movie in a slick package with a giant picture of a sunset on the front and on the back and then when you look at it closer you realize it's reflected in a pair of mirrored sunglasses. But it's something. I'll probly watch it again some day.