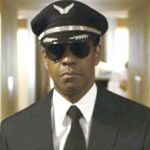 I wish FLIGHT was called BAD PILOT and marketed as an outrageous comedy. It kinda follows the BAD SANTA and BAD TEACHER model by showing this guy (Denzel Washington, RICOCHET) who is in this occupation (commercial airline pilot) and ruffles alot of feathers with his irresponsible drinking and drugs and being an asshole. In fact, he ingests almost a BAD LIEUTENANT worthy amount of intoxicants. And like Bad Santa, who liked to buttfuck plus-sized ladies in the dressing rooms, or Bad Teacher, who seduced Justin Timberlake into a wild dry-sex romp, this guy is fuckin around, but just with a super hot flight attendant (Nadine Velazquez, BLAST) who gets listed first in "in order of appearance" credits because one of her breasts is the first thing we see in the movie.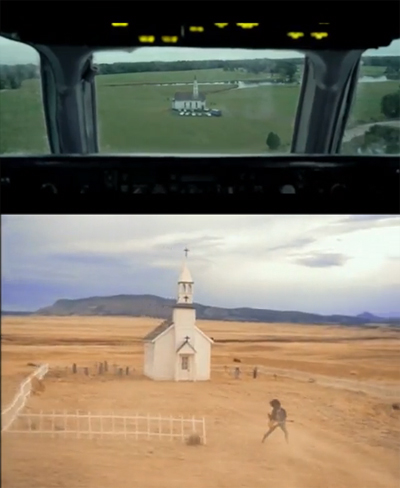 But I guess the problem with that title would be that he's good at the actual piloting. Very good. One day there's a disastrous flight where equipment failure puts the plane in a dive and, as you've seen in the trailer, he has a daring and novel way to get the plane semi-safely crash-landed. A wing takes out the steeple of an old church in the middle of a field. That's a little much in the symbolism department, but exactly right as a re-imagining of the helicopter shot of Slash's guitar solo in the "November Rain" video. Based on a short story by Del James. I wonder if that guy tried arbitration to get a "story by" credit.
But the authorities find out Bad Pilot was completely blitzed when he did the heroic landing, and they choose not to high five him for it or say it was awesome. He gets stuck between the NTSB, the pilot's union (who provide a lawyer for him, RUSH HOUR 2's Don Cheadle) and the manufacturers, all trying to prove who was responsible for the disaster.
Bruce Greenwood is the first one to talk to him when he wakes up in the hospital, he's an old friend but also head of the union. He's an interesting character as he tries to protect him out of friendship but seems increasingly horrified by what he's seeing and exhausted by the pilot's constant badness.
At first I wondered if this was really gonna be a movie standing up for him because although he endangered hundreds of lives every day with his behavior he was technically not at fault for this particular tragedy, and fair is fair. I mean it's true, he's innocent, but that's not the kind of righteous cause a movie like this usually dramatizes. Of course, that's not what the movie is about. The epic crash landing is just like how he's living his life, working with giant balls and talent to tear through life and just barely not be horribly killed. He's not just addicted to the alcohol but to that feeling of extreme danger and getting away with it. He thinks he can keep flying upside down forever, but that's just not possible. He wasn't built for it.
The director is Robert Zemeckis. Like I've been saying for years, his mo-cap technology has really evolved through POLAR EXPRESS, BEOWULF and A CHRISTMAS CAROL, to the point where this one just looks like live action. I miss the 3D and the awesome camera moves, though. Still, as usual he directs the shit out of this. The plane crash scene is a fuckin doozy. The most brutal part is what happens to a minor character. Only after her death do we hear about her troubled life and how she was trying to turn it around, and we realize that she went through a redemptive arc based on what she was doing when she died. She's a hero. And Bad Pilot's gotta be comparing his life to that, knowing he comes up short.
(Or it seems like it anyway, but maybe he reminds himself that if he hadn't landed the plane then Katerina's sacrifice would've been wasted.)
Whatever he's thinking, he isolates himself in his farmhouse, befriends a cute recovering addict (Kelly Reilly), dumps out his extensive hidden caches of liquor, and prepares for his trial. Which of course means a bunch of epic relapses and FEAR AND LOATHING style binges. It's an effectively frustrating experience watching him know what he needs to do and then make the wrong move over and over and over and over again. He lowers himself to some truly pathetic depths, dragging us into uncomfortable situations like trying to convince his very religious and law-abiding flight attendant friend to lie in her testimony, or getting chased out by his own teenaged son when he shows up at his ex-wife's house unannounced and drunk. But Zemeckis also makes room for less stressful moments like the stagey but nice scene where Bad Pilot first meets the girl, plus a crazy cancer patient (James Badge Dale), while sneaking a late night smoke in a stairwell at the hospital. Dale makes a big impression in the scene but luckily they don't try to make him relevant. He's just a guy that the pilot runs into once.
John Goodman is funny but out of place as his funny Dude-like drug dealer. There's a joke where he struts into the movie to the tune of "Sympathy For the Devil," but then it abruptly stops because he pulls his earbuds out. I laughed, but some of the other Time-Life Best of the '60s type music choices make me suspect that was just meant as an earbuds joke and not one about overused soundtrack songs.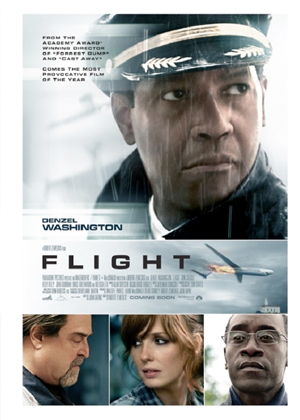 This may surprise you if you are some kind of weirdo who doesn't know about Denzel Washington, but he's really good in this. He's able to be an extremely flawed and complicated individual, very bull-headed but sometimes fun. It's not Righteous Denzel, but unlike TRAINING DAY it's about him trying to get better instead of just the good guy having to shoot him at the end. It would be weird if Bruce Greenwood shot him and then some neighborhood dudes told him to "bounce." I'm not saying this is any less contrived, but it's more moving.
It's got a nice human message. This guy is a high level fuckup in his career and family life. But he is a person and he has talent and he has old and new friends who can find something good in him and if he works hard enough he can grow that part of him and help others.
I'm not sure he'll be allowed to fly again though.
FOR THOSE WHO HAVE SEEN IT: what if that hotel room connecting door had been locked? Then he never would've gone on that monumental mini-bar escapade and maybe he would've gotten through the hearing okay and wouldn't have made his confession. So thank you neglectful hotel employee (and overachieving mini-bar stocker).