If I had to choose the better STREET FIGHTER I guess I'd have to go with the newer one, STREET FIGHTER: THE LEGEND OF CHUN LI. It's a slick, competently made preboot with TV actress Kristin Kreuk as the young Chun Li. There seems to be more martial arts in the first 8 minutes (when Chun Li is still a kid) than in the entire STREET FIGHTER: THE MOVIE even if you watched it two times in a row. Could've done without Chun Li's constant voiceover narration through the first half, though.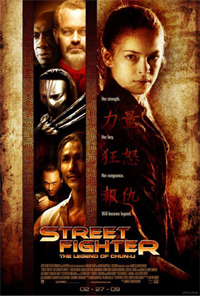 In this one Bison is re-unimaginationed as a corporate villain instead of a warlord, and he's played by Neal McDonough, a veteran of playing villains in sort-of-remakes like WALKING TALL. Maybe he's not as funny as Raul Julia, but he does a more internal form of hamming it up that's pretty enjoyable. He's got a hard-to-place snob accent (supposedly Irish) and his "just how evil is he?" moment is when he daintily cuts his meat and sips wine while his had-to-be-let-go henchmen's death cries can be heard from the next room. His right hand man is played by Michael Clarke Duncan, and it's pretty cool to see that big bastard pounding his fists into kung fu dudes.
As a little girl Chun Li bonds with her father by learning martial arts from him and using the word "wushu" alot. But she also has time to pursue other interests and grows up to become a well known concert pianist. I'm sure you're familiar with her work. One day her father is kidnapped by Bison's men, then she receives a mysterious scroll and follows a trail to Bangkok and discovers a secret society that wants to train her to become a vigilante crime fighter or something. The leader is Robin Shou, Liu Kang from MORTAL KOMBAT, but they call him some other name because this is a different video game where everything is probly spelled with C's.
The story is pretty standard. The one juicy bit of ludicrousness is the backstory about how Bison performed an ancient ritual to have his conscience removed and put into his unborn daughter. No, not his soul, his conscience. I always thought the conscience was a concept to describe a type of mental activity, not an actual physical object. But I was wrong. Most of the good villains don't see themselves as evil, but this guy does. He jumped through alot of hoops to achieve evil. I mean he pretty much got cosmetic surgery to make himself pure evil. I don't really get it. But I wouldn't, I have a conscience. And I'm not a gamer.
Wait a minute, is this some kind of statement about how playing video games allows you to act out dark fantasies where you aren't tethered by morals and consequences, you're able to street fight and build Bisonopolis all you want and it doesn't matter because it's not real? And is it saying that these business men and real estate guys in the real world, when they do these type of schemes where they screw everybody else over chasing after profits, that they're basically like a 14 year old kid fucking around shooting up all the video game people to amuse himself?
Couldn't it be something like that? Or is it seriously just what somebody thought was a cool idea for how he became a bad guy? I guess probly the second one.
One weird thing about the movie too, there are these two Interpol agents on the trail of something or other, and I didn't notice any reason for them to be in the movie. One is Moon Bloodgood from TERMINATOR SALVATION and the other one is Chris Klein. I didn't even recognize him at first because he seems to have combined his Keanu DNA with some Jason Lee, and he's trying hard to do a different character than usual, a cynical, grizzled cop guy, like a PG-13 bad lieutenant. I give him points for effort, I guess, but I can't deny he's bizarrely awkward in it. Here's a little music video somebody made using some of his goofiest parts:
I didn't get that "walks through the raindrops" line. Is that a misquoting of Pimp: The Story of My Life, the story about the ho complaining about having to stand in the rain and the pimp tells her to walk between the raindrops?
Chris Klein's a weird story. I believe he was a kid that went to the school where they filmed ELECTION and they cast him as that dumb jock guy and he was just perfect in it. Then he got the AMERICAN PIE movies and it worked for that too. But like the NAPOLEON DYNAMITE kid they start trying to put him in other movies where he has to play a character and then you got trouble. I don't know if I should feel sorry for him for having to struggle with that or envy him having just stumbled into a fun, well-paying job like that. But he seems like a really nice guy judging from the interviews on the DVD where he can't stop praising Kristin Kreuk and saying she carries the movie.
That might sound like a backhanded compliment though considering the reputation of this movie. I didn't know until after seeing it that it's widely hated by video game fans, movie critics and even martial arts fans. When I reviewed BABYLON A.D. I didn't think it deserved the 7% it had on Rotten Tomatoes, and couldn't find anything rated lower than that. Well, LEGEND OF CHUN LI has a 4%.
A bunch of the reviews mention it being worse than the Van Damme version. I guess it depends on how you define "worse." The old one may have more replay value for being more constantly stupid and silly looking. It has goofy costumes and special effects and bombastic music trying to convince you that it's awe inspiring.
For me (and apparently only me) watching LEGEND OF CHUN LI right after STREET FIGHTER made it seem pretty decent. I mean, it had a straight forward story that somewhat kept my interest. It had plenty of fighting in it (of an acrobatic though unspectacular variety). It had enough quiet and calm moments that I could appreciate McDonough or Klein going over-the-top every once in a while instead of just feeling like the movie keeps yelling at me. Compared to de Souza's movie this one is a model of subtlety and taste, so I was surprised when I realized it was directed by Andrzej Bartkowiak (EXIT WOUNDS, CRADLE 2 THE GRAVE). Actually it's too bad they didn't get Tom Arnold and Anthony Anderson in there. One of them could be the green troll guy and the other could be the guy with the mohawk.
Don't get me wrong, this is a pretty generic movie and I'm not really recommending it to anyone, especially now that I know that alot of people somehow feel it's one of the worst movies they've ever seen. That seems like too much, but I didn't like the movie enough to go to bat for it. I gotta say this though: I was surprised how much I liked Kreuk in it. I don't usually like little waifs being swung around on ropes pretending to kick ass, but she has a dedication to the role that won me over. She has big cartoon eyes that are real emotive and she uses them for sadness, bitterness, anger, empathy. She takes the role seriously and does the moves well. I'm pretty sure they convinced her that Chun Li means alot to people, and she thought that meant it was a beloved character with a rich and multi-layered history that fans have many emotions wrapped up in. They really just meant that it's cool when you push the button and it makes her kick a guy in the head, but luckily Kreuk didn't know that and put alot of work into treating it like a worthwhile role.
What this and another recent cheesy movie I'll be reviewing soon taught me is that it's alot easier to make a passable movie of this kind of material in the digital age. As recently as 15 years ago they had to build huge sets on a soundstage and put everybody in crazy colorful costumes. Now they can use green screens and stylize the world without making it too fake looking. They can make people fly around more smoothly and make the camera rotate around them in fancy ways so they don't just look like they're in a stage version of Peter Pan. And those movies with the big sets were always so hard to make they had a hell of a time getting any of the scenes done and the movies always felt so muddled and compromised. In these new ones they probly spend the time to get the shot they need, or fake it later using computers.
In a way the world of movies and video games are merging together, it's a more natural fit. So the movies seem to take place in a somewhat realized world instead of just looking like adults wearing asinine Halloween costumes on a cheesy set.
But that might be a bad thing. Maybe the old way is more memorable. I don't know. I guess we'll have to wait until today's 12 year olds who saw this on cable grow up and find out if they remember it fondly or not. But there's something I never thought about with these video game adaptations. Video games may be art, but they're not timeless the way books or even TV shows are. Because of changing technology the games that are hugely popular don't last, they become obsolete, and unless there's a good Pac-Man game for the xbox three hundred sixty I don't think most characters have the lasting appeal that they can in other artistical mediums. I bring this up because I'm not sure if kids still play Street Fighter or know what it is. And if not that might be part of why they will never attach themselves to THE LEGEND OF CHUN LI. Unless they're Chris Klein fans.
This entry was posted on Tuesday, July 6th, 2010 at 2:21 am and is filed under
Action
,
Martial Arts
,
Reviews
. You can follow any responses to this entry through the
RSS 2.0
feed. You can skip to the end and leave a response. Pinging is currently not allowed.