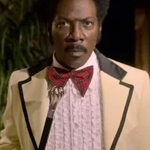 DOLEMITE IS MY NAME is a dream come true – topnotch director, writers and cast making a beautiful, warm, well produced triumph-of-the-underdog epic about Rudy Ray Moore, the small time club singer who reinvented himself by selling dirty comedy records out of the trunk of his car and then strutting his way into independent filmmaking. The script is by kings of the oddball biopic Scott Alexander & Larry Karaszewski (THE PEOPLE VS. LARRY FLYNT, MAN ON THE MOON, The People vs. O.J. Simpson) and it's got a whole lot in common with their best film, ED WOOD. It's another story about an L.A. misfit perceived as a failure who, through tenacity and lack of self consciousness, puts together a family of people to will their silly, awesome dreams into reality.
ED WOOD glorifies people whose work was and continues to be made fun of, arguing that the passion and personality behind these works imbues them with an artistic purity and value that they hadn't previously been given credit for. Moore and friends work with a similar scrappily amateurish zeal, but they in fact made a hit movie that, at least in some parts, was intended to be laughed at. So the happy ending in this one is real!
Another way this is different: it's very much in color. We already got the hint from the opening credits of HUSTLE & FLOW that director Craig Brewer had an eye for '70s style, but here he gets to go all the way. And costume designer Ruth E. Carter (DO THE RIGHT THING, BLACK PANTHER) does much more than the Lord's work of re-creating the outrageous Dolemite jackets and hats. This is a repository of wide collars and bold prints on polyester that's practically pornographic to someone like me.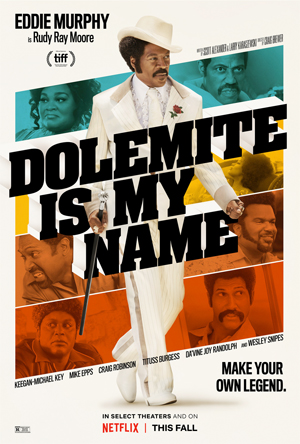 As it says on the poster right here, EDDIE MURPHY is Rudy Ray Moore, and I'm not sure he's ever been better. I was a little concerned after the trailer showed him doing less of a Moore impression than I expected, but the movie convincingly portrays something I never knew: Rudy wasn't really like that. I mean, of course he wasn't, but the Rudy of the movie is a normal guy who has doubts about himself and can even be shy. But he creates this braggadocious, larger than life Dolemite character and he transforms, like a super hero. He even has to wear a wig! But it's empowering.
There is some moral ambiguity to this origin story. The original Dolemite poem and many of his other routines are not his original creations, they come from the oral tradition. Rudy gives cash and alcohol to some old homeless guys to record their poems and jokes so he can memorize them. He does punch up the jokes and come up with his own way to deliver them. And I think there's kind of an interesting arc that the stories of his ancestors pass to him this new confidence and inspiration that in the movie he explicitly passes to another generation and through the biopic he passes to the viewers. Anyway, his friends think he's crazy, but it works. He's speaking to audiences who grew up hearing these stories, and they love the way he tells them.
Then his friends are supportive, and it's a great cast playing the real people who helped him make his movies. Mike Epps (RESIDENT EVIL: APOCALYPSE) plays co-star Jimmy Lynch, Craig Robinson (GET ON UP) plays band leader Ben Taylor, Tituss Burgess (SMURFS: THE LOST VILLAGE) plays producer Theodore Toney. Wesley God Damn Snipes is pretty funny playing DOLEMITE director/co-star D'Urville Martin, an established actor they recruit after recognizing him at a strip club. And I like the dynamic between Rudy and screenwriter/co-star Jerry Jones (Keegan-Michael Key, THE PREDATOR), a serious playwright who he convinces to write DOLEMITE as a way to Make A Difference.
Rudy's discovery of and friendship with comedian Lady Reed (Da'Vine Joy Randolph, OFFICE CHRISTMAS PARTY, Empire), better known as Queen Bee in DOLEMITE, is very moving. He finds her in a bad situation and recognizes talent in her. In turn she becomes not only the powerhouse performer he thought she could, but a confidante and pep talker. I don't know how much or little dramatic license is involved, but this sensitivity gives a different context to the sexist humor of so many of Rudy's jokes.
Though it's often played for laughs that D'Urville Martin cares more about technical craftsmanship than anyone else on the production, it's notable that one of his concerns is whether the white cinematographer knows how to light black skin. I have to admit I first heard a discussion of that issue in recent years, and I'd never thought about it before. This brief conversation says so much about the importance of diversity in the film industry. He wants knowledge that a black cinematographer would be more likely to have, but they have to use a white crew because they haven't found any black people trained to use the equipment. And because they're using film students. Who has the money to attend film school? And the notion that it's possible to get a job on a film crew?
D'Urville, at least as portrayed here, has little respect for this movie or, it seems, the more professional blaxploitation movies he's been in. He prefers to namedrop Polanski and Cassavetes (whose DIY ethics he flatteringly compares Rudy's to). And Rudy and friends treat him as a huge star for being in ROSEMARY'S BABY, but they also tease him for only playing an elevator operator in that one. He wanted to be in "real movies," but at that time there weren't many opportunities for black actors to star in those. So he's still remembered mainly for things like the CHARLEY movies, BLACK CAESAR, FIVE ON THE BLACK HAND SIDE, and yes, DOLEMITE.
(There's also a funny mirror image of that in the white actor [John Michael Herndon] who says he mostly plays bad guys in black movies.)
I like how they mount their argument for the importance of representation. Rudy and friends go to see Billy Wilder's THE FRONT PAGE because they read it was a great comedy, but it turns out to be not for them at all. There are so many different versions of this dynamic: the meat and potatoes horror fans bummed out by the slow burn festival hit that was hyped for months, my mom renting GOODFELLAS because it was nominated for Oscars. In this case Rudy and friends look so confused as to what these white people are laughing at. They feel left out, but it's also a eureka moment for Rudy: There are many people who think the same things are funny that we think are funny, and there aren't movies being made for them. We could be the ones to make them. So it's both an important thing to do and a good business idea.
The representation in DOLEMITE extends beyond race and class. When Lady Reed says she hasn't seen "people like me" in movies she's probly not just talking about black women, but large women. And Rudy is an aspirational figure portraying himself as a cocky badass beloved and irresistible to large groups of women despite what one gatekeeper called his "doughy" figure.
In any biopic, especially of an artist, they have a greatest hits thing going, they have to figure out how to fit in their most famous songs or TV appearances or incidents or whatever. Luckily Rudy was mainly just known for comedy routines and movies, and they stick to the making of the first movie, so it never feels by-the-numbers. There's at least one big cheat – putting a classic scene from THE HUMAN TORNADO into DOLEMITE:
(If I made this movie there's no way it wouldn't have done that same instant replay on some real life moment.)
But high on the list of things people love about DOLEMITE is his insults like "You no-business, born-insecure, junkyard motherfucker!" and "That rat-soup-eatin, insecure honky motherfucker!" I can't believe they actually did it, and pulled it off, but these filmatists made the genesis of those lines into an emotional scene about Rudy's self esteem and his childhood, and gave context to the always-conspicuous "insecure" part. It's almost like the thing you would joke about for a parody Rudy Ray Moore biopic, except it got my eyes watering. Beautiful.
This is pretty much a perfect movie – funny, warm, inspirational, a celebration of not only Rudy Ray Moore, but of black culture in general, and the DIY spirit, and succeeding without selling out, and people who never give up on creativity, even when the world tells them they're old, or washed up, or a failure. And since much of the soundtrack is based around the original DOLEMITE theme song, it's a celebration of the funk. I'm glad I got to see it in a theater – I might even go again even though it'll be on Netflix on Friday.
trivial tidbits for Dolemiteites:
* I always thought it was great that the cinematographer of DOLEMITE, Nicholas von Sternberg, was the son of Josef von Sternberg. So I was excited that he's a major character in the movie, played by Kodi Smit-McPhee (THE ROAD). They don't mention that bit of trivia, but they do say his name.
* The first time I saw Moore live I bought an autographed Dolemite backscratcher. In the movie there's a scene with a merchandise table (including yo-yos!) and you can see some of the backscratchers at the top
* In the scene where he returns to the record store as a celebrity I'm pretty sure I saw someone waving the headshot that I got autographed at the same show – it's a photo of him when he much older. Historically inaccurate!
* I was glad they mentioned BILLY JACK as another movie that was four-walled. Sort of the pioneer I believe. I'd watch a biopic of him too.
MY PREVIOUS WRITINGS ON RUDY RAY MOORE (in chronological order):
RUDY RAY MOORE: RUDE – in 2000 I crudely reviewed Moore's standup movie, which I ironically describe as "a live concert film in the style of the Eddie Murphy standup pictures he did back when he was trying to copy Richard Pryor instead of dress up in a bunch of funny disguises and fart."
PETEY WHEATSTRAW, THE DEVIL'S SON-IN-LAW – I reviewed Moore's horror comedy (obliquely referenced in DOLEMITE IS MY NAME) in 2002. I bought the Vinegar Syndrome blu-ray for Halloween viewing, so I may write more on this one soon
SHAOLIN DOLEMITE – This piece from 2002 is not my best work, but I'm not sure any of the greats were writing about SHAOLIN DOLEMITE, so I deserve some credit
LI'L PIMP – I'm afraid to read this 2004 Ain't It Cool piece, but it's a cartoon movie I watched just for the Rudy Ray Moore cameo
For the Screengrab in 2007 I wrote about seeing Rudy Ray Moore live in Seattle on his 80th birthday
DOLEMITE – I finally wrote up the first film in 2008 as an obituary/tribute. My best piece on Rudy Ray Moore.
THE DOLEMITE EXPLOSION – In 2012 I was finally able to see his last film, which reportedly debuted in 2007
This entry was posted on Wednesday, October 23rd, 2019 at 10:53 am and is filed under
Comedy/Laffs
,
Drama
,
Reviews
. You can follow any responses to this entry through the
RSS 2.0
feed. You can skip to the end and leave a response. Pinging is currently not allowed.