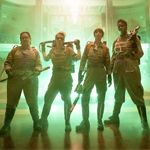 GHOSTBUSTERS was a popular movie in 1984 and we still remember it and it has a good logo and it's 2016 so obviously there's a remake. Luckily they chose director Paul Feig, who has gotten big laughs with BRIDESMAIDS, THE HEAT and SPY, and he brought along past collaborators Melissa McCarthy and Kristen Wiig, plus current SNL cast members Kate McKinnon and Leslie Jones to bust open those ghosts and devour their delicious green centers or whatever it is that ghostbusters do.
Like in the original, the ghosts and the quasi-science of busting are pretty much presented with a straight face. I guess come to think of it it's the ABBOT AND COSTELLO MEET FRANKENSTEIN method. For this one it's all digital FX, from what I can tell, but that works well for these glowing, floating, rotting, transforming, transparent entities. It's kind of a retro Haunted Mansion type of ghost I guess, not the type you'd expect to see in a James Wan movie or something like that.
Then within this story (scripted by Feig with co-writer Katie Dippold) of some unorthodox scientists starting a ghost extermination business and uncovering a plot to summon evil spirits to New York City there is comedic riffing. The jokes come at a much faster rate than the original, so even in the scare-based opening scene there are some big laugh lines. I think this is a wise approach since they're not working with a new concept this time around.
In the original it seemed to me it was mainly Murray being a smartass and Moranis being a cartoon, the others being more subtle or playing straight man. In this one pretty much everybody's going for laughs most of the time. Wiig, whose character loses her career in education due to her past ghost activities, is the closest to straight woman. But she still finds self deprecating humor in her vulnerabilities, for example her trouble hiding from the dean that she believes in the supernatural, or her inability to control a crush on their receptionist (Chris Hemsworth, BLACKHAT, RUSH) even though he's a total dummy. His looks allow him to get away with being a brain damaged weirdo. Hemsworth runs with it, and I bet if he wants to he'll get a bunch of comedy roles now like Channing Tatum after 21 JUMP STREET.
I'd already written by review of the original when I saw the remake, so I thought it was funny that they addressed the idea that a college should be embarrassed to find out they were funding ghost studies. I guess I wasn't the only one who thought that. This not being the '80s anymore the authority figures who get involved are not an uptight EPA, but the New York City government. They don't disagree that ghosts are real, they just don't want people to know. So it's a more difficult type of The Man to stick it to.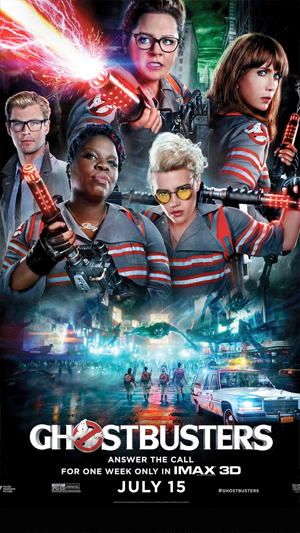 Most of my friends are grumps who complain about the modern post-Apatow approach to film comedy, which is often based in improvisation and extended riffing. I strongly disagree with their complaint. To me, most of the mediocre or weak comedies are too based in their stories, too delusional about us giving a shit about what is clearly a half-assed version of a real movie. If they can't pull that off for real they shouldn't waste our time with it, and should spend more time going off on tangents capable of making us buckle over with laughter. I think this GHOSTBUSTERS strikes a pretty good balance. The laughs keep coming and the story part, though suffering some third act lag, mostly works.
There are some pop culture jokes here, movie discussions that made me laugh. There's a part where they talk about their favorite Patrick Swayze movies, and they get most of the great ones (STEEL DAWN is not mentioned, sorry my friend from the book signing who I have vowed to review that for). By the way, did you know that as an actor Paul Feig was in the cast of the Dirty Dancing TV series in 1988? It didn't star Patrick Swayze, though. It was a Patrick Cassidy, so that probly didn't give him any special knowledge for that scene. Still, seems worth mentioning.
Also there's a scene where McKinnon is playing Debarge in the lab and she just starts doing a stupid dance, and they all join in. On one hand, this and the Swayze discussion are an easy laugh, a more random and nonsensical approach to humor than what the original relied on. On the other hand, you can't deny the joy of it, the pleasure of seeing them have fun and make each other laugh for real.
It's weird that McKinnon's character seems to have a look based on how Harold Ramis's character was drawn in the cartoon. McKinnon, it seems to me, has an easier job than any of the other ghostbusters in either movie, because she plays her as a weirdo and can just follow any comic whim without having to make sense of it within the character. But it works, and I bet we'll be seeing her in a ton of movies soon.
I first noticed Jones in her small part in TOP FIVE, and I've since seen her on SNL and she even made me laugh the other day on The Match Game with Alec Baldwin. I have seen some grousing that the white ladies get to play scientists and the black woman starts out working in a subway station. But since I love Jones' comic persona and don't consider "working class" to be a negative quality I can't really agree with that complaint. It should also be noted that her primary contribution to the team is intellectual, having a knowledge of the history of New York City that the others don't.
(I've also read that the character was originally written for McCarthy, but they decided she'd already played too many characters like that.)
In my review of the original GHOSTBUSTERS I noted that Murray's humor was primarily based in the "I'm smarter than you and I'm going to be condescending to you but I'm charming so I can get away with it" type of mean humor, and I think this is very different. With the old approach we'd get a bunch of funny insults hurled at Kevin's stupidity (that's also what we'd get if T.J. Miller or Jonah Hill were Ghostbusters), but in this the joke is that they're bending over backwards to not call him dumb. The humor often comes from being too nice, like when the ghost chooses a relatively non-threatening appearance and a relieved Jones says, "Thank you for being reasonable!"
Before BRIDESMAIDS, Feig was best known for creating the very personal TV show Freaks and Geeks (the show that populated most of the modern comedy movie scene, the later seasons of E.R., etc.). Here he has a less sympathetic portrayal of a nerd in the villain, Rowan (Neil Casey, a writer for SNL and Inside Amy Schumer). He's the Dark Nerd archetype, the dude who says he's been bullied his whole life and is mad that no one wants to be his friend, and who proceeds to make you not at all want to be his friend with his bitterness, his superior attitude, and (I guess most importantly) his machines that he uses to attract evil ghosts to different spots around town. Like ghostnip.
I doubt Feig knew when writing the movie that this character would seem like a caricature of the most vocal GHOSTBUSTERS fans (whose sexist online abuse either gets one amusing reference, or was correctly predicted by the movie). But hopefully most of that shit will be forgotten by the time they make the sequel, because they've had their time in the sun, they lost, let's let them sip their Hi-C straws in peace and think about what they've done.
I guess those guys feared the proud history of Ghostbustering being erased from history, as if new generations would grow up on this one and not know about the old one. If anything, the remake is too reverent of the original, giving all the main actors (except retired and don't give a fuck Rick Moranis) showy cameos, constant reminders of the original. They don't play their original characters, though, which I suspect is more fun than if they were torch-passing Ghostbusters, since you don't have to be disappointed that they're not as cool as they used to be, and you get the game of finding out who each of them are gonna play.
Oh, the fat ghost called "Slimer" on the cartoon does return as the same character, and there's a perfectly '80s joke of him having a date who looks exactly like him but with hair and a bow.
All this referencing is not my thing, but it's less intrusive than I would've guessed. Even better, the painfully bad Fallout Boy cover of Ray Parker Jr.'s theme song is only played briefly. The original version gets way more play.
But of course we've heard the original version. Alot. Really that's the only weakness of the movie is that by using a basic story and set of mythology that we've already seen it is by definition not fresh like the first time we saw it. A more radical reinvention might've been the only way to avoid this, but I don't think that would've gone over well. With at least a different approach to casting and a different style of comedy it's a fun cover version. And for me it had more laughs than the average comedy – KEANU, POPSTAR and SWISS ARMY MAN are the last comedies I remember seeing in a theater, and I definitely enjoyed this way more. It has many jokes that I kept remembering over the weekend and laughing. But the true test is if I will think of any of them as often as I think of this scene from THE HEAT:
This entry was posted on Tuesday, July 19th, 2016 at 12:45 pm and is filed under
Comedy/Laffs
,
Reviews
. You can follow any responses to this entry through the
RSS 2.0
feed. You can skip to the end and leave a response. Pinging is currently not allowed.