THE ROOKIE is a 1990 cop movie starring and directed by Mr. Clint Eastwood, that seems intent on passing the action movie torch to a new generation represented by… wait a minute, did I read this– yes, it says here represented by Charlie Sheen. From YOUNG GUNS. Huh.
But you know what, it only adds to Clint's mystique that he so humbly shares the movie with this rookie and even allows the spotlight to shift over to him for a while while the old man is tied up in a warehouse getting raped by Sonia Braga (SPOILER). This is also the most DIRTY HARRY of Clint's non-DIRTY HARRY pictures. In fact, it probly feels a little more DIRTY HARRY than SUDDEN IMPACT, the one actual DIRTY HARRY that he directed.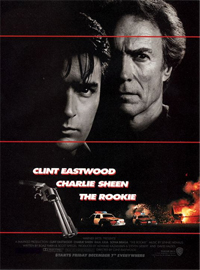 But in this one he's not some supercop. He's Pulovski, a failed race car driver turned detective in the auto theft division. Nothing big ever happened to him his whole life until this movie. Then by dumb luck some stolen cars he's chasing lead him to a big time criminal running chop shops and planning to rob a mob casino (long story). The villain is played by Raul Julia, sporting one of the all time most befuddling cinematic accents. I was so happy when Clint referred to him as a "kraut" because then that earlier scene where he was criticizing German beer to Julia seemed less random. And if you think Julia makes an unconvincing German just wait 'til you meet his girlfriend (Braga).
Anyway, like all police officers Pulovski is forced to become partners with a by-the-book rookie (that's Sheen as David Ackerman). Here's where the script is subtly clever. Usually a story like that is a device for explaining everything to the viewer. The veteran has to show the rookie the ropes, so the audience also gets to see those same ropes. But here Clint just leaves his partner completely in the dark, doesn't tell him what case he's on or that when he stops for lunch at a hotel it's just because Raul Julia's there and he wants to give him a bunch of shit for having killed his partner, etc. Ackerman returns the favor and refuses to tell Pulovski jack shit about himself, so it's a while before we find out he's from a super rich family and drives a fancy Porsche. But he's trying to prove himself to his dad and himself and all that.
Most of the entertainment comes from Clint. He's his usual wry self, using ethically questionable law enforcement tactics and smartass comments. I liked when Sheen's dad (Tom Skerritt) tried to pay him to guarantee the kid's safety and Clint says with contempt, "You want a guarantee? Buy a toaster." It's so obvious to have Clint as the old guy who gives the young guy a hard time but begrudgingly starts to like him. But who gives a shit? It's always enjoyable. I'm not gonna complain about having another one of these. I'll take all of them I can get. There's only gonna be a finite amount of old Clint action movies.
It has some of those little Eastwood directorial touches that nobody else does. Like for example the jazz score by Lennie Niehaus. This was in a time when mullets and whammy bars still existed. Other action movies were slathered in keyboards, guitar wails and drum machines. There were better action movies playing in theaters that year: HARD TO KILL, MARKED FOR DEATH, DIE HARD 2, TOTAL RECALL, arguably PREDATOR 2 and ANOTHER 48 HOURS. But none of those tried to cool you out with jazz as you left the theater. That's not something you see in alot of action movies and especially not in 1990. That's an Eastwood exclusive.
But it has some of the usual excess of the era too. I can hang with the impossible car jump out of the fourth story of an exploding building, but I struggle with the blue screen mid-air "fasten your seatbelt" quip. You see that and you can believe it was the same years as DIE HARD 2, it's just like the most questionable moments in that one. The funny lines don't seem so spontaneous when they're looped over a special effects shot.
There are some cliches in this. I mean, you know how it is. You got a bunch of motorcycles and one of them you really like but you gave up on getting it running years ago. And then Charlie Sheen sits on it, reaches underneath and just twists something with his hand and whaddyaknow, the fuckin thing starts up instantly. This is how most men become friends, through the one-twist engine repair.
I don't mind that one, but it does have one of my pet peeve cliches, the ol' leads-repeat-each-other's-dialogue-later-in-different-contexts move. And it has the even harder to take version of that phenomenon: the entire scene that repeats itself at the end with the roles switched around. It made me actually wish for the depressing ending hinted at earlier.
A more serious problem is that about 85% of the movie takes place at night, so the action scenes are harder to make out than they should be. This must've looked like shit on pan and scan VHS. Maybe that's part of why this movie has a bad reputation. Also because it was the one he did before UNFORGIVEN, so he was at that aging action star stage where people enjoy snidely assuming everything you do is trash. Anyway the constant darkness is one big stylistic difference from the sun-drenched DIRTY HARRY movies.
And this is no DIRTY HARRY. It's not one of Clint's better ones, but I enjoyed the hell out of it. It's got alot of impressive car stunts and funny moments like the bad guys' bemused "this fuckin guy" reaction to Clint driving right into the back of their car carrier during a chase. It's some kind of unholy union of cheesy '80s cop movie and something more distinctive. It gets real weird and I gotta say I did not expect the Sonia Braga assault. And I was really impressed that Clint and his screenwriters were able to give Sheen a shocking shift to badassness. Definitely the most badass scene in the movie is all him, Clint's not even there.
(Careful, I'm about to spoil the best part)
When Ackerman really needs to take it up a notch to save Pulovski he goes into this bar and nobody's giving him the information he wants. I expected him to go Dirty and rough some people up. I did not expect him to abruptly blow flames in the bartender's face, shoot a whole bunch of people, throw one fighting dog and fill another one with lead, and burn the entire building to the ground. Not only is it hilariously overboard but it's all masterfully set up in earlier scenes: the geography of the bar, the prior humiliation by the people there, the dog fights in the back room, even the possession of the lighter (to light Pulovski's cigars). I love this type of carefully constructed action scene. They build the foundation before they put up the building. Not everybody bothers with the foundation, so I respect that.
Therefore let me be the first person in history to tip somebody's hat to the writers of this one, Scott Spiegel and Boaz Yakin. Those are the guys who wrote FROM DUSK TILL DAWN 2. Spiegel helped write EVIL DEAD 2 and Yakin directed this movie called FRESH that I'll be reviewing next. He also wrote the Lundgren version of THE PUNISHER but says the producer just kept the plot and rewrote everything else. Maybe the bar scene was some of the leftover punishment that didn't make it into that movie.