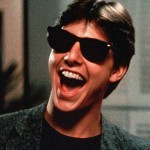 I like this "Mission Impossible" series. The first one, by Brian DePalma, is the best, a real tight and stylish twisty thriller with amazingly tense suspense scenes and cinematic tricks and surprises. And the occasional show offy special effects action scene. The perfect combination of Brian DePalma and summer event movie.
The second one, by John Woo, is a horrible piece of shit that finally made America realize what they had done to John Woo. But if you don't hold it to the standards of "being a good movie" it's pretty fucking funny. The amazing motorcycle chest bump scene comes to mind. In the John Woo filmography I consider this in the same dumb-action category as HARD TARGET and BLACKJACK.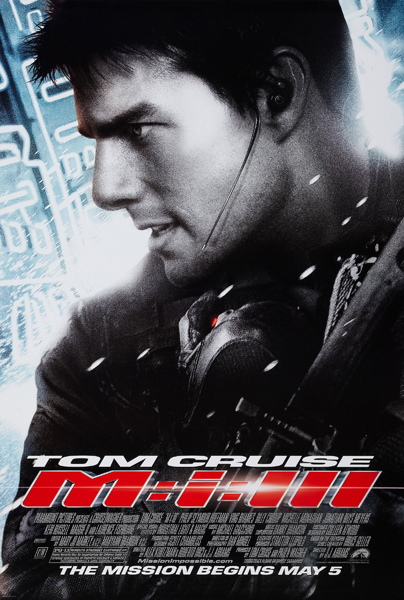 And it was cool that they seemed to be going for an auteur approach like the ALIEN series before the fucking Predators decided to come in and ruin everything. Each installment has a new approach and feel from a different talented director. Even if hiring John Woo turned out to be a big bust they were gonna go for another beloved director with a solid vision, Mr. Dave Fincher of ALIEN 3 and FIGHT CLUB 1 fame. He worked on it for a long time and then left to pursue his other hobby of developing movies that never get made.
Then they tried some other plans and it's been kind of laying around somewhere and now it finally makes it to the theaters with the directing and co-writing prowess of none other than J.J. FUCKING ABRAMS.
Which is some guy from TV, apparently. If you look him up he doesn't exactly have a John Woo or Brian DePalma type track record. He never directed for real movies before and he's written alot of worthless horrible garbage including but not limited to ARMAGEDDON, GONE FISHIN' starring Joe Pesci and Danny Glover, some Jim Belushi movie, and worst of all, ARMAGEDDON.
But it was the TV that got him the job because he created that show called Alias that I never watched but got sick of hearing about long ago, as well as another show called Lost that I also never watched but also got sick of hearing about long ago. For some reason I got a subscription to Entertainment Weekly and I have noticed a pattern that if fucking Lost isn't on the cover then it's gonna be fuckin American Idol. Okay, I get it. You guys are 22 and get a good salary for writing little wiseass blurbs so all you do is watch TV all day.
But I am willing to give J.J. Abrams a chance for ONE and only one reason. That reason is NOT that he created Felicity and gave its star Keri Russell an important role in this movie as well as a cameo for supporting player Greg Grunberg who played Felicity's crazy friend Sean, the inventor of Smoothaise. That is the kind of thing that might be exciting for someone who watched Felicity but as I've explained several times over the years I really barely even heard of that show, don't know much about it. No, the one reason I'm willing to give him a chance is because I'm a nice guy.
(begin actual review here)
Right from the bell you can see that this Abrams is trying some new tricks for the series, not just copying the other two as you might expect some TV chump to do. To show you what the stakes are, the movie starts at the most "oh shit, he's totally fucked" moment in the story, where you really can't imagine how Tom Cruise's character Ethan Hunte is going to get out of this mess. The villain played by Academy Award Winner P.S. Hoffman has both Ethan and his wife kidnapped and extensively strapped to chairs, and he's about to execute the wife if Ethan doesn't give him what he wants. And Ethan doesn't seem to have any way of giving him what he wants. And also Ethan apparently has "an explosive charge" in his head. An unneccessary touch but one I can get behind.
Then, of course, it skips back to show us how he got painted into this corner, and also why it matters. We see him at his engagement party with friends and family, and see how much he loves this girl played by Michelle Monaghan (a Liv Tyler elfen supermodel type). Apparently he's semi-retired, he doesn't go on Impossible Missions anymore, he just does Impossible Training. And keeps that stuff completely secret even from his special lady friend.
But then Billy Crudup (in a rare non-'70s-greaseball role) convinces him to go on just this one last Impossible Mission because his best student, Agent Felicity, has been captured. There's a funny joke where he shows up at the airport on a motorcycle wearing the same kind of corny leather and sunglasses getup from part 2. In that movie it was supposed to make him awesome, in this one it's just what he wears when commuting.
For the mission he works with a team that includes Ving Rhames as Luther (computer expert from the other two), Jonathan Rhys Meyers (the prick from MATCH POINT) and some lady. This is one thing I really liked about the movie, all of the missions involve teamwork, and his team sticks with him the whole time. I mean they definitely have teams in the other two but since Tom Cruise is the star and producer the story always ends up being about him and especially in part 2 it became The Tom Cruise Show. Tom Cruise with his sunglasses climbing a cliff and swinging on a rope and riding a motorcycle. That's fine but the tv show was all about a team of specialists working together to trick some motherfucker. These aren't the greatest tricks ever but I'm glad they're at least leaning a little more on that concept for part 3.
Anyway when they rescue Agent Felicity of course they find out about bad things and there's hints of other bad things and eventually they're going after this weapons dealer played by P.S. Hoffman, who is after something called "The Rabbit's Foot" which we remember as what he asked Ethan for in the opening scene that happens later. So that's a little of the old DePalma spirit there, letting us know what's gonna happen but then we have to wait for it in sloooooooow fucking mooooootion. Even when he's making a plan for how to steal the Rabbit's Foot we know that whatever he's gonna steal does not seem to satisfy P.S. Hoffman by the time he gets it to him. People are always so proud if they get ahead of a movie, so this one just gives part of it to you in the opening scene. There you go, assholes. A scene from later on in the movie. Take it.
But slow motion is not the best way to describe the movie as a whole because if anything it's too fast paced. The story is always turning in different directions and leading to big faceoffs and action moments. You probaly saw that great shot in the trailer where a missile goes off and Ethan bounces off the side of a car. That's from a pretty awesome paramilitary attack on a bridge. There's definitely some big stuff in here that Abrams never could've done in his TV shows. Especially Felicity because that kind of thing just doesn't happen to a young girl coming of age in college. I guess Roger Ebert said it's one of those movies where the action is so constant that it gets boring, but I didn't feel that way at all. My only problem was that I had to piss and I had trouble finding a quiet dialogue scene to leave during. So take that into consideration of you are one of these people who drinks liquids.
Anyway let's get to the point. Abrams did a good job. He is not on the level of DePalma in any way, but he sort of has the same basic philosophy: squeeze as much excitement and tension as possible out of traditional suspense thriller techniques, then at the same time pull some clever little twists and tricks playing off of people's expectations for this type of suspense thriller. For example, you don't see the villain on screen as much as you see most action movie villains. For a major break in that they lead up to for a long time, the camera stays outside of the building and waits for Ethan to come back out instead of showing you what happens inside. The Rabbit's Foot is a McMuffin or a Pulp Fiction Briefcase, you never find out what it is. This way we get to avoid yet another big speech about all the horrible destruction that it would cause if the bad guys won, even though you know they won't. Do we really need a guy making a dramatic speech in front of a big screen with a computer simulation? Most directors of this type of movie say yes, Abrams says no. (The closest thing to a speech like that is Simon Pegg from SHAUN OF THE DEAD explaining what he hopes it's not, based on no evidence, sort of played for laughs.)
Already I've seen people online complaining that you don't find out what The Rabbit Foot is and you don't see how Ethan steals it. As if it was some kind of mistake. They just ran out of budget and couldn't film the scene. Or they forgot to film it. I just can't relate to these people who get upset and confused every time a movie tries some small thing to be a tiny bit different. Their movie watching licenses should probaly be suspended.
Okay if it's such a problem here you go. Imagine this little speech is in the movie, it will straighten things out.
TOM CRUISE
What the hell are we dealing with here? This isn't an actual rabbit is it?
LAURENCE FISHBURNE
I'm afraid it's not an actual rabbit's foot, and it sure as hell doesn't bring good luck. The Rabbit's Foot is a biological weapon, the baddest of the bad. You want to know how bad this thing is? So bad nobody will take credit for it. IMF, CIA, NSA, KGB, WWE… the deepest, darkest, black bag, black ops, off the record undercover top secret spooks in the world won't even put their names on this. Because some day they'll have to face God.
TOM CRUISE
What does it do?
LAURENCE FISHBURNE
I'll tell you what it does. It makes your worst nightmares look like a day at the circus, or a dog show. The Easter bunny brings you eggs, this one brings you torment and horror. It wipes out the planet in less time than it takes to zip up your pants. Or unzip. Either one. Even diluted times a thousand, one drop of this stuff could turn an entire ocean into acid. On land, one thimbleful, or an amount the size of a baby kangaroo, could wipe out an area twice the size of Antarctica.
TOM CRUISE
But Antarctica is the largest continent, there isn't an area twice the size of Antarctica.
LAURENCE FISHBURNE
And there especially won't be if Davion gets the Rabbit's Foot. Millions will die. Their lungs will melt inside their chests and start dripping out their assholes. They'll start puking up shit that looks like marshmallow creme. Their skin will fall off their bodies in one piece and their muscles will start to shrivel and when they look in the mirror and see skeletons they'll still be alive and screaming for 5-10 more minutes.
Birds and deer will go crazy and start attacking cars. Swarms of ants will be attracted to anything metal. Bees will gather at the northernmost point of every city and start stinging each other. World leaders will rip off each other's clothes and start fucking in the streets. A nightmare that will make World War 2 look like a particulary tame bat mitzvah or maybe a church picnic of some kind, on a really nice day with good sandwiches and everything. Something like that. What I'm saying is this thing is bad.
TOM CRUISE
Thank you. Now that I understand specifically what it does instead of leaving it up to my imagination, this situation is much more dramatic in my opinion.
LAURENCE FISHBURNE
Ethan, wait. There's one more thing.
TOM CRUISE
What?
LAURENCE FISHBURNE
Good luck. You're gonna need it.
TOM CRUISE
Thanks.
LAURENCE FISHBURNE
Also I've always loved you, but we can talk about that later I guess.
TOM CRUISE
Later dude.
See, insert this scene into the movie and maybe you guys can enjoy it a little more, but personally I don't think it's necessary to know what it does. Because you got a good idea it's gonna kill people. It's not gonna provide anti-aging, full-spectrum sun protection while conditioning your skin with rich emollients.
P.S. Hoffman is a great villain. He's obviously one of our best actors (we own actors so they are "ours") and I have no doubt that he could be a good scenery chewing overacting super villain in an UNDER SIEGE 3 or something like that. But what he does is more novel, he's actually pretty scary. He could be like a notorious terrorist leader or something, it doesn't really matter if he can do karate or knows how to use a gun, the important thing is his position in the organization. He's secure in the knowledge that he's one of the most powerful and dangerous people in the world. Even when he's captured he just looks at Ethan with utter contempt and disgust, like he's a little kid in Insane Clown Posse makeup who he caught writing "fart" on the side of his car. Completely immobile, he still threatens Ethan and his family and makes it not seem hollow. He could squash him like a bug but he'd rather pull his legs and wings off. Then drag him to his own family reunion and cut his dick off in front of all his great aunts and second cousins.
Laurence Fishburne is also pretty intimidating in a supporting role as one of the bosses at IMF. Michelle Monaghan doesn't have a whole lot to do but she makes lovey dovey eyes at Tom Cruise that are incredibly convincing, and that goes a long way to making the stakes more personal. All the supporting cast is at least pretty good.
And Tom Cruise is fine in his usual Tom Cruise way. Now, you might have heard one or two things on TV lately about how Tom Cruise is part of some weird scientist club and he kidnapped a teenage girl from TV and started jumping on the couch, waving a sonar machine around, or whatever. If you are interested in that kind of craziness you gotta drop it in order to watch this movie, because this is not a freak show. It's a mission impossible picture. I would love it if he just went fuckin Dr. Moreau nuts, but this is not that guy, this is just old Movie Hero Tom Cruise.
For direction, I would give Abrams a B or B-, but with a 1 for effort and full marks for attendance. I'm not surprised he's a TV director because he's got alot of this disorienting shaky cam and at times (not all times) the action scenes are hard to follow in that way that many modern action movies are hard to follow. For example there's a frenzied scene in a helicopter where I can understand a little disorientation but I at least oughta be able to figure out which character it is who almost fell out. For the most part though the action is pretty exciting. He does better than alot of veteran big screen filmatists do these days, including one of the guys who made Tom Cruise such a big star (yes Tony Scott I'm looking your way motherfucker.)
If I have one major complaint for Mr. Abrams it's dude, why you gotta torture Agent Felicity like that? What did she ever do to you? Obviously this does not affect a guy like me who has not watched Felicity or even heard of it but I'm sure alot of people who did watch that show will be pretty upset when you put her in the movie and then fuckin kill the shit out of her before she gets the chance to even really walk. When they first show her she's tied to a chair so sick she looks like a zombie. She gets an adrenaline shot that allows her to catch a gun and bust off a bunch of shots with a badass look on her face. A great moment. But soon after she gets dizzy and dies and we even see her dead body laying there with the eyes all rotted and rolling back into her head. Couldn't she have gone on an Impossible Mission first? A couple flashback shots of her spinning a stick don't count.
I mean I know the show got less popular after she cut her hair but that's AMERICA'S fucking problem, not Felicity's. At the time, slavery seemed okay to alot of white people, but we see things differently now. The same will happen with Felicity's hair cut. So don't take it out on her.
Also, looking back on the whole story after you get to the end, I'm not sure if it makes any god damn sense. I'm not sure when certain affiliations were made or why certain people would allow certain things to happen if they were in on it with the bad guys. Then again these Impossible Mission people are really into complicated plans so maybe it makes sense and it's just over my head. You can't comprehend what the Impossible Mission Force is thinking if you're in a Possible Mission Force type of mindframe.
Other than that though this is an accomplished Hollywood summer event type picture. Maybe not a transcendent one like DePalma's but at least a real well made and fun one, which is probaly more than anybody should expect from a part 3. Especially when the part 2 wasn't too hot.
NOTE: The end credits have a really horrible song by Kanye West where he keeps rappin and singin about "impossible" stuff. He was still right about George Bush, though. Anyway if you can make it through that song he also has a pretty cool remix of the classic Lalo (ABOMINABLE) Schifrin theme song.