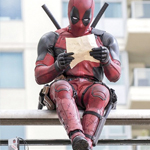 DEADPOOL is a smart-ass, hard-R super hero revenge movie for the 14 year old boy in every man, woman and child. The feature directing debut of FX artist Tim Miller (who designed the opening credits for Fincher's THE GIRL WITH THE DRAGON TATTOO) has show-offy digital camera moves, fourth-wall-breaking narration, meta and self-referential humor, frequent jokes about dildos and other things going up butts, gun fetishism, jerking off, juvenile homophobic name-calling like "cockgobbler," and is convinced that it's hilarious to know the names of different gross sex acts and talk about doing them with old ladies. Sounds exactly like a Neveldine/Taylor style headache. But I really enjoyed it.
I saw commenters here predicting I would hate DEADPOOL like I did KICK-ASS. I understand the comparison, but here's why I think it's different: it has a different personality. Both are trying to push buttons with foul-mouthed costumed characters going overboard with the violence and seeming real proud of themselves for it, but to me KICK-ASS seems like it's trying to shock and outrage some hypothetical prudes and squares that would never watch the movie anyway, while DEADPOOL seems like it's trying to win everybody over with its obnoxious charm. There are tons of childish jokes in the movie that didn't make me laugh, but they felt less like jokes failing and more like me smiling and shaking my head at a dipshit friend trying to make me uncomfortable to amuse himself. And the X-Men seem to feel kind of the same. He's basically a bad guy but they keep going easy on him because they want him to be a good guy.Come to think of it that's in keeping with what I've always liked about the X-MEN movies. The lines between good guys and bad guys are blurred. The bad guys are often kinda right and can also be friends with the good guys and play chess with them and stuff. It's complicated out there for a mutant.
Otherwise though this is pretty different than those movies.
How did a goofy movie like this get made? Believe it or not it's a passion project for Ryan Reynolds, who played a different version of the character seven years ago in X-MEN ORIGINS: WOLVERINE and had been attached to a solo movie even before that. Since WOLVERINE is the one failed X-Men movie and nobody liked the character onscreen (last seen as stunt double Scott Adkins with his mouth sewn shut) I never quite believed Reynolds would be able to Vin Diesel this thing into existence. Not only did he do it, but it's a huge smash hit, somehow even soaring beyond its PG-13 stepbrothers. So the WOLVERINE movie gave us something other than mild amusement and the still valid [____] ORIGINS: [______] joke movie title format.
It makes you wonder: what if Reynolds had put all that energy into the Nightstalkers spin-off they said they were gonna do from BLADE 3?
Note: in this movie he makes jokes about being embarrassed of WOLVERINE and GREEN LANTERN, but there is no mention of BLADE 3.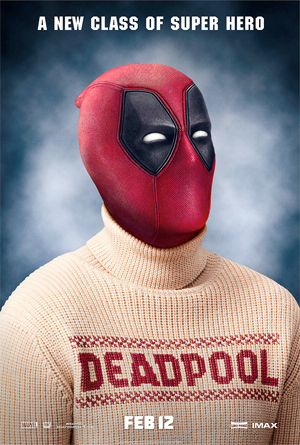 Forget about the Weapon X program. This isn't your father's Deadpool. This time Wade Wilson, an amoral mercenary, gets tortured into immortality (and ugliness) by a creepo named Francis (Ed Skrein, THE TRANSPORTER REFUELED) who says he's gonna cure Wade's cancer. The story takes place when he's already a masked red ninja dude tracking down Francis for an antidote, and flashes back to tell how he fell in love, then became a monster, then pretended to be dead and spied on his girlfriend from afar while plotting revenge. Like DARKMAN.
Wade's girlfriend Vanessa (Morena Baccarin, SERENITY) is not today's ideal of a strong female – she's a smoking hot prostitute who he has to rescue from kidnapping and practically being tied to train tracks. But I like her because she has a strong personality to match his. She goes toe-to-toe with him in joking and kinky sex acts. She doesn't seem like she's just putting up with him. And she gets the best line in the movie.
There are as many jokes flying around as bullets, and I laughed hard at plenty of them. Pop culture references can get old, but I guess I'm a sucker for a tough guy hero wearing a Bea Arthur tank top or making an allusion to COBRA. And I think we will all agree that a certain person who has a cameo in most Marvel movies has his best cameo in this one. It just has a playful attitude about everything. If the credits that call the director a douchebag don't work for you (they didn't for me) you're bound to be won over by something else, like maybe the bullets that have numbers on them to remind you how many he has left. And that he has to figure out how to kill three guys with one bullet.
I think the thing that annoyed me most about KICK-ASS was that the narration pushed this notion that they're real people who read comics and decide to be super heroes and this is what would really happen, but all that means is more gore and cursing, but less plausibility than your average modern super hero movie. DEADPOOL doesn't pretend to be above anything, in fact it takes place in the X-Men universe. My favorite stuff is his interactions with two X-Men, Colossus (an animated metal man with cartoonish Russian voice courtesy of Stefan Kapičić) and Negasonic Teenage Warhead (who is played by Brianna Hildebrand, has the coolest name of all X-Men, and rolls her eyes at Deadpool like he's her dad trying to act cool). It's a nice example of using an existing world but allowing for different tone to reflect the main character's POV.
Since it's Deadpool's POV it's gonna have some goofy uses of popular music in it. I know that's not unprecedented (GUARDIANS OF THE GALAXY maybe being the most comparable) but I gotta hand it to this one for good uses of well known songs by Juice Newton, Sant-n-Pepa, Chicago, George Michael and also DMX's "X Gon' Give It To Ya," which was in the trailer but surprisingly also the movie. Also the score by Tom Holkenborg (who stopped going as Junkie XL after FURY ROAD?) is very effective and keeps using a sound that reminds me of the gong at the beginning of "Beat It."
The people who should just beat it but instead make the mistake of fighting Deadpool are mostly generic mafia thugs and paramilitary henchmen, but there's a couple super powereds in there, and one is Gina Carano as Angel Dust. It's a good use of Carano because she does some real moves within the special effects, she grimaces alot, and they don't skinny her up. She's got some meat on her. She looks like she wouldn't need the powers to beat the shit out of most of the dudes in the movie. I'm happy that she gets a decent henchwoman role because 1) you never know if an action star is gonna get shit to do in these super hero movies (see Adkins in WOLVERINE) 2) the last movie I saw her in, HEIST, they had her playing a cop who didn't do any fighting. That means she was there for her acting, which has not been her strength so far.
Speaking of movies I never got around to writing a review of, it took me a minute to recognize the villain as the star of THE TRANSPORTER REFUELED. I didn't hate that movie. Skrein is no Statham, which was a problem, but they did give Ray Stevenson a surprisingly large part as his dad, and I remember this was the best (but not only good) part:
Anyway, Skrein works better as a hatable bad guy than a replacement Statham.
The character of Deadpool fits into many traditions, but the combination of elements make for a refreshingly different super hero movie. Visually, he wears a version of the padded armor they wear now instead of spandex, but the filmatists take the unprecedentedly cartoonish step of giving the mask white eyes and then animating them. He looks kind of like Spider-man crossed with the ninjas from GI JOE, flipping around in slow motion, firing two guns at a time, spinning two swords, but he also likes to do wacky poses, including the HOME ALONE face. He's like some sort of pervert ninja Bugs Bunny, who prioritizes fucking with people just above curing himself and getting revenge.
Since DEADPOOL is a huge hit, bigger than what even optimistic fans could've predicted and turning long-held Hollywood conventional wisdom about R-rated movies on its head, everyone is trying to figure out what it means for the future. Mostly people are either excited or annoyed that they think it will lead to a new age of R-rated super hero movies. I don't see it that way. I think it's a welcome return to a tradition of lowbrow R-rated Marvel movies: THE PUNISHER, BLADE, BLADE II, THE PUNISHER,  BLADE TRINITY and PUNISHER WAR ZONE. (MAN-THING was also rated-R.)
Of course it's much jokier than all those, full of references, quips and Apatowian riffing with the bartender played by T.J. Miller (YOGI BEAR), and in fact the weakest of the theatrical releases listed there is probly the one that features Reynolds being a wiseass in it. But what these all have in common is that they're more action oriented, hyper violent, lower budget so the stories are on a smaller, more '80s action movie type scale and there's more room for stylistic experimentation. Actually I would also include GHOST RIDER: SPIRIT OF VENGEANCE in this category even though I didn't particularly like it and it was PG-13. This is a type of variation on the comic book movie that I think there's room for in the world.
So welcome back R-rated Marvel. Have fun, but keep an eye on the size of those britches.
P.S.
The script is by Rhett Reese and Paul Wernick, the guys who did ZOMBIELAND and GI JOE: RETALIATION. Rheese also did CRUEL INTENTIONS 3, which I thought I'd reviewed back in the day, but when I googled it all I found was an Ain't It Cool review of the DONNIE DARKO director's cut where I mentioned sending it to Moriarty and it ending up in his spam folder.
Since I've used the same email since the '90s I searched it and found the review. So here as a special bonus is what I sent to Drew 12 years ago under the subject line "This is the big one: Vern reviews CRUEL INTENTIONS 3." (Follow asterisks for contemporary updates and explanations of dated references.)
—–
Boys –
I know you fellas haven't found much use for my last couple reviews (the hellboy one and the kill bill one) but boys, this is the big one. I know  this is something you don't have a review of yet and you are chomping at the god damn bit for this one. You're sitting there going come on bit, I'm gonna
chomp the shit out of you until Vern sends me a review of the thrilling conclusion to the beloved CRUEL INTENTIONS trilogy.
That's right boys, CRUEL INTENTIONS 3. May 25th 2004 is the big day. "An Immoral Playground of Seduction and Revenge" it says on the cover, but I don't think that's the title. But it would be cool though if it was.
Wait a minute, did that say IMMORTAL playground? No, sorry, it was 'immoral'. I was gonna say, maybe I need to watch it again because I didn't pick up on that angle.
Let's sum up the saga so far:
CRUEL INTENTIONS
Kathryn Merteuil (Sarah Michelle Gellar) is the wine-sipping, sexually manipulative bitch who bets her prissy stepbrother Sebastian Valmont (Ryan Phillipe) that he can't nail the prep school dean's virginal daughter (Reese Witherspoon). Of course, he gets in there and then discovers that – gasp – he really loves her. Selma Blair is in there also, and Kathryn gives her "kissing lessons" in the park. Then Kathryn snorts coke out of a crucifix and Sebastian gets run over by a car (awesome).
There is lots of campy dialogue and sexual innuendo (no nudity if I remember right – definitely no penetration, I'm pretty sure). It sounds like a porno but it's basically a teen version of DYNASTY or FALCON CREST, but based on the novel Les Liaisons Dangereuses by Choderlos de Laclos.
CRUEL INTENTENTIONS 2
The same writer/director returned for the sequel, which has different actors playing Kathryn* and Sebastian**. They meet for the first time again and make the same bet again. But it takes place in an alternate dimension or something. This time Sebastian is working class and you're supposed to like him. Then there are twins naked in a shower. The closest thing to a memorable scene is where Kathryn gives a girl horse riding lessons and gets her to orgasm.
This one was actually a pilot for a Fox TV series, but some executive there*** was so offended by the horse/orgasm scene that he made them dump the series. And this was before Janet's titty changed everything.****
(By the way that reminds me I got a real good idea for the networks. The politicians have decided that after Janet's titty, it's time for America to wash her mouth out with soap, right? And alot of the networks and stations and what not are scrambling to set up new censorship departments. Well you may not know this, they don't talk about it in the American media much, but we still got a whole camp full of prisoners of war from Afghanistan locked up in cages indefinitely without charges in Guantanamo Bay. Unless EVERYBODY down there is an innocent bystander, there's GOTTA be some Taliban in there. And believe me, Taliban guys know their shit when it comes to not letting anyone see a woman's body. These are your guys! They're made for the job! Just create some kind of work release program and put these guys in Standards and Practices. Or you could send the tapes over there and MAKE them watch them. We're already violating their human rights anyway, it can't be THAT much worse to make them watch sitcoms. Well, I guess that's arguable. But think about it man.)
Anyway, CRUEL INTENTIONS 2 is basically a remix of the TV pilot MANCHESTER PREP, where they added some nudity and swearing. Just like MULLHOLLAND DRIVE, except less good.
(My review here http://www.aintitcool.com/display.cgi?id=8198)
Which brings us to PART 3. The thrilling conclusion. Sorry, it's not in 3-D. But this time it's the college years and the next generation. I thought maybe they would have yet another pair of actors playing Kathryn and Sebastian, but instead this is the story of Cassidy Merteuil (some chick who looks like Christina Applegate*****) and some dude (a guy from DAWSON CREEK******).
They tell us that Cassidy is the cousin of Kathryn. She idolizes her cousin and therefore she also goes around making $10,000 bets about who can sleep with who. The dude from Dawson Creek is, like, some guy who knows her, and wants to have sex with her but instead makes bets with her about him having sex with other people (he idolizes Sebastian). They say that the real Sebastian is dead and Kathryn is in a methadone clinic, and it is up to your imagination whether this means the Sebastian and Kathryn from part 1, or the ones from part 2. Or both.
The plot is a little less based on pre-revolution French literature this time, and more on the works of Shannon Tweed. It's just a series of sex bets. First, the dude bets Cassidy she can't have sex with his roommate. Then the dude and the roommate have a bet about whether they can have sex with an engaged gal and a gal with a boyfriend. Then they have bets about which one can have sex with Cassidy, but the dude realizes he is – HOLY CRAP WHAT A TREMENDOUS SHOCK – really in love with Cassidy. So sweet. What a hard, hard lesson he has to learn about making bets about having sex with people. I guess that's why you go to college.
There is a little bit of nudity, so it might do the trick for teenage boys who have a parental lock on their web browsers and no access to a Playboy stash. Otherwise it is even less worth your while than part 2. The sense of humor and camp is completely gone. The anti-heroes are less cartoonish and FALCON CRESTy. In fact, it kind of seems like they're supposed to be cool. Even though there's a rape scene! If I had kids I wouldn't let them watch this one. (did you see that, I just totally took a moral stand. That was awesome.) It's basically a mean-spirited softcore porn. There is no goofy imagination to the titillation like in the first two. It's written by the guy who wrote CLIFFORD'S REALLY BIG MOVIE.
I'm a nice guy though so I will say that this is not in the lowest tier of unwanted straight to video sequels, it's more in the lower middle area. At least it's not in a horror or suspense genre, so they have to come up with more than just a series of death scenes. I made it all the way through in two sittings. It was better than THE SKULLS III. I wonder if I could get that quote on the box.
Anyway that's it for now boys. Don't worry, I'll keep you informed on the straight to video sequel front.
–Vern
* 5-time Oscar nominee Amy Adams
** Robin Dunne, later in AU PAIR II, THE SKULLS II, AMERICAN PSYCHO II and SPECIES III.
*** Actually it was Fox chairman Rupert Murdoch himself
**** Here I'm on about the Super Bowl XXXVIII controversy. Janet Jackson's shirt had opened up during the half time show, showing part of her breast on live TV. Many people fainted and almost died of the vapors trying to protect their children.
***** Kristina Anapau, BLACK SWAN
****** Kerr Smith, MY BLOODY VALENTINE
This entry was posted on Monday, February 29th, 2016 at 11:28 am and is filed under
Action
,
Comedy/Laffs
,
Comic strips/Super heroes
,
Reviews
. You can follow any responses to this entry through the
RSS 2.0
feed. You can skip to the end and leave a response. Pinging is currently not allowed.