Stone Cold Steve Austin (THE EXPENDABLES) plays Jim Rhodes, badass Border Patrol agent and former FBI partner of Eric Roberts (THE EXPENDABLES) who has to save his daughter when she's taken hostage by a group of ruthless thieves, including Gary Daniels (THE EXPENDABLES). Also he has a bow and arrow.

The director is Keoni Waxman, who did Seagal's THE KEEPER, A DANGEROUS MAN and apparently many episodes of TRUE JUSTICE. I was thinking it was gonna be the same director as Austin's best movie so far, DAMAGE, but that was Jeff King. It is the same writer as DAMAGE, Frank Hannah. My hopes for it to be as good as DAMAGE were not fulfilled, but it has some things I liked about it.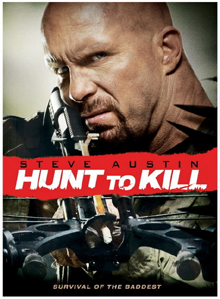 I really like the opening. Austin and Roberts (in an extended cameo) bond during a deceptively peaceful call to an abandoned trailer before Austin's about to retire. This scene has every cliche in the book (including but not limited to day-before-retirement-trouble, wise mentor partner and let's-do-it-like-the-old-days) but the charm of Roberts and the stone coldness of Stone Cold make it effective. It's a nice little two-actor scene that turns into some mayhem. One thing that's unusual, Austin gets hurtled through the air by an explosion and hits his head and, if I'm not mistaken, actually gets knocked out. You don't see alot of guys in movies actually getting bumped around by explosions. Usually they just walk or run away and everything's fine. Nice twist, Stone Cold.
Then we find him years later, divorced, on a break from work, and trying to spend some time with his daughter, who doesn't like him very much, partly because she doesn't like the used car he gave her. But he rolls up in the exact pickup truck you would expect Stone Cold to drive. The music sounds very majestic and makes this Rhodes character seem like one of the heroes of the early '90s action movies I dig on. I think that kind of sound could either mean he's a decorated soldier (UNDER SIEGE) or he's one with nature (FIRESTORM, ON DEADLY GROUND).
Then it introduces the villains, who have just executed a daring casino heist, but the rich guy who put the team together betrays them and flees through the woods, so they gotta chase him. During the chase they wind up taking Rhodes as a guide and his daughter as a hostage, so that's how our hero gets mixed up with these pricks. If it was just him he could escape I'm sure, but he's trying to save his daughter.
Great beginning, and I can also give my seal of approval to the end section, unfortunately the middle part is not as good. The group plods through nature, mostly bickering and being hateful. Sometimes in these movies everybody just argues over nothing instead of having actual dramatic tension, and if they're not good enough actors it's a problem. Gil Bellows of Ally McBeal fame is semi-enjoyable though, going a little mega as the sadistic ringleader. He smiles with delight whenever any violence happens, even if it's against his interests, like when his team are infighting. But the daughter and the rest of the team are kind of grating.
Like in TAKEN the girl is kind of an ungrateful brat, but also she's bitchy and sullen. There's a whiny computer expert who you know is quirky because his fingerless gloves have blue and white stripes. Poor Gary Daniels is British so he has to call people "guvnah" more than once. And it's a little embarrassing that the one black guy in the movie tries to rape the girl as soon as he's alone with her.
When the talking stops and there's action it's pretty good. The highlight is a fight between Austin and Daniels, plodding wrestler vs. skilled kickboxer. They eventually pick up sticks from the ground for some kind of primal duel, which turns out to just be a setup for Austin to do a wonderfully awful Schwarzenegger style pun.
The climactic fight between Austin and Bellows is also good. You hate that prick and want to see him get smashed. I love that Bellows carefully peels off one board nailed to an abandoned mine so he can climb in, then Austin just runs straight through the rest of the boards like Frankenstein's monster or Kool Aid Man would do. Bellows is clearly outmatched, but the choreography really sells that he's surviving through luck and weasely resourcefulness. And here's a quick SPOILER but somehow it's perfect for Stone Cold's persona that he defeats the guy by doing a wheelie on a 4-wheeler.
I was right back when I saw and hated THE CONDEMNED: despite the crappiness of that movie, Austin makes a really good action hero. I'm pretty sure he's not gonna have alot of acting range, and also that he's not gonna need it. He has a really strong screen presence, so much more of a monster than most heroes. He looks like a scary ex-biker bouncer or something, so he's interesting as a good guy. For a guy that looks like that to be a sweetheart is almost like built-in badass juxtaposition.
I honestly think he does some good acting in this movie. They don't give him too many words and he communicates alot with his eyes. His anger, his hurt. And since he gets to
1. bond with a partner and
2. sit in the woods forging his own weapons and camouflage
that means it's a good use of him. Bonus points for his partner giving him a meaningful trinket that doubles as a survivalism tool.
In the long run HUNT TO KILL will be a minor entry on the Stone Cold filmography, but it's not a waste of your time if you're into this sort of thing, which you are.