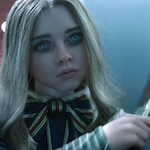 M3GAN is a nice little treat – a killer doll/robot movie with a solid execution of the premise, a good sense of humor, and plenty of personality. And as a Blumhouse/Atomic Monster production it's got a decent budget, so the effects are excellent. It's a similar idea to the okay-not-great CHILD'S PLAY so-called-remake (out-of-control AI, no supernatural evil) but the way they made their doll look and behave is creepy and delightful in a fun new way.
Gemma (Allison Williams, THE PERFECTION) is the adult in the situation, and part of the joke is that she's not a responsible one. When her niece Cady (Violet McGraw, DOCTOR SLEEP, The Haunting of Hill House) loses both parents in a car wreck, Gemma steps up to become her temporary guardian, but is too occupied by her job at a toy company to pay close attention to her.
A gifted roboticist, Gemma got in bad with her boss David (Ronny Chieng, GODZILLA VS. KONG) by surreptitiously blowing a bunch of money on the M3gan (Model 3 Generative Android) project, a life-sized robotic little girl designed to "pair" with its owner, use A.I. to learn and perform tasks from reading bedtime stories to teaching science. Now that's cancelled and she's back working on dumb old Furbie-like Perpetual Petz (designed to make wiseass comments, fart and poop little pellets while the kid plays related games on the internet).
I respect Williams' willingness to play characters that make her look bad. None of them could be as hard to live down as her white-girlfriend-from-Hell in GET OUT, but it's surprising how far and how straight-faced they go with making Gemma terrible at taking care of a kid. She makes only half-assed attempts to relate to her niece, and tells her she can't play with the toys she has on display because "Those aren't toys – I know they look like it, but they're collectables." When she tries to occupy the kid with an iPad Cady asks "What about screen time?," since her parents limited hers. Gemma has no clue what she's talking about at first.
"Oh – I don't care," she says.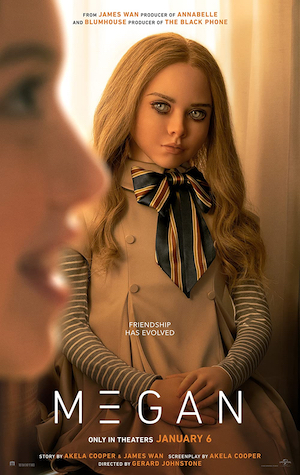 When Gemma does come up with an idea that seems to cheer up Cady, it conveniently revives the M3gan project. On a playroom stage viewable through a one-way mirror, Cady meets and befriends the M3gan doll, and the results are so impressive that David allows Gemma to bring the doll home to further bond with Cady, improving the programming before a demo for the board.
Though M3gan seems like a friend, a way to socialize, she's kind of the same thing as the iPad – a technological distraction to keep the kid out of the way. She plays with Cady, tucks her in, sings her lullabies worthy of a musical number in a DTV Barbie movie. She does so much that Cady's psychiatrist Lydia (Amy Usherwood, LADIES IN BLACK) and Gemma's co-workers Tess (Jen Van Epps) and Cole (Brian Jordan Alvarez) overly-politely nudge her to do more parenting herself. It's cool that machines can do tasks for us but there's a difference between using a Rumba so you don't have to vacuum and using a M3gan so you don't have to spend time with your grieving orphan niece.
Also, of course, the machine will become dangerous, techno-horror merged with the sort of suburban domestic horror we got in the STEPFATHER sequels. Being programmed to protect Cady causes M3gan to have violent disputes with the next door neighbor Celia (Lori Dungey, various Power Rangers shows) and her dog, a teenage bully (Jack Cassidy), etc. The bully, Brandon, is the exact right kind of arrogant prick that you want to see get his ear torn off by an evil robot doll, but I like that Celia goes against type for the nosy neighbor. She's kind of clueless and has a gross hoarder house but she seems well intentioned, Gemma is needlessly mean to her, and M3gan murders her dog! So it's got this discomfort to it because it's funny to see how M3gan goes cyber-medieval on her, but she absolutely doesn't deserve it, even by horror movie rules.
Like with some of the Chucky movies, a big part of the joy is just watching M3gan move around like she's alive. I mostly couldn't tell how they did it. A few stunts look like a costumed actor, but they definitely had real animatronics, and I've also read child actress Amie Donald (Sweet Tooth) portrays her movements, with Weta digitally turning her into the doll, however that works. The voice is cartoon actress Jenna Davis, with a perfect Barbie-like tone and occasional tinges of autotune.
It's a brilliant weaponization of the uncanny valley, giving her strikingly realistic eyes that do not connect like a living human's. Her makeup, prissy outfits, confident walk and fashionable sunglasses really capture the type of precocious glam-girl fantasy often marketed to little girls. She looks so artificial and yet so real, and then you have her go haywire looking like that and it's pure entertainment.
M3GAN is ORPHAN plus Chucky plus Skynet. She can mimic voices like the T-1000 and hack into your Siri via wi-fi. As a machine she not only lacks an understanding of morals, but of normal human behavior. So sometimes she'll do strange things like run on all fours or (already famous from the trailer) do a dance while stalking somebody with the blade from a paper cutter (homage to EXIT WOUNDS). If they hadn't put that in the trailer I guess the movie wouldn't have been as big of a hit, but I bet the laughs and cheers would've lasted into the next scene. Another bizarre moment is when she effortlessly plays Martika's "Tin Soldiers" on piano while making a threatening speech.
She can do anything. I'm sure she has every bomb-making blueprint and military strategy known to man at her disposal. She could teach herself knife fighting techniques, engine repair, or surgery. She could hack people's bank accounts to buy a helicopter and then teach herself to pilot it. She could 3D print herself screen-accurate POLAR EXPRESS costumes and steal Tom Hanks' motion capture data to re-enact the entire movie to scare people. The sequel possibilities are endless.
The filmatists clearly understand that as in any TERMINATOR movie and most Chuckys you gotta give your robot/doll a cool looking battle damaged stage. After that she gets wrecked all the way down to the basic machinery, almost like a Daft Punk stage. But she's a program, not a body, so she could come back in almost any form. I'm betting she'll upload herself into the knockoff doll teased in the industrial espionage subplot.
I've seen complaints that the movie holds back on violence. I don't know if the people saying that got it in their heads because they read that there was a gorier version that was cut to PG-13. Yeah, I'm sure I'd have even more fun if she was ripping people's faces off or whatever, but nothing seemed lacking while watching it. It works for me. Good audience movie, too, if you're able to see it in a theater, or with friends when it comes out on video. Sometimes we need to come together to share some laughs over a doll murdering people. Otherwise how do we grow as a society?
M3GAN is directed by Gerard Johnstone of New Zealand, who did the 2014 movie HOUSEBOUND that I know people like, and it's produced by James DEATH SENTENCE Wan. The screenwriter is Akela Cooper, who also did MALIGNANT and HELL FEST, so I'm a fan. Like MALIGNANT, this takes place in Seattle (I don't think it's mentioned, but the city is shown in a handful of second unit shots, and they have Washington license plates), which is odd because Cooper is from Missouri and doesn't have any connections to Seattle that I've been able to find. Anyway I hope M3gan and Gabriel recuperate together in Underground Seattle until their hopeful sequels.
P.S.
(NON-MONUMENTAL ENDING SPOILER NOTE) I assumed and waited for Gemma to use her first robot Bruce to finish off M3gan in a Ripley's-powerloader type moment – and would've been disappointed if it hadn't happened – so it was a nice surprise that it was Cady who got to do it. She deserved the win more than her dumb aunt. By the way, it's noted that Bruce even has the ability to smell. There could've been a part where he smells gas and saves them from an explosion, but it turns out it's not foreshadowing, it's just character color, like Rambo's ability to eat things that would make a billygoat puke.
This entry was posted on Thursday, January 12th, 2023 at 11:36 am and is filed under
Reviews
,
Horror
,
Science Fiction and Space Shit
. You can follow any responses to this entry through the
RSS 2.0
feed. You can skip to the end and leave a response. Pinging is currently not allowed.