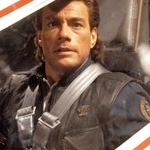 Recently when I ranked all the '90s comic book movies for Polygon I rewatched TIMECOP for the first time since that decade. I decided to disqualify it when I read on the production notes extra that it was originally written as a script and then made into a Dark Horse Comics series, but I'm glad I watched it first, because it's better than I remembered.
Jean-Claude Van Damme (BREAKIN') plays Max Walker, a regular cop who's about to be recruited to a new secret government agency that travels back in time to stop other time travelers from changing history. Knowing the future presents ample opportunities for get-rich-quick schemes (for example, in the opening a guy uses a futuristic machine gun to steal gold from the Confederate Army), but the government worries this could butterfly-effect shit up, so they try to control it.
This could easily follow a MEN IN BLACK trajectory and have Max start the job at the Time Enforcement Commission so we can learn all about it through his eyes. Instead he and his wife Melissa (Mia Sara, LEGEND) get blown up before he's recruited and then it cuts to a future where he's already a well-established Timecop. He's so cool in this he had me thinking even his mullet looks good. It was the first time I actually thought that might come back some day.
He's also "cool" in goofy ways like he can sense that a guy on rollerblades in the mall is a purse snatcher (yeah, I've seen that episode of CHiPs too) and knows how to put his boot right in front of the guy's face without touching him.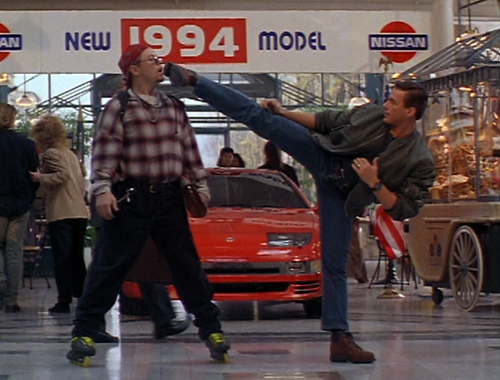 This also represents the peak of Van Damme's pride in his ass. We see it during sex and in his undies. Somehow I forgot the famous jumping-up-doing-the-splits-in-the-kitchen shot, and that it was to save himself from electrocution in a puddle of water. Classic.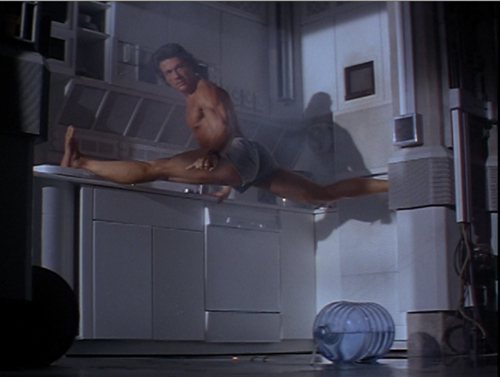 Here's another scene where he uses the splits as a defensive maneuver. Unfortunately I discovered by making this screengrab that he uses a stunt double for the splits if he's wearing pants.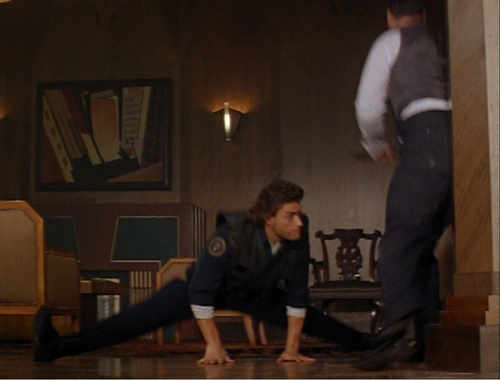 Stunt coordinator is Glenn Randall (RAIDERS OF THE LOST ARK, E.T., FIRESTARTER, RAW DEAL, COLLISION COURSE, ON DEADLY GROUND, SPECIES, THE SUBSTITUTE, THE MASK OF ZORRO).
Another thing I somehow forgot was the one part I used to really like. Max sort of predicts JASON X by shattering a guy's arm that gets frozen by chemicals. Then in the next scene he thinks of the one-liner he should've said.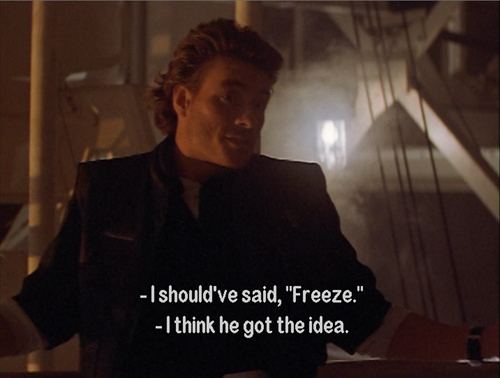 Max is on a seemingly routine case going back to 1929, where he discovers his former partner Lyle Atwood (Jason Schombing, 3 NINJAS KICK BACK) cheating the stock market. We get to see how Max apprehends timecrooks and brings them to secret tribunals, but things get ugly when Atwood chooses the instant death penalty to protect his family from a larger conspiracy led by a senator with oversight of the agency. God damn it, I should've known Ron Silver (BLUE STEEL) wasn't playing a good guy. He's altering the past to make himself rich so he can basically buy the presidency.
So Max is on a mission to uncover the truth. He's also showing the ropes to fresh-faced outsider Sarah Fielding (Gloria Reuben, LINCOLN). They go to 1994 and find future-timeline Senator McComb giving investment tips to his 1994 self. Not ethical, Senator! This scene is a good example of the movie's sense of humor. When a 1994 guy talking to 1994 McComb sees Future McComb he asks, "Where do you come from? Are you supposed to be his father?"
Max also has a nice friendship with his boss Matuzak (Bruce McGill, also LINCOLN) but it's a little nerve wracking because you keep thinking he shouldn't trust anybody.
It is discussed that because the TEC is founded on the idea of protecting the timeline it's not even acceptable to kill Hitler (that's the subject of the DTV sequel starring Jason Scott Lee), and Max's discipline is proven by his refusal to try to stop the murder of his wife.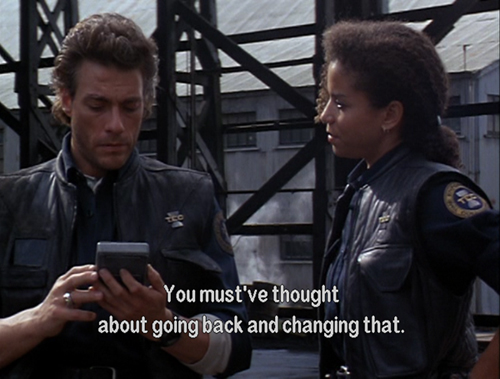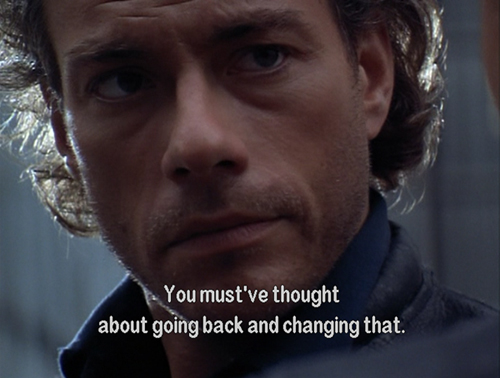 But hey – chasing the corrupt candidate takes him to that night, which was already altered to try to stop him from chasing the corrupt candidate! So he gets to make things right this time.
Silver, of course, was a master at playing slimy pricks, so he's a good villain. Nobody can watch this without wanting to see Van Damme or somebody wipe the shitty grin off that asshole's face. There's a funny part where McComb listens to a long speech by his political adviser in the back of a car, and before he responds he suddenly bangs the guy's face against the side of the car and continues snacking from his bowl of peanuts.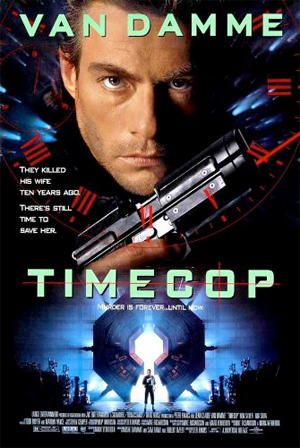 I like when lowbrow movies of the past seem to be prophetic, so we have to discuss the parallels between McComb and Trump. Of course, McComb seems much more intelligent, competent and capable of passing for a normal human being or even a good senator. But he shares some of Trump's politics and opportunistic hatemongering. According to his adviser, "The numbers in the suburbs are encouraging, but they are killing you in the urban centers. On the other hand there is a poll that shows you're gaining with the pro-life, pro-death-penalty coalition and with the close-our-borders Americans-for-Americans anti-immigration faction."
He also shares Trump's dependency on television and money. "Elections are won with television," he says. "You don't need the press, you don't need endorsements, you don't even need the truth. You need money." Later he says "The country's goin down the drain because of the special interests. We need someone in the White House who's so rich he doesn't have to listen to anybody," and, "When I'm president it's gonna be like the '80s again. Top 10% will get richer, the rest can emigrate to Mexico where they can live a better life."
As a Senator he tries to defund TEC, the agency that could bust him. And Matuzak fears even investigating him because he's a presidential candidate.
It's all there. What I'm telling you is all we have to do is travel back in time to catch Trump talking to another version of himself and then kick one of them into the other one. (SPOILER.)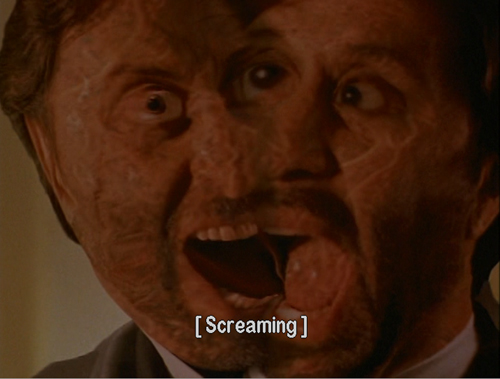 Of course some of the ideas of the future are dated. Back then we were so interested in the potential of virtual reality without really guessing how it would play out. There's a weird little thing with a minor character, the tech who watches and explains monitors full of data about timestreams. They come over and he's watching VR porn. It's obviously an excuse to get in a random shot of a naked lady writhing around on a bed, but Matuzak refers to it as "fuckin that machine" and then there's one of those sexy robot pictures from the '80s like on the cover of the Autograph album (I looked it up and the first was literally called "Sexy Robot" and they're by the artist Hajime Sorayama). So I think the implication is "this guy is so into computers he wants to fuck computers."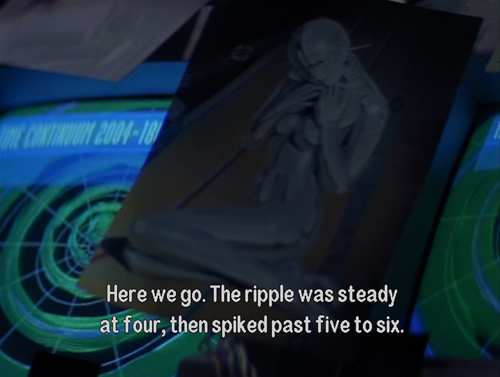 I now think TIMECOP is pretty comparable to a Stallone or (lower level) Schwarzenegger sci-fi action movie, even if its a smaller budget and a star a little lower on the Planet Hollywood totem pole. It's got Van Damme being a cool action hero, some good little fights and shootouts, a couple great stunts, a few details about its future with a bit of a Verhoeven or at least DEMOLITION MAN satirical vibe (mention of "The White Supremacist Party" qualifying for matching funds in the election – I guess that's not too far off). And it's well directed by Peter Hyams (OUTLAND, 2010: THE YEAR WE MAKE CONTACT, SUDDEN DEATH, ENEMIES CLOSER), with a score by Mark Isham (POINT BREAK, BLADE, HIGHWAYMEN) that makes it feel extra-legit.
Possibly relevant to the movie's quality, possibly not: Sam Raimi (along with Robert Tapert) is credited as a producer. Not executive producer as he was on HARD TARGET, M.A.N.T.I.S., Hercules and DARKMAN II and III around that time – full on producer.
Somehow even though the screenplay was turned into a comic book that was then called the basis of the movie, there was also a 2-issue comic book adaptation of the movie. They also made a Super Nintendo game. In 1997 there was an ABC TV series about different timecop characters that lasted for nine episodes and inspired some tie-in novels. The DTV sequel (TIMECOP 2: THE BERLIN DECISION) came out in 2003. Last year the movie's similarity/superiority to LOOPER became a running gag on the pilot for Jean-Claude Van Johnson. In recent years there have been attempts to "reboot" the "franchise," with the writers of BRING IT ON AGAIN and JOURNEY 2: THE MYSTERIOUS ISLAND being hired to script at some point. If it ever gets made I'm sure it will be very different because the splits will have to be mocap.
This entry was posted on Monday, March 18th, 2019 at 9:05 am and is filed under
Action
,
Reviews
,
Science Fiction and Space Shit
. You can follow any responses to this entry through the
RSS 2.0
feed. You can skip to the end and leave a response. Pinging is currently not allowed.