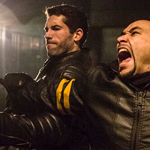 For those who came in late… The English actor and martial artist Scott Adkins is the reigning champ of low budget action. After catching our eye as the villain-turned-anti-hero Boyka in three UNDISPUTED sequels (2, 3, 4), as well as starring in two NINJA movies (1, 2) and the incredible UNIVERSAL SOLDIER: DAY OF RECKONING, he was clearly the era's strongest answer to the iconic action stars of the '90s like Jean-Claude Van Damme – who he co-starred with in THE SHEPHERD: BORDER PATROL, ASSASSINATION GAMES and EXPENDABLES 2. The latter was one of the many times we got hyped up for impending mainstream recognition only to find him playing Knife Guy Who Has Short Fight With Jason Statham. For years people hoped he'd be cast as Iron Fist or somebody in the Marvel Universe, until finally he was in DOCTOR STRANGE – and got beat up by a magic cape.
Little did we know that there was a comic book he'd been wanting to make into a movie since the age of 15, and this didn't require a big special effects budget or a subduing of his talents. ACCIDENT MAN – starring, produced and co-written by Adkins – is an action-packed, darkly humorous hitman saga based on stories that appeared in the British comics anthology Toxic! in 1991, written by Pat Mills (Judge Dredd, etc.)
Adkins plays Mike Fallon, an elite assassin who specializes in making your death look like an accident. He's part of a Johnwickian underground, a "firm" of killers for hire who work out of a small pub called the Oasis. They each have different gimmicky techniques: Poison Pete (Stephen Donald) obviously poisons, Carnage Cliff (Ross O'Hennessy, The Bastard Executioner) is a rampaging ax murderer, Finicky Fred (Perry Benson, SID & NANCY) is an inventor who tests out his theories on random victims, etc. Some of them have backstories: Jane the Ripper is "an expert swordswoman and a right nasty bitch" who killed her master (Roger Yuan, CROUCHING TIGER, HIDDEN DRAGON: SWORD OF DESTINY) and is rumored to collect dicks as trophies; Mick and Mac were British and American rivals in Special Forces who became buddies and went into the mercenary business together.
Those last three characters are the most exciting, because they're played by Amy Johnston (LADY BLOODFIGHT), Michael Jai White (BLOOD AND BONE) and Darth Maul himself, Ray Park. None of them are wasted. And the cast goes deeper than that because you also got Ray Stevenson (PUNISHER WAR ZONE) as bartender/boss Big Ray, and David Paymer (PAYBACK) as Milton, who gives them their assignments. Something tells me that guy is gonna get pushed around at some point.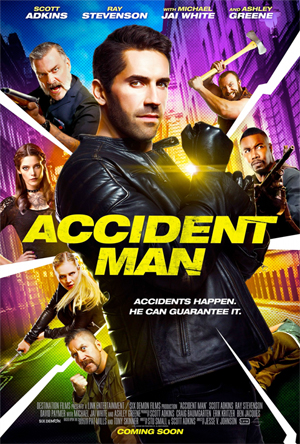 When someone close to Fallon dies he suspects the organization is responsible and goes looking for both the killer and the client. Which thankfully for us means he'll have to fight everybody. NINJA II/BOYKA fight choreographer Tim Man is credited as action director. He also plays a Triad who has a really good fight with Adkins, wearing a motorcycle helmet for most of it, so he gets banged against concrete quite a bit.
Adkins ends up having rematches with two of his UNDISPUTED opponents, the most exciting being part 2's MJW, who's kind of the secret weapon of the movie. His balance of martial arts and acting skills are a strong contribution even in this supporting role. He gets major action sequences but also a really funny and charismatic character acting performance. Mick is a guy who seems to get his ideas of manhood from RAMBO: FIRST BLOOD PART II and PREDATOR. In a quick war flashback he's maniacally machine gunning dudes while dragging a guy around in a headlock. But he also tries to be a good friend. He's one of many who try to tell Fallon that a murder was "just business," but he's the only one who says it with hurt in his eyes like "Don't you get it? Just business. Why are you so mad at me?"
Jane the Ripper is a good challenge for Johnston. A couple of her nasty lines sound unnatural to me, because she has such a thorough nice girl aura, but her facial expressions are a whole other story. Her eyes give a hell of a performance in the brief flashback with her sword master. More importantly, she gets the best fight with Adkins. For some it may be shocking to see him getting so vicious in a fight with a woman, but I always appreciate movies like this recognizing women who are worthy opponents for their male leads. They don't give him a female sidekick for her to take on because she's earned a shot at the title.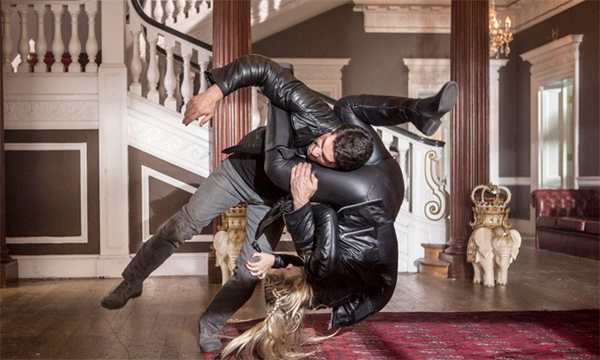 I've enjoyed the films of director Jesse V. Johnson since I saw his Eric Roberts movie THE BUTCHER, but he's really coming into his own now. Last year he did SAVAGE DOG with Adkins and it's an admirably weird one with great villains and surprisingly brutal violence. This one has much better and tighter storytelling, though, and I think it's his best so far, as well as his funniest. It's got its own tone and style but if I had to compare it to other things I'd maybe mention LOCK STOCK AND TWO SMOKING BARRELS, maybe SMOKIN' ACES, maybe even a tiny bit of KINGSMAN, a tiny bit of DEADPOOL. And don't forget, Adkins actually played Deadpool in X-MEN ORIGINS: WOLVERINE, after he got his mouth sewn shut as "Weapon XI."
It reminds me a little of those movies, but never in a "poor man's" sort of way. The voiceover narration is full of funny wordings and punchlines, often accentuated by comical cutaways, and it's very controlled and never too hyperactive, even with a feverish and stylistically diverse score by Sean Murray (SCORPION). For a DTV movie to pull off this attitude so well is honestly kind of miraculous.
I don't want to downplay Adkins' great performances as Boyka, a character more crafted out of scowls and postures than sentences, but I think this is his best acting so far. There aren't many martial arts stars known for their verbal dexterity, but here Adkins is nimbly delivering wall-to-wall narration with numerous laugh lines while also sort of playing the straight man and dramatic lead. He takes a selfie with a hanging corpse, says hello to a skull named Colin, lectures Man's Triad character as "a disgrace to my profession" for doing a bad job of ambushing him, but he's not joking around when his unpaid killing spree begins. And of course he does many variations on his trademark flying kick where his feet make contact with two different people before returning to earth. He also does way more bone breaking and crushing than usual, because "I don't just fight people anymore, I fuckin destroy them."
The surface pleasures are obvious, but I also managed to find a little chunk of meaning in there. We learn from a knowingly absurd childhood flashback that this is a guy who became a murderer as a result of childhood bullying. A bunch of kids would beat the shit out of him while he tried to do his paper route, and one day while hiding behind some bushes he witnessed Big Ray executing a hit.
At that point it could turn into FRIGHT NIGHT or DISTURBIA or something and he could try to get somebody to believe him so he can stop this murderer. Instead he follows Ray around and records evidence so he can blackmail him into teaching him how to kill his tormenters. "Turns out I didn't want to be an astronaut after all," he explains in narration.
But even in this comic book world a good person can't feel totally okay with such an immoral life. After beating skinheads to death in a pub he throws the bartender a stack of cash for "PMT – Post Murder Tension," but the next time he uses the term it seems to apply to his own trauma. He's not as guilt free as he pretends.
And it's a human connection that finally breaks through to him – an ex girlfriend, who left him for a woman, who he doesn't seem to have treated well. But it's the memory of her humanity that brings out the same in him. And it's interesting that he ends up protecting and working with her new girlfriend (Ashley Greene of the TWILIGHT movies), the woman who replaced him, because her orientation demolishes the usual expectations of the action hero/female lead dynamic. You are very much not rooting for them to fall for each other. That would be wrong.
Fallon is introduced as one of those edgy, yeah-that's-right-I-said-it-I-don't-have-to-be-politically-correct-you-guys type of characters, but his reaction to the death reveals that some of that is a put on to fit in with the fellas. Since Mick and Mac know him as a misogynist who just claimed to have a girlfriend with the body of an 18 year old and the brain of a 12 year old (we see no evidence that this person actually exists), they're completely befuddled when he turns out to care so much about his ex.
Maybe if he'd been able to have friends when he was a kid he wouldn't have gone into this line of work. But if I understand correctly now that he's somewhat reawakened his conscience he's gonna try to use these skills to help people. Become THE EQUALIZER or something. I really hope we get another chapter. Let's make this thing a hit, and don't make it look like an accident.
ACCIDENT MAN comes to disc February 6th in the U.S.
This entry was posted on Tuesday, January 23rd, 2018 at 10:26 am and is filed under
Action
,
Comedy/Laffs
,
Comic strips/Super heroes
,
Reviews
. You can follow any responses to this entry through the
RSS 2.0
feed. You can skip to the end and leave a response. Pinging is currently not allowed.