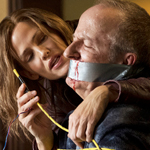 Well damn, I had been hyped to see PEPPERMINT in theaters but I lost the urgency after everyone told me it was bad, and it left before I got to it. Turns out it's the type of shit I like. Shoulda trusted my gut.
Admittedly it is guilty of that troublingly prevalent action movie problem of our era: vicious Mexican gang/cartel bad guys at a time when the ruling party in this country wants us to be having nightmares about that shit to justify their cruel, racist policies and moneymaking scams (see also SICARIO: DAY OF THE SOLDADO). As if left over from another time, the movie casts John Ortiz (CARLITO'S WAY, NARC, MIAMI VICE, AMERICAN GANGSTER, FAST & FURIOUS, FURIOUS 6) as the lead investigator, the one Latin good guy that's supposed to offset the stereotype. To be fair, they also have the cartel conspiring with local cops, judges and lawyers, so Corruption In The System is as guilty as The Other.
Anyway if you can stomach that then the only other action movie sins are the type that I just laugh at and enjoy, like the ludicrous TV coverage of our anti-hero's rampage (details later). I think the best way to explain the appeal of this movie is to say that I have enjoyed all of the PUNISHER movies, including this one.
It's got a good cold open: a lone car in a parking lot, windows fogged, bouncing and squeaking. Don't come a knockin. Except when it cuts inside it's Riley North (Jennifer Garner, MR. MAGOO) in the front seat having a knife fight with a guy. She wins, drags the body out and puts it in the trunk. We then jump back to 5 YEARS EARLIER, when we see her previous life as the loving, hard working mother of Carly (Cailey Fleming, young Rey in THE FORCE AWAKENS) and wife of Chris (Jeff Hephner, INTERSTELLAR), both of whom get drive-by machine-gunned to death. On the kid's birthday. At the holiday carnival. Right after buying ice cream cones. Very not cool, in my opinion.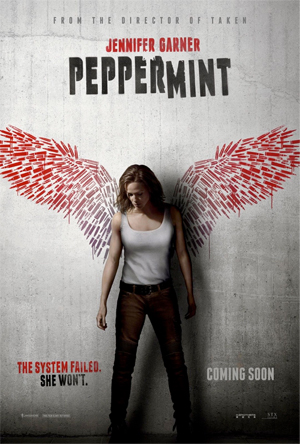 Riley got a good look at everybody in the car, and they make it pretty easy for her by having huge face tattoos, and then by being the only ones with face tattoos in each of their police lineups. But THE SYSTEM IS CORRUPT, MAN and the courtroom scene where the killers get off is an even more over-the-top knife-twister than the great one in William Lustig's VIGILANTE. In this one the defense lawyer (Michael Mosley, Justified) – who already showed up inside her house without permission to intimidate and try to bribe her! – accuses her of being crazy and talks over her until she cries and the judge dismisses the case so she flips out and runs at the killers and the bailiffs tackle and (this is my favorite part) tase her while the killers laugh and the judge yells at her and they try to drag her to a mental hospital.
She's like "fuck this" and escapes from the ambulance, but at this point she's still an ordinary mom, not a dark warrior of vengeance, so when she's hauling ass down the street and gets in the way of a car she says "Sorry!"
At this point, of course, a very satisfying path is set out for the movie to follow. She will have to track down these killers one by one and kill them, then find the cartel boss who ordered the hit, Diego Garcia (Juan Pablo Raba, SHOT CALLER).
Except… NOPE! Instead it skips ahead five years to when she's already killed the shooters and strung their corpses from the fucking ferris wheel! We also learn in a presentation from FBI Agent In Charge of Exposition Lisa Inman (Annie Ilonzeh, ALL EYEZ ON ME) that she's robbed a bank and a gun store, become an underground cage fighter overseas, murdered the D.A. and various other badass shit. Not vengeance – peppermint. Er, I mean punishment.
Speaking of which, the title seems to come from the flavor of ice cream her daughter ordered, and maybe the knockoff Thin Mints her knockoff Girl Scouts troop sold, and also a line in the trailer but I think cut from the movie where Riley tells the kid she has peppermint in her blood. At one point I did think there was gonna be a candy theme, because the drug operation runs out of a pinata factory, but it doesn't amount to much. Oh well. Chocolate doesn't seem that relevant to CHOCOLATE either, but I never lost any sleep over it.
Riley – who in my opinion should just be called Peppermint and should wear a bullet proof vest painted with candy cane stripes – lives in a van full of guns parked next to a tent city. She wages war with the cartel, while the police and FBI try to find her. The way they do is funny: they look at a computer map of crime patterns and notice that there's a big empty spot around skid row ever since she came back in town. We don't see her fighting crime there, but there is a scene where she sees a drunk being mean to his son on a bus so she gets off at the stop to beat his ass, find out his name and address and threaten him. Another fun action movie standard she participates in is the ol' self-surgery. She doesn't remove a slug and drop it into a metal canister, as is traditional, but she pours liquor on a knife wound then staple-guns and duct tapes it. The staple gun thing is in another movie I'll be reviewing soon, so it may be gaining in popularity.
There's also a fun turn late in the movie – would've been predictable if I hadn't forgotten about the character by that point – where she shows up covered in blood at the suburban doorstep of a stuck up mom (Pell James, BRAWLER) she hated back in the day, punches her in the face and steals her car. There's kind of a slobs vs. snobs appeal to it but in my opinion having the lady piss herself doesn't fit the fun tone of the scene. I never like that. Lookin at you too, TRUE LIES.
Oh, here's an odd thing: Method Man (credited as "Cliff 'Method Man' Smith") is in this, but he just plays a cop who shows up late in the movie and helps out a little. Nothing very distinctive about the role, seems weird for him to take it. I can only assume that he just knew this was gonna be good and offered to play any role in it, like how Daniel Craig played a storm trooper.
Unlike The Punisher, everybody knows her real name as they hear about her exploits on TV. Like every god damn vigilante movie ever made they have to do the thing where they over-emphasize that there's controversy in the city as to whether she's a menace or a folk hero. Thank God they don't do man-on-the-street interviews or a radio call in show, but in perfect "this is already embarrassing so it's gonna be hilarious a couple years from now" exploitation fashion they have multiple news broadcasts that lead with lines like "Social media continues to explode with debate about Riley North, female vigilante, still on the loose." Apparently the big story isn't that she may have just blown up a building, but that they're debating it on Twitter. The police are also overly concerned with this: "It's turning into a typical social media shit storm."
Garner is thoroughly committed to the role and the action is better than I've come to expect in this type of mainstream studio action movie starring an actor-actor. I know she's done action before on Alias and in DAREDEVIL and ELEKTRA, but she's spent more of her career on non-swordsmanship roles like JUNO, 13 GOING ON 30 or the TV show Felicity – I'm not sure if she played "Felicity" on that or maybe she could be Felicity's R.A.'s uptight girlfriend who goes to another school or something like that, who knows, but I believe I read she was on it. Here she does her creeping around with guns in tactical poses, boxing and grappling with men, stabbing motherfuckers. And it's not repetitive – she keeps coming up with different clever strategies of evasion or breaking in or setting traps, using a stolen vehicle to get past security, then as a shield, then as a battering ram.
I mean, we're not talking the amazing athletic showcase of director Pierre Morel's DISTRICT (B)13, but it's much better than the hiding-behind-shakes-and-edits game of his TAKEN. Some of second unit director/stunt coordinator Keith Woulard's credits include some serious shit including G.I. JANE, ELITE SQUAD and SICARIO. The fight coordinator and trainer for Garner was Don Lee (BEATDOWN, ABRAHAM LINCOLN: VAMPIRE HUNTER), with additional work by Panuvat Anthony Nanakornpanom ("Yakuza #7," BLACK COBRA).
It feels like one of the tighter Luc Besson productions, but he actually had nothing to do with this one. The script is by Chad St. John (LONDON HAS FALLEN). St. John actually wrote DIRTY LAUNDRY, that unofficial Punisher short with Thomas Jane. PEPPERMINT is much more fun though in my opinion.
I've always been a sucker for vigilante movies, even as their underlying themes have been kind of icky to me. But simply having a woman as the protagonist shifts those things significantly. In many of the DEATH WISH movies, Kersey's wife, daughter or girlfriend is raped and/or killed, and he savagely murders either the perpetrators or unrelated criminals as a form of revenge. There's this feeling that it's a man's duty, similar to protecting his property, or collecting a debt. And in the first one there's the matter of his liberalism and white collar job, things that seem to tame him and hold him back. In the book, he's more like a nerd or a wimp, someone no one would expect to do something like this. So he's using violence to assert his masculinity, to gain some sort of feeling of power, to fulfill the role of a man that he was too much of a sissy for before this happened.
But here the killer is a lady, a mother. So by being the asskicker she's defying her prescribed gender role. Nobody's gonna argue "Yeah, this is how we used to handle things." She's breaking boundaries. I'm not saying it's a righteous form of female empowerment, but it makes it a more novel vigilante movie. Another thing that's kind of unusual is that it never deals with the "revenge makes you just as bad as them" angle. The closest it comes is having her hesitate to kill Garcia when his daughter reminds her of her own daughter. She's so mythical – at the tent city they have a giant mural of her with angel wings, and children hide and spy on her like the kids at the beginning of MASK OF ZORRO – that it feels more like an inspirational fantasy than a morbid one.
It looks like this one probly made a small profit, but doesn't have enough fans for them to give us PEPPERMINT WAR ZONE or whatever. Social media did not explode. Too bad. I woulda been there this time.