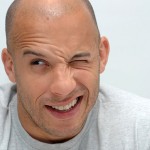 You take the "the"s out, the title becomes more aerodynamic. This unlikely THE FAST AND THE FURIOUS part 4 combines elements of the previous 3: the characters and tone of part 1, the video game plotting and drug kingpin bad guys of part 2, the director and improved visual style of part 3. Combining all the technologies they've developed into a new model.
Part 3 might still be my favorite, with its comprehensive visual tribute to everything that looks cool in Tokyo and its charismatic lead performance by Lucas Black (plus Sonny Chiba bit part, Incredible Hulk car and stupid cameo at the end). I was surprised how much I liked that one and even more surprised how many people I know who have no interest in the series liked it too.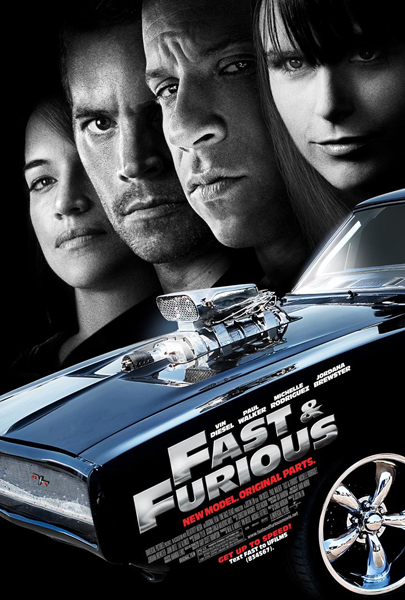 Ah fuck it, I can't really choose a favorite though. Each one is a beautiful snowflake. The first one I felt like I was laughing at it more than with it, but I gotta admit I fell for Vin Diesel's performance and Swayzian dedication to macho philosophy. The second one is the funniest and by far most ridiculous and there's no way John Singleton didn't know it was hilarious to pimp the Universal logo. The third one is just the most interesting to look at and most likable. The hero is a scrappy well-meaning tough kid instead of some rich boy, cop or thief, and he doesn't really seem like a part of that whole ridiculous neon car culture from the first two. He's just a troubled lower class car guy on his third strike who gets into some scuffles. In Japan.
So maybe I'm not coming from the same place as all the people I've seen giving this one negative reviews. I really enjoyed it. For me it actually is kind of exciting to see all four original leads return (has that ever happened before? They leave after part 1 and return in part 4?). Diesel doesn't do as much funny philosophizing, but he's cool because he's meaner, he's out for revenge this time. He keeps his words to a minimum and, unlike in xXx he keeps his outlaw cred intact from beginning to end.
I get a kick out of these movie's religious faith in cars. They worship their cars and believe they can do magical things. In most movies where a guy is out for revenge, he might chase a guy down in a car but then he's gonna get out and shoot the guy or whatever, to make it more personal. In a FAST AND (the) FURIOUS movie you stay in your car and run him over, because that is more personal. At one point Diesel uses his car as a bomb, which to a guy of his belief system is a very severe sacrifice. At first I thought his nitrous/dashboard lighter improvised time bomb was a little farfetched. Then I realized he could have planned ahead and optimized the car for that purpose when he prepared it for the mission. But then on third thought I remembered that he lives life a quarter mile at a time, so he's not allowed to plan that far ahead. So that was some good improv there, Vin.
Because of his strong faith he has some new powers, which is maybe the test of whether or not you're gonna like the movie. If you roll your eyes at the scene where he investigates an accident site and we see him standing in the middle of the car crash as he pieces together what happened, then this movie is not for you. If that gives you a big shit eating grin like with me then you will like the movie.
Paul Walker is better this time than in the first two. He looks and acts much tougher, like he's been through more. (He does not mention if he misses Tyrese.) He even has a couple of the best moves:
in a foot chase a guy gets over a fence before him so he just rams the fence to knock the guy on his ass as he tries to gingerly climb down the other side.
when one of his fellow agent comes up to threaten him about tampering with his case, Paul starts bloodying the dude's face without even saying a word
It's especially cool to see these characters return in Justin Lin's jurisdiction. I know he's a young guy but he shoots it like he's some Bruckheimer disciple who refused to take part in the black magic ritual where they all vowed to destroy the language of action cinema and declared war on human brains and hearts. He splintered off and went down a good path, so he's got all that '80s action movie stuff that Michael Bay and those guys like – tons of dramatic shots looking up at the heroes posing, nice sunsets, crowds of super hot babes in colorful, tight clothing, shiny cars, busy seemingly-realistic law enforcement bureaus doing their jobs… but then he doesn't have the Avid farts and jarring cuts and dizzying closeups. He keeps it pretty controlled. He pays homage to part 2 with a ridiculously detailed GPS animation of a race and to part 1 by ripping off POINT BREAK with a great foot chase.
I read a review that complained that the opening action sequence is the best one (fair enough) and that it doesn't make sense to shoot high speed car chases in a dark tunnel. That second one seems like it would be true but I don't know, I got a kick out of the unnecessary dangerousness of several cars hauling ass right on each other's tails in a place where one false move could cause a deadly pileup. Maybe a little more TEMPLE OF DOOM mineshaft theatrics would've been even funnier but still. I thought it was a worthy entry in the FAST AND FURIOUS catalog of stupid places to drive cars fast.
I'm not a car guy, but I like them in movies. In this one you get good helpings of cars flipping, rolling, jumping, smashing, sliding, skidding, drifting, exploding. You get people jumping out of cars, onto cars, you get even more high speed backwards driving than in any previous entry. There is less emphasis on the flashy neon colored import cars (Walker's weapon of choice) and more on the American muscle cars Diesel prefers, which is maybe less hilarious but definitely more pleasing to the eye.
At this point Walker's character Brian O'Connor has gone undercover as a street racer three times. Once to catch Vin Diesel's character Dom (failed), once to catch some drug kingpin (successful), and now he's going after a heroin smuggler. The racers in these movies (with the exception of Lucas Black) piss me off because they can just pour money into their cars and don't give a shit that they seem to go through them faster than underwear. O'Connor has an excuse though, he has the backing of the government, and in this one he gets to look at three screens full of impounded drug dealer cars, and choose his favorites. I think at this point it would be a good idea to set up a special Car Ops division that would take advantage of his talents as well as other experienced street racing agents like his friend Tyrese or the two reggaeton stars with bit parts in this one (in place of Ja Rule and Ludacris).
Speaking of Tyrese, I thought he was supposed to have a cameo, but he doesn't. I would've liked to see Lucas Black in there too, but at least they have his friend Han, who implies (I think) that the events of TOKYO DRIFT have not yet taken place. So maybe there's a chance for FAST/FURIOUS: RETURN TO TOKYO DRIFT.
By the way, I don't usually have much interest in the ol' box office, but I was pretty impressed that this thing made 100 million dollars worldwide in its first weekend. Just imagine how much it could've made if I would've posted my review earlier. It woulda beat TITANIC already. Anyway, the sweet justice is that my fellow movie nerds made fun of Vin Diesel for coming back to the series that he left, saying it was desperate and pathetic. But I looked it up and it's his biggest opening ever by a margin of about $25 million. Doesn't prove it's a good movie (that's what this review is for), but does prove it was a good move. Looks like Mr. Giant Pecs won that particular game of Dungeons and Dragons. His prize is he gets to keep talking about doing another Riddick movie, and nobody is allowed to say the usual snarky shit about it.