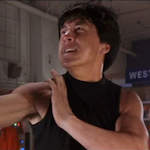 In February of 1996, when RUMBLE IN THE BRONX was released in the U.S., it was an event. I don't know if it was the zeitgeist or a concerted marketing effort or what, but it came along at the exact right moment for Jackie Chan to achieve his dream of hitting it big in the States. He'd tried twice before with American movies filmed in English: Robert Clouse's THE BIG BRAWL a.k.a. BATTLE CREEK BRAWL in 1980 and James Glickenhaus's THE PROTECTOR in 1985. Neither caught on. But he finally did it with a re-edited and dubbed version of one of his Hong Kong movies.
For some of us, we'd had a few years of fiending to see and learn about whatever Hong Kong action cinema we could. Trying to find rentals or bootlegs of subtitled John Woo, maybe Ringo Lam, THE HEROIC TRIO, FONG SAI YUK, THE BRIDE WITH WHITE HAIR, or anything Jackie.
Most of those were about a certain poetry, a certain vibe, a mix of style and cool and honor and brotherhood and violence that seemed thrilling compared to what we got at home. But the excitement of Jackie was entirely about the miracle of human movement. A guy who can flip and run up walls and jump off buildings and onto or over moving vehicles. A daredevil and a silent comedian and a kung fu master all rolled into one. He wasn't cool in the same way that Chow Yun Fat was. He was kind of a dork. But also a god.
Which, in a different sense, describes Quentin Tarantino when he presented Jackie with a lifetime achievement award at the 1995 MTV Movie Awards. The director was still flying high off the popularity of PULP FICTION, playing George Clooney's brother in the movie that made George Clooney a movie star, and having a big influence on what movies people were excited about at the time. But also he pronounced it "Jackie Chon" multiple times. He compared Jackie to Buster Keaton, mentioned him doing his own stunts, and showed a clip reel that (though set to fuckin "Kung Fu Fighting") seemed like a revelation if you hadn't seen most of those movies.
I'm sure I'd seen Jackie in CANNONBALL RUN, and plenty of people knew him going back to the '70s. I don't remember if I'd seen DRUNKEN MASTER II by this time or not. I do remember that THE BIG BRAWL was the first one I could find at a video store, and everybody said it was terrible, but it was the biggest dose of Jackie I had seen, so I loved it. And it had a great theme song.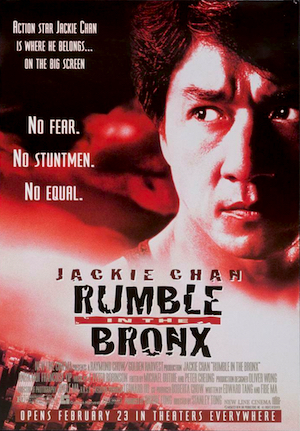 New Line Cinema – who also released THE ISLAND OF DR. MOREAU, LAST MAN STANDING, THE LONG KISS GOODNIGHT and SET IT OFF that year – gave RUMBLE IN THE BRONX a major theatrical release in 1,736 theaters. I'm not sure if any other dubbed movie has had a release of that size, but since it takes place in the U.S. and Jackie does his own voice you get used to it fast. It opened at #1, making more than double other new releases BEFORE AND AFTER, MARY REILLY or UNFORGETTABLE. The #2 movie was Woo's BROKEN ARROW, in its third week. America was ready.
Jackie plays Keung, who has come to New York for his uncle Bill (Bill Tung, also Uncle Bill in the POLICE STORY series, but this is different)'s wedding, and to help with the sale of his super market to Elaine (Anita Mui, who had been in MIRACLES and DRUNKEN MASTER 2 with Chan). And then there's, you know… rumbles.
He agrees to stick around after the wedding to help Elaine get up and running. And I am very happy to report that this is the kind of movie where helping at a supermarket means getting into a huge kung fu brawl against one of our famous American gangs of quasi-punk biker shoplifter bullies. His actions are honestly not very helpful to the business – he massively damages multiple shelves and the products on them just because a guy didn't pay for two drinks, and the incident begins a war that culminates in the destruction of the entire building. But it's a cool fight and the other employees compliment him and stuff.
Uncle Bill borrows his friend (Jamie Luk, DIRTY HO)'s antique car for the wedding, and makes the dumb mistake of parking it on the street overnight. Luckily Keung is awake to notice two gangs having a motorcycle race over the parked cars, so he slides down the fire escape wearing a onesie and acts as a human shield. This causes Nancy (Francoise Yip, BLACK MASK, BLADE: TRINITY, ALIENS VS. PREDATOR: REQUIEM, THE PREDATOR), girlfriend of supermarket bullying gang leader Tony (Marc Akerstream, also stunt coordinator) to lose the race, so she helps set him up for a beat down.
Theory: BATMAN & ROBIN's motorcycle race scene, introducing Batgirl, was inspired by the one in RUMBLE IN THE BRONX, introducing Nancy.
Meanwhile, Keung has befriended Bill's wheelchair-bound adolescent neighbor Danny (Morgan Lam, "Boy In Lobby," CRYING FREEMAN) and comes over to check on him since he seems to always be left alone by his older sister/guardian. Keung doesn't realize that the absent sister is Nancy until she overhears her little brother telling Keung about her and runs in crying, promising to be a better person. She's touched that Keung doesn't hold it against her that she lured him in an alley for her friends to horrifically pelt with glass bottles until he was left bloodied on the concrete, unable to stand up. That's called mercy, right there.
Her boyfriend Tony fucking sucks, but the real piece of shit in the gang is bleach-blond Angelo (Garvin Cross, MAXIMUM CONVICTION), who even those guys hate. In fact they're so annoyed by him they stop doing the bottle throwing thing to get away from him. Total party pooper.
A combination of huge, huge coincidences and Angelo being a worthless fuckhead get Tony, Nancy, Danny and Keung all into huge trouble. See, (coincidence #1) he happens to be on the sidewalk when members of the more legitimate organized crime type of gang run by "White Tiger" (Kris Lord) get into a car wreck. And he makes the poor decision to go over to the car and swipe their bag of stolen diamonds and then run off into a building where (coincidence #2) he finds Danny's wheelchair and stashes the diamonds in the cushion. A whole lot of bad luck going on in this rumble.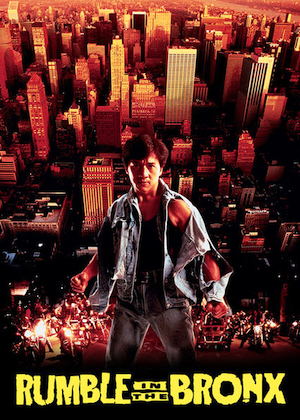 Most of my favorite kung fu movies have legitimately good stories and have something to say. But I also enjoy this era of contemporary Jackie vehicles, which rely on entirely ridiculous plots to string together great fights and stunts. After co-directing DRUNKEN MASTER II, a great achievement, Chan reunited with his SUPERCOP director Stanley Tong, who ended up doing many of his more stunt-centric movies.
This time the stunts include, famously, a chase where he jumps from the top of a parking garage to an apartment balcony across the street. Tong supposedly did it first, and Jackie got it on his first attempt. (In the late '90s I visited a friend going to school in Vancouver and she pointed out the balcony where it happened. It was just a normal balcony, but seemed like a holy site at the time.) A more casually amazing stunt is the foot chase where he gets blocked in by a car so he runs up it, dives headfirst into the sun roof with his legs poking up, and a motorcycle drives over the car, between his legs, and he pulls in and gets pushed out of the car by the driver. Most of that in one shot. Incredible.
But my favorite part of the movie is definitely when he gets mad and goes to the evil biker lair to tell them where they can stick it. It's like a warehouse made into a bar/rave where they play pool in lingerie, lay in hammocks, lift weights, play vintage pinball machines, listen to Ministry, etc. So he picks up their receiver/record player stack and throws it, which has the effect of turning off their music, and he waves his finger and announces, "YOU ARE ALL GARBAGE!"
This leads to a duel with Tony which leads to taking on the entire gang, and this is where we get the highest level of Jackie Chan Stunt Team choreography. It seems like each individual movement involves a cool idea or gimmick or prop: spin on corner of counter, land in La-Z-Boy, slide footstool to knock over attacker, tip chair backwards, somersault into other chair that rolls to refrigerator, spin and stand up and open refrigerator door into guy, then freezer door into his face, dodge pool stick attack and roll chair into guy, run over and knock over speakers, jump to avoid rolling refrigerator, land on top of refrigerator, on and on and on. I like the part where he swings open a refrigerator door, knocks a TV off the refrigerator, turns and punches a guy while spinning to kick another guy, throws first guy into the fridge, kicks a different guy, closes the door, and that's all in one little shot.
This fight goes on for a while before Tony basically gives up: "Okay, that's enough," and Keung literally waves his finger again and gives them a mini-lecture that includes, "Don't you know you are the scum of society!" But before he leaves he turns and says in Cantonese, "I hope next time when we meet, we will not be fighting each other," which one member (Ailen Sit, MERCENARIES FROM HONG KONG, SUPERCOP 2) translates for Tony.
"Did he really mean that?"
"Yeah."
And sure enough, they team up against White Tiger! So the movie does have a nice attitude. There's also a part where Nancy says, "I need some time to change."
Another kind of sweet thing comes out of the uncomfortable moment when Keung meets his aunt-to-be Whitney (Carrie Cain-Sparks, writer/director/star of THE SPY WHO BONED US [2004]) and is surprised that she's black. She's just very affectionate and doesn't notice. I'm sure the dubbing is part of the problem, but it's that thing you see sometimes where another culture takes the racial stereotypes from our movies and makes them seem even more cartoonish. Still, it's nice that when Uncle Bill realizes Keung's surprise he says, "Hey, what can I say? Welcome to America." And that's the end of it.
One complaint I have about Keung: he believes the ponytail suit and tie thugs who tell him they're the FBI… even though he sees them driving around in limos. So he calls them and endangers everybody!
There were two main things everybody would say about Jackie back then. First of all, that he did all (or almost all) his stunts and had injured himself a million times and keeps going. Second, that he was different because of comedy – he had tried to be a Bruce Lee ripoff, but didn't stand out until he started adding humor, making faces like he hurt his hand when he punched a guy, etc.
So in retrospect it's interesting to me that this movie that finally broke him into the Hollywood mainstream doesn't lean much on the second one. There are a few straight up gags, like the part where he flexes for the mirror, and then pops a pimple, not realizing that it's a two-way with a meeting going on inside. And during the big waterskiing sequence he makes faces like he's in pain and grabs his butt a few times – really not in a muggy kind of way, but you could say it's lightly subverting the normal tough guy stuff.
And yet it does the traditional, always enjoyable action hero thing of setting up how awesome he is: mentioning that he's won a bunch of tournaments, showing him on a wooden kung fu dummy, first demonstrating that he still keeps up his skills, then speeding up into a hypnotic tapping like a drummer showing off on the double bass. He casually does handstand pushups. And when we meet Danny he immediately worships Keung, declaring "You're #1!" in his charmingly ridiculous dubbed voice.
The finale is small beans compared to the modern approach where the entire human race and possibly other planets are in peril in every other movie, but it's spectacular by the standards of "they really did this shit": the White Tiger gang drives a hovercraft through town, and various hovercraft related destruction and shenanigans take place.
At a point when I was thinking "There really aren't many jokes in this" they suddenly had one that made me laugh: they suddenly cut to a rich douchebag driving his girlfriend around in a Lamborghini Countache, just in time to be run over. It gets scraped up, not crushed, and I love that his reaction is to yell, "Oh god, my car. Look what they've done!" He doesn't seem to have time for questions about the presence of the hovercraft.
On the other hand, when it's barreling toward a hair metal band doing a street concert the drummer's reaction is to point and yell "HOVERCRAFT!" (And then there's a gag where it spins around so they keep on rocking and let it blow their hair around.)
It has almost a "That'll do, pig" ending, but a very dumb one. The hovercraft runs over White Tiger, he's left laying naked with grass in his mouth, they say, "Yay!," cut to outtake montage. I mean, I think that's a good level of self-awareness. That's as much plot resolution as anybody needs.
I always think of Miramax/Dimension as the company that imported the '90s Hong Kong movies to the U.S., but New Line actually beat them to Jackie. Just barely. They were snatching up the rights to his movies around the same time, and had to make a legal agreement about spacing out their releases. Miramax still tried to cheat and release SUPERCOP first, but they lost in court and had to wait until July. New Line also did FIRST STRIKE and MR. NICE GUY, and they got Jackie to star in their smash hit RUSH HOUR series – RUSH HOUR 2 is still the company's highest grossing movie after the LORD OF THE RINGS/HOBBIT trilogies and IT part 1 – so they made out pretty good.
Which brings up an important question: why the fuck didn't they try FREDDY VS. JASON VS. JACKIE CHAN?
This entry was posted on Monday, April 20th, 2020 at 9:43 am and is filed under
Action
,
Martial Arts
,
Reviews
. You can follow any responses to this entry through the
RSS 2.0
feed. You can skip to the end and leave a response. Pinging is currently not allowed.