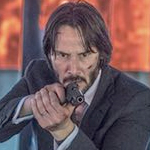 JOHN WICK: CHAPTER 2 is the solid sequel we always hoped (in fact assumed) it would be. The first film – already a certified modern action classic – had a perfect combination of elegant high concept (legendary assassin comes out of retirement to avenge some dipshits who killed his dog) and interesting world (a society of killers with their own rules, services and even currency). Rehashing the former would make for diminishing returns, so returning screenwriter Derek Kolstad (ONE IN THE CHAMBER, THE PACKAGE) digs deeper into the latter, showing us more about the operations and codes of the Continental Hotel and its affiliates as Wick is forced to repay a debt, getting himself into more and more trouble and testing the limits of his unkillableness.
He's still trying to retire. The movie has a sense of humor about it without undermining his sincerity. Moments after he finishes cementing his weapons back into the basement floor the doorbell rings and you think "Jesus, what now?" Well, it's Italian gangster Santino D'Antonio (Riccardo Scamarcio, THE BEST OF YOUTH), who helped him escape the business and now is cashing in his favor to drag him back in. Wick would have to get into the Vatican to assassinate Santino's sister Gianna (Claudia Gerini, THE PASSION OF THE CHRIST). Throughout the movie Wick finds himself backed into corners and all he can do is keep killing his way out of them. And the more killing the more corners.
I don't get the impression they're trying to top the action of the first chapter, or at least not make it way bigger, MATRIX RELOADED style. But they do a respectable job of matching it, perhaps making the fights more complex, with even more participants. And this time they have the advantage of being able to start the story mid-car-chase.
I love the unnecessary recap in the opening scene, as Peter Stormare (as the brother of part 1 villain Viggo) recounts to a disbelieving underling what his nephew did to unleash the furious vengeance of John Wick. He discusses Wick's over-the-top "Just How Badass Is He?" legends and adds, "If anything, these stories has been watered down."
Meanwhile, Wick chases and fights with his car, speeding and spinning, slamming into people, cars, walls. He uses his vehicle as a weapon, not running over people straight on, but skidding out to side-slap them into walls. He shoots and jiujitsus and piano wires through layers of security and demolishes both his replacement car and his original one, while Stormare cowers in his office listening to the horrible sounds of what's happening to his minions.
Honestly, I think CHAPTER 2 has more and better action before the opening credits than many action movies have throughout. Former Keanu stunt double Chad Stahelski returns as director (this time solo). It's also the same second unit director as part 1, Darrin Prescott, who was Hugo Weaving's double for MATRIX RELOADED and REVOLUTIONS. The great UNDISPUTED 2 choreographer JJ Perry also worked on it in some capacity (he's one of many credited stunt coordinators).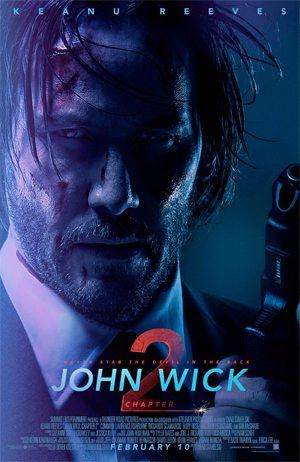 Structural simplicity is key, and much of the movie is just Wick being chased. An open contract on him reveals that there are way more elite assassins around than you might think. As he flees through the New York subway system, they make half-hearted attempts to conceal the war going on in broad daylight. But it seems like most of the people he encounters are trying to kill him, except for those innocent commuters who have to sit quietly waiting for their stop during a brutal subway knife fight.
His two most notable opponents are D'Antonio bodyguards Cassian (Common, RUN ALL NIGHT, SELMA) and Ares (Ruby Rose, xXx: RETURN OF XANDER CAGE, RESIDENT EVIL: THE FINAL CHAPTER – good year for her). With Cassian I love the old-friends-and-fellow-professionals-who-respect-each-other-but-now-must-fight-to-the-death vibe. With Ares I like that there's alot of buildup of her badassness which is weird and not fully explained. And that her presence reveals that in addition to Russian and Italian Wick knows sign language.
The Wickverse is also expanded to include Laurence Fishburne (BOBBY Z) as a kingpin running a network of homeless (or fake homeless?) spies and killers. I hope we'll find out more about him in part 3 and also that we'll see Carrie Anne Moss. Not that that sort of referential casting is necessary, but they know how to make it work here. They could've had just some guy play the manager of Rome's branch of the Continental Hotel, but they knew it would be better to have Django, aka the Entering Ninja, aka General Esperanza of Val Verde, Mr. Franco Nero.
There's a great sense of pacing, giving us plenty of action but also a good amount of anticipation, a long stretch of Wick walking around in a bloody thermal before putting on the nice suit that means he's thinking he's back. Much of the fun is in the preparation – tailoring a bullet-proof suit, ordering an arsenal, testing out the weapons (Keanu might be cinema's greatest living gun-feeler-outer), negotiating to obtain one gun and one piece of information that will get him started on killing a ridiculous number of people.
And then there is so much of the glorious mayhem that the tiny gestures of arguable humanity stand out like flecks of gold in mud. Wick is a character whose appeal is both his monstrous capacity for violence and his sincere desire to stop using it. In an occupation with this many close range silencer shots to the head, small deeds – calling for peace just after slaughtering a bunch of dudes over a car, declaring friendship with the person he came to assassinate – can seem sweet and honorable. We knew that Wick had a heart when it came to his wife and his dog, but here we learn something new about his sensitive side: sometimes he saves people's lives by giving them potentially mortal wounds that they will be able to survive if they choose to keep pressure on them rather than retaliate. What a darling!
Though there are many excellent flippings and stabbings, my favorite thing about the movie is its use of a sort of samurai code. Like a chanbara movie, it deals with Wick's fanatical adherence to, but now questioning of, an extreme set of rules. We recognize both the moral correctness of (at first) refusing to murder his friend just because traditions tell him he has to, and the cinematic awesomeness of the crazy shit these people feel they have to do in order to follow the letter of the law. My favorite scene is not a fight but a break in the middle of one, when it bleeds into the hotel grounds, where "business" is not allowed to be conducted, and Nero convinces Wick and Cassian to sit down for a drink together. They calmly discuss their intentions, which involve killing each other. And it's not an argument, because they can't disagree with each other's logic.
In fact, I don't know why I've never added the temporary ceasefire to the list of favorite badass tropes. It's a great type of scene that also extends beyond the action genre. I think of everything from the force-field-necessitated pause in the PHANTOM MENACE light saber duel to the temporary truce to extricate the WAR HORSE from barb wire. Okay, there's still plenty of animosity in that first example, but enemies taking a break from fighting is always powerful. Even if they can't become fight brothers at least they got to stop and smell the flowers.
I guess the "chapter" in the title tells us this will be an ongoing series, because what kind of a story only has two chapters? But I did not know (SPOILERS FOR HOW THIS ENDS) how much this would be a middle chapter. The things that are resolved lead to much larger consequences, leaving him stripped of all his resources just when he's facing a larger threat than ever before. The end seems to imply that even loyal friends like Aurelio (John Leguizamo, LAND OF THE DEAD) will be off limits to him. But I bet he'll still figure out how to get his car back and that it will be very satisfying. In EMPIRE STRIKES BACK terms, his car is Han in carbonite! Anyway it's not unsatisfying but it is a cliffhanger, so it leaves you with a different feeling than part 1. The main difference being a confidence that they'll do another one soon.
Many have told me that this is better and bolder than the first film. I'm not sure about that, but I think it's as good as the first one, or very close, and that's a great thing.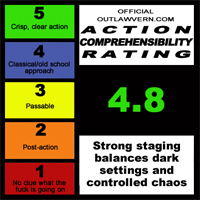 This entry was posted on Monday, February 13th, 2017 at 12:29 pm and is filed under
Action
,
Martial Arts
,
Reviews
. You can follow any responses to this entry through the
RSS 2.0
feed. You can skip to the end and leave a response. Pinging is currently not allowed.