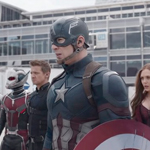 You guys know how these super heroes are. Good guys turning bad, bad guys turning good, Hawkeye getting mind-controlled by a magic crystal, alternate dimensions, recastings, reboots, team-ups, betrayals, fake deaths. It's no surprise they can't all get along. I mean, it was hard for Nick Fury to convince them to be The Avengers in the first place – in fact a guy had to die and then he had to cover up that he actually didn't die (see tv show) to inspire them to even stay together in the first place. So it's a miracle they went this long without a breakup. The Pharcyde only got through two albums. N.W.A only did one before Cube left.
In what is technically CAPTAIN AMERICA 3, but almost seems like THE AVENGERS 3, the government tries to get the Avengers to agree to being controlled by the U.N. That actually seems better than the original formation under S.H.I.E.L.D., a privacy-invading ultra-spy agency that turned out to be controlled by evil space-Nazis or whatever. But after three years of the Avengers as an indie locally-owned Mom & Pop super-team, Captain Steve R. America (Chris Evans,  STREET KINGS, SNOWPIERCER) – who, to his credit, was never comfortable with S.H.I.E.L.D. – is not about to sell out. He doesn't want to risk being sent somewhere he doesn't belong, or not being allowed to go somewhere that he does.
But Tony "the Iron Man" Stark (Robert Downey Jr., NATURAL BORN KILLERS, 1985-1986 season SNL cast member) and some of the others think it's a good idea. At the actual signing ceremony there's a bombing that kills the King of Wakanda (John Kani, THE WILD GEESE), and security photos pin it on Steve's war buddy Bucky T. Wintersoldier (Sebastian Stan, THE COVENANT, RICKI AND THE FLASH), who fell off a bridge in part 1 but in part 2 turned out to be alive and had been frozen and had a robot arm and was brainwashed and was a super assassin and evil but maybe he's still Bucky inside but now he's on the run (long story). The police and the Avengers are after him to kill him but Steve believes he can be rehabilitated and wants to bring him in alive. So it turns into a ghost protocol with Steve and an all star team of sympathizers going underground, and the two sides get into some scraps.
Sometimes it's sad that Mommy and Daddy are fighting, but directors Anthony and Joe Russo (YOU, ME AND DUPREE) mostly try to keep it upbeat. I thought a few of the "we're punching each other but we're still friends though" quips were forced and overly cute, but for the most part it works, and it's the rare instance where a comic relief character on each team steals the movie. For Steve's team it's Ant-Man (Paul Rudd, GEN-X COPS 2: METAL MAYHEM), whose tricks are totally new to everybody except Falcon (Anthony Mackie, SUCKER FREE CITY, NOTORIOUS) (who he humiliated in his solo movie) and who's star struck enough to always awkwardly call Cap by the full name "Captain America." On Tony's team it's Spider-man (Tom Holland, but not the director of CHILD'S PLAY I don't think), a teenage super-powered inventor/vigilante who Tony tracked down from Youtube videos and funded, much like Prince recruiting 3rdEyeGirl off of MySpace. Seeing this actual kid with a squeaky Michael J. Fox voice and no restraint about what to say during a super-fight I immediately thought okay, sure, I'll see another new Spider-man movie. You've convinced me.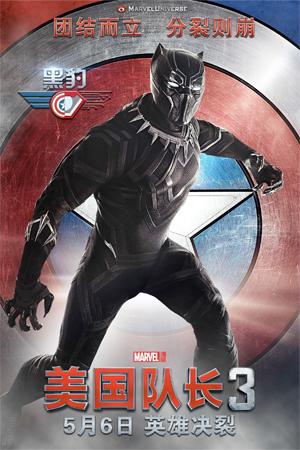 But the newest character is King T'Challa, aka The Black Panther, played by Chadwick Boseman, who I will never forget didn't get an Oscar nomination for his incredible performance in GET ON UP. He's doing a type of African accent, but you can still hear a little of his James Brown in there. And there is one part where he refers to "the Black Panther" mantle in the third person. I wish he'd do it as often as James Brown did. "Don't bother, Ms. Romanov. Black Panther will kill him Black Panther's self."
It's an exciting character to have on film for many reasons. As far as racial diversity, it's cool that Marvel already has Falcon and War Machine, and I'm sure Nick Fury will come back some day, and Black Panther will be the first one to star in his own movie since Blade created the standard for which all subsequent comic book movies strive and fail to ever achieve. But I think it might be more important that Black Panther is African. It's a fictional country he leads, but that whole continent is a part of the world that our culture doesn't know much about or think about enough. Just the fact that he dresses cool, but he's from Africa, that's pretty new for us. In American entertainment Africans are rarely portrayed as up-to-date in the modern world. These Wakandans, it seems like, are ahead of us.
And it's also just cool that he's a leader of a country and a super hero. That's gonna give him different problems and responsibilities than these other dudes. I gotta finish fighting the monster so I can get home and sign that legislation.
His suit or something enhances his speed and strength so he can go toe-to-toe with the Winter Soldier in a scene that's pretty much the RONIN tunnel chase but with some of the participants on foot. And by the way, I only saw THE WINTER SOLDIER once, but this makes me think maybe they didn't tell us enough about that character. Did we know he was this powerful? They're jumping across moving cars, crashing and rolling like podracers, and then they get up and keep going. At one point the Winter Soldier is running behind a car, jumps onto the back, runs across the top, jumps off the hood and keeps running in front of it! Go pedestrians! At another point he yanks a moving motorcycle out from under a guy, spins it around and lands on it.
Unfortunately, most of the action is done with a jittery/shaky camera style that I don't like. I think it's done to add some kind of you-are-there-and-you-can-tell-because-your-head-is-wobbling-around intensity, or at least make you subconsciously think of this as a gritty modern spy movie like the BOURNEs. I really think the scenes would work better without that, though, because it makes it hard for you to get a good look at the poses or facial expressions of the characters. Think about it: that's the very opposite of comic books, where you can sit and stare at those things for as long as you want.
But I do think the action works, and from my memory seemed like an improvement over WINTER SOLDIER, because the framing does seem designed to show you the moves and hits. It was rarely confusing to me.
UPDATE: I forgot to mention that I noticed the second unit directors were JOHN WICK directors Chad Stahelski and David Leitch along with their JOHN WICK second unit guy Darrin Prescott and Spiro Razatos of the MANIAC COP and FAST FURIOUS series. Thanks to Dinomite for mentioning it in the comments and reminding me it was worth point out.
In some of the promotions for CIVIL WAR they've tried to make it a thing where you declare which side you're on, Captain America or Iron Man. I don't think it really works because there's not a strong enough connection to the real world to make a moral decision. In reality, having the U.N. oversee a powerful army is a better compromise than having them declare themselves world police, but in the Marvel Universe the world has been infiltrated by COBRA or whatever, and there are superpeople, and we can't imagine Steve Rogers being corrupted or doing something for the wrong reasons. Of course you side with him, dummy.
(I wonder if a hundred years after Tony Stark's side lost, people will still insist on putting his symbol on their pickup trucks and state flags?)
Besides, the real fanatics I've seen online are less interested in a strategic question like that than the gang war between Marvel Comics and DC Comics, and specifically Marvel Studios movies vs. Batman and Superman movies. Even for those of us not invested in this senseless butter battle it's hard to miss the parallels between CIVIL WAR and last month's BATMAN VILIFIES SUPERMAN ON THE DAWN OF JUSTICE. Both begin with government and society angry at the super heroes and blaming them for never-mentioned-before collateral damage during the climax of their last movie. Then an unpowered dude with a secret plan fakes a terrorist bombing and maneuvers and manipulates them to fight each other, and there's a big show-stopping good guy vs. good guy battle. It's even SPOILER kind of the same ending: bad guy is captured and locked up but indicates that actually he won. I actually thought it was like BvS, that his real goal was to weaken the super heroes to set the stage for an attack from beyond, but nobody seems to see it that way. Anyway, and from what I understand the character who will be attacking in the next The Avengers is, in the comics, a rip-off of the character that will be attacking the Bat Squad.
And remember, at one point both of these were scheduled to be released on the same day!
If I had to choose a preference it would be for the more operatic and painterly approach that Zack Snyder tries for. The Marvel movies have been more consistently entertaining, but I don't feel like rewatching and studying and interpreting them like I do these Batman and Superman ones. I don't feel them as deep. There's nothing in any of them that moves me the way that just the music does in MAN OF STEEL*.
Even so, it's pretty much undeniable that CIVIL WAR is more effective than BAT V SUPE on virtually every level. It's just a better story that makes more sense. The big moments flow together better, the characters don't do stupid things just to move the story to where it's supposed to be, and the action is way better in the sense that there are all these different characters who we like and they have different abilities and relationships that play out in the battles in fun ways. And the villain, while not necessarily a great character (or exciting use of the great actor Daniel Bruhl from RUSH and INGLOURIOUS BASTERDS) is not horribly obnoxious like Eisenberg's Max Luthor.
I think the one and only shared aspect that was done better in BvS would be the flashback of Bruce Wayne witnessing the destruction in Metropolis, a far more powerful illustration of the idea than the way it's done in CIVIL WAR. But that's the very beginning of the movie, you kinda forget about it by the end.
And of course it would stand on its own, it's not just a "this is not as bad as the other one." It's a very enjoyable movie. There are a couple lines in it that made me laugh harder than anything in KEANU. It may be the most complicated Marvel movie so far, but in the sense of a spy movie that you try to keep up with, and an ongoing saga where you like keeping track of the different characters and where they end up. I don't think it's deep or transcendent. But that's okay because it's a very strong example of the kind of fun that can be had with this format of the big budget serialized super hero movie.
So in the battle of CIVIL WAR v DAWN OF JUSTICE there is a clear, decisive winner. Congratulations to all the Marvel boosters and Civil War re-enacters on picking the right team this summer. Championship jerseys are now on sale.
I don't want to be a party pooper, but some time after the parade I think there's something we should discuss. Has it occurred to you that whoever wins, nerds lose? In my opinion it is for sure a true fact that this whole Marvel vs. DC civil war was orchestrated to divide and conquer, weakening the super hero movies so they won't be able to defend themselves from the return of the adult relationship drama. I predict that within three years the geek community will have to drive hundreds of miles and across state lines just to find a shitty Green Lantern movie starring a guy from Big Bang Theory opening on a small, stained screen in a second run theater. The mainstream won't give half a shit about super heroes anymore and the biggest movie of the summer will be the reboot of KRAMER V KRAMER. The bell has rung. So let's monger some peace and enjoy these movies while they last, dudes in Under Armour Batman compression shirts and dudes in Spider-man Hawaiian shirts standing hand in hand like brothers. Brothers who hold hands.
Back before they made THE FIRST AVENGER, especially since it was being directed by Joe Johnston, I thought there was no way they could make us/me think Captain America was a cool character. Now it's my favorite of the currently going super hero series. They've made me believe in this nice gentleman who is engineered to represent the best of American ideals, and stays true to that goal even when that puts him at odds with the military and government that created him. I like this guy. I look forward to his adventures as Captain Unaffiliated.
*although, come to think of it, there's a sweet moment during a funeral in this one that got me
This entry was posted on Wednesday, May 11th, 2016 at 10:07 am and is filed under
Comic strips/Super heroes
,
Reviews
. You can follow any responses to this entry through the
RSS 2.0
feed. You can skip to the end and leave a response. Pinging is currently not allowed.