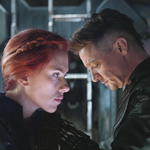 THIS IS AN ALL SPOILER REVIEW. Duh.
It's hard to review a movie like AVENGERS: ENDGAME. I don't think there's much point in reading about it before you've seen it, or in seeing it if you haven't seen most of the IRON MAN, CAPTAIN AMERICA and AVENGERS movies, at the very least. This is a giant event movie but it's not working on the traditional level of a movie. It's more of a movie/comic book crossover/TV series hybrid. Some mad king becomes a show runner and spends all his nation's capital trying to make the biggest season finale in history.
So I'm assuming you've seen it, and we'll discuss some stuff about it. And the review will be as long and all-over-the-place as the movie.
I got something in my blood that thrives on the excitement of a big summer event movie. And I always think of another apocalyptic time travel action movie, TERMINATOR 2: JUDGMENT DAY, as one of the heights to aspire to. It seemed like gigantic spectacle at the time, and it introduced special effects technology that seemed like magic, but it has characters and storytelling and action sequences that still resonate now that the movie seems kind of humble and quaint. It complicated and one-upped the story of its predecessor, but it stands on its own – you could never see any other TERMINATOR movie in your life and still understand and love T2. Even most of the STAR WARS movies, clearly labelled as chronological episodes, could almost work as stand alone stories. The Marvel Cinematical Unification or whatever has somehow brought the infamously homework-intensive collector mentality of comic book mega-crossover events to the medium of blockbuster movies.
ENDGAME has prerequisites. Don't take it the wrong way, but the movie it most reminded me of was THE TWILIGHT SAGA BREAKING DAWN PART 2, because it's a convoluted series-capper bringing most of the characters of the saga together into a clearing and having like a half hour of green screen and animation to make them zip around and smack against each other like a pile of action figures being shaken up in a plastic bag. It even has kind of similar photo end credits with applause breaks. But that was movie #5, this is #22. Jesus christ, that's never been done in a movie before! So much of the story requires knowledge of various other stories, so many big moments are characters who don't really do much of anything in this movie but give us shivers just by appearing. Case in point: when the Wakandans strut through Dr. Strange's portal in silhouette. Made me involuntarily fist pump. Would mean nothing without the other movie. And that's not a little bonus fan service or easter eggs, that's what much of the movie is constructed of!
So it's different from what we used to think of as an event movie, and I suspect it might be too complicated for me to rewatch it and grow with it over the years like a T2, a JURASSIC PARK, a DARK KNIGHT, a THE MATRIX, even a REVENGE OF THE SITH that's right I said it or whatever. But that's okay. It's something different, and for what it is, it's very satisfying.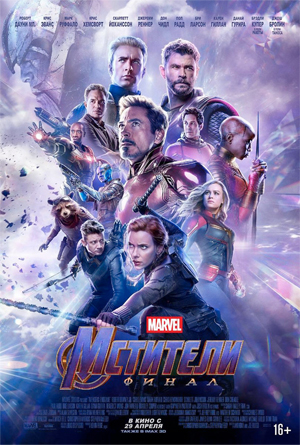 My favorite part of INFINITY WAR is the very end, when Thanos is at his cabin just kickin it, and just sits there and smiles. I'm equally in love with his reintroduction here, out picking fruit, coming back to his cabin to cook a meal. Wearing a t-shirt! You notice that he's not walking too well, and then that his face is burnt. He's an impossibly gigantic dude, but he's just a dude. Like a retired MMA fighter. His body is spent and he's just enjoying a life of calm and simplicity.
I love that they kept it under wraps enough that I went in having no idea of even the general shape of the story. We've been speculating how they could beat Thanos, and I sure didn't expect they would just fly to his house right at the beginning, find him defenseless and chop his head off. Almost a Snoke moment there, but with different emotions. This guy decimated literally half of humanity (and the same on other planets), but now that he's vulnerable it feels gross for Thor to murder him. Like when a dictator gets strung up or a serial killer gets executed. If we're gonna kill people, those are the people to kill. But I don't think we should be killing people.
I know it's played for laughs, but Thor's whole life crisis spins out of his feelings about what he did there. It fucks him up. When he travels through time he turns it into a mission to talk to his mom about it. That's an interesting, unexpected texture to put into a movie like this.
And I felt the same when they unmade Thanos' past self and his forces at the end. Directors Joe and Anthony Russo (YOU, ME AND DUPREE) mirror the satisfied smile closeup from INFINITY WAR, but this time we're watching his dawning horror as he realizes he and all his people are being turned to ash. We've just watched all of his army blow away just like we once did half of our heroes. These just seem like raging monsters, but what if they had the potential to change, like both of Thanos' daughters did? The day is saved, but let's not throw a parade. In my sold out screening one guy clapped, almost no one joined in. It felt a little bit ZERO DARK THIRTY to me. Maybe that was necessary, maybe it wouldn't work to give them all their own cabins in a tiny bubble in the quantum realm, but let's not gloat about it. I like that it goes there.
But let's go back to the beginning. The sudden 5 year time leap was another unexpected turn of events that got gasps in my screening. And Scott Antman's "Time Heist" plan is a great gimmick. I was so excited when I realized what they were doing – time traveling into events from previous movies! Which also turns out to be an excuse to get everybody into their 2012 AVENGERS outfits for old time's sake. My one complaint is that they didn't have Bruce Hulk travel back to scenes from THE INCREDIBLE HULK so he could interact with his past self, Edward Norton.
Oh, by the way, I was hoping they would mention TIMECOP, and they did. If you check Box Office Mojo I believe you can see that this now holds the record for highest grossing movie to mention TIMECOP. (Previous record holder: TIMECOP?)
It's so complicated, all these different teams of Avengers, and it's intercutting between different planets and years and tones, and bringing in various characters when they were younger, or still alive. It's not an elegant story at all – more like a bunch of loose threads woven through some cool gimmicks and tied around the ankles of our established affection for the characters as they dance around and riff. That means many big laughs and two characters, Thor and Hulk (where does he buy those giant sweaters!?) at comical new stages in their lives. It's a movie that seems to say goodbye to at least three beloved lead characters, with scenes they expected to be so impactful that they passed out branded Avengers Kleenex at preview screenings, but it also has time for a joke about Ant-Man losing a taco because of a space ship landing. That's kind of the Marvel magic though, isn't it?
As unwieldy as this whole thing is it really does feel like an ending in many ways, and I like how much they look back at where each of the characters started and try to put a cap on it.
For Tony Iron Man, it's revisiting his relationship with his father, who he even gets to hang out with and hug. Also, his relationship with Pepper, who he now has a child with and does battle alongside. (The suit was new, right?) And the theme of his selfishness. He almost turns down the call to protect what he has. But he can't. He gets to use his smarts, his suits, and his heart. And he gets an organic chance to say "I am Iron Man" again in a different context.
I really like the scene where he's returned from space, he looks eerily frail, and he flips out on everybody. When he yells about nobody liking his plan to build armor around the world he conveniently leaves out that he tried to do it and created a powerful robot that almost destroyed the world by taking the idea too seriously. But it's a believable tantrum.
I would've liked to see more of him with Rhodey Warmachine, but obviously I'd also like to see Terence Howard mysteriously show up, and I can't have everything I want. I also wish Mickey Rourke's character Whiplash from part 2 was there for some reason when everybody comes back from the ashes. Or at least his cockatoo Irina.
Steve America gets the most satisfying closure. I think he has some of the best movies of the Marvel Universe, and part of what was such a delight about THE FIRST AVENGER was that he had an unusually strong and charismatic love interest in Peggy Carter. And it was ballsy that it ended on that sad note of him realizing that he'd lost the chance to really get to know her, a feeling we shared as an audience being trained to want to see the characters we like return in sequels.
(Luckily Peggy got to star in two seasons of a pretty fun TV show, and if you watched that as I did then ENDGAME has a high five for you in the form of a cameo by Howard Stark's butler Jarvis, so far the only Marvel TV show character to move to the big screen.)
It's just so perfect and right that Captain America's ending is not the obvious heroic war sacrifice you'd expect of a soldier, but a miraculous chance to get back the happy ending he was previously robbed of by, uh… ice.
But similar to Tony and Rhodey, it's too bad they couldn't fit in more about his friendship with Bucky Winter. Bucky got ashed in INFINITY WAR, so he's not around until the end of the movie, but it didn't have to be written that way. And it's weird that Bucky gives Sam Falcon the go ahead to have the emotional talk with Old Man America moments after they've unexpectedly lost their best friend to time travel. Bucky's known Steve since the '40s and he's like "Nah, Sam, you go ahead."
I wonder if he considered the other normal human option of both of them going together to talk to their friend. And if so would Steve have felt awkward giving the shield to Sam right in front of Bucky? He'd have to be like, "Look, you know I love you Bucky, but between the two of you, he's the one that didn't get mind-controlled for decades and kill Tony's parents and all that shit."
Of course, for all we know he would've passed on the mantle to the first person to walk up to the bench. Could've been Ant-Man, even. If it had been Bucky, I wonder if he'd turn down the chance to be Captain America on the account of being Wakandan now.
And by the way, aren't those kids from the diner gonna feel like idiots if they ever figure out that was Captain America sitting with The Hulk and they didn't get him in the picture? Man, they blew it.
Hawkeye never got quite as much to do as the others, and I gotta say "switches to swords and travels around to different countries murdering gangsters on account of he's grieving" seems more like a bad half a season of Agents of S.H.I.E.L.D. than a subplot worthy of this movie. I like the haircut, though. And I do like that they return to the subject of his long friendship with Natasha Widow and their hope for redemption after having been hired killers. A favorite moment for me is when they're in the cockpit of a spaceship together and he turns and says something invoking the old days – "Long way from Budapest," or something – and they laugh together. Because they can't believe they're in a fucking space ship.
And it's nice to see these long time pals spend their last minutes together in another duel, this time for the right to sacrifice their life to save half of humanity. In this case though I was taken out of the movie by our modern awareness of entertainment news, because I was thinking "Neither of them can die – she's gonna have a solo movie and he's gonna have a Disney+ series." Guess I was part wrong there. I guess it has now been reported that the BLACK WIDOW movie will be a prequel, not sure how official that is. It surprises me, because you'd think they'd insist on her character growing and coming to a new understanding of heroism and shit like that, but I hope this frees her up to just have a badass spy adventure and not have to save the universe.
Also it makes me less nitpicky about her not getting as much shine in this movie as the male departing characters. Just like Captain Marvel being more of a weapon than a character seems okay since she just had her own movie. That's one strength of its franchiseness.
Most upsetting death: Thor's RAGNAROK haircut.
Thor, who started with one of the more serious Marvel movies, has some pretty heavy emotion buried in a silly comedy routine about turning into a beer guzzling slob. I wonder which was harder – gaining all that muscle the first time, or wearing the fat suit? Since Thor has already dealt so much with his dad and brother it was cool that his stuff tied in his part 2 to deal with his mother and his ex-girlfriend. Not only does he get to talk to his dead mom again, but what she says to him inspires the direction he decides to take his life (and franchise?) at the end. And he doesn't get to talk to Jane but it honestly seemed miraculous that we got to see her for like 5-6 seconds.
Hey, Natalie Portman's management – this is Marvel. Having trouble getting ahold of Natalie. Hasn't responded to us since the Patty Jenkins thing. Trying to tie up some Thor things in Endgame. Any ideas???
Natalie will allow 1 (one) photographic representation and 1 (one) shot of her getting out of bed provided you do a pandering but cool scene later where all the super powered females stand together looking all bad ass for basically no reason.
It's a deal thanks guys!!!
(Seriously, do you think Okoye went up to Pepper and said "Hey, some of us ladies have been talking about getting us all together to back up Captain Marvel. Meet at that hole over there in five minutes"?)
Throughout these 22 movies they've had some incredible casts that seemed, at one time, like big gets for a comic book movie. And still there's something that feels kind of magical when they unexpectedly bring back somebody that hasn't been in them for a while or wasn't allowed to become a fixture – Renee Russo, Robert Redford, John Slattery, whoever. I know they got this digital de-aging stuff figured out pretty good, and that fictional characters can come back from the dead, but still. Did not expect to be so impressed to see The Ancient One again. And yeah, I didn't expect Portman to ever come back, even this briefly. Surprised she didn't make them use an outtake from ATTACK OF THE CLONES.
Oh man, how about that shot of everybody at Tony Stark's funeral, lining up just about everybody that was important to him? There's a weird moment when they zeroed in on a lanky young man standing by himself. I had no idea who he was and I even heard people whispering "Who is that?" in the theater. And I was worried it was some mystery to be revealed in a future movie, but in fact it's the kid from IRON MAN THREE. And I love that. Good for you, kid. Good for you, Shane Black.
Also good for Nebula, the non-Avenger who plays the biggest part in this one. Especially since in the first GUARDIANS OF THE GALAXY she was the coolest looking character but was really more an intriguing idea than a fully developed character. Here she gets to be funny, heroic, and also scary. I like the idea of the current redeemed Nebula being ratted out and slowed down by her past, pre-enlightenment self. Does she get to be an Avenger now? Maybe she can teach Scarlet Witch that you can still be a fun character even if you were tormented and used to be a bad guy.
Props also to Ant-Man, who continues to be a really effective comic relief character but unequivocally saved the day with his time travel idea. I hope the others still make fun of him though.
Now for some mild criticisms. I've been over it before, but I can't not mention it: these movies deserve much better action. That's especially the case of something simple like the fight between Captain Americas that's edited into bullshit, but I also think the epic FX battles could be so much more. Don't get me wrong – the finale of ENDGAME is spectacular, more ambitious than we've ever seen in terms of involving dozens of characters we know and their various established abilities. It's a thrill because of the ideas behind it – hey, Drax is repeatedly stabbing a monster, hey, Ant-Man turned giant and punched the giant caterpillar thing from the first AVENGERS. And you can tell most of what's going on. I loved watching it. But these scenes are so much chaos and light beams, so little grace and rhythm and momentum and build to impact.
I know it's the Russos' style. Joss Whedon's AVENGERS action had clarity from long, designed camera moves. But ENDGAME's second unit director/stunt coordinator, former Captain America stunt double Sam Hargrave, designed the action for ATOMIC BLONDE and WOLF WARRIOR II. I'd just love to see scenes with that kind of skillful craftsmanship combined with this epic comic book style.
This is a mild tsk-tsk. I allow them a pass on this stuff because the stories still make the action fun. But if they don't up their game for SHANG-CHI I won't stand for it. He's the master of kung fu, you guys.
A couple more things. This is inevitable with time travel movies, but afterwards I'm left with many goofy questions about how this shit works. Like, it seems Steve went back in time and married Peggy Carter – did they keep that a secret? Or did the world know there were two Captain Americas of different ages? Was Peggy still off on her own being an Agent of S.H.I.E.L.D., or did she just "live life" with him? If her destiny was different when she married Steve, doesn't that devalue all her heroic achievements in the previous timeline, because somebody else would've taken care of it?
(Yes, I saw the theory that Future Steve was always her husband. I'm not ruling it out but that doesn't mean I buy it.)
And what about that scene where Peter goes to school and his buddy is happy to see him. I gotta admit this is one of the more emotional parts for me. But wait a minute… if he hasn't seen Peter in five years, like he's acting, why is he still in high school? And aren't we seeing a new Spider-man movie in July where all the same characters go on a school trip? Does this mean that all of the returning high school characters were turned to ash and missed five years and are now continuing their education where they left off? (Obviously this one will be answered soon, unless they just ignore it.)
None of that is important. ENDGAME gave me what I wanted. I'm not sure if it's a type of movie that ever could or should be replicated, but it's something special. Here I am once again marveling (get it, marveling) at the fact that I was skeptical they could successfully combine IRON MAN, THE INCREDIBLE HULK, CAPTAIN AMERICA and THOR into THE AVENGERS, but now that first crossover feels quaint compared to the gigantic shit we now expect of them. And once again I can only assume that they'll have to make things smaller and simpler for a while and if they build toward a giant event again it can't be much bigger than this. But, you know, I've been wrong before. Every time I questioned them.
For example, at the end of my INFINITY WAR review I complained that I never got to see Tony Stark insult a talking raccoon. This was their last chance, and they came through. Thank you for your service Iron Man.
THE AVENGERS WILL NOT RETURN
Although I watched all of the Marvel Cinematic Universe movies as they were released, I didn't review all of them. For example, I felt like everybody had heard IRON MAN was great fun and I didn't have anything to add. Wasn't planning for cinematic history, I guess. But here's a list of the movies with links to my reviews when applicable.
IRON MAN (2008)
THE INCREDIBLE HULK (2008)
IRON MAN 2 (2010)
THOR (2011)
CAPTAIN AMERICA: THE FIRST AVENGER (2011)
POPEYE (1980)
THE AVENGERS (2012)
IRON MAN THREE (2013)
THOR: THE DARK WORLD (2013)
CAPTAIN AMERICA presents THE WINTER SOLDIER (2014)
GUARDIANS OF THE GALAXY (2014)
AVENGERS: AGE OF ULTRON (2015)
ANT-MAN (2015)
CAPTAIN AMERICA: CIVIL WAR (2016)
DOCTOR STRANGE (2016)
GUARDIANS OF THE GALAXY VOL. 2 (2017)
SPIDER-MAN: HOMECOMING (2017)
THOR: RAGNAROK (2017)
BLACK PANTHER (2018)
AVENGERS: INFINITY WAR (2018)
ANT-MAN AND THE WASP (2018)
CAPTAIN MARVEL (2019)
This entry was posted on Monday, April 29th, 2019 at 12:28 pm and is filed under
Comic strips/Super heroes
,
Reviews
. You can follow any responses to this entry through the
RSS 2.0
feed. You can skip to the end and leave a response. Pinging is currently not allowed.