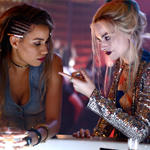 BIRDS OF PREY AND THE FANTABULOUS EMANCIPATION OF ONE HARLEY QUINN is the movie that says "Okay, we fucked up that SUICIDE SQUAD movie, but Margot Robbie was great as Harley Quinn, right? Didn't we kinda have something there?" And the answer is yes and yes, so luckily they gave her another movie. It's the second feature for director Cathy Yan, whose 2018 debut DEAD PIGS takes place in Shanghai but stars Zazie Beetz. She obviously has Robbie's pre-existing character and David Ayer's SUICIDE SQUAD sensibilities to build off of here, but I think she makes it distinct – it feels to me like a studio hiring a promising new director to do her thing, not to follow instructions.
Formerly the abused girlfriend/sidekick of The Joker, this is the story of Harley's life after breaking up with him. No longer enjoying the immunity provided by association with a famous psychopath boyfriend, Harley gets herself into trouble with various factions including but not limited to the gang run by Roman "Black Mask" Sionis (Ewan McGregor, MILES AHEAD, JANE GOT A GUN), police detective Renee Montoya (Rosie Perez, DANCE WITH THE DEVIL, Widows), somebody she punched in a roller derby bout (stuntwoman Keisha Tucker), and somebody who blames her for his face being tattooed like a clown and can't fucking believe it when she doesn't remember what he's mad about (Matthew Willig, FULL CONTACT [1993], 3 FROM HELL).
She also gets mixed up in a squabble over a mcmuffin, specifically a rare diamond with even rarer codes engraved into it, though she seems more emotionally involved in an unrelated quest for an egg, bacon and cheese sandwich. The diamond has fallen into the possession of a foul-mouthed young pickpocket named Cassandra Cain (Ella Jay Basco, niece of Dante Basco from BLOOD & BONE and HOOK) who is therefore being chased by Black Mask's henchpeople, including Dinah "Black Canary" Lance (Jurnee Smollett-Bell, EVE'S BAYOU, ROLL BOUNCE, GRIDIRON GANG), who was just a singer at his club until she got pushed into being his driver because Harley broke the old one's legs for calling her a slut and then Roman found out Dinah could fight when he saw her beating up some guy in an alley for trying to rape Harley while she's too drunk to fight him off.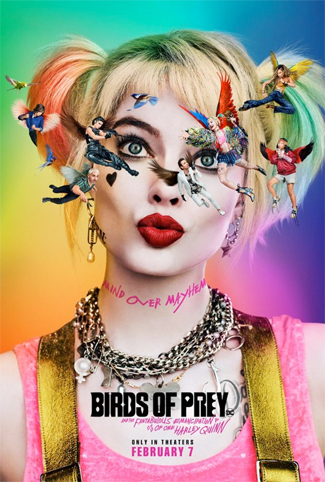 I'm making it sound convoluted, but unlike the horribly-structured-after-reworking-the-whole-thing SUICIDE SQUAD, this script by Christina Hodson (BUMBLEBEE) has a method to its madness, cleverly weaving together all the different threads while its narrator, Harley, wobbles around, distracted, jumping back in time but getting us involved enough to forget where we were until we get there again.
I think it helps that there are no monsters or magic beings. Not that I got anything against monsters or magic beings. I love 'em. But I also love that these are just people who are comic-book-level-good at fighting. Instead of the usual FX there's a fuck-ton of good old fashioned spin-kicks, baseball bats to various body parts, flips, leaps, slides, drops, drop kicks. An action movie! The early scene with Harley playing derby is a cute acknowledgment of a female-driven subculture that must've influenced her style in the first movie, but it also nicely (if unnecessarily) sets up for her to wear rollerskates for a major action scene. It's so cool because
1) it's completely ingenious to do one of these FAST & FURIOUS style fights on top of a moving car but have the heroine wearing skates so it doesn't matter when her feet drag
and
2) they even use a bit of derby terminology. Beautiful.
I know I'm a broken record about this shit, but I love that it's lots of real stunts and complex choreography, and they present it well, don't shoot close up or shaky or edit it all to shit. This is so much more exciting to me than the green screen and animation that most of the super hero movies (both Marvel and DC) tend to devolve into. I wish they made more like this. I'm looking at you, Shang-Chi and The Batman.
I know JOHN WICK's Chad Stahelski was reportedly involved in reshoots, and his muse Daniel Bernhardt (JOHN WICK, ATOMIC BLONDE, BLOODSPORT 2-4) is in it as the aforementioned driver who gets his legs snapped by Harley, but I suspect this has been misinterpreted by some people. The action was already being handled by stunt coordinator/second unit director John Eusebio of 87Eleven, who worked on all the JOHN WICKs, DEADPOOL 2, and HAYWIRE, among other things. I read an interview with Yan where she talks very thoughtfully about her approach to the action, the fights are too numerous and too integral to have been an afterthought, and you don't have that amount of complex choreography with the real actors unless you plan and train well ahead of time. But apparently the reshoots added even more of it. I approve.
I didn't actually realize BIRDS OF PREY OR HOW I LEARNED TO STOP WORRYING AND LOVE THE BOMB was gonna be rated-R, but after a few "motherfucker"s and a scene where Roman and his pal Victor Zsasz (Chris Messina, GREENBERG) are cutting people's faces off, I caught on. In modern terms it's more of a DEADPOOL than a JOKER, but the movie it really reminded me of is TANK GIRL. I think TANK GIRL is more stylistically radical, and BIRDS OF PREY is a way better story. But both have a perfectly cast actress ferociously throwing herself into an irreverent, anarchic anti-hero who's part punk, part sexy, totally not-giving-a-fuck, alternately tough-as-nails and sensitive, childish and fucked up, also has a heart under there and can be a great friend, or not. In both cases the rhythm and style and tone of the movie comes completely out of that character's personality, including switching to animation, fantasy sequences, etc. And both have playful production design (in this case by K.K. Barrett, BEING JOHN MALKOVICH, HUMAN NATURE, MARIE ANTOINETTE) full of color, detail and cartoonish exaggeration.
It's worth noting that costume designer Erin Benach also did DRIVE. What I'm getting at is that she designed the silver scorpion jacket that was a phenomenon at the time. She's a great choice for this movie – she has fun giving Harley all kinds of glimmery rainbow colored things to wear. And another notable participant with indie cred is cinematographer Matthew Libatique, who's Aranofsky's guy going back to PI, and did several Spike Lee movies, though he also did IRON MAN and VENOM.
One not-normal thing they do that I think fits Harley's personality is that the whole thing is the origin story for this super hero team the Birds of Prey – a team that our main character is not a member of, and says is stupid. Maybe she can be the hostess of the DC Universe, going around being the main character in everybody elses's movies. RISE OF THE GREEN LANTERN CORPS (AND THE HOME-MADE ROCKET OF MS. H. QUINN). I might've been into BATMAN V SUPERMAN: DAWN OF JUSTICE (WHEN HARLEY HAD A PARADEMON FOR A ROOMMATE).
Harley is the heart of BIRDS OF PREY WHO WENT UP A HILL BUT CAME DOWN A MOUNTAIN, and is a bad person who we're allowed to love in this cartoonish world. I appreciate that though we saw how horribly the Joker treated her, she's the one who got dumped, and though her voiceover claims otherwise, she didn't take it well. We're excited to see her unshackled from the burden of the other movie, but she's just discovering how to go solo.
When the story focuses on the other characters for a while we don't have to miss Harley, because she's telling the story. I've always enjoyed the works of Mary Elizabeth Lucy McClane Winstead (Passions, BOBBY, BLACK XMAS), and she's fun as the leather-clad dark avenger Helena Bertinelli, who wants to be called "Huntress" and is eternally frustrated that everybody calls her "The Crossbow Killer" instead. But Black Canary is definitely the standout character. She's the most traditionally cool and badass but also has the most layers, getting stuck in a situation where she has to endanger herself by turning on her boss in order to live up to her values, and feeling the need to help people she doesn't like.
McGregor makes a great villain, a little in the traditional Batman Rogue's Gallery way, but more like an action movie villain who gets weird and mega enough to be memorable. He seems overly upbeat most of the time and keeps doing random "whooooo!"s, even a spin at one point. Definitely could be thinking about Nic Cage. There's a funny scene where he crassly shows off his collection of indigenous masks to Black Canary. I wondered if this was an intentional parallel to the Michael Keaton Bruce Wayne, in the "King of the Wicker People" scene.
Its sensibilities are much more smart-assed and hyper-active than Burton's BATMAN, but I guess it's a little old school in its willingness to drastically change things from the comics. I've heard from some of you guys about how Cassandra Cain was an entirely different, mostly non-verbal character raised by assassins who later became Batgirl. And I know that Black Mask was originally Jet Li in a Kato mask accompanied by a bunch of scratch DJ music when he's in the U.S. But in spirit I think this is very much the thing we think of as "like a comic book" when we mean it as a compliment.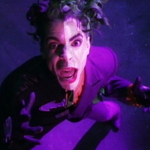 I'm old now, so I remember when Batman and Superman and shit were unifying forces. Comic book readers were a minority, but everybody had some fond memory of those characters from childhood, whether from a cartoon, a TV show or a pajama. And everybody enjoyed their blockbuster movies. It hadn't gotten complicated by too many shitty sequels and reboots yet, and the culture around comic books was different, so everybody was just happy to celebrate it. It didn't occur to you that woman-hating weirdos and militants would some day bother you on the internet about liking the comic book movies from one corporation better than the other. The movies and the conversation around them were in many ways less sophisticated, but not quite as insufferable. And we had "Bat Dance."
Now every time I write a review of a movie like this I worry about summoning the annoying identity politics of the people who identify as being against identity politics. It's a comic book movie by and about women, so the first time someone casually said "I appreciate that" it signaled the Legion of Dudes headquarters to rise out of the swamp with But Actually Man straddled on top clutching his ratty notebook full of infuriating discussion-ruiners. I want no part in his Inanity War, so I'm just gonna turn "Bat Dance" up real loud and hope he doesn't hear me say this:
BIRDS OF PREY THANKS FOR EVERYTHING JULIE NEWMAR is my preferred R-rated clown-themed DC super villain solo movie. I respect JOKER as a well made and unusual movie and all that, but I just don't like the idea behind it. To me it's like making a movie called LONE RANGER and he's not a guy who wears a mask or does heroic stuff, he's just a sad guy who works at a slaughterhouse. But he is alone and he kills a white horse that could arguably be Silver. Okay, great, but I kind of like the Lone Ranger, I'd sort of be more into a story about The Lone Ranger?
So I appreciate that BIRDS OF PREY AND THE ASSASSINATION OF JESSE JAMES BY THE COWARD ROBERT FORD is a story about The Lone Ranger, or in this case Harley Quinn, and embodies the things we love about that character. Her life is some weird mix of gangster tale and Looney Tunes short. She goes around causing mayhem (from stealing a drink to blowing up a chemical factory to attacking a police station with glitter bombs) with a combination of wicked playfulness and naive innocence. In the middle of a foot chase she gets distracted by a rainbow-sequined fannypack. She has a pet hyena. She hides out in an abandoned carnival funhouse straight out of one of the cartoons her character was invented for. I don't really understand the premise of this attraction, but it has a row of women's heads with long wavy tongues suitable for bouncing off of, a circle of giant rubber hands, and other crazy props to fight among. The kind of shit the Joker used to like, before he sold out to become a best picture nominee.
(I thought it would be funny if at some point she had a picture of Joaquin-Phoenix-Joker, just to confuse people. They actually don't even show Jared Leto, just drawings that look more like a traditional comic book Joker. That's okay, they know what they're doing.)
BIRDS OF PREY AND THE YOU GET THE IDEA is silly and candy-colored. It mixes many tones and emotions, but it would be hard to describe as dark or serious. Still, it speaks to me deeper than dark-and-serious-JOKER does with its sense of humor, its love of action and gimmicks, and its story of troublemakers rejected by the people in their lives, forced to work together and realizing they sort of like each other. It's sweet. But it still has a notably oh-shit death for one character. It's a fun time at the carnival.
This entry was posted on Friday, February 14th, 2020 at 9:19 am and is filed under
Action
,
Comic strips/Super heroes
,
Reviews
. You can follow any responses to this entry through the
RSS 2.0
feed. You can skip to the end and leave a response. Pinging is currently not allowed.