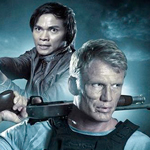 SKIN TRADE (actually written as SKINTRADE on screen) is the long-awaited passion project of Dolph Lundgren, who produced and wrote the screenplay with Gabriel Dowrick (an editor and sometimes director) and Steven Elder (an actor who was in GALLOWWALKERS). Over the years Dolph had sometimes planned to direct it himself, sometimes not to act in it, at one point possibly to have Steven Seagal co-star. Eventually he handed over the reins to Ekachai Uekrongtham, director of BEAUTIFUL BOXER and PLEASURE FACTORY, which is about the sex industry in Singapore. To Dolph SKIN TRADE is an attempt to raise awareness about the problem of sex trafficking. For me it is an achievement in having a movie that stars Dolph Lundgren, Tony Jaa and Michael Jai White.
Dolph plays Nick Cassidy, an NYPD detective who gets himself into trouble by gunning down Serbian gangster Dragovic (Ron Perlman, sort of reprising his character from POLICE ACADEMY: MISSION TO MOSCOW)'s prettiest son two seconds after he yells "I will prove to you… I AM MY FATHER'S SON!"
Just another day on the job, you would think, but next thing you know some dudes fire an RPG into Nick's living room window and he wakes up in the hospital with the side of his face melted and no wife or daughter in his burned down house.
Meanwhile Tony Jaa plays Tony, an undercover cop on a crusade against Dragovic's sex slavery ring in Cambodia and Thailand. We first meet him wearing a nice suit and being threatened at gunpoint to have sex with a young kidnapped child. He fakes like he's gonna do it but instead he pulls out his belt to use as a weapon to beat up every sorry sex slaving piece of garbage in the room and dangle their cowering leader (Gigi Velicitat, ELEPHANT WHITE, THE MARINE 2, STREET FIGHTER: THE LEGEND OF CHUN LI) off the side of the building until he tells them where their next shipment of human cargo is headed. And then he drops him anyway. The guy probly shouldn't have offered him that freebie on sex slaves in my opinion. That was his mistake.
When Nick decides to get out of his hospital bed, tear off the bandages, shoot himself up with painkillers and stumble out of there, the FBI, for reasons I did not quite understand, gets Tony to track him down. So there is chasing and fighting and eventually they figure out (duh) they're on the same side and they beat the shit out of some bad people using fists, knees, elbows, guns, etc. Not the belt, he only uses the belt at the beginning. Also not elephant bones, that was only in THE PROTECTOR/TOM YUM GOONG that he used elephant bones.
The main FBI agent is Reed, played by the great Michael Jai White. His boss is played by Peter Weller, so there are a couple history-making scenes of RoboCop and Android Cop on screen together. Keep that in mind, Library of Congress. White wears a suit and tie for the whole movie, which I haven't seen him do before, and it's funny because he looks way too buff to be wearing a suit all the time unless he's holding a microphone on the side of a football field.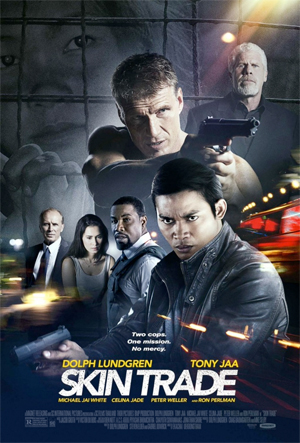 I would also like to note that Robo and Andro visit Nick in the hospital for some brief exposition and then politely dismiss themselves. I never thought about this before, but I've spent alot of time in hospitals over the last year, and I realize now that in movies people only have like a minute or two to do a hospital visit and then they have to leave. In my experience you feel like you gotta stay there for a long time because the person is stuck in there and you feel like an asshole just taking off right away.
Anyway, we got a couple of Dirty Harries here, because just like Tony dropped that guy off the building Nick goes into a restaurant to get information out of some connected rich people, and he just casually blows a bunch of them away with a shotgun and then firebombs the place as he exits. (No time for a Yelp review.) Reed says "We think Nick is suffering from a severe psychological breakdown."
Actually he's just very serious about tracking and killing Dragovic. That's his passion project. Revenge is to Nick as SKIN TRADE is to Dolph. But Dragovic is hiding out under the protection of a senator played by Cary-Hiroyuki Tagawa, whose support is assured through the use of blackmail sex pics. On a meta level this is an important scene because C-HT was the main villain that Dolph faced in both SHOWDOWN IN LITTLE TOKYO and BRIDGE OF DRAGONS. Now Dolph is facing an enemy so dangerous that C-HT is scared of him and does his bidding.
But let's be honest here, nobody watching cares as much about killing Dragovic as about who of the three main stars are gonna fight each other. SPOILERS: we get Jaa vs. Lundgren times two and Jaa vs. MJW. No MJW vs. Lundgren. As this fight card reveals, Reed turns out to be a traitor, so he's basically a less developed version of MJW's crooked cop character in EXIT WOUNDS. And for the record MJW has now been a bad guy who fights Jaa, Seagal, Van Damme (in UNIVERSAL SOLDIER: THE RETURN), Michelle Yeoh (SILVER HAWK) and I think Don "The Dragon" Wilson and Jerry Trimble although I haven't seen LION STRIKE or FULL CONTACT (1993) to verify.
Jaa gets in the most fighting of anyone, and there's a definite Thailand feel to the action, though I don't think it's Jaa's usual collaborators. The "action and stunt choreographer" is Dian Hristov, Dolph's stunt double in the EXPENDABLES movies. But you see alot of the supporting actors that are in other American productions shot in Thailand. I recognized one of the sleazeball kidnapper guys as Sahajak Boonthanakit, who I just saw as goofy comic relief Bolo in THE MAN WITH THE IRON FISTS 2, and he was also in THE MARINE 2. Also IMDb says Conan Stevens is in it, but I somehow missed him. He's from Australia and best known as an orc in the HOBBIT pictures, but he was also in some Thai movies like MUAY THAI GIANT and FORCE OF FIVE.
There's a pretty cool Jaa on foot vs. Dolph on a motorcycle chase, but it suffers from being in either a similar or the same location as the outdoor market where Jaa did the famous foot chase in ONG BAK. You can't help but notice that he doesn't do anything as impressive as jumping through the ring of barb wire and all that shit, although it's cool that he runs across the rooftops and then plays chicken with the motorcycle.
In his first scene Dolph is out of breath from trying to chase a guy on foot. I wondered if this was gonna be the start of his Clint style Old Man Period, but I don't mind that it turns out to just be standard Dolph. Like Arnold he's an amazing larger-than-life, cover-of-a-pulp-novel type specimen who only looks cooler every time he cracks a new wrinkle or sprouts another grey hair (or in this case has burns on his face).
Other than his one-line henchman role in FURIOUS SEVEN this is Jaa's English language debut. So I like that his character is just "Tony," like when Jackie Chan played "Jackie" in DRAGONS FOREVER, the dub of OPERATION CONDOR, MR. NICE GUY and maybe some other ones. He gets to do part of his role in Thai, and doesn't talk that much, which is good because his English dialogue is pretty awkward. I believe he can speak it but most of his lines here sound like he just learned them phonetically.
As a martial arts performance it's not surprisingly a step down from all his Thai movies including the most recent one, THE PROTECTOR 2, but it's better than what I expect from Asian martial artists going Hollywood. For example his second fight with Dolph is pretty much what I wanted out of Dolph's fight with Jet Li in THE EXPENDABLES. It shows them clearly. It emphasizes the size difference and gives them opposing fighting styles and strengths. Dolph overpowers with brute strength. He kicks through boards and repeatedly bashes Tony in the face with sledge-hammer-like fists. Tony has to start climbing and leaping off of rails and columns to compensate for his height and chip away at the giant with his trademark flying knee and elbow moves.
MJW also has a strength advantage, but does his powerful spinning kicks and super hero type poses. Lots of grabbing Jaa and flipping him, or kicking him through boards. Both have very distinct ways of moving and hitting and they go at each other for quite a while before one of them wears out. Yeah, Jai v Jaa: Dawn of Jastice is definitely the highlight of the movie.
Of course it's always kinda anticlimactic when you got a great martial artist as the secondary villain and just a dude as the primary. To their credit though they found an original way for a helicopter to crash. It doesn't blow up, it just hits the ground and rolls around with the rotors hitting the ground. That was cool.
Despite these strong points, SKIN TRADE is not as entertaining as I hoped for from this great cast. Because Lundgren is so serious about the subject matter he avoids the type of humor and absurdity that enliven his best movies. This would be okay if it had a really strong sense of tone and atmosphere like Lundgren's work with John Hyams (who IMDb says did an uncredited rewrite, by the way) but it's pretty standard, and I don't see how the portrayal of sex traffickers is any different from a thousand other action movies with the same type of bad guys. But the seriousness also prevents having a more colorful, enjoyable villain than a standard cold-hearted gangster.
Lundgren has done buddy team-ups before: with Louis Gossett Jr. in THE PUNISHER, Brian Benben in I COME IN PEACE, Brandon Lee in SHOWDOWN IN LITTLE TOKYO. In all of these they have some kind of chemistry, personality conflict and comedic rapport. But here Dolph and Tony start out sort of in separate movies and when they get together they're not a mismatched team, they're just two different sizes and accents of over-the-line vigilante cops.
I'm not gonna cry about it though. It's still pretty fuckin cool to see them together. And they'll get a another chance to fight each other because they already did another movie called A MAN WILL RISE, where I think Dolph is the bad guy. And this one ends on a weird cliffhanger-ish note, so they could potentially be buddies again in SKIN TRADE 2: SKINT RAID. In my opinion they are for sure the new Bob Hope and Bing Crosby.
NOTE: I watched this on Video On Demand through my cable company, but it will be playing in a few theaters starting May 8th.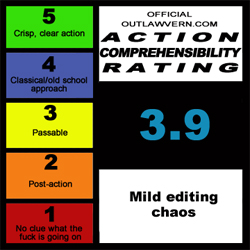 This entry was posted on Monday, April 27th, 2015 at 12:06 pm and is filed under
Action
,
Martial Arts
,
Reviews
. You can follow any responses to this entry through the
RSS 2.0
feed. You can skip to the end and leave a response. Pinging is currently not allowed.