SPIDER-MAN: FAR FROM HOME continues the charming "teen comedy, but in the Marvel Universe" vibe of 2017's SPIDER-MAN: HOMECOMING, but instead of situating it on the outskirts of the MCU it's more in the middle this time. It's pretty much an epilogue to the whole story that culminated in AVENGERS: ENDGAME, or a bridge to the next one. It starts by making light of the fictional tragedies of that movie (a hilariously awful teen-made video tribute to fallen heroes) and pretty much addressing everything I wondered about after ENDGAME (AVENGERS that is, not HIGHLANDER) pertaining to a world where half of all teens are five years younger than their ID says.
And then it's kind of like it should be called SPIDER-MAN IS… IRON MAN 4. Peter Parker (Tom Holland, BILLY ELLIOT THE MUSICAL LIVE) is on a school trip to Europe, and his mind is on a plan to tell M.J. (Zendaya, SUPER BUDDIES) he has a crush on her, though she seems to be spending her time with Brad (Remy Hii, CRAZY RICH ASIANS), who is somebody's little brother who grew big and handsome while the rest of them were dusted.
Meanwhile, scary Nick Fury (Samuel L. Jackson, THE EXTERMINATOR) is trying to get Peter to help a weird flying guy called Mysterio (Jake Gyllenhaal, PRINCE OF PERSIA: THE SANDS OF TIME) fight giant water, wind and fire monsters called Elementals that threaten the world. (The fifth element is love, but he never gets to that one [spoiler].) Peter doesn't feel qualified and just wants to stay with his friends, so he uses the excuse that he can't leave the trip without everybody figuring out he's Spider-Man. Then Fury uses the resources of S.H.I.E.L.D. to redirect the trip to wherever they need Spider-Man, giving the class various "upgrades" like excursions to Prague and Berlin in a big black bus driven by an agent named Dmitri (Numan Acar, THE GREAT WALL) who looks like a henchman in a DTV Seagal movie.
The trip is chaperoned by teachers Mr. Harrington (Martin Starr, ADVENTURELAND) and Mr. Dell (J.B. Smoove, TOP FIVE), who both get much more time to be funny than in the first film. There are also some good laughs from Peter's best friend Ned (Jacob Batalon, BLOOD FEST), their classmate Betty (Angourie Rice, THE NICE GUYS) and Flash Thompson (Tony Revolori, THE GRAND BUDAPEST HOTEL), the dick who constantly makes fun of Peter but idolizes Spider-Man.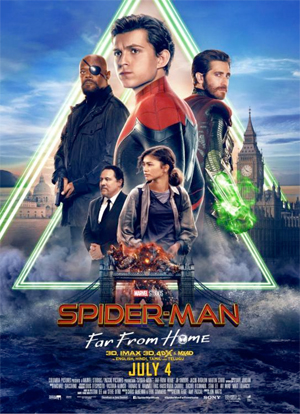 These SPIDER-MANs stand out from the other super hero movies because they really are about him being a teen. It was exciting for him to save the world with The Avengers, but he truly just wants to be a "friendly neighborhood Spider-Man" with enough time off to be with friends and maybe kiss a girl. He has relationships with various adults who expect different things from him: Aunt May (Marisa Tomei, THE TOXIC AVENGER) gets him involved in charity and packs his Spider-Suit in his luggage when he tries to leave it behind, Fury expects him to sacrifice his youth to save the world, Mysterio acts like a cool Super Hero Big Brother and encourages him to do what makes him happy, and Happy Hogan (Jon Favreau, FOLKS!) – bodyguard to the late Tony Stark – encourages but doesn't force his fulfillment of Tony's belief in him.
The biggest IRON MAN 4 element is that Stark left Peter a pair of sunglasses that connect him to an all-powerful A.I. called E.D.I.T.H. that can plug into the Stark Industries databases, snoop on people's communications, and oh yeah, control an army of drones housed in satellites orbiting the earth. Using them is a big responsibility that this kid probly isn't ready for. Also the glasses don't necessarily look good on him. A great moment is when Happy lets Peter construct a new suit using Tony's equipment. He watches proudly as Peter excitedly moves around his holographic 3D models. And though Peter starts the movie wearing a metal suit with yellow highlights – the Iron Man Memorial Spider-Suit – the one he designs for himself is an almost entirely traditional Spider-Man look. He has to be himself.
I don't mind that he has a few different suits. People always say they do that to sell toys – I'm not sure how much of a thing that is anymore. But it's smart for marketing. It's a way for you to see a still or an ad and instantly know this is a new one, not a scene from the one you've already seen. THE INCREDIBLES 2 is really good and was long-anticipated but to this day I see the cover for the Blu-Ray and I forget it's even a sequel because they chose to make them look exactly as they did in the first film. Good move for the movie, bad for marketing (and toys?). Despite this necessity it's always the traditional Spider-Man costume that's the most appealing, so I'm glad Peter seems to prefer it.
Is this the biggest role Happy Hogan has had since the first IRON MAN? I guess I don't remember the sequels well enough to know. It's interesting that I have so thoroughly accepted Favreau as a lovable comic relief character and have to remind myself that he's also the director who started the entire Marvel Cinematic Universe – the guy who it seemed like was pushed away during IRON MAN 2, who it seemed like it was a mistake not to get to do THE AVENGERS. They moved on but they didn't leave him in the dust.
PRISONERS convinced me that Gyllenhaal is one of the more interesting actors of his generation. NIGHTCRAWLER backed me up on that. Mysterio is not really a character that fully utilizes that level of talent, but he's fun in a traditional Spider-man character type of way. He goes sort of in the direction I expected but definitely not in the way I expected. Gyllenhaal gets to play a Superman type square-jaw walking around in his cape, but he also gets to use a little bit of that comical mania he has in stuff like OKJA and ACCIDENTAL LOVE.
There's definitely some cool super hero shit. Peter swinging, jumping and climbing, in one scene without his costume, later in a cool tactical black suit humorously undercut by a ridiculous name that Ned gives it. Fighting off drones, including in a scene where he accidentally sics them on Brad. A little bit of badassery from Fury and Agent Maria Hill (Cobie Smulders, JACK REACHER: NEVER GO BACK). Gyllenhaal with a cloudy fishbowl on his head. But it's a testament to the talents of director Jon Watts (COP CAR), writers Chris McKenna & Erik Sommers (JUMANJI: WELCOME TO THE JUNGLE) and especially the young cast that I truly was more invested in Peter's love life and friendships than in his fight against bad guys. The most interesting parts of his super heroing aren't really how he saves the day, but how he hides it from his schoolmates and does it on his own terms.
I mean INTO THE SPIDER-VERSE is my favorite Spider-Man now, but as far as live action Spider-Movies go, these HOME ones really get it done.
This entry was posted on Wednesday, July 10th, 2019 at 10:23 am and is filed under
Comic strips/Super heroes
,
Reviews
. You can follow any responses to this entry through the
RSS 2.0
feed. You can skip to the end and leave a response. Pinging is currently not allowed.