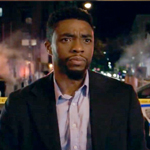 21 BRIDGES is a police thriller with some action. It reminds me of the kind of stuff studios made in the '90s, when maybe it would've starred Denzel or Wesley Snipes or maybe Samuel L. Jackson if he'd been offered it during that window when he could be the main character and starred in THE NEGOTIATOR. But it was made in 2019, so it stars Chadwick Boseman and is produced by his CAPTAIN AMERICA: CIVIL WAR, AVENGERS INFINITY WAR/ENDGAME directors Joe and Anthony Russo (as well as Boseman himself).
Boseman plays Andre Davis, NYPD detective, son of a murdered cop, infamous for shooting and killing 8 perps in 9 years, but he insists they were all justified, and it's obvious he's the type of good guy we can trust on that. The types we can't trust are all over the movie, and they're obvious too.
Tonight's Andre Davis Mystery involves two criminals, one more reasonable and moral than the other, busting into a restaurant to steal a stash of cocaine. The one guy there basically tells them they're making a mistake, that they will die, and then willingly gives them the keys and the location of the vault. Not like he's scared of them, more like there's no reason to interfere, they're not going to get away with it.
Turns out there's ten times more coke here than they expected, and cops show up before they even start loading any of it. The white guy starts shooting and is good with his machine gun, so very quickly there are dead cops in and around the building and they're running red lights in their getaway car, covering their faces for the cameras and contemplating their not-great prospects for the future.
Somehow I recognized the eyes of Detective John Battleship himself, Taylor Kitsch, behind one of their skull masks. Maybe it subconsciously reminded me of the masks in SAVAGES. Kitsch is quite good as Ray Jackson, who at first seems like the Mr. Blonde type psycho who Michael Trujillo (Stephan James, IF BEALE STREET COULD TALK) got stuck working with, until you learn that they're actually very close, with a military connection. We learn about that on a big screen at police headquarters, which looks like NASA mission control.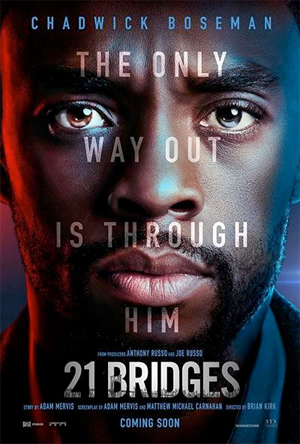 When Andre arrives at the scene he gets alot of pressure from various friends of the victims, including Captain McKenna (J.K. Simmons, EXTRACT, slightly subdued by his standards, but doing an accent), who heavily imply that it's his job to straight up execute the shooters. And they stick him with a partner from narcotics, Frankie Burns (Sienna Miller, FOXCATCHER, G.I. JOE: THE RISE OF COBRA, having fun doing an accent, wearing a baggy jacket and having blemishes).
The script is credited to Adam Mervis (THE PHILLY KID) and Matthew Michael Carnahan (THE KINGDOM, WORLD WAR Z, DARK WATERS). There's some of those Law & Order type scenes where he's interviewing suspects who give him the exact information he needs in a dramatic, scripted way instead of, like, a how humans actually talk way. And there's some show-offy snappy cop banter, but I mostly enjoyed it. I like when they figure out which vehicle they're looking for and Frankie asks how much he wants to bet they find it torched. "A nickel," Andre says, and when they later hear that she's correct he immediately flips her a nickel. He already had it in his hand!
Andre gets to Sherlock it up with a very proud-of-itself monologue explaining how he has deduced that the shooters must be in Manhattan, with a side order of "New York just isn't the same anymore" commentary. He convinces the boss to shut down the island for a few hours to catch these guys, so we know it's one of these taking-place-overnight movies that can be enjoyable. The title refers to the number of bridges that had to be closed. If you're mainly watching it as a bridge fan, I'm afraid they never list off what the 21 bridges are. They occasionally have footage of one or two of them, but that's it.
Ray and Michael don't qualify as good people, but I became invested in their attempts to get away alive and find out what the hell went wrong. This includes some running, some shooting, bringing the drugs to the asshole who hired them (Gary Carr, Downton Abbey), and stashing the cash with a big time cleaner (Alexander Siddig, KINGDOM OF HEAVEN, THE NATIVITY STORY, CLASH OF THE TITANS), at which points Michael is put in the uncomfortable position of his buddy pulling a gun while the safe is open (in my opinion a faux pas).
When Ray puts his sobriety token on the table and asks for a glass of Scotch, it feels like they're holding up a big sign that says "YOU SEE? THERE ARE SOME LAYERS TO THIS CHARACTER!" Despite that corniness, I do like that beneath the O-Dog or Bishop type psychotic-friend-who-takes-it-too-far veneer is a guy whose hands shake uncontrollably. Ray is a crazy asshole with a pretty good loud shirt, and I appreciated his presence in the movie.
Two random notes. One, the drug dealer who hired them is named Hawk Tyler, and when they said his name I pictured him as a muscleman with a mohawk and Boz sunglasses, which was hoping for too much. Two, the great Keith David has a small part as a Deputy Chief, and spends most of his two big scenes standing behind Andre out of focus. It's kind of cool, though, because the first one is supporting him at his dad's funeral and the second is standing back and admiring how he examines the crime scene.
Boseman is solid in the role, and I'm glad he has this chance to do a normal tough guy character instead of just historical biopics and Black Panther. At the same time, it seems a little too normal for him after we've seen him transform into James Brown and invent the Wakandan accent. And I think it's probly not his fault, but there was no point where I thought he might actually be an anti-hero who was gonna do the wrong thing. I think he's supposed to go through a transformation when he finds out what's going on here, but it doesn't quite come across like that.
I'd categorize this more as a "thriller" than an action movie, but there are some very tense shootout scenes, following the HEAT school of realistic-seeming mayhem with a ludicrous number of bullets fired, as well as some very tense creeping through buildings and subway cars with guns, flashing badges, gesturing at hiding civilians. There are lots of splintery holes punched in walls and doors in this thing. I wasn't entirely shocked to see that the second unit director and stunt coordinator is the great Spiro Razatos (MANIAC COP 1, 2 and 3, BAD BOYS II and FOR LIFE, FAST FIVE, 6, SEVEN, FATE and 9), even though the car stuff in it is very grounded, not crazy.
It's a pretty good looking movie, with nice urban night cinematography by Paul Cameron (COLLATERAL, DEAD MAN DOWN, THE COMMUTER). My only complaint on a production level is the CG search helicopters. If they just framed them like normal helicopter footage I wouldn't even notice, but they treat them like they're space ships and have to swoop in at a cool angle every time.
The director, Brian Kirk, is a TV guy. Since the early 2000s he's directed episodes of shows including The Tudors, Luther, Game of Thrones and Penny Dreadful, his one theatrical feature being the 2006 Irish drama MIDDLETOWN starring Matthew Macfadyen. So the advertising puts the emphasis on the Russos. Of course, "the visionary directors of AVENGERS: ENDGAME" themselves were only known for WELCOME TO COLLINWOOD (2002), motherfuckin YOU, ME AND DUPREE (2006), and episodes of Arrested Development and Community before they got to do CAPTAIN AMERICA and, through circumstance and solid franchise filmmaking, found themselves directors of the current highest grossing movie in history. So it make sense that when they used their new clout to start a studio called AGBO they would recruit some TV directors (along with the great stunt coordinator Sam Hargrave, whose directorial debut EXTRACTION I'm looking forward to).
Last April, Joe told Esquire the mission of AGBO was "to try to pay back our karma of debt to the universe that we owed Soderbergh for what he did for us and, at the same time, create a space where Anth and I can focus on artist ownership, focus on full creative control over our projects…We're taking everything that we've learned from all our time in the business—as independent filmmakers and television directors, as big commercial filmmakers, doing drama, doing comedy, shooting on shoestring budgets, shooting on the biggest budgets of all time—and trying to apply that to the business so we can curate really thoughtful stories."
That sounds a hell of alot more highfalutin' than what they've done here with 21 BRIDGES. But if all they're doing is bringing back the mid-budget R-rated programmers that studios used to make, that's pretty cool too.