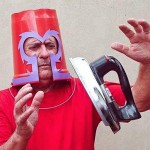 Dear Mystique,
Hey sugar it's me Vern. Remember me I reviewed your first movie "the x-men" and even though I don't read that comic strip shit, I enjoyed the picture. Well I gotta say although the title "x part 2 x-men united" is pretty terrible I also enjoyed your part 2. It doesn't have the same "I can't believe this isn't total shit" surprise factor but instead it has these characters that I enjoyed in the first picture and it tries to add more depth and drama and convolutedness to their adventures and what not. like a comic strip book.
But the reason I'm Writing to you mystique is because you are my favorite mutant now. Don't get me wrong, I still think Young Clint Eastwood is great as Professor Logan Wolverine, the art teacher at X-Men Community College. There is another X-Man called Rogue but she's not really a Rogue, she always sits at the same table as Iceman and Fireman. Professor Wolverine is the real rogue, he wanders around in the snow by himself uncovering his past and going on adventures and shit. Who knows what happened between part 1 and part 2, he could've saved an injured baby polar bear, or he could've gotten in a fight with a yeti, or got buried under an avalanche and had to melt his way out by banging his metal freddy krueger claws against each other to create heat. I mean anything could've happened, as long as it is snow related. Anyway he's the real rogue, so when he goes to the X-Man school to try to find beer, all the kids follow him around because he's cool. I liked when he said "You picked the wrong house, bub." That was pretty tough.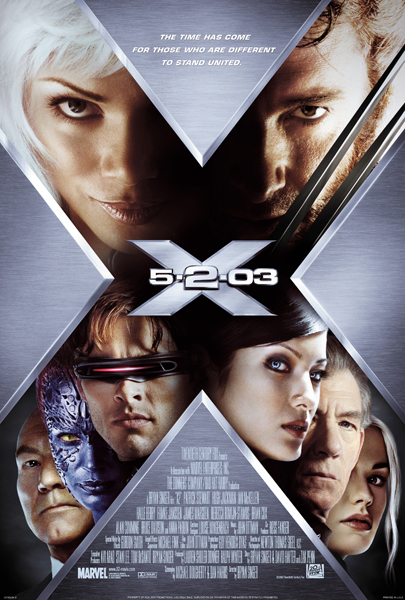 Most improved X-Man goes to Storm, played by Halle Berry. Her wig looks alot better and I guess the oscar made her try harder. She's actually kind of scary this time when she gets the weather control going.
Also that new German guy Kurt is pretty cool. I mean I'm cool with mutants, I totally don't even care that the guy has that tail and everything. I mean I would totally hang out with blue skinned people to be frankly honest. I probaly, you know I'm not a mutant but I'd probaly be one of those guys that hangs out with mutants and it's like, when I'm around them I don't even remember who is a mutant and who is not a mutant. I'd be like…
hey, you know that guy Kurt? Kurt Vagner? You know, the German guy?
Kurt? German guy Kurt. I don't know, what does he look like?
I don't know how to describe him, I mean, he's kind of short I think, about this tall. Medium length hair. You know, not long at all, but it's not like a crew cut or anything. He's got a lot of tattoos, he wears like a leather jacket and striped pants.
Hm, I don't know, are you sure I know this guy?
Yeah, Kurt. You know. With the accent. And he's real religious, always saying prayers.
I don't know.
He has a rosary, I think he was raised by gypsies though. He said he used to be in the circus. You know he's, he's the guy that teleports all the time, and leaves this cloud of inky blue smoke.
Oh, you mean the blue guy with the devil tail. Nightcrawler.
Oh yeah, he is blue, isn't he? Yeah, that's Kurt. Kurt Vagner. He's a cool guy.
The one disappointing thing about Kurt, that opening scene where he attacked the president. When he didn't kill him and just left a "mutant freedom now" ribbon I thought he was my fuckin hero. I thought he was some revolutionary like John Brown. But then it turns out he's just being mind controlled by Stryker.
Now that Stryker guy, that guy's a real asshole but I coulda warned you, Mystique, because that's Brian Cox. He's always playing assholes now, or pedophiles at least. I don't fuckin trust that guy. I coulda told you that guy's a bad guy and he has some magic formula to control the mutants and his son was a mutant who he tried to "cure" (can you believe that shit?) and now he has a vendetta so he is building his own "cerebro" machine and kidnapping Dr. X-Man to use him to concentrate on all of the mutants in the world at once so that he can commit telepathic genocide.
Now let me tell you why I liked this movie: this is a movie for our times. I mean I can relate to the idea of a militarist maniac manipulating the government for his own hateful, extremist agenda. I like how the X-Men are a badass underground civil rights group who try to use non violence when necessary. I'm into that. But I mean you guys are cool too, nothing against you guys. I have to admit it was you guys who stopped the passage of the Mutant Registration Act. The X-Men saved the humans from Magneto but you and Magneto saved the mutants from the humans. I was curious though, as long as I have you here what's the deal with you impersonating that senator? How did you convince his family that he's still alive? Do you like show up at the house and then you're like, "Oh shit, I forgot my good tie at the White House, I'll be back in a couple of weeks." I don't know, whatever you did you fuckin pulled that one off. Kudos.
By the way, I know you're mostly interested in the mutant issues but I was wondering maybe if you get a chance, you and Magneto could look into this USA PATRIOT act that we have and the part 2 that they're working on. The "patriot" act is our own Mutant Registration Act, but it encompasses alot more. They use it to justify roundups of immigrants, and then they lock them up for months or years without charges or lawyers and eventually deport them (deport, not teleport). They also do this trick where non-citizens from the middle east have to come register. If they don't register, they can get arrested or deported. If they do register, they'll get locked up without charges or deported. It's fucked up man. This is also the act that gave Stryker the right to raid that X-Men school, and to lock those little mutant kids up in a pit. They're doing the same thing in Camp X-Ray Guantanamo Bay. But instead of "little kids" they call them "juvenile enemy combatants." If he wanted to, Stryker could've searched the school without a warrant and without telling anybody. He also could've checked all the X-Men's library records and if the librarian tried to tell anybody that he did it, he or she woulda been arrested. That's the Patriot act for you.
I don't know what you could do now, because if you morphed into Bush or Ashcroft or any of those guys, and then you actually did something good, people would be pretty suspicious. I don't know, I know this thing already passed but, you know, whatever you can do.
Anyway, that's why you guys are cooler than other comic strip characters, you fight against the system. You fight cops and soldiers and you fuck with politicians and you get shit done. You don't waste your time flyin around in some fuckin cape tryin to stop muggers. Shit especially you, you let it all hang out, you just walk around naked, do flips, slither around on the ground and all that crap. I love that crap. And that was pretty cool when you turned into Rebecca Romijn-Stamos. She was great in FEMME FATALE. Isn't she married to some goofball from America's Funniest Home Videos? Anyway you X-Men and Magneto-ites, you have strong opinions and some of you are more radical than others (right on sister). I mean I know I'm a human but like I said in my first review I think you guys got a good point about the fuckin humans. I don't agree with everything Magneto does but he seems like a cool guy and it's cool how he always has this blue naked chick (you) standing behind him.
You guys really have the same goal as the X's, you just have a different opinion about how to get there. And I think the X's understand that, that's why Dr. X-Man visits Magneto in prison, and did you notice that when you busted him out and met them at that campfire they didn't waste time trying to find out if they trusted you, they just went into action. That was cool.
I mean it's a good movie. It gets kind of convoluted at the end because it's so complicated and you start to wonder about all these powers, like what is the deal with Dr. X-Men being able to freeze the whole world like in the Matrix? I don't get it. Also it would've been a better cliffhanger if after their little talk, the president went ahead and read the speech anyway, declaring war on the mutants. Not that I want a war on you guys but that would make a more exciting part 3 wouldn't it? Oh well, I liked in the first one how they left Wolverine's past unresolved, and they did the same thing here with Jean Grey's growing magic super powers. I'm not stupid man, I know she's not dead and since I heard all the nerds whispering something about "Phoenix" I guess that's where she's gonna turn up, Arizona.
But enough about Jean Grey, I mean she's a looker for sure but she's always whining about her headaches and stuff, plus between her husband and Professor Wolverine she has more than enough man. No Mystique, I am more interested in you and let me tell you why. It's not because of your looks although I like your pretty glowing yellow reptilian eyes, your bright orange slimy hair and your gorgeous blue scaled naked skin. No, it's like that fox show with the masks, I like you for your personality. You've got a mischievous sense of humor girl I like that. Like when you were seducing Wolverine, I know it was in a closeup and hard to tell but didn't you turn into Rogue for a second to tease him about his uncomfortable relationship with teens? That was good stuff, you know he's into barely legal. Also how you freaked out that janitor by walking past him looking like him.
I know you don't have alot of respect for men, you might be hard to always get along with but I don't know man I feel like maybe I could change you, settle you down a little but you'd still be a strong woman and you could still kick my ass. I mean I don't think I'll ever need you to bust me out of prison but you gotta appreciate a woman who COULD do that if she needed to. that was a nice thing to do Mystique.
The part that impressed me the most was when you were talking to Kurt by the campfire. And by the way I could tell this impressed Kurt too, but some nerd told me you're his mom, is that true? Anyway Kurt asked why you don't just look normal all the time since you can, and you said, "We shouldn't have to." Right on girl. I like you just the way you are. Just don't shoot me up with metal so Magneto can tear it out of me.
Think about it Mystique. We could be magic together if you were real. Either way, I can't wait to see you in part 3.
Love always,
Vern
This entry was posted on Monday, May 5th, 2003 at 4:36 pm and is filed under
Comic strips/Super heroes
,
Reviews
. You can follow any responses to this entry through the
RSS 2.0
feed. You can skip to the end and leave a response. Pinging is currently not allowed.