The SCREAM movies had their day in the sun. They arrived at the end of 1996, during what seemed like a horror drought. "Horror" was so out of sorts that the characters just call it "scary movies." The actors, while promoting it on talk shows, called it a "thriller."
We all remember that, but I thought it would be interesting to look up the specifics. According to my research there were only six other scary movie thrillers released theatrically that year: CANDYMAN: FAREWELL TO THE FLESH, THE DENTIST, THE FRIGHTENERS, FROM DUSK TILL DAWN, HELLRAISER: BLOODLINE* and THINNER. DTV releases included TREMORS 2: AFTERSHOCKS, CARNOSAUR 3: PRIMAL SPECIES and CHILDREN OF THE CORN IV: THE GATHERING.

Compare that to now. It's only April, and we've already tied those six if you include the touring RED STATE along with THE RITE, THE ROOMMATE, DRIVE ANGRY 3D, RED RIDING HOOD and INSIDIOUS. I count another ten coming in the rest of the year, not even including TWILIGHT. For last year I count 19 horror releases (8 original, 5 sequels, 6 remakes – see Appendix A for details). The difference in quality is debatable, but clearly there's more of a market than there was back then. And this has been going on pretty much since SCREAM, because of SCREAM.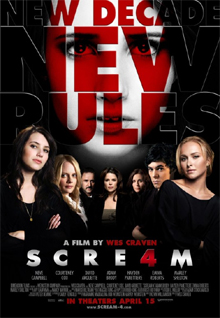 But it's been 11 years since SCREAM 3, and that was supposed to be the end of a trilogy, so why another one now? Well, alot of things have changed. SCREAM 4 attempts to bring the story up-to-date on technology (all the kids have smart phones, text messaging, Facebook and Twitter, although there are a surprising number of land lines used), horror trends (they talk about remakes, reboots, "torture porn," found footage movies [sort of] and even the postmodernism fatigue of SCREAM sequels). A couple of the death scenes are gorier, which has its place in the endless horror cycle: it's a response to today's hard-R horror, which began as a backlash against yesterday's bloodless PG-13 horror, which came from the wave of THE RING type Asian remake ghost movies that rode in on the back of the young female horror audience built by SCREAM and its teen-oriented knockoffs. So it's all connected.
The biggest change in horror during this period is of course the emphasis on remaking every god damn thing. Almost every "scary movie" referenced in the first SCREAM has since been remade: PSYCHO, TEXAS CHAIN SAW MASSACRE, BLACK CHRISTMAS, I SPIT ON YOUR GRAVE, HALLOWEEN, WHEN A STRANGER CALLS, THE FOG, FRIDAY THE 13TH, PROM NIGHT, A NIGHTMARE ON ELM STREET. What's that leave – THE HOWLING, THE TOWN THAT DREADED SUNDOWN and TERROR TRAIN? Three of Craven's own movies have been remade. So of course in part 4 a new series of murders happens in Woodsboro and our heroes (Neve Campbell, Courteney Cox and David Arquette all return) consider it a "remake" of the movie-within-a-movie version of SCREAM, Robert Rodriguez's STAB. There are scenes in this movie where characters try to deconstruct a movie scene about characters deconstructing a movie scene in a sequel to a movie-within-a-movie based on a book-within-a-movie based on the events of the first movie. You know.
Yeah, it's convoluted, but that's the joke. But not that great of a joke.
Before I pick apart what I think is wrong with SCREAM 4 I gotta say that I enjoyed watching it okay. Other people have accurately criticized its awkward movie-deconstructing dialogue and its people wanting to watch horror movies shortly after someone close to them was murdered in a manner inspired by horror movies. It seems like references are more important to the filmatists than believable emotions. I agree with these complaints but I also feel like those are par for the course in a SCREAM movie, that's sort of the world that's been established. So even though it would've been nice if they improved it I didn't have trouble getting past it.
And I look at it in the context of Craven's filmography. Compared to SCREAM 3 this one wasn't disappointing, there was nobody causing a gas explosion by using a lighter to see in the dark, no Jay and Silent Bob cameo, no lame casting in-jokes. Compared to CURSED it feels remarkably well-crafted and entertaining, almost as if it had a completed script before shooting (although it didn't). Compared to MY SOUL TO TAKE it seems sane and competently made (although that one was so fucked I enjoyed it).
I felt like kind of a chump going to see this because I knew that they knew that I would want to see a part 4 even though I figured it would suck. The real victims of horror are not the people who say "I'll be right back," they're the people who love horror movies and can't restrain their curiosity about every sequel or remake they spawn. We're like fish who eat the worms even when we see the hooks poking out.
With all that in mind SCREAM 4 was way better than I thought it would be. It was surprisingly okay. In my opinion the movie kind of works on the unambitious level of "hey, I remember these characters" and "hey, I remember what these SCREAM sequels were like." I was pretty much expecting a CURSED type disaster ever since I read that the Weinsteins forced Craven to shoot rewrites that he had no say in, and scripted by Ehren Krueger, who you'd think would not be allowed near it after blowing part 3 so badly.
But on the level of "this completely justifies going back to the well again" it's not a success at all. It's admirable that they brought the original leads back and they're still the leads, they don't do a cheap and predictable stunt like killing off Jamie Lee Curtis in the opening of the last and worst HALLOWEEN movie. But they don't give them much to work with.
Take Neve Campbell's Final Girl Sidney Prescott, for example. She returns to Woodsboro because she wrote a book about surviving the murders, and she's doing a signing on the anniversary of the murders. Not only did they already have Courteney Cox become a famous author for writing about the murders in a previous sequel, but this is the exact same scenario used for Dr. Loomis in HALLOWEEN REMAKE 2.
Sidney knows a few fight moves when she gets attacked. She doesn't get upset much anymore and doesn't seem at all bothered by the poor taste of kids celebrating the anniversary of the murders of her family and friends. I kind of like that, because we've seen the traumatized victim before, it's been done pretty well, here's something new. She's changed, but I'd like to see her changed more. She doesn't get to do enough. I'd like to see her really chase down this new Ghostface and fuck him up. If she's a new Sidney she should be a really new Sidney. In fact we know nothing about her life other than that she wrote a book and doesn't live in Woodsboro. Did she go to college? Does she have a boyfriend? Friends? Does she enjoy antiques or paragliding? Is she a person?
(And I can't remember if they mentioned this in the other sequels, but shouldn't Sid be packing by now? That would make for an interesting change in the formula if the first time a Ghostface attacks her she pulls out a gun and clips him.)
Since the movie spends alot of time reuniting the old characters the new set of young people don't get as developed as the kids in part 1, and they don't get as many funny lines. But I did like Hayden Panettiere's character, a girl who likes horror movies but isn't even portrayed as weird, goth, or nerdy. That's almost progressive as far as gender roles in a SCREAM movie. On the other hand she doesn't get to demonstrate much of her alleged horror trivia skills (see Appendix B for rant), and the one movie we see her watching is SHAUN OF THE DEAD. It might be more of an envelope push if she was really into GUINEA PIG or DR. BUTCHER M.D. or some shit.
Now that I think about it she must've been designed to throw off the Final Girl formula. She has a boyish hairdo and the androgynous name Kirby, but she likes to party and drink. She wears a suit-type jacket, but opened to show cleavage. Is she gonna survive or die? I don't know what to do!
At any rate she definitely comes off better than the two male horror nerd characters, one a Culkin, one wearing a camera on his head to livestream and narrate his whole life. And I believe he uses the word "cyberspace." I detect the scent of old people trying too hard to show they understand young people. At least they didn't put in any references to that "Snooky" person.
There's a whole bunch of pretty young ladies in this cast, and the older I get the more I think the adults playing kids really do look like kids. I believe Eric Roberts's daughter plays Neve Campbell's cousin. This might be a who's who of young TV and movie stars, but I'm not sure, because I don't know who's who. But you know who I'm proud of? Anthony Anderson. Not just 'cause he lost weight. After so many years of playing "funny scaredy fat guy" I think it's kind of awesome that he can just play a serious, stoic cop in this one. I mean it's not much of a role, and being in SCREAM 4 is a step down from being in THE DEPARTED or HUSTLE AND FLOW, and I don't really get the one big line he has. But still, good for him.
I won't give away who the killer(s) is or are. It's not a great solution to the mystery, but makes for a decent ending. One of the few times where I felt the authentic exhilaration of seeing a good horror movie was during a sequence near the end where they abandon the template of the other three movies and I finally felt like I didn't know which way it would go. And one member of the cast gets to become a more memorable character at that point.
There's a little bit of lecturing going on here, but not real sharp. It gets a little blatant in talking about The Kids These Days, but is neither saying anything original or getting as mean about it as it could. They're trying to appeal to multiple generations of horror fans, but maybe it would work if it was more of a generational war. Like these young people now are a whole different breed that our old heroes have to learn to understand.
You know why they can't do that? 'Cause maybe the details are different, maybe they use different machines to do it, but the allegedly of-the-moment phenomenon they're trying to satirize here really isn't much different from the shit going on in our culture since years before the first SCREAM came out anyway. If it is something new I think they need to cut deeper to convince me of that.
That's the problem, it's alot of loose ideas with no meat underneath. Just 'cause you mention a bunch of modern shit doesn't mean you're saying something about it. I think part 4 would be more justified if the commentary on modern horror was more than just surface. It should be more than just a character saying the SAW movies suck, or mentioning FINAL DESTINATION, or pointing out that newer horror doesn't follow the same rules about who can die as they supposedly followed in the old days. They say these murders are a remake, but it's not all that different from the murders that were a sequel. They kind of hint at and then dismiss the idea of remaking or "rebooting" SCREAM. But this never feels like anything other than another SCREAM movie. Maybe there would be more drama, more meta-danger, if it really threatened to become one of those things.
I'm not even asking for anything deep here, just attention to detail. This looks like the other SCREAM movies, except maybe a little shoddier. It doesn't look like 2011 horror. I think they should've shot it like a Platinum Dunes movie. Lots of gold tinting, pretty sunsets, shiny sweaty people in cut-off jeans. There should be atmosphere. In fact they could get around the we've-seen-the-mask-too-much problem by having the remake killers redesign the mask, just like they would in a real remake. I guess they can't make Ghostface 8 feet tall with rock star hair without introducing some pretty ridiculous red herrings (Wrestlemania's in town?), but still. Commenting on remakes and reboots would've been a perfect excuse to shake things up a little. And it worked in NEW NIGHTMARE.
Or at least shoot it in a different way. Use the same mask but give us some new cinematographical trickery so we look at it differently. A more artful look.
Or a shittier one. There's an idea in this one that the killer or killers are filming the murders – I guess this is supposed to address today's technologically-fed self-obsession, and reality TV and documentaries and also these BLAIR WI– well, actually that's almost as old as SCREAM, so PARANORMAL ACTIVITY type movies. But if they're going to go there, maybe they should show us a good chunk of the video? I mean, I hate that type of shit, but it would be a new take on SCREAM if it started with finding a video, something like a POV version of the opening of the first movie. Give us something, fellas.
At one dramatic point in SCREAM 4 a character gets to say a one-liner that is also a dis of remakes. When I saw the movie the crowd applauded at that part. It's a satisfying moment but then you kinda think okay, yeah, fuck remakes, but what about part 4s that nobody asked for? In a part 4 worth doing I wouldn't have thought about that.
So the bottom line is it's more watchable than expected, but they shouldn't have made it. It's better than part 3 but not good enough for a new ending or especially a new beginning.
Oh shit, you know what? I don't think they mentioned prequels at all. Maybe they're saving that for part 0, THE RISE OF GHOSTFACE.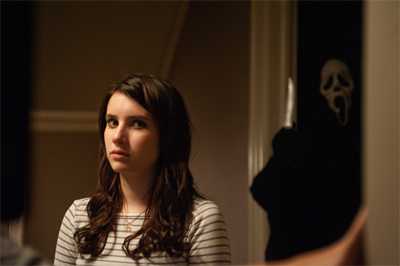 *Coincidentally HELLRAISER: BLOODLINE was another part 4 that was completely screwed over by the Weinsteins when they decided after the movie was almost done filming that they didn't like the script and the whole thing should be rewritten and re-edited. From what I remember it turned out worse than SCREAM 4, although more ambitious since it took place in different time periods and even went into space. Shit, maybe I'll watch that one again. Anyway, some things never change…
————–
APPENDIX A: Horror movies released theatrically in 2010
original: DAYBREAKERS, FROZEN, AFTER.LIFE, THE HUMAN CENTIPEDE, SPLICE, THE LAST EXORCISM, DEVIL, MY SOUL TO TAKE,
sequel: SURVIVAL OF THE DEAD, REC 2, RESIDENT EVIL: AFTERLIFE, PARANORMAL ACTIVITY 2, SAW 3D
remake: THE WOLFMAN, THE CRAZIES, A NIGHTMARE ON ELM STREET, PIRANHA 3D, LET ME IN, I SPIT ON YOUR GRAVE
(note: I excluded many movies that could arguably be classified as horror, including BLACK SWAN and PREDATORS.)
APPENDIX B: A deleted rant about weak trivia questions
Ah fuck it, I said I wasn't gonna, but I need to rant a little bit about the use of horror trivia in these movies. The SCREAM killers make harassing calls where they sometimes quiz their victims about horror movies. The questions have always been beginner level, but I feel like it could've been upped a little bit for this one. After all we now live in this post-SCREAM world where horror movies are very popular, where Kirby the girl horror fan is normal, where an Academy Award winning movie already namedropped Dario Argento, where every child has access to the IMDb in his or her pocket. Even if they're not serious horror fans they're gonna know more than what these killers expect them to know.
But the SCREAM movies are not really aimed at serious horror fans. The trivia is like those Coca-Cola slides they used to have in theaters, they think everybody would feel good if they got it right so they make it real hard for somebody to not know the answer. They fucking ask what weapon Freddy Krueger uses! And Leatherface! I think we, as a society, are ready for harder questions. In fact it could even be a plot point that he catches them looking up answers on their phones.
I'm sure it wouldn't be vastly improved by having a slightly more intermediate question like "the director of THE LAST STARFIGHTER and THE BOY WHO COULD FLY also played which iconic horror character?" But the use of for-babies-only questions in the movie shows that either
a) they're aimed primarily at people only vaguely familiar with horror movies
b) the horror nerds in the movies are supposed to be less knowledgeable than they believe they are
c) the writers are less knowledgeable than they believe they are
I'm guessing it's either a or c. Neither is really an indictment of the movies, but it does hold them back a little for serious horror fans like me and you. When SCREAM came out it was sort of a novelty to have the characters in a slasher movie recognize the tropes the same way the audience does, and use that recognition to try to save themselves. And there's always one or more character that's supposed to have watched alot of the movies and knows "the rules" of how they work.
I think Kevin Williamson is a guy who's enjoyed a bunch of horror movies, but no more than that. He doesn't have a Tarantino-level encyclopedic brain or a strong sense of analysis. He just digs on TERROR TRAIN and shit. So his characters are increasingly stretching it when it comes to these so-called rules.
Or in this case the trivia. In this one the scary phone voice asks which movie started the slasher craze – HALLOWEEN, LAST HOUSE ON THE LEFT or PSYCHO. Then it claims the correct answer is PEEPING TOM (and like all nerds in movies and no nerds in real life he then mentions the director and year as a victory lap).
Nice try Ghostface but I gotta appeal to the judges on this one. PEEPING TOM is an excellent movie with some similarities to PSYCHO, and it was released first, but you cannot back up the claim that it started a "slasher craze." When it was released PEEPING TOM was not a hit, was so hated by critics it pretty much ended Michael Powell's career, and was overshadowed by the success of PSYCHO anyway. Meanwhile PSYCHO inspired some knockoffs like William Castle's HOMICIDAL, but there was hardly a "slasher craze" until the '70s.
Furthermore, using a multiple choice format for a question and not including the correct answer is for weiners, especially when the answer is subjective and two of the offered choices make more sense than your alleged correct answer. LAST HOUSE was of course earlier than HALLOWEEN and was influential at least in the area of titling and taglines. But I would go with HALLOWEEN since it became the most profitable independent movie of all time and was the specific inspiration for a whole slew of holiday slashers and masked killers. That's what started a "slasher craze." You think the makers of SILENT NIGHT, DEADLY NIGHT saw PEEPING TOM? I bet they didn't.
So what's your favorite scary movie, motherfucker? I bet it's SHAUN OF THE DEAD.
Holy shit, what if Ghostface called Watson, the computer that beat humans on Jeopardy? That would be interesting.
Anyway, despite questionable quizmastering and all, my feeling on Kevin Williamson is that he's a guy who loves horror movies and came up with a cool gimmick of how to pay tribute to them and he executed that gimmick well. But if it's possible to take that concept to the next level in a sequel – and I'm not sure it is – he's not the guy with the mind or the skills to pull it off. (He got closer than Ehren Krueger, though.)