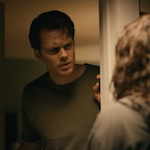 The trailer for BARBARIAN suggests an intriguing and pretty straight forward horror-thriller idea. Tess (Georgina Campbell, KING ARTHUR: LEGEND OF THE SWORD) shows up at her Airbnb late on a rainy night and discovers that somehow someone is already staying in it. It's a scary neighborhood on the outskirts of Detroit, so the other renter, Keith (Bill Skarsgard, ATOMIC BLONDE) lets her come in while they try to figure out what's going on. They can't get ahold of the owners, so she sneaks a photo of Keith's driver's license (just in case) and reluctantly accepts his offer to take the bedroom while he sleeps on the couch.
He seems very polite and cute, but of course that's a reason not to trust somebody in a movie like this. Plus the motherfucker played Pennywise! So when weird shit starts happening and she finds a scary secret door in the basement you try to figure out if he's up to something or if they're both in trouble together or what. And you can sort of see where it would go from there.
Or that's what it seems like. One question: why BARBARIAN? Why not, like, OVERBOOKED or SCARE BnB or whatever? Well because it goes a little further off that set up than you might expect, and I'm glad I heard that because it inspired me to go see it opening day.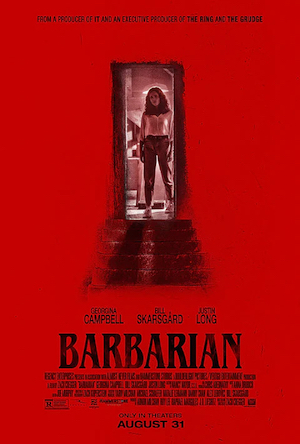 I'm trying not to build it up like it's the craziest shit you've ever seen, because it's not. But it's the kinda shit I like, the kind of horror movie that makes me excited. The right balance of tradition and innovation, of subverting expectations and satisfying them. It does a good job of delivering the tension and suspense of the premise as explained above, and then it gets more fun (and yet so much more horrible) when you find out what's going on in the basement. It's a good scare idea with some bursts of chaos, some gross out business, some laughs. More importantly it's told in an interesting way that makes it more fun. There's a novelistic structure to it and it really plays with the dynamics of sympathetic vs. unsympathetic protagonists.
Also, I'm happy to say, it is not about grief or trauma. You gotta have some of these that are not about grief or trauma. It does definitely deal with some current themes, but in the preferable way where it's an added dimension to the horror proceedings and not the only thing that makes them passable. I mean, this is just a good movie.
I'm being vague because I really appreciate the restraint in the advertising campaign and that the movie was able to take me on a ride. There's not some big plot twist or anything, it's just that the way it unfolds and keeps you guessing where it's headed is much of the fun of it. So my advice is if it sounds good so far (and you're okay with some upsetting stuff) don't read anything more, go see it, then come back. 'Cause from here on out I need a SPOILER ZONE to discuss how it all comes together.
***SPOILER ZONE TO DISCUSS HOW IT ALL COMES TOGETHER***
After Tess and Keith go through their dance of distrust and awkwardness, then start to know and like each other (turns out he's a founding member of some collective of jazz musician squatters or some shit?), Tess accidentally locks herself in the basement, then discovers a hidden passage to a blood-stained room containing only a bed, a bucket and a video camera. Which I gotta assume will figure into the rating she gives this place on Airbnb. While they're exploring dark scary tunnels under the house there is an abrupt, violent, partial answer to the question of who can be trusted and what's going on here.
And then it cuts to a sunny highway in California where Justin Long (JEEPERS CREEPERS, DRAG ME TO HELL, TUSK, ALVIN AND THE CHIPMUNKS) is driving a convertible, enthusiastically singing along to the radio like a dork. When he takes a conference call on speaker phone we learn that he's actor A.J. Gillbride, and that's also when he receives the news that a co-star has accused him of sexual assault, he's being fired from the show he thought was being picked up, a story is coming out about it tomorrow, and he will need to hire a lawyer. I love how long it leaves us hanging with the question of why exactly we're following this asshole and what he will have to do with the earlier events.
The answer is that he's running out of money to pay for the legal defense and needs to sell off some property he owns, which is in Detroit. He goes to one of the houses, which is of course the house. Tess's truck and luggage and Keith's toothbrush and shit are still there. He calls the management to complain and is told it hasn't been rented out in weeks. So if Tess is still alive she's been down there that long. Uh oh.
And one of the most brilliant character moments in 2022 cinema is that when A.J. discovers all the same horror movie shit that Tess and Keith did earlier – the secret door, the bloody snuff room, the scary stone stairway and tunnel, even the fucking cages – they're a surprise to him too, but he doesn't react with horror. Instead he drags a tape measure through the place, excited to increase the square footage in the listing. So we can't wait to see what's gonna happen to this fucker.
He's not just fodder. He becomes the co-lead. Tess finds him, tries to help him not get killed by the savage naked feral inbred woman who has been keeping her captive there. So we've got one lead we can root for and one we can root against, but she's trying to help him so okay, whatever dude, I guess if you're with her you can survive. If she wants.
The greatest trick it pulls is when, very late in the movie, A.J. makes a little speech about how he doesn't know if he's a good person or a bad person, maybe he's a bad person, but he can't change that, all he can do is try to make up for it by doing his best to do the right thing now. I totally fell for it. I thought oh no, it wants us to forgive this guy. It wants us to believe that this experience is changing him, that he's going to find redemption through the gauntlet of horror survival. I mean, I believe people can change, i believe there needs to be room for forgiveness in this world, but this guy has barely acknowledged he even did anything wrong, and thought he could get away with a drunken voicemail half apology, now just because it's a movie we're supposed to accept that—
Oh, never mind. He almost immediately gives up on selflessness and does something more cowardly and dishonorable than we could ever have predicted. It's actually shocking. There were only a few other people in the theater with me, but I heard appalled gasps. A beautiful what the fuck moment which is then multiplied by the absurdity of the action it leads to.
Correct me if I'm wrong but I don't think this is one of the ones that certain faction of horror fans will pejoratively call "A24 horror." Yet it's able to step outside of the standard commercial horror format in its storytelling. People who have read my horror novel won't be surprised that I love the part where it suddenly jumps back 40-some years to tell us about the previous owner of the house (Richard Brake, DEATH MACHINE, HALLOWEEN II, MANDY, 3 FROM HELL, THE RHYTHM SECTION). It's a really well shot, creepy-as-fuck sequence that reminds me enough of the stalking early in SLUMBER PARTY MASSACRE that it might be a reference. Hats off to director of photography Zach Kuperstein (THE VIGIL) and editor Joe Murphy (WE SUMMON THE DARKNESS).
It also made me think of DON'T BREATHE a little bit. It's got that mix of effective thrills and uncomfortable queasiness, a willingness to go over the line, but leave the most horrible stuff to your imagination, so it can still have a (very dark) sense of humor about some of this craziness. Also its playful pitting of larger than life horror movie evil against an immoral scumbag who doesn't "deserve" to survive in horror movie terms. I love DON'T BREATHE but I suspect this will go over better with some people, not because it's necessarily loftier or more respectable, but it at least has one clear good guy to make the more ambiguous elements go down easier.
The more obvious reason I make the comparison is the setting of an abandoned Detroit neighborhood (filmed in Bulgaria), which is used very effectively. There's a really creepy shot when she's on the porch the first night and looks around seeing no lights on any of the surrounding houses. During daylight we see that they're all abandoned with broken windows and graffiti. It gives this sense of isolation, this suburban but empty wasteland, almost post-apocalyptic. Also important: when she finally gets their attention the police are absolutely no help, more through indifference and apathy than incompetence. It's both a relatable commentary on the current state of things and a pre-emptive rebuttal for whichever wiseguy pulls the "should've called 911" card out of their "why I am so much smarter than the characters in horror movies" deck.
There's obviously a parallel drawn between A.J. and the unnamed psycho who started this whole mess. A.J. has all kinds of excuses in his mind why he's not at all the same type of monster – he means it when he says, "What is wrong with you!?" to this guy – but maybe somewhere deep down he knows he's somewhere on that same spectrum of men who see women only as objects for their desire and domination. If not, we do.
By the way, Tess was in town getting a job on a jazz documentary. I wonder if she still got to do the movie and if it turned out okay.
I was surprised to learn that writer/director Zach Cregger is a guy from the comedy troupe The Whitest Kids U'Know. He was on some sitcoms and directed and starred in the 2009 comedy MISS MARCH, and now all the sudden he made maybe my favorite horror movie of the year. So people can change, it just doesn't happen overnight.