Isn't DEMOLITION MAN a weird one? Sci-fi/action moosh up, Sylvester Stallone plays cryogenically frozen supercop Jack Spartan, cryogenically unfrozen Captain America style to capture his arch-nemesis Simon Phoenix (Wesley G.D. Snipes) in a jokey future society of wimps.
Spartan is a typical non-iconic Stallone character – mumbly, down-to-earth, see-through-the-bullshit everyman, except when he goes into battle, then he's so prone to blow shit up that he's nicknamed Demolition Man against his wishes.
Phoenix is larger-than-life, bordering on mega in his villainy. He's kind of a bizarro Blade – he has almost the same haircuit, but bleached blond. Instead of black leather he wears loud early '90s clothes, almost like a clown costume. He fights in a similar style to Blade but instead of being quietly cocky about it he's flipping everybody shit and strutting around laughing. When he finds out about the outcast underclasses living literally underground he borrows their ROAD WARRIOR fashion sense, armor and big shoulder pads made out of tires.
The movie opens in 1996, 3 years into the future from when it was released. Los Angeles in chaos, so the first shot is from the back of the Hollywood sign, on fire. Phoenix has declared South Central a sovereign kingdom and has taken a bunch of hostages to insure whitey's boot staying off his neck. When Spartan comes to confront him Phoenix blows up the hostages, and since blowing shit up is Spartan's trademark everybody thinks he did it. Instead of prison they both get frozen, 'cause obviously that's what they did in the futuristic mid-'90s.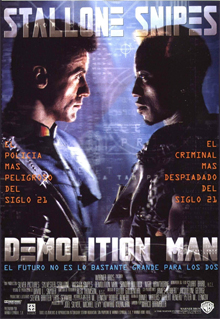 The joke is that the good guy maniac and the bad guy maniac awake in 2032 to a world that's never seen anything like them, "a society of peace and understanding" where there hasn't been a murder in 16 years. Or, as Phoenix puts it, "The world has become a pussy-whipped, Brady Bunch version of itself, run by a bunch of robed sissies."
Phoenix sounds mad, but he actually loves it, because he can just go around beating up cops, calling them "Stoopid!", doing what he wants. Since he was freed as part of a conspiracy he was also taught all kinds of computer shit through osmosis, and has crazy hacker abilities. (Spartan was only given the ability to knit.)
Spartan teams up with a couple of the modern cops, future MISS CONGENIALITY co-stars Sandra Bullock and Benjamin Bratt. But guns are literally history (you only see them in the "Hall of Violence" display at the museum) so they don't really do the same type of police work he's used to, and Bratt doesn't even know how to carry himself in what would be considered a manly manner. But Bullock is obsessed with the 20th century, so she's excited to work with him and acts as sort of a translator between eras. Kind of like what would happen if a detective from the '50s was transported to the future and teamed with the cast of some production of Grease.
Like in MINORITY REPORT there's a sacrifice in freedom that has to be made to achieve this peace and harmony. "This fascist crap makes me want to puke," Spartan says. The fascist crap includes fines for the use of profanity, RFID chips implanted in hands, chocolate and spicy foods banned. When Bullock proposes sex with him he gets excited but it turns out to be something where you put a device on your head and think about fucking (a gag lifted from BARBARELLA). People of the future are so against bodily fluid exchanges that she's disgusted by the idea of kissing. At first I didn't believe that could be taken out of the human instinct but then I thought about how cow's milk is fine but I would probly puke if I tried to drink human milk. So we can be trained to go against our nature.
Spartan starts to realize that the powers-that-be he's working for are not really the good guys, and the outcasts who are trying to steal food are not really the bad guys. But the rebels don't seem as upset about economic inequality as about the nanny state. Their leader is Dennis Leary, who apparently was cast only so he could do one of those corny rants he did on MTV about how he wants to eat red meat and smoke cigars and he's mad as hell and not gonna take it anymore. In the '90s people were real fuckin worried about this "political correctness." Quite a luxury.
In addition to stealing food the rebels climb through sewers to perpetrate drone graffiti attacks. A great idea, but instantly counter-acted by self-cleaning walls, and really bad graffiti anyway.
As with any movie like this it's funny to compare its predictions of the future to reality. Their idea of futuristic phones isn't too far off – it's basically an iPad. They didn't know how small they were gonna get, that's all. They were way off on video formats, since they mention laser discs. There's a reference to Jeffrey Dahmer being frozen in the future, though in reality he was killed in prison even before Spartan and Phoenix were frozen. Bullock's late 20th century artifacts do not seem all that representative from my perspective: she has posters for the Red Hot Chili Peppers' Blood Sugar Sex Magik, an album called Hate Fed Love by a band called Bomb, and LETHAL WEAPON 3. There's a reference to Unsolved Mysteries, so people still remember that in the future. Or maybe we can look forward to a reboot. Interestingly there's a mention of Jackie Chan movies. This was a pretty cool reference because Jackie wasn't very well known to the mainstream in the U.S. until a couple years later when RUMBLE IN THE BRONX came out. So that was a correct prediction.
It's a little weird that it brings up the serious matter of Spartan sleeping through his wife's death and his daughter growing old, then doesn't mention it again. Apparently a subplot about finding his daughter was cut out, because they were more interested in spectacle. Some of the stunts are pretty cool, like the bungee jump out of a police helicopter at the beginning, and Spartan running through hallways taking out a bunch of different guys. Snipes's moves are good, showing his knack for badass martial arts posing, for example: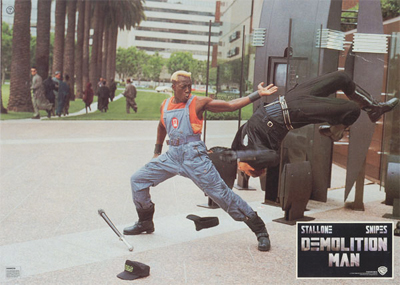 I'm not too excited about the climax taking place on a big laboratory set, but I guess you gotta bring the ice cubes back to the freezer at the end.
It's a Joel Silver production. The director is Marco Brambilla. You know, Marco Brambilla, the video artist. He went on to direct EXCESS BAGGAGE and some TV before going back to being a video artist. But it seems to me like the most noticeable voice is Daniel Waters (HEATHERS, FORD FAIRLANE, HUDSON HAWK) who according to Silver on the commentary track wrote the original script that was re-written by Robert Reneau (ACTION JACKSON) and Peter M. Lenkov (SON IN LAW, UNIVERSAL SOLDIER 2-3 [the cable ones with Burt Reynolds]). The dialogue and humorous concepts seem in line with his other work. But I appreciate one instance where they avoided a quip (END SPOILER): Phoenix is frozen and gets his head broken off like Christian Slater's leg in MINDHUNTERS. This is a callback to the opening when he said that he'd lose his head if it wasn't attached and Spartan said he'd remember that. I also remembered it so I like that Spartan doesn't make a joke about it. They don't have to point it out to the audience.
I'm gonna go ahead and give Waters credit for the goofy names, too. Bullock's character is named Lenina Huxley, obviously in reference to Aldous Huxley and Brave New World. Bratt's character is Alfredo Garcia, because he's… well, he doesn't carry a severed head around. I have no idea why he's named that. Because it's a good movie.
Also Glenn Shadix, the priest in HEATHERS, plays the executive assistant "Associate Bob."
Silver claims that Dennis Rodman got his hair-do from Simon Phoenix. I wonder if that's also where he got his movie SIMON SEZ, which happens to be an annoying catch-phrase for Phoenix.
It's a movie with alot of laughs and I enjoy watching it, but I think there's something missing, and I think I know what it is. It's a satire, but a satire of what? The best satirical sci-fi concepts have that THEY LIVE feeling of "it figures it would be something like this" accuracy. I think DEMOLITION MAN tries for that but fails.
The joke about getting fined every time they curse is always good for a laugh, especially since (with the exception of a scene in the middle where Phoenix seems to get away with a couple) it continues throughout the movie – whenever a character swears a recording can be heard somewhere in the background informing them that they are in violation – Big Brother's swear jar. We can all laugh at this because it's so silly and because we hate uptight people telling us what words to use. But the idea that our society is headed toward a future like this seems completely off base to me. In the years since DEMOLITION MAN we've seen South Park and Family Guy, you can say "shit" on regular TV shows, The Boondocks can say the n-word on the Cartoon Network and kids can find on the internet what previous generations could only dream of finding hidden in their dad's closets. There will always be some prudes stirring up shit about Janet Jackson's boob on the Super Bowl or whatever, but it would be ludicrous to argue that society in general is moving in the direction of complete sanitization. So that part rings funny, but not true.
I think instead of imagining a dystopia by extrapolating from things going on in the modern world DEMOLITION MAN extrapolates from things going on in the fantasy world of '80s cop movies. It's not the nightmare future a real person fears, it's the one Marion Cobretti does. It's a dystopia because crime and murder have been successfully curbed non-violently. There's no one for him to blow up and nothing for him to do. When he chauvinistically insists on driving the car he finds out that cars of the future drive themselves. And those damn liberals are trying to stop him from getting heartburn. He has to go into the underground to buy a burger and then it turns out to be made of rat meat. (He still thinks it's great, though.) He enlightens Bullock and Bratt by teaching them violence. That's how he improves the world. Maybe he should've just bought everybody rat-burgers.
I will give them some credit for showing a corporate-controlled future. In this world all restaurants are Taco Bells – even the fancy rich person restaurant with waiters and tiny, pretty servings. And the most popular radio station is an oldies station that only plays "mini-tunes," which is advertising jingles. I don't know about an oldies station being the most popular station, but I'm a sucker for that type of concept.
Looking back, the movie is weirdly tone deaf for the time it came out. We just had the 20th anniversary of the L.A. riots/uprising. That was April 29 – May 4th, '92. DEMOLITION MAN came out in October of '93, so it was filming just after the riots (Brambilla says on the commentary that's why he put the burning Hollywood sign in there, to show even more unrest in '96). In that context isn't it weird we're supposed to side with the white LAPD cop known for going too far, and believe the militant black man in South Central who wants to be left alone is a hostage-taking terrorist super-villain? Is it an intentional visual reference to the Rodney King beating when bad-guy Snipes is surrounded by white cops with clubs? (I don't think so, because there's 6 cops instead of 2).
I'm sure it was written before Rodney King got beat up, and I'm not sure Simon Phoenix was even originally intended to be black (the ol' IMDb trivia claims Stallone tried to get Jackie Chan to do it). But geez, man. Right after Rodney King, and they're making a movie with the point of view that the LAPD should be allowed to be more violent, and the black guy from South Central is lying to make him look bad? It just shows how clueless some of us whites were about what was going on over there, that we thought that was okay.
I'm not trying to tear the movie apart, I just think that's interesting to dissect. But there is one aspect of the movie that I find very offensive: they fuckin waste Jesse Ventura! He's in here as another unfrozen ex-con that works for Snipes, but you barely notice him. I guess he had a fight scene that got cut out, but he shoulda got more than that anyway. This is like 6 years after PREDATOR, and also after RUNNING MAN, which is right in this movie's sub-Verhoeven action satire wheelhouse. It's not like they didn't know what he could do.
Shame on you, DEMOLITION MAN. Shame.
This entry was posted on Wednesday, May 9th, 2012 at 10:59 am and is filed under
Action
,
Reviews
,
Science Fiction and Space Shit
. You can follow any responses to this entry through the
RSS 2.0
feed. You can skip to the end and leave a response. Pinging is currently not allowed.