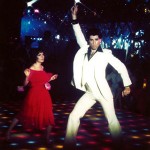 Well from what they tell me "The Punisher" is a Marvel Comics type super hero character. In the comic strip he's a sadistic bastard that goes around "punishing" people. What this means I guess is not spidermanning them with webs or hulking them or whatever, what he does is kill them in horrible painful ways. He does not wear a cape or fly but he wears black spandex and a picture of a skull on his chest. Basically he is the guy from Rolling Thunder as a super hero. Without super powers or a hook hand. Superman's morally questionable co-worker.
Guys who like The Punisher are not guys I can relate to. They like the violence and sadism and revenge aspects. They have a lot of anger in them and they enjoy getting it out. So far so good. But for some reason their idea of a bad motherfucker is a super hero in a comic strip. They think the right guy to get the rage out is a guy who wears a super hero costume. They can't just watch Charles Bronson movies like everybody else, they gotta put the guy in a fucking uniform. That was one of the reasons they hated the earlier PUNISHER movie starring Dolph Lundgren. He didn't wear the uniform. He doesn't count as the Punisher because he wears different clothes. (maybe the movie takes place on laundry day. Huh? Ever thoughta that, asswipes?)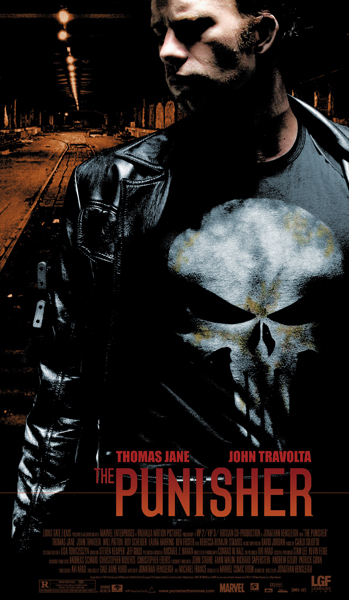 Another thing, they got John Travolta as the villain in this movie. Now obviously Travolta has been good before. I liked him in BLOWOUT, I liked him in PULP FICTION, etc. But these days the only surer sign of a bad movie is if Sean Connery is in it. I mean I could see Sean Connery being in SWORDFISH, I could see Travolta being in LEAGUE OF EXTRAORDINARY GENTLEMAN. But without one of those two, movies like that would not exist. They just wouldn't happen.
So I gotta be honest, I REALLY thought this movie was gonna be a piece of shit. My colleague Moriarty of The Ain't It Cool News made it sound good, but this is a guy who liked DAREDEVIL. This is a guy who liked THE GRINCH. I mean you never know with this guy. Otherwise the reviews were 100% negative, and when I got ahold of the screener I thought maybe it would be a good laugh.
So I was kind of embarrassed when a little ways into the movie, suddenly I started to suspect that maybe I was getting into it. Starting to enjoy it. It starts out generic enough, when Detective John Punisher (Thomas Jane, who was so great in the south african bank robber movie STANDER) is undercover, John Travolta's son accidentally gets killed, Travolta and wife send their thugs to Puerto Rico not just to kill the Punisher, but to kill his entire family. Which works out well, because he's at a family reunion.
(Okay, I gotta admit. He's not named Detective John Punisher. I was just fuckin with you. He's called Frank Castle. But unbetwixt to him, we call him Punisher.)
Sometimes in a movie if the bad guy is gonna pull some ridiculously cold blooded shit, it's gonna be entertaining. Like I always love that part in PETEY WHEATSTRAW where some gangsters decide not to stop at just killing a guy – they then go to the guy's funeral and gun down all his relatives. I mean, that's taking it a little far, and that's a great time at the movies. This is the same thing. They go to the Punisher's family reunion and just start killing everybody. And if somebody runs, they chase them down and kill them. You're expecting this is gonna be a quick scene, the bad guys come in and shoot the wife and kid offscreen, and the Punisher has to get revenge. That happens all the time in the movies. BANG! No! Dear god! Not my baby! Fade to black. And then, TWO YEARS LATER… next scene maybe he fondles his wedding ring, stares at his family portraits, that type of shit.
But this movie turns the initial murder into a full blown action scene. The wife and kid escape, and there's a good car chase. I think it was about the time when the jeep, towing a boat, accidentally caught air, that I realized that this movie was starting to win me over. And then when the bad guys cornered them on a dock and ran them over, that seemed to reinforce the theory.
So the movie of course is about the Punisher getting his revenge on Travolta and his minions. Well, he doesn't call it revenge though. He narrates, "Not revenge. Punishment." (He's not the Revenger.) Turns out he's not just a cop, he's got the full Seagal background – special forces, all that shit. So he knows how to fortify his car like that nut did with his bulldozer a few weeks ago. He puts together a small arsenal. He holes up in a rathole apartment in Tampa, sits at a bare table swigging Wild Turkey and Maker's Mark, plotting horrible ways to kill these criminals, or to play them against each other. And then he does it.
Maybe that's part of why it works. The story is real simple, not some complicated supervillain taking over the world shit. And there's no whooshy MTV show off business. It feels pretty old school, with the main modern stylistic choice being the use of an orchestral score that sometimes says "comic book epic" instead of "gritty '70s revenge thriller."
The movie is at its best when it's just straight ahead action or tense pre-action showdowns. There are two absolutely great scenes involving cartoonish assassins who come after him. One scene, Punisher is sitting in a cafe eating breakfast. A guy comes in with a guitar case, straight out of El Mariachi. He sits down and opens his case – Punisher reaches for his gun. But the mariachi pulls out a guitar. And he starts playing, singing to him. Getting really into it.
When he's done he says something like, "You like my song? I wrote it just for you. I'm going to sing it at your funeral." Picks up his guitar and walks out casually.
And Punisher takes another bite of his egg and sorta shrugs.
I mean, what the fuck was that? Maybe the greatest scene of random weirdness in an action movie since the classic trunk full of bunnies incident in THUNDERBOLT AND LIGHTFOOT. Or a good one, anyway.
Another great scene, a 7 foot tall behemoth in a goofy red and white striped shirt just walks into Punisher's apartment and starts beating the shit out of him. There is a long, brutal fight scene – I don't think they even talk to each other – that destroys every wall in the apartment. After alot of pain, Punisher turns the tables and punishes the guy bad enough to kill him, and then he just leaves the body there at the apartment entrance. Welcome, please wipe your feet, and don't trip on the giant dead guy in the striped shirt.
I'm guessing those characters come from the comic strip, but they work great, like colorful villains from a spaghetti western or something. On the other hand there are some goofy comic book elements that don't work. Something about a witch doctor in one part. And a dumb explanation of why Punisher sometimes wears the skull on his t-shirt. (His son gave it to him. Thanks, son. Why not a mug?) Worst of all, late in the picture, long after I've already accepted I like this movie, all the sudden they got this scene where he blows up enough cars to form a giant, fiery skull symbol. In case somebody happens to be flying over, I guess. It's a phoney CGI effect, but I didn't notice anything else like that. The rest of the movie feels organic.
There is a subplot about some wacky neighbors in the apartment building who try to look out for Punisher and invite him over for dinner. You got battered waitress Rebecca Romijn-Stamos (no longer a blue naked chick), you got a weaselly guy with lip rings, and you got a big jolly round dude. I would've liked this part better if the two guys seemed less like comedic movie types and more like real people, but honestly, I'm not gonna ask for too much in a Punisher movie. These guys kind of work. They are way more than I could ask for in a movie called The Punisher, about a guy who punishes. I mean come on.
This Thomas Jane is real good in the movie. He's a handsome, broad shouldered muscle dude, but you like him. And he pulls off the emotionless psychopath with an empty heart shaped area of gold routine. He has more to do in STANDER, which should be higher on your to-see list than this one. But he really makes this movie work. I enjoyed his reve– er, punishment rampage, the same way I did Mel Gibson's in PAYBACK.
Yeah, the more I think about it, the more sure of it I am. I actually liked THE PUNISHER. I'm not ready to say it out loud yet but I'm saying it to you. This is the best Marvel Comics movie I've seen since AT LEAST Spiderman part 2 the day before.
comic book movies that are worse: Spawn, Extraordinary Gentlemen, Daredevil, the Schumacher pictures, etc.
comic book movies that are better: Lone Wolf and Cub, the Blade saga, Barbarella