July 3, 1985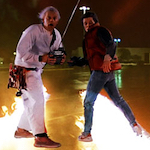 There was only one movie in 1985 that was bigger than RAMBO: FIRST BLOOD PART II, at least box office-wise, and it was considerably bigger. It would inspire two sequels, a cartoon and a movie ride at Universal Studios, though you could argue that its cultural impact was smaller than RAMBO's merely because it couldn't really be copied as much. How would you imitate something as high concept and specific as BACK TO THE FUTURE?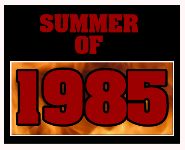 Its success surely comes from a combination of factors – the zippy direction of Robert Zemeckis, the unusual squeaky-voiced-nerd-who-carries-himself-as-a-rock-star appeal of Michael J. Fox (after MIDNIGHT MADNESS and CLASS OF 1984), the heart-pumping score by Alan Silvestri, the comic support of Christopher Lloyd, Crispin Glover, Thomas F. Wilson and Lea Thompson – but all of that hangs on the ingenious premise: kid gets sent back in time to his parents' high school days and endangers his own existence when his mom gets eyes for him instead of his dad.
You could imitate Rambo's commando-rescuing-forgotten-P.O.W.s idea, but also just its setting, its main character, its type of action. With BACK TO THE FUTURE… I don't know. It might've influenced PEGGY SUE GOT MARRIED, which came out about a year and a half later and has a woman who faints at her 25th high school reunion and wakes up back in 1960, but that just doesn't involve the same kind of stakes. You can't really make that lightning hit the same place twice. You can only go back in time to see the same lightning strike again.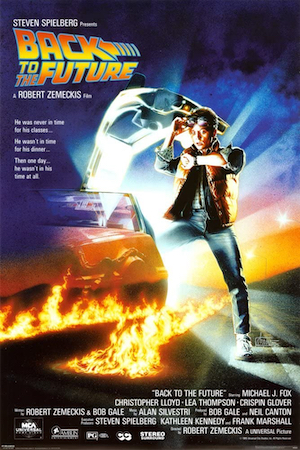 Ethics require me to disclose that I am a bit of a BACK TO THE FUTURE heretic. I've never been as cynical about it as I was THE GOONIES, and I think I rewatched it more times than that one back in the VHS days. And I would consider myself a Zemeckis fan. You think I forgot about Roger Rabbit? P-p-please! Not to mention I'm one of the few proponents of his mo-cap trilogy (POLAR EXPRESS, BEOWULF and A CHRISTMAS CAROL). I saw them all two times theatrically! Three for POLAR EXPRESS because of a re-release! I saw THE WALK in the theater. I rented ALLIED. And I'd do it again!
But BACK TO THE FUTURE is one of a handful of '80s movies that I loved at the time, then felt out of step years later when I realized that some of my friends (not to mention my The Ain't It Cool News colleagues and that READY PLAYER ONE guy) hold them in the same sort of regard as they do STAR WARS and RAIDERS OF THE LOST ARK.
BACK TO THE FUTURE didn't imprint on me as powerfully as those did, so I find myself nitpicking it more than is generally considered socially acceptable. At the time, of course, Marty McFly was older than me, so I accepted him unquestioningly. He plays electric guitar, he rides a skateboard, he holds onto the back of cars (even a cop car!) to get around, he wears sunglasses and has headphones around his neck and wears his collar up, he gets to school late and has a cute girlfriend (Claudia Wells, ALIEN ARMAGEDDON), the principal hates him, and he's prone to Michael Knight/Dukes of Hazzard shit like unnecessarily jumping over things or sliding across hoods of cars. In 1985 all that stuff meant he was cool.
35 years later I find my attention wandering beyond that basic vibe and fixating on other little quirks. Like, he lies to his family that he's "going camping with the guys," but other than his band The Pinheads (who we never see him talk to off stage), I don't think there really are any guys. It seems like he only has one actual friend, an old man who to his knowledge is a total crank, who seems to be notorious in the town, who mysteriously disappears for days and allows him access to his house when he's not home, and who he's willing to go meet in a mall parking lot late at night on short notice without being told what it's about. I'm not trying to imply anything sinister or sleazy here, I'm just saying wouldn't it be weird if you knew some teenager who spent most of his time with a local sixty-something nut, or vice versa?
(According to Wikipedia, "Zemeckis and Gale found it difficult to create a believable friendship between Marty and Brown before they created the giant guitar amplifier…" I guess that wasn't enough to sell me on it.)
The things that bother me a little are things I really should just accept, because they're required by the plot or to set up jokes. Like, he's a teenage boy who carries a photo of his siblings in his wallet (he also has a larger version on his bedroom wall). But it doesn't seem like he has a really close relationship with them or anything. It's odd! And he's a guy who realizes he has traveled to 1955 and is trying to keep it a secret, but he just can't stop himself from saying that he's seen this live TV episode before, or trying to order a Pepsi Free. I hate that joke! If our hero needs to be incompetent at time travel secrecy, must he also be some fuckin weirdo who prefers his Pepsi without caffeine? For me, that's a bridge too far. I'm against it.
But it's a tight, fast-paced movie, where the mechanics of the plot are so carefully orchestrated that his personality doesn't matter that much. He just has to be the guy who goes into action to save the future (with one rock 'n roll break, which Zemeckis almost cut since it didn't add to the plot!) – get his mom (Thompson, previously in JAWS 3-D, ALL THE RIGHT MOVES, RED DAWN and THE WILD LIFE) to stop crushing on him, and start crushing on his dad (Glover, after MY TUTOR, RACING WITH THE MOON, FRIDAY THE 13TH: THE FINAL CHAPTER, TEACHERS and the Trent Harris short The Orkly Kid), get Doc to understand when he will be killed in the future, and also get into the DeLorean and execute the plan to have it hit the right spot exactly as the clock tower is struck by lightning so he can get back to 1985. Each of these things goes through various suspenseful stops and starts until everything comes together.
I think that's why people I respect have called it a perfect script, and it was nominated for the best original screenplay Oscar (losing to WITNESS). It's such a clever concept, with lots of cool little ideas within it – the car as time machine, the photo fading to illustrate the future changing, Marty's lucky stroke of knowing exactly when and where lightning will strike. (I was shocked to read that the whole clock tower thing was a late addition after a refrigerator-time-machine-powered-by-a-Nevada-bomb-testing-site idea wasn't working. It seems like such a central part of the premise!)
It's meticulous in not only foreshadowing (Marty talking about being history, or having no future), but setting up all the necessary pieces: showing us Marty's parents in 1985, what they tell Marty about how they met, and what they were like when they were young, that the principal (James Tolkan, THE FRIENDS OF EDDIE COYLE) and the bully Biff Tannen (Wilson, NINJA TURF) were in his dad's life when he was young, who the mayor of the town (Donald Fullilove, voice of Michael Jackson on the Jackson 5ive cartoon) is now, why Marty knows about the lightning, and when Doc invented the flux capacitor…
It requires a huge amount of coincidence to work. Marty's parents have to meet and Doc has to invent time travel and the lightning has to strike all within a couple of days, and all three topics had to be separately discussed with Marty at random the day before he left. And that's okay, that's stylized, that's part of the fun.
But I think the reason I get a slightly sour taste from this – not a flaw in the movie, just a personal thing – is the way the premise limits the types of change that can happen in the lives of these characters in 30 years, whether in the version of 1985 that Marty struggles to protect, or the "improved" altered timeline. As a kid I had no reason to question its romanticization of suburban life. But as an adult I see that George and Lorraine met in high school, got married and had kids, stayed in the same small town, where they are still bullied by the same local asshole, she constantly tells her kids about things that happened in high school, their son goes to that same school, harassed by the same principal, and at the end we learn that he will marry and have kids with his high school girlfriend too.
Now that I think of it, it tends to bother me when all the adult characters in a story knew each other as kids. The example that comes to mind is the director's cut of GREEN LANTERN, though I think the less silly MYSTIC RIVER might qualify. My kneejerk reaction is to think it's childish storytelling, because that's how I probly assumed things worked when I was a little kid. But maybe it has more to do more with having grown up in the suburbs and having more disdain for it than nostalgia. Sometimes I wish I still talked to the people I grew up with, but the idea of all of us staying in that area, and not having gone out to find different places and meet different people, is unbearably depressing.
As I approached the ending this time I started to vaguely remember the discussion about it in the comments here when I reviewed TIMECOP last year. And yes, it does bother me that part of the happy ending result of George learning to stand up to Biff (through the medium of rape rescue) is that they have money for a nicer house and cars, Marty's siblings have corporate jobs and Biff – who seems to be nice now – is their sniveling, meek servant. I think Zemeckis mitigates it with the sequels, but I believe those were some sincere Reagan era materialistic values shining through right there. (But at least George's money comes from a creative endeavor.)
I have a few questions, none of them important. Is there really a way to plug a camcorder into a 1955 TV? Why did Marty wake up with his pants off – was Lorraine actually supposed to be doing something to him? How was he able to go to school – was he registered?
It has been noted that it's weird that Zemeckis has Chuck Berry receiving "that new sound" from Marty and Elvis Presley learning to dance from Forrest Gump, two silly history jokes that can be seen as taking away black people's credit for creating rock 'n roll. But to be fair, Chuck only learns from Marty what Marty already learned from Chuck. So I guess the question I have this time around is: was rock music changed along with the timeline? Does Chuck Berry learning from a kid playing his own song rather than coming up with it himself lead to a watered down rock 'n roll? A xerox of a xerox? Marty is very talented, but what if he still ruined music? Was that covered in part 2? I guess I'll find out when I get to it again.
Trivia: Marty's vocals were provided by Mark Campbell of Jack Mack and the Heart Attack, a.k.a. the band that was playing at the Olympics concert when Richard Jewell found that bomb.
Having said all that, BACK TO THE FUTURE is an undeniably unique movie, and I'm glad the entire rest of the world enjoys it. I already listed a few of the things I like about it, but I'd like to emphasize how good Thompson is as Lorraine, since I think people talk about her less than they talk about, say, Doc Brown. The joke of "your mom talks like a prude but she was actually super horny in high school" is… I don't know… "it is what it is," I guess. I don't think it was meant as slut-shaming, but if it was, Thompson would've voided that by making Lorraine so easy to side with, and she also makes it really funny/uncomfortable when she looks at Marty with barely contained lust. I think she has the funniest line, too, when everyone is scandalized by the rock 'n roll and she politely says, "Marty, that was very interesting music."
Also I want to mention that it has a hell of a logo, establishing the tone and even the speed of the thing right at the top. According to Art of the Title, credited title designer Nina Saxon "created the shimmering, vibrant and animated final mark" based on a drawing from an unknown artist in Universal's advertising department. Having rotoscoped laser beams in STAR WARS before transitioning into title design, Saxon had the optical skills to develop a trademark process she called "painting with light." Art of the Title says she has an "ability to design effective and vibrant title logos" and "was able to approach title design with fresh eyes and usher in a new era: the branded blockbuster film." Those include many Zemeckis movies, and more importantly the aforementioned TIMECOP.
BACK TO THE FUTURE was originally planned for a May release, then moved back to August, I think because of delays related to replacing Eric Stoltz in the lead. Extremely positive test screenings inspired them to rush and get it ready for July – a wise move. Since it was the number one movie for eleven weeks (not consecutive – it took week 4 off for NATIONAL LAMPOON'S EUROPEAN VACATION), it's hard to deny that it was the movie of the summer, even if it's not the one I cherish most.
SUMMER OF 1985 NOTES:
Summer of 1985 connections:
The opening scene, in which timed devices turn on Doc Brown's coffeemaker, TV and toaster, and open cans of dog food and stuff, is the second Rube Goldberg device of the summer, following the one in Mouth's front yard in THE GOONIES. Both movies were produced by Steven Spielberg, have posters painted by Drew Struzan and FX by Industrial Light and Magic. (COCOON also has the ILM connection, but not the Struzan or the Goldberg.)
I believe George McFly is the second peeping tom hero of the summer, after Steve Guttenberg's character in COCOON.
When Biff and his friends crash into a manure truck it's kind of like when Rappin' Hood's friends crashed into the garbage truck in RAPPIN'.
There's a joke about how ridiculous it sounds for a person in 1955 to hear that movie star Ronald Reagan becomes president, just as James Cameron's RAMBO: FIRST BLOOD PART II script had with people who have been P.O.W.s since Vietnam.
Surprisingly, despite being set in both 1985 and 1955, Zemeckis and co-writer Bob Gale (TRESPASS) do not bring in the Cold War themes we were seeing in so many movies earlier in the summer. Instead of commies the international threat is Libyan terrorists armed with uzis and willing to come to god damn Hill Valley to build a nuclear bomb.
Pop culture:
I would like if the 1985 scenes had more of a time capsule feel, but they're mostly just dated by old food wrappers. Marty does have a poster of Huey Lewis, an in-joke since he also provided two songs and a cameo. Marty also carries a home recorded tape of guitar licks that says "Edward Van Halen" on the label. But most of the references we see to movies and albums are in the 1955 scenes (a sign for "The Ballad of Davy Crockett" in front of the record store, CATTLE QUEEN OF MONTANA on the theater marquee).
Stuff that maybe didn't age so well:
It's fucked up that part of Marty's plan is to pretend he's trying to rape Lorraine so George can heroically rescue her! The fact that it's his mom almost distracts from the repulsiveness of a protagonist who's meant to be a nice kid planning to put a girl through that. And the prevalance of the "maybe that girl will notice me if I see her being raped and come rescue her" seems very icky now. Note that we also saw a version of that in the previous week's release PALE RIDER.
Legacy:
Ah, you know, READY PLAYER ONE homages the DeLorean, and every once in a while Doc Brown in a commercial or something. But as a "franchise" it was mosts prominent in the late '80s and '90s. In 1986, Spielberg suggested the idea of a ride to Universal Studios, inspired by his friend George's Star Tours at Disneyland. A couple years later they tried designing a rollercoaster, but figured out that it's hard to translate cinematic stories into the medium of rollercoaster. So they did more of a Star Tours. You get in a DeLorean and watch a movie that has you flying through various time periods chasing Biff.
FX legend Richard Edlund spent a year making the film, but during construction delays at the park Universal decided to ditch what they had and hire Doug Trumbull (SILENT RUNNING) to do a whole different one, not even using any of the elaborate models Edlund's crew had built, let alone his footage.
#ReleasetheEdlundRide
The ride was open in Florida from 1991-2007, in Hollywood from 1993-2007, and in Japan from 2001-2016. It has been replaced by The Simpsons Ride and Despicable Me Minions Mayhem.
Reportedly Peyton Reed (director of BRING IT ON and the ANT-MAN movies) was one of the writers of the ride film – he would also direct live action sequences for the cartoon, which aired in two 13-episode seasons on CBS in 1991 and 1992. Christopher Lloyd played Doc Brown in live action to introduce the episodes, but the character was voiced by Dan Castellaneta in the animated parts. Thomas F. Wilson and Mary Steenburgen (from part III) did voice their characters, and James Tolkan had a guest appearance, but not playing Principal Strickland. In an attempt to make the show educational, most episodes also had a live action segment with Bill Nye (from Seattle's regional comedy show Almost Live!, before he had his own show) as Doc Brown's lab assistant. I assume his friendship with Doc is based on more than guitar amp access.
ALSO RELEASED ON THIS DATE:

July 3rd was also when RED SONJA came out. You can read my review written in 2011, but I'll add a little Summer of 1985 context here. Producer Dino De Laurentiis wanted to make a female-oriented CONAN THE BARBARIAN type movie using this Marvel Comics character sort of based on a Robert E. Howard character. When CONAN co-star Sandahl Bergman turned down the title role to play the villain, Laurentiis wanted Laurene Landon… until he found out she'd already done the similar (and honestly better) HUNDRA. (What did he know her form, then?) Two months before filming he saw 6'1" model Brigitte Nielsen on the cover of a magazine, flew her out for a screen test, and gave her her first acting job, with fresh-off-of-THE-TERMINATOR Arnold Schwarzenegger in a supporting role! By the end of the year Nielsen would be married to Sylvester Stallone and playing Ludmilla Drago in ROCKY IV.
Nielsen didn't get good reviews as Sonja, but personally I think she's cool and likable in the role. It won her the prestigious Golden Raspberry Award for Worst New Star, which has also gone to Lou Ferrigno, Sofia Coppola, Janet Jackson and Dennis Rodman (for DOUBLE TEAM). Despite entertaining turns by Nielsen, Schwarzenegger, Ernie Reyes, Jr. and Paul L. Smith, plus a score by Ennio Morricone, the movie clearly can't hold its own with CONAN THE BARBARIAN. Still, I think it's a decent Saturday afternoon type of movie. There aren't enough watchable Amazonian warrior princess movies to scoff at this one, in my opinion.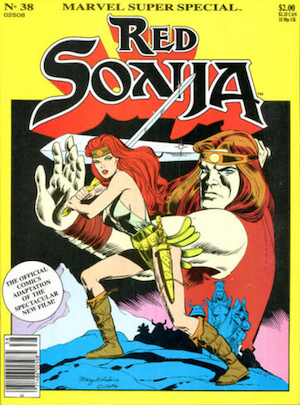 But it did not have a major impact on the movie summer. They didn't push it with merchandise – any potential for cool Brigitte Nielsen and Ernie Reyes, Jr. action figures went unfulfilled – just a Marvel Comics adaptation. It made back less than half of its budget at the box office and, though at least remembered for its novelty, has not gained much better of a reputation over the decades. Schwarzenegger has called it his worst movie.
As long as we're talking about it I should quote from that July, 1985 Cinefantastique I keep mentioning, since it has a RED SONJA article too. There's nothing too exciting in there, so I'll just mention that while discussing its filming at De Laurentiis' newly refurbished Stabilimenti Cinematografici Pontini it mentions that, "Later this year at the studio David Cronenberg will direct TOTAL RECALL, a $22 million science fiction project from a script by Dan O'Bannon, based on a book by Philip K. Dick." That movie didn't happen for a few years, of course, when Schwarzenegger convinced Carolco to buy the rights, and filmed it in Mexico with Paul Verhoeven and two or three times that budget. But they kept Cronenberg's addition of mutants, including Kuato, on Mars. So that was an important contribution to society that happened around Summer '85.
This entry was posted on Wednesday, July 1st, 2020 at 1:53 pm and is filed under
Reviews
,
Science Fiction and Space Shit
. You can follow any responses to this entry through the
RSS 2.0
feed. You can skip to the end and leave a response. Pinging is currently not allowed.