June 19, 1998
(or is it THE X FILES?)

(note: Some people call it X-FILES: FIGHT THE FUTURE, but I think "fight the future" is just the tag line, like "DIE HARDER.")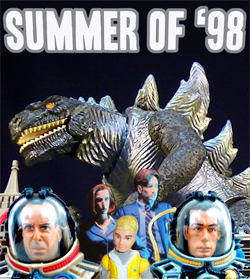 Oh shit, man. The '90s. The X-Files sure was a bigger deal in the '90s, wasn't it? And in some ways this movie spin-off of the show is the most era-representative of the ones I've watched in this series so far. Not in style, or in any kind of fun, nostalgic way – it doesn't feel very dated – but just in its view of the world. It spoke to a type of pre-millennium paranoia that has uncool associations today, but at the time was fresh and edgy and hip.
See, the internet was pretty new, so it wasn't common to know about every strange belief or kooky fringe group. If you wanted to find out about some weird creature somebody claimed to spot you had to read outdated cryptozoology books at the library. If you wanted to know about UFO cults you had to know their address and send them a self addressed stamped envelope and read their newsletter. I don't know why, but that's what I did at a certain age. One time I even went to a UFO cult's presentation on a college campus. All I really remember was a woman with a shaved head who seemed very sincere about all this. A few years later when the mass suicide happened I dug out a handout I'd saved, and though it didn't say "Heaven's Gate" on it anywhere it described the same theology, following the teachings of someone called "The Two" or "Ti and Do." And I always wondered if that lady got out in time.
Maybe it was just my natural youthful rebelliousness, but at that time debates in the U.S. seemed less binary and partisan than they are now, less left vs. right, more The People vs. The Man. X-Files creator Chris Carter had come of age in the era of the Kennedy and King assassinations, and lost faith in all institutions. Suspicion about JFK and Waco wasn't strictly for right wingers. I remember Freedom School founder Billy Jack mentioned Vince Foster conspiracy theories on one of his DVD commentaries as if they were real and universally accepted. With The X-Files, Carter tapped into those instincts to suspect the authorities are always up to and/or hiding something big, that life is weirder than they want you to know, that the world you live in is just a sugar-coated topping, carefully maintained by mysterious men in black licorice helicopters (or something, this candy metaphor may need work).
You didn't have to believe any of these ideas to kind of admire the people who did as interesting, extreme personalities, non-conformists, mavericks, Richard Belzers. Back then they were niche groups and mostly seemed harmless. We didn't know there would be decades of official science denial, dumb people believing dumb shit on Facebook, me worrying that 9-11 was some kind of set up to start wars that, in retrospect, I think they would've found some way to start anyway. We couldn't guess that Art Bell talking about big-eyed aliens on the radio would evolve into Alex Jones telling grieving parents that their murdered children never existed, or Reddit convincing a guy to storm a pizza restaurant with a shotgun believing Hillary Clinton was selling child sex slaves in the non-existent basement. We didn't know a real life Mulder would likely be hanging out with people whose passions include protecting Confederate monuments and preaching about the dangers of recognizing women as human beings.
It was a really cool show though. I liked it. I'm somewhere in the middle between a devoted fan and a total ignoramus. I watched it weekly for much of the run, but not all of it. I liked the mythology about the black oil and the aliens and all that, but all of my favorite episodes were the funny standalone ones like obviously "Jose Chung's From Outer Space" (I'm not gonna resist a Jesse "The Body" Ventura appearance) or "Bad Blood." Before Breaking Bad came out I thought it would be good because it was created by the guy that wrote "Bad Blood." I never watched it though so there's no way to know if I was right.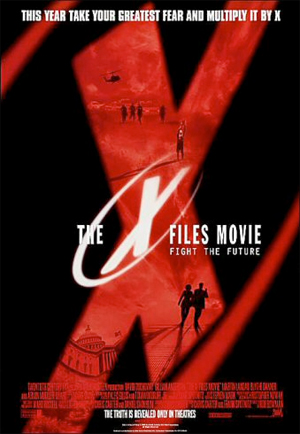 I liked THE X FILES MOVIE FIGHT THE FUTURE at the time, but I was curious how it would play now that I haven't watched or put much thought into the show for many years. Unlike the STAR TREK series of movies, this was made while its show was still on the air, so it had to both make sense to newbies unfamiliar with the 116 episodes leading up to it and be satisfying as a big-screen-worthy episode for those who did. At one point they planned to end the series after the fifth season and then only do movies, instead they just moved from Vancouver to L.A. and kept going. The season 6 premiere "The Beginning" has Mulder on an FBI panel talking about what happened to him in the movie.
It works outside of that context better than I thought it would. The roles of FBI agents Mulder (David Duchovny, BEETHOVEN) as UFO-believer and Scully (Gillian Anderson, JOHNNY ENGLISH REBORN) as skeptical scientist are very evident – if anything, it goes too far in trying to underline it in dialogue as Mulder begs Scully not to quit the FBI because of her keeping-em-honest effect on his alien search. I didn't remember shit about Mulder's father, but when the conspiracy author played by Martin Landau (BLACK GUNN) talks about him it just plays like any standalone cop movie where that sort of "I knew your father" shit comes up. Same goes for The Well-Manicured Man (John Neville, BABY'S DAY OUT, DANGEROUS MINDS) and The Cigarette Smoking Man (William B. Davis, LOOK WHO'S TALKING, THE TALL MAN). We get from their scenes that they're some kind of upper class Illuminati motherfuckers who have bargained with alien invaders. I didn't remember much more than that and didn't need to.
The only thing that seemed like it would be confusing without knowledge of the show was the appearance by the Lone Gunmen – Bruce Harwood (THE FLY II), Tom Braidwood (first assistant director on one episode of Wes Craven's Nightmare Cafe) and Dean Haglund (RoboCop: Alpha Commando) – but the worst it would cause is a feeling of "Am I supposed to know who these guys are?" for one short scene. And I guess there are a couple things that were big developments on the show – Mulder and Scully almost kissing, or actually being on a space ship fighting aliens – that don't seem momentous if you're just watching the one movie.
I like the earlier scenes better than the later ones. I still love that the first shot is two indistinct figures in the distance, running through snow, because I assumed it was Mulder and Scully until it said 35,000 BC on the screen (they turn out to be cave men). Then it adds "North Texas." The story will end 35,1998 years later in Antarctica, where I assumed we were in the first place.
In the present day, Lucas Black (THE FAST AND THE FURIOUS: TOKYO DRIFT) is some poor schmuck Texas boy who falls into a pit and gets infected by ancient alien goop. Despite the dated digital effects, the image of worm-like blobs moving under his skin and turning his eyes black are nice and gross. It's cool that Black got to be in this little role a couple years after starring in SLING BLADE and the short-lived horror show American Gothic.
Then they continue playing with me, I keep thinking our FBI heroes are gonna make a grand entrance. Trucks keep pulling up and helicopters keep setting down and other people keep stepping onto the scene. It does turn out Mulder and Scully are in the state, but they have no idea about finding alien shit – they're at a federal building in Dallas, just grunts helping search after a bomb threat, not taking it very seriously until Mulder's not-by-the-book hunch to check the building across the street does find the bomb and it goes off and they get blamed and their rogue investigation into the matter turns up that it's a cover-up and leads them to alien bodies and shit.
It's not on the top five list of best types of popcorn entertainment, but the mix of sci-fi, FBI procedural and conspiracy thriller is at least unique. I don't know what else to compare it to. It's a pretty big budget ($66 million) and it's trying to be larger in scope than the show, but it's much more about the characters and the twisty plot than any kind of spectacle or set pieces.
There are some good sequences, though, for example when they find a giant complex out in the middle of nowhere, go inside and walk around and then all the vents on the ceiling open and it takes them a second to realize that it's unleashing a giant cloud of bees on them. Not the bees!
And I like Mulder's THE ARRIVAL style "holy fucking shit am I really seeing this" exploration of an enormous spaceship he finds underground. This one is not gonna give him lessons from Superman's dad, though. Also unfortunate: I don't really like the alien designs, vicious sharp-toothed versions of the traditional big-eyed "grey" aliens of UFO lore. I see what they're going for but it makes for kind of a boring monster.
But the important thing is that these are good characters, and I think that comes through even out of context from the show. Scully is especially cool, a smart, professional, serious agent who is exhausted by her buddy's obsessions but honest with him and herself when he seems to be on to something (which turns out to be most of the time). I like when they're on a roll together, like when they go looking for the hole in the ground in Texas, find a brand new playground, see kids on new bikes, and immediately ascertain that they were given the bikes as a bribe not to talk about what went on here. It's not all flying saucers, there's also detective work.
Carter is an interesting figure, a guy who came seemingly out of nowhere and created this one show that had been such a phenomenon that he was given a sort of hands-off treatment rare for TV, especially back then. The guarantee of a theatrical film version was included in his contract after the initial three-season one expired
He'd been the editor of Surfing magazine before coming to TV in the '80s, writing such TV movies as THE B.R.A.T. PATROL. An earlier attempt at a sci-fi series was called Copter Cop. I'd love to find out what that one was about. I mean, I do have one theory.
When the time came, Carter wrote the screenplay for the X-Files movie, with help on the story outline from Frank Spotnitz, one of the regular writers from the show. Spotnitz was early in his career when the show started, and he continued with related works including Millennium and The Lone Gunmen before going on to create the shows Night Stalker, Hunted, Medici: Masters of Florence, The Indian Detective, Ransom, and The Man in the High Castle. More importantly he wrote some episodes of the The Transporter TV show. I haven't seen it, but it's gotta be cool, right? He transports stuff. And he has different rules that he likes to cite.
For director they chose another TV vet, Rob Bowman, who'd usually do an episode or two for each show he worked on (MacGyver, 21 Jump Street, Alien Nation, The Adventures of Brisco County, Jr., M.A.N.T.I.S.), but he did 13 of Star Trek: The Next Generation and 33 of The X-Files. THE X-FILES was his first theatrical feature that was not about rollerblading (see AIRBORNE [1993]), and he was able to follow it with the quite good post-apocalyptic dragon movie REIGN OF FIRE and the at-least-not-as-bad-as-its-reputation ELEKTRA before saying "okay you're right, I'm a TV guy, I'll be over here doing 28 episodes of Castle."
They had action figures, by the way. Made by McFarlane Toys, the influential company founded by Spawn creator Todd McFarlane in 1994, they were the extremely detailed type intended for adult object collectors more than whatever weirdo kids were into the show. Mulders and Scullys in different outfits (suit, parka) were paired with other characters or props: alien, cryopod, corpse (wrapped in a sheet, with a gurney). Also there's "Attack Alien" with a caveman and, my favorite, "Fireman," which is a rubber see-through post-accident fireman with the containment unit they lock him in.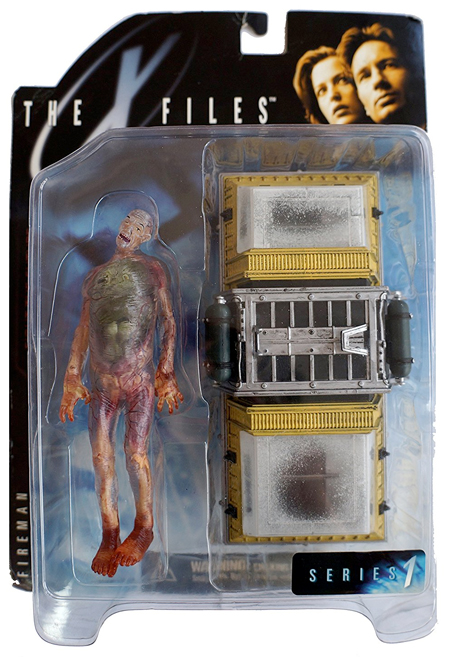 You know, for kids who like to play fireman.
The movie did pretty well, about triple its budget, but I don't think it made much of a mark on the culture, did it? We remember that yeah, there was a movie of The X-Files, and Lucas Black and bees and something. We don't remember it as its own reference like, say, WRATH OF KHAN.
It took them ten years to get to another movie (THE X-FILES: I WANT TO BELIEVE), by which point the show was off the air and the fervor had died down and that movie was not well received. Maybe you had to be there.
More '90s shit:
Though the movie itself sticks with the feel of the TV show, the end credits have a sort of trip hoppy instrumental called "Teotihuacan" by Noel Gallagher, followed by a Foo Fighters song called "Walking After You." They were included on X-Files: The Album which was produced by Don Was and included songs by Filter, Tonic, Ween, The Cardigans, Bjork, Noel Gallagher, etc., but the only song actually heard in the movie was X's "Crystal Ship," played on a jukebox. Paul's Boutique producers The Dust Brothers also provided a cover of the theme song.
Specifically Summer of '98 shit:
Mulder needs to piss and the bar's restroom is closed so he goes out to an alley and pees on a wall plastered with INDEPENDENCE DAY posters. I'm sure they chose it as a dig at a very different style of UFO movie, but it's probly also related to the box office competition with Emmerich's GODZILLA.
Also I'd like to remind you that the way to identify nerds in CAN'T HARDLY WAIT was to give them t-shirts with X-Files related slogans and credit them as "X-Philes."
This entry was posted on Monday, July 9th, 2018 at 7:42 am and is filed under
Reviews
,
Science Fiction and Space Shit
. You can follow any responses to this entry through the
RSS 2.0
feed. You can skip to the end and leave a response. Pinging is currently not allowed.