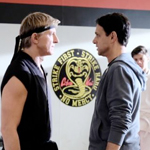 I don't have the attachment many people I know have to the KARATE KID movies. But I'm kinda into their mythology, especially after my recent dip into the more over-the-top b-movie villainy of part III. So I excitedly took advantage of a free window (until September 11th) to watch the ten half-hour-ish episodes in the first season of the premium Youtube series Cobra Kai.
Even in today's gold rush for nostalgic i.p. this seems like a too-good-to-be-true sequel scenario, especially for my interests. Ralph Macchio – now actually older than Pat Morita was in the first movie! – returns as Daniel LaRusso, but so does William Zabka as part 1 nemesis Johnny Lawrence, and even though Macchio gets top billing, Zabka is treated as the underdog hero, like Iceman Chambers in UNDISPUTED II, or like I wanted them to do with Martin Kove's villainous sensei John Kreese after seeing him down and out in the opening scenes of KARATE KID III. Broke, washed up, divorced, drinking Coors all day, still listening to Ratt and wearing Van Halen t-shirts, Johnny attempts to re-open the Cobra Kai dojo in a strip mall next to a vape store. But he's so bad at salesmanship he ends up having only one student, a nice kid named Miguel (Xolo Mariduena, Parenthood) who tempers some of his worst tendencies while being empowered by his macho tough love and "strike first, strike hard, no mercy" philosophy.
Meanwhile, Daniel-san has gone pretty much the way you'd expect. He and his wife Amanda (Courtney Henggeler, KRISTIN'S CHRISTMAS PAST) sell Porsches and used cars at LaRusso Auto Group, his giant face smirking from the billboards. They have two kids and a huge house. He lets the practice room gather dust but uses karate and bonsai trees as promotional gimmicks. The show sees him the way I do in the movies: kind of a dick. He still holds a grudge against Johnny even though he's the one that won. And when he finds out about Cobra Kai coming back he schemes to make things hard for Johnny. The worst one: negotiating in bad faith like he's gonna buy the strip mall in order to get the current owner to raise the rent.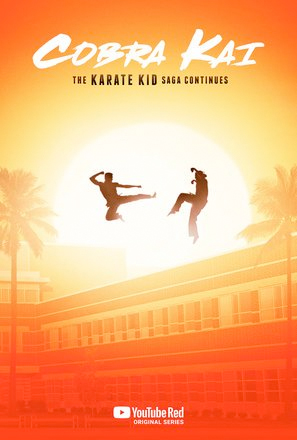 It turns into THE BAD NEWS BEARS. Funny inappropriate drunk gathers misfit kids, tries to teach them, fails at first, they learn from each other. Johnny is too stuck in the '80s to be on Facebook, otherwise he'd be ranting about safe spaces and participation trophies. He thinks he's toughening kids up by calling them cruel names and having them punch each other in the face while he has another beer in his office. In one case it makes a big difference: a kid he calls "Lip" (Jacob Bertrand, "High School Kid," READY PLAYER ONE) because of his cleft palate scar storms out, but comes back later calling himself "Hawk" and sporting a blue mohawk and giant hawk tattoo across his shoulders. And they really do make you forget about his scar. I loved this humanization of somebody who could out of context be a standard Cobra Kai thug like part III's Snake.
Being stuck in his teen bully ways, Johnny has a hard time being surrounded by kids he sees as nerds and pussies. But his lessons start to work. The approach to fights is more phony but more fun than the original movie. These kids know plenty of moves, do flips, jump on tables. They gain self esteem and stand up to the popular kids, even convert some.
Yeah, it's not only about burnt out Karate Adults – it's at least half a show about teens. We also meet Daniel's daughter Samantha (Mary Mouser, voice in SON OF THE MASK), who has grown out of karate, but starts to date Miguel, which she has to keep secret from her dad because of his Cobra Kai grudge. And Johnny has a son named Robby (Tanner Buchanan, Designated Survivor) who hates him for abandoning him. He's introduced as a pony-tailed, skateboarding laptop thief who comes up with kind of a Terry Silver scheme to get back at his deadbeat dad: go get a job at LaRusso Auto Group without telling them who he is. In the process he not only reveals himself to be nicer than we initially assumed, but becomes Daniel's karate student.
That's a cool thing about this show – Johnny wanting to bring back the bad guys of karate has many positive repercussions. It reawakens Daniel's love for karate, and the lessons of Mr. Miyagi, allows him to make a difference in Robby's life, maybe even reconnect him with his father. And as Johnny watches the nice kids he's responsible for learn the lessons he got from John Kreese when he was their age he starts to think oh fuck, have I been fed a load of shit my whole life? It has fun indulging in the "in my day we were tough guys" shit and then starts to show how hollow that all is.
Seeing Zabka sell that realization with just the expression on his face is the whole reason for the show as far as I'm concerned. I'm not sure he was seeking an acting comeback – I guess he's been directing music videos, and a short he wrote and produced was nominated for an Oscar in 2004 – but in the public consciousness he's permanently an icon of the '80s (JUST ONE OF THE GUYS) and b-movies (SHOOTFIGHTER I-II, PYTHON I-II), and this feels like a rebirth. He has the handsome face not of a current movie star, but a former one. So just seeing him be the focus of this thing, let alone have his jerky character redeemed, has an irresistible triumph-of-the-underdog appeal.
I watch more movies and less TV than is standard for a modern pop culture savvy person. I don't want to see everything stretched out across a bunch of episodes. But I think in this case it really works. You get into the little episodic stories and then when something comes up that ties into the movies (or even when they have flashbacks) it's kind of thrilling. I'm absolutely not saying it's as good as CREED and CREED II, but the approach to sequelization is a little like that other followup to a John G. Avildsen sports drama series. It's exciting when they go to the old apartment building or mini-golf place from the movie, or when grandma comes to visit and you realize it's Randee Heller returning as Mrs. LaRusso, or when Johnny recounts events from the first film and they seem very different from his perspective. But mostly it's cool to see how the lives of the kids reflect or reverse what happened to the previous generation in the movies, and how their mentors try to use what they've learned. Or even better, how the grown up nemeses behave when they find themselves stuck in an ancient teenage rivalry. There's a scene where it seems like they might get into a fight and Amanda LaRusso doesn't try to break it up, she just laughs at their dumb bullshit and they get embarrassed.
Layers are slowly added to these two-dimensional characters and philosophies. Almost all of the main characters go through some sort of transformation. By the end I was sort of rooting for everybody. Even Daniel! I was surprised how excited I was when he put on the headband. And later I was yelling for him to break out the Miyagi-Do gi.
The show is created by Jon Hurwitz & Hayden Schlossberg (of the HAROLD AND KUMAR movies) and Josh Heald (of the HOT TUB TIME MACHINE movies) and yes, it has jokes. But the emphasis is honestly more on the character drama. I wouldn't really call it an action drama, but like the movies it uses many of the traditions I love including multiple training montages, a tournament, a special move, and a little fight brotherhood. Also there's a scene where he's watching IRON EAGLE, which is a pretty good movie.
The series stunt coordinator is veteran Power Rangers stuntman Hiro Koda (HANNA, THE GREAT WALL). Simon Rhee – Dae Han from BEST OF THE BEST 1 and 2! – is credited as a fight instructor for one episode.
I haven't yet seen any of season 2 yet, so please don't spoil anything for me. You can imagine I'm excited for what was teased about it at the end of season 1, and the complicated corner Johnny was painted into. I know they're doing a season 3, in which of course I'm hoping for the return of the evil millionaire karate master/polluter/undercover operative Terry Silver. But I think there are even higher levels they could take it to than that. Obviously it would be amazing if they could convince two time Oscar winner Hilary Swank to at least do a scene as Mr. Miyagi's only other student Julie Pierce. This is pure speculation, but I think she might be cool enough to do it! The other thing that would be amazing would be to bring in Jaden Smith as Dre Parker, the remake KARATE KID. I'm gonna guess Will Smith, James Lasseter and Caleeb Pinkett of Overbrook Entertainment probly just got producer credits because they owned the rights and not for any sort of creative role, but still. Maybe they could make it happen.
And what about this? Taki Tamurai, the Okinawan girl who teamed with Daniel and Mr. Miyaga to gather treasures in the cartoon. Let's see what happened to her. Some Roger Rabbit shit.
No matter what happens, I look forward to more Johnny Lawrence karate adventures.
This entry was posted on Thursday, September 5th, 2019 at 3:37 pm and is filed under
Comedy/Laffs
,
Drama
,
Reviews
,
Sport
. You can follow any responses to this entry through the
RSS 2.0
feed. You can skip to the end and leave a response. Pinging is currently not allowed.