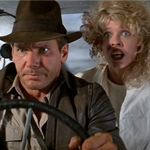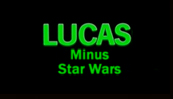 Oh no, Indy! Don't go into that temple! That's not a regular temple, that's a temple of doom!
I practice religious tolerance, so if those guys want to eat monkey brains and bugs and what not, I'm not gonna judge. But in my opinion they should not be having child slaves and pulling a guy's heart out of his chest and stuff. Not unless it's consensual. I don't care what their Bible of Doom says about it, you don't go around doing that stuff, you guys. Or don't rub our faces in it.
But I'm getting ahead of myself. INDIANA JONES AND THE TEMPLE OF DOOM has an amazing opening that scores big by being absolutely not at all what anybody thought would be the opening of the sequel (well, technically prequel) to RAIDERS OF THE LOST ARK. Instead of rugged Indy wearing leather, in some jungle or desert, covered in sweat and sand, maybe carrying a torch, cutting through cobwebs in an ancient burial chamber, it opens with a musical number in a glamorous Shanghai restaurant. Dr. Jones has no hat, and is wearing a white tux, as he conducts a tense merchandise exchange with nefarious gangsters willing to resort to poisoning and hitmen disguised as waiters to get what they want out of him. But for his part Indy is willing to resort to taking a showgirl (Kate Capshaw) hostage at knifepoint and fleeing with an orphan boy named Short Round (Jonathan Ke Quan) as his getaway driver.
This is not the real adventure, this is just the type of shit this guy is up to between movies. The real adventure comes after they escape in a plane and their pilot betrays them. They end up plummeting to a jungle in India where they meet the natives with the missing children, plus the more westernized government types who welcome them to dinner near that doomful temple. They find out about cultists who stole a magic stone from the villagers as party of a spooky ritual of doom or whatever. And they spend the night and find a secret tunnel in a room and next thing you know it's booby traps and statues and all that Indiana Jones shit again.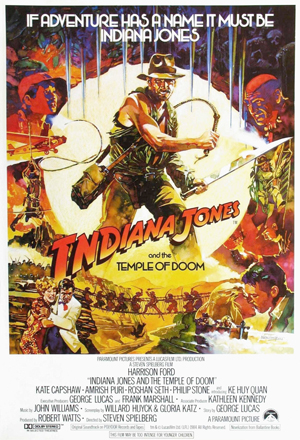 I like the coincidental nature of the story. He happens to fall into the middle of this crazy shit that he's equipped to deal with. Because he's Indiana Jones. Also I like the horrific aspects, building on the melting Nazis of the first one. Take that guy pulling a beating heart out of a guy, sprinkle on a gremlin or two, and you have the birth of the PG-13 movie, which for many years allowed filmatists to get away with more in movies not strictly for adults, instead of today's thing where it forces them to water down what would be better as an R-rated movie. It was once a proud rating, a bold rating, not a compromise. A rating of doom.
But while some parts might be too much for your kids (if your kids are weiners), other aspects don't seem worthy of a movie for grown ups. I know the idea of an Asian orphan sidekick is a tribute to old timey tropes, and that Short Round's Little Rascally life is a contrast to the other kids in the story who are forced to work in a mine, but geez. He has blocks tied to his feet to reach the gas pedal. He beats up some adults. He's kinda funny sometimes I guess, but people who have adored that character since childhood would crucify this movie if it was something that came out now.
Much, much, much worse is Capshaw's character Willie Scott, a whining, bickering prima donna kidnap victim turned Stockholm love interest. She's supposed to be an airhead but at the beginning when she mistakes a small treasure for a small person it's way too much for me to believe. I'm sure it's supposed to be cute that she's always screaming and stumbling and getting freaked out by every little thing that ever happens, but I find it annoying. And Indy's attitude toward this woman he and Short Round call "doll" is kind of a "Women, huh? This is what they're like." But of course we've seen Marion before, we know Indy knows there are much less horrible women in the world. He's really allowing jungle isolation to lower his standards.
At the climax there's a cool action scene with them riding in mine carts, done partly with blue screens and with some stop motion models. This is another very Lucas/ILM sequence, kinda like a non-space variation on RETURN OF THE JEDI's speeder bike chase. I guess this starts the tradition of Indiana Jones scenes that seem like a theme park ride, even before it had an actual theme park ride (which happened in 1995, and takes place at a different temple but also in India in 1935). Apparently this, and the part where they jump out of a plane in an inflatable raft, and the part where they run behind a rolling gong as bullets bounce off of it, were all written for the first movie but they couldn't afford them before or know how to do them. So they saved them for when the time was right. Or they just used leftovers. You could look at it either way.
Lucas provided the story again, the screenplay is by Willard Huyck and Gloria Katz, who had also written AMERICAN GRAFFITI for him. Lawrence Kasdan turned down the gig, because he thought the story was "very ugly and mean-spirited." That may be because both Lucas and Spielberg were going through bad breakups and being a couple of fuckin grumps at the time. (See also: James Cameron, TRUE LIES.)
For many years TEMPLE OF DOOM had a reputation as a shitty sequel, partly I think because it was surprisingly different from RAIDERS OF THE LOST ARK, both more broadly supposedly-funny and more gruesome. Many parents were outraged by the graphic violence in what they thought was gonna be a normal movie for kids. Years later their kids grew up and remembered the graphic violence fondly, so opinions of the movie became generally more favorable.
I always thought it was pretty fun, but to be frankly honest on this viewing I realized I may have worn it out or aged out of it or something. The story is pretty meandering, not good enough to outweigh not wanting Indy to get together with this embarrassment to women, or the stretch where Indy is acting like a braindead zombie because he's supposedly in a trance, plus the very '80s "other cultures are gross" joke of the dinner scene. (They actually had intended to film in India but weren't able to because the people there thought the script was totally racist.)
TEMPLE OF DOOM definitely has some fun to offer, and it's an example of Lucas's pattern of risk-taking in sequels, as opposed to doing an easy rehash that would've been more warmly received at the time and then totally forgotten by now. I respect it for not taking the easy path, but it's hard to deny that it's too slight and goofy to live up to its perfectly tuned predecessor.