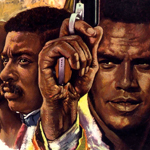 I've been curious about this series of Fred Williamson slavery-era westerns, and with DJANGO UNCHAINED coming at the end of the month it seemed like a good time to finally get to them.
As the old white patriarch of a plantation is on his death bed he wants to free his favorite slave, who took good care of him. She says she's too old to start a new life and asks him instead to free her son, Charley (Fred Williamson). Charley works as a blacksmith, which makes me think this was probly one of the inspirations for THE MAN WITH THE IRON FISTS. But unfortunately he never uses his ironworking skills as a free man, not even in the sequels.

The slaves are all worried that their owner is gonna have to sell them to a different plantation, and some other white asshole is trying to make this happen, even to Charley, despite his impending freedom. They beat the shit out of Charley so he and two others, Toby (the bad, bad D'Urville Martin, as Dolemite would say) and Joshua (Don Pedro Colley), make a run for it. The three try to live free in the Old West, but they do experience racism and are tracked by asshole slave catchers.
When the white people at a saloon keep calling them the n-word they have to scare them all out and take over the bar themselves. Toby handles business as bartender and they have a good laugh. Yeah, freeing themselves was a good idea.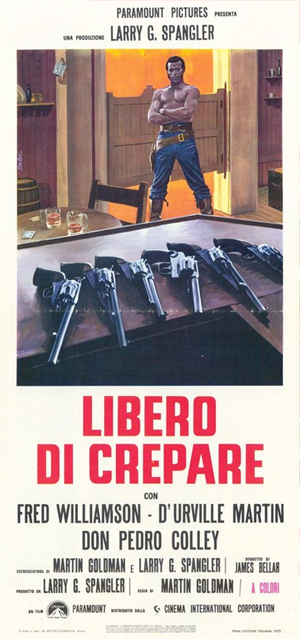 Charley is kind of their natural leader, because he's Fred fuckin Williamson, he's just more manly than anybody else. For some reason he knows how to shoot a gun, and he tries to teach the other guys how to do it. They even ask how he knows how to do it, and he doesn't answer.
This is a cool idea for a movie, so it's pretty enjoyable, but it's not very well made. There are lots of slow scenes of riding around on horses with oddly matched music. And because it's 1972 and there were no Native Americans in 1972 (?) they have a bunch of white guys with black hair and headbands to represent them. The characterization of Charley is not entirely consistent – early on he acts scared, trying to play this character who's been enslaved his whole life, but once he leaves the town he instantly switches to the usual Fred Williamson stone cold badass role. There's not really an evolution there, it just happens.
But they have some adventures and get in some battles and at the end Charley and Toby are still standing, trying to decide which way to walk to get to their sequel. "It don't make a difference where we go, Toby," Charley says. "There's trouble for us everywhere." Pretty badass.
The old man that owns Charley in the beginning fits into that "nice slave owner" myth that I said MANDINGO was criticizing. It's kind of weird that Williamson would be in a movie that has that in it, but of course then Charley doesn't even need to be freed by him, he frees himself and allows no man to enslave him. It becomes an appealing wish fulfillment story, with Charley, Amos and Joshua standing up for themselves and putting racists in their place. They're very easy to root for.
You know what' s weird, for some reason these movies are not really available. The DVDs I saw were from some small company that probly didn't really have the rights. The first one is cropped and obviously transferred from VHS, the second one is from a film print but non-anamorphic and so old and rotted it looks like sepiatone. I mean, why wouldn't some corporation want to–
Oh, I get it. The titles. I guess there's a TV version called THE LEGEND OF BLACK CHARLEY, but even that seems a little taboo. If they changed it to DRAGON DYNASTY PRESENTS LEGEND OF THE BATTLE WARRIORS, they're still saying Charley's nickname throughout the movies, over and over again. It's just not very commercial I guess. Although I guess back then it wasn't as much of a problem, if it's true what wikipedia says, that this was "one of Paramount's highest grossing films of 1972." (I tried to verify this, all I know is it's not in the overall top 20 of that year. I know THE GODFATHER did alot better, for example.)
Back in the day fortunately most places just had one screen. I don't think I would've wanted to go up to the ticket window and ask for this one by title. It could cause some real uncomfortable situations. They didn't have the machines back then so you'd have to say that word to a human. Or, you know, "One for, uh, Legend of… (clears throat)… Charley please."
"Which one?"
"Do you have that Fred Williamson movie?"
These days, you generally only run into that problem because of the other variation on the word that accidentally spilled over into White People Land when hip hop music took over. I've seen Method Man getting predominantly white crowds to chant things back to him that he probly shouldn't, in my opinion. But the songs are catchy and some of these guys, I guess they feel like if Method Man gave them permission they gotta take the shot. I wouldn't do it.
I used to think it worked to just substitute the word "ninja" in any troubling rap lyrics – "Droppin science like Cosby droppin babies / enough to make a ninja go craa-aa-zy." Then I found out the Insane Clown Posse calls everybody "ninjas" and suddenly it seemed even worse than saying the original lyric.
Anyway, that's a weird issue, but what's actually shocking to me is to be reminded every once in a while that there are even some backwards motherfuckers out there who use the other one, the one they call Charley here. Apparently they have iPhones with them under their rocks. I've read a couple of these stories, like after Obama was re-elected, and the other day I guess some coverage of a speech he did interrupted Monday Night Football or something, and apparently there was a rash of neanderthals calling him that word on Twitter. It's just amazing that those two things exist together, it's like saying you bought AVATAR on VHS, it doesn't compute.
In a way it's a good thing. These fuckers are outing themselves to the larger world, and I'm sure many of them will be ostracized or shamed by people they know who didn't know they were like that. The rest, I hope, will meet Charley.
Anyway, interesting movie, could be better, heart's in the right place, I won't talk about it out loud too much though. Too awkward.