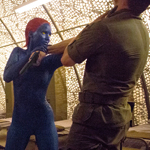 Oh shit, so this is the magic rebootification formula now: the J.J. Abrams STAR TREK recipe. One or more original cast members cross paths with younger actors playing the same characters thanks to time travel. That way they can use the veteran cast of X-MEN 1-3 but also the whippersnappers of FIRST CLASS. I'm sure they're already doing the math for how to apply this to Harry Potter, James Bond, DIE HARD, AMERICAN PIE, you name it. You fucking know Danny Glover will go back in time to recruit a young Riggs not played by Mel Gibson.
X-MEN PART 5 OR SO: DAYS OF FUTURE PAST takes place in a literally dark post-apocalyptic future where the surviving mutants and humans hide in the ruins, hunted by giant morphing robots called Sentinels. Sounds kinda like a TERMINATOR movie, but it's actually the reverse. Instead of machines sending a robot back in time to kill the guy that's gonna lead the human resistance, the mutants send a Wolverine back in time to not kill the guy whose death is not gonna stop the creation of the Sentinels.

You know my favorite X-Man is Mystique, the blue-skinned, orange-maned, naked shapeshifting militant mutant rights activist, so I appreciate that this is her most central role until she wises up and goes solo. Basically Wolverine (Huge Ackman) is sent by old Charles X (Patrick Stewart) and Erik Magneto (Ian McKellen) back to 1973 to convince their younger selves (James McAvoy, Michael Fassbender) to convince Raven Mystique (Academy Award winner Jennifer Lawrence – original portrayer Rebecca Romijn is not seen) not to murder the inventor of the Sentinels (Peter Dinklage). They approach it as preventing her from going down "a Dark Path" (it would be her first murder), but really they're just know she'll get caught and The Man will study her DNA and get ideas how to spruce up their killer robots with T-1000 powers. Honestly maybe they shouldn't be trying to stop her, they should be helping her get away.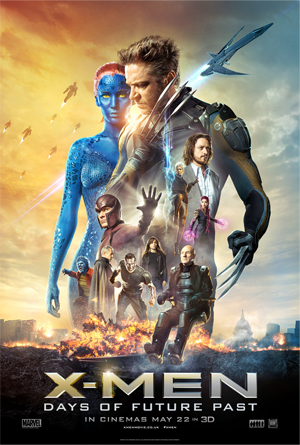 The Professor is supposed to be in a dark period of his life. Of course at the end of the last one he was yelling "My legs! I can't feel my legs!" and some people get really fucked up dealing with a disability. But wait, he's just walking around. Turns out he's on a drug that straightens his spine, but takes away his super brain powers. I think he makes that choice because it's a drug you gotta shoot and he's into heroin chic.
It's a good character moment, that he has to choose paralysis to have his powers, but it's also kindy goofy because they just did it to him at the end of the last one and already they're like "this wheelchair is a pain in the ass, can't we just have him walking again?"
In the grand X-Men tradition this adventure starts with busting Magneto out of prison, and in the spirit of one-upsmanship it's a secret prison in a bunker beneath the Pentagon. They accomplish this with the help of NEVER BACK DOWN 1-2 star Evan Peters as Quicksilver, the Human Bullet Time. He looks like a goofball, but he has the standout scene in the movie, zipping through a slowed down shootout, changing bullet trajectories and messing with people in almost a ZAPPED type of way, minus any nudity.
(Note: the great Michael Jai White directed and co-stars in NEVER BACK DOWN 2 and somehow the comic relief fight promoter nerd is playing a super hero before he is.)
(Another note: this is the rare super hero movie that was actually shot in 3D, not post-converted. I think the stereoscopery is pretty good but not essential. If you dig 3D it's worth it mostly for this Quicksilver scene, but if you're not it's not gonna change your mind.)
Xavier is reluctant to bust Magneto out, not because it's basically waging war against the government, but because he's still mad at him for whatever it was that happened at the end of X-MEN FIRST CLASS. (All I remember is that he had a new purple helmet with horns that they conveniently toned down in this one.) Another reason for misgivings: they're saying Magneto (SPOILER) killed JFK. (It's a ballsy story detail that gets even more nuts when you hear his side of the story.)
Once they get the band back together they have to head off Mystique's assassination plot in Washington DC. And they gotta hurry because there's this whole THE MATRIX or INCEPTION type aspect to it where future-Wolverine's consciousness has traveled back into his 1973 body, but in the post apocalyptic future he's asleep and they're under siege by Sentinels and if he wakes up the new timeline will be permanently set. So Storm (Academy Award winner Halle Berry) and friends get to shoot lightning at robots and stuff.
On a side note, I have seen pictures of comic book Storm with a mohawk, and it is a shame that she doesn't sport that shit in this movie. What good is a post-apocalyptic future without mohawks?
The '73 period details aren't as emphasized as in the '60s-ified FIRST CLASS. But there's one great moment of Wolverine in '70s clothes getting into a badass car, only slightly dampened by the weakness of the wah wah on the soundtrack. I don't know why it is that composers other than the guy who did BLACK DYNAMITE can never come even close to capturing an authentic blaxploitation sound, or why it's so embarrassing when they fail. That's why CAPTAIN AMERICA 2 was wise to just lift the actual TROUBLE MAN soundtrack for that one montage.
But a favorite part of the movie to me is very retro, it's when the two blue individuals, Mystique and Beast (Nicholas Hoult as the young version of the blue werewolf character originated by GRAMMER…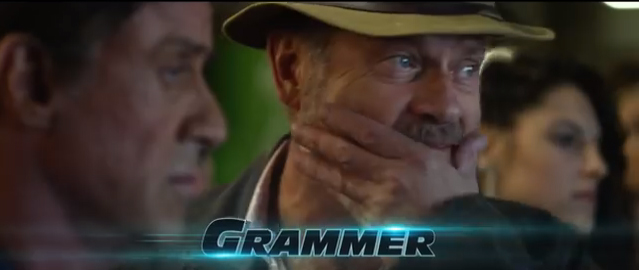 …), are involved in public mayhem in front of a large crowd in broad daylight in DC. We see some of this scene in 8mm home video footage and I love it because it strips it of any modern idea of what's supposed to be cool and cinematic. It's just slightly blurry blue people running around in front of a flickery movie camera.
I like Lawrence as Mystique, but I gotta admit Romijn's version, who seemed to love being seen as a bad guy, was a little more fun. Young Mystique is too quick to give up her extremism just 'cause Charles showed up. But she's still the best character and I like the consistency in the fighting style. Still very acrobatic with lots of spins and scissor kicks and stuff. Maybe a little influenced by capoeira or even breakdancing.
The time travel gimmick is kinda appropriate because this one brings back original X-MEN and X2 director Bryan Singer, kind of a relic of the past already. He hasn't made a super hero movie since he left the series to do SUPERMAN RETURNS in 2006. And eight years isn't really that long ago to you and I but in super hero movie terms it's a whole era. His last X-MEN has gotten a sequel, a prequel, a spin-off and a spin-off do-over, his Superman has been rebooted. That movie was two summers before DARK KNIGHT even came out, and maybe more importantly before IRON MAN. So the entire Marvel series of movies has come into existence since he was out of the game. And what's kinda cool here is that Singer is staying true to his original cast and characters and the themes and style he set up, but also bringing it into the modern age with, for example, way more effects heavy action.
But I guess you could say their clarity makes them a throwback. The robot fights are really great, and I love how the opening battle involves a bunch of different characters with weird powers (like a lady that can throw portals around to warp her teammates or enemies to different locations) that are pretty complicated but explained completely with visuals, no dialogue. Also it's a fun gimmick because they get to kill a bunch of good guy characters, sometimes beloved ones, and nobody gets too upset because time travel.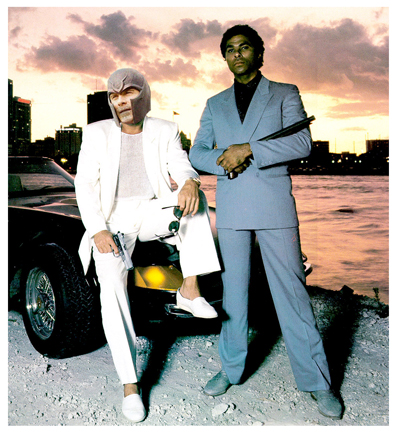 Singer is also dealing with plot twists that happened in the part 3 that was made without him, and a cast and prequel story from part 4, and even changing some of the stuff from his own movies (the young Toad we see is goofier than the one he had Ray Park play). That's an unusual situation for a director to be in. The end seems like a reset, reuniting the original cast (including part 3's Ellen Page, who has a bigger part than I expected) and undoing some major things. I thought this meant we were back to the original cast in the next one, that it was resetting to continue from where Singer left off. But I read that writer Simon Kinberg said it was supposed to be a "final goodbye" to these characters. So I guess the next one will be McAvoy with a mullet and Fassbender walking around with a five o'clock shadow, pastel suit and no socks.
Anna Paquin gets her name in the credits for playing Rogue for about 2 seconds (her action scene got cut I guess). Way to say goodbye to one of the main characters. Richard Nixon has a way more substantial part in this movie than she does. I don't know if he's coming back in the next one or not.
One way we know Xavier has changed over the years is that back then he was pissed at Magneto and chewed him out as soon as they got him out of the joint. Years later, in part 1, he'd visit him in prison and play chess with him. They're enemies but they don't let that get in the way of their friendship.
That's always been one of the main things that made these movies compelling. I love how the bad guys, as much as they seem like they're supposed to be evil, have a good point. I'm always tempted to side with them, if not all out rooting for them. I mean, the humans are out to get the mutants. We see this over and over again. And in the last one Magneto's big crime was hunting down Nazi war criminals. Hard to be too mad at him about that.
That kind of stuff does happen in this one. Especially in the younger version Magneto is way cooler than Xavier. And Mystique is most appealing when she's an outlaw, impersonating a military officer to rescue mutants from being abducted for experiments, stuff like that. I can't remember for sure, but wasn't she wearing clothes most of the time in FIRST CLASS? I think just walking around nude and blue and proud is the Mystique we know and love from the other X-pictures, and when she wears clothes other than as a disguise she's the restrained, repressed Raven that Charles is trying to limit her to. Stupid fuckin Charles.
Unfortunately the philosophical differences seem like kind of a rehash of previous ones (we gotta be nice to the humans instead of go to war with them), not a distinct new one like, say, part 3's debate over the mutant "cure." Maybe the most effective disagreement is when Magneto tries to kill Mystique so her DNA can't be used. Machiavellian motherfucker. Like in part 3 when she got cured and he turned his back on her it shows that he's more loyal to the cause than to her. But also it's a numbskull move because, as she points out, he ends up splattering her DNA all over the place. Look, he's still young. He's learning.
I think this is about as good as any of the X-Men, in some ways better. If you care at all about the mutant struggle I think it is worth your time.
This entry was posted on Tuesday, May 27th, 2014 at 10:28 am and is filed under
Comic strips/Super heroes
,
Reviews
. You can follow any responses to this entry through the
RSS 2.0
feed. You can skip to the end and leave a response. Pinging is currently not allowed.