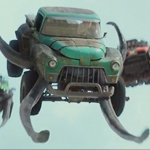 MONSTER TRUCKS is literally about monster trucks. This is a movie about an oil company drilling through a pocket of water deep beneath the earth, accidentally releasing a huge, squid-like creature who crawls into a junkyard and hides inside the chassis of a teen's crappy pickup truck. Soon the teen discovers that the creature can wrap its tentacles around the axels and spin them, basically acting as its engine. Also it eats oil and it can not only drive and steer the truck but jump and bounce and climb up walls and shit.
So this teen, Tripp (Lucas Till, aka Havok in X-MEN and TV's new MacGyver), names the monster "Creech" and drives around in him like extreme E.T. But he has to hide him from a private security team led by cruel Burke (Holt McCallany, CREEPSHOW 2, TYSON, BULLET TO THE HEAD, BLACKHAT, JACK REACHER: NEVER GO BACK) and, like Free Willy or the T-800 or somebody, get him back home. He does it with the help of his squeaky-voiced biology tutor Meredith (I had no idea that was Jane Levy, star of EVIL DEAD and DON'T BREATHE) and a conscience-stricken scientist from the oil company (Thomas Lennon, HERBIE FULLY LOADED).
Here are some actors I was surprised were in the movie, from least surprising to most:
5. Rob Lowe as the asshole CEO of the oil company
4. Barry Pepper as the town sheriff and Tripp's stepdad, who he doesn't like
3. Danny Glover as Tripp's kind, wheelchair-bound boss at the junkyard
2. Frank Whaley as his deadbeat real dad
1. Amy Ryan as his mom
I don't know if you know this, but in movies, if you're a troubled working class teen then you definitely know how to fix engines and build cars and shit. (See: CHRISTINE, TOKYO DRIFT, Megan Fox in TRANSFORMERS, Ben Grimm in FANTASTIC FOUR, guy in FOOTLOOSE, etc.) Trip not only knows how to build an engine but how to cut apart and completely reconfigure a truck. He should pimp rides for Xzibit.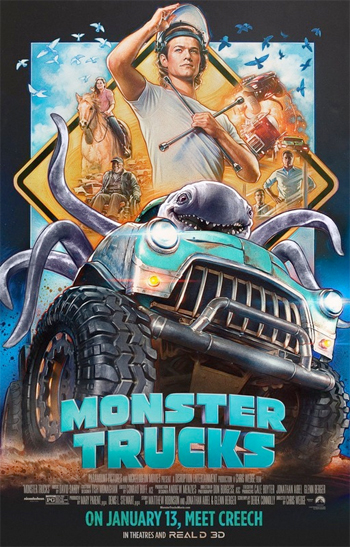 I guess since he spends so much time learning advanced auto repair he's a loner. Like an underdog, he gets made fun of by a rich kid (Jedidiah Goodacre, TOMORROWLAND) from school who drives a fancy truck equipped with a blond girlfriend (Samara Weaving from Ash vs. Evil Dead). But he's not a nerd, he's James-Dean-cool and he's one of these blandly hunky long-haired guys that have cropped up in the wake of Chris Hemsworth. Meredith clearly has a long-held crush on him (he's not totally sure who she is at the beginning) and there's a funny subplot about a dorky kid named Sam (Tucker Albrizzi, PARANORMAN) who idolizes him. Also his name is Tripp. So basically, he could be the popular kid if he bothered.
I noticed two major product placement sponsors. The most obvious is Dodge trucks. Major scenes take place at a Dodge dealership, and all the bad guys also drive exclusively Dodge. The weirder one is Big Red soda. I love that Trip is introduced standing on his porch swigging a Big Red the way any other movie character would swig a beer.
They must've really needed that Big Red money, because to be honest the look of the movie is pretty low rent. Generic small town, not many people there, lots of fields and lifeless rural roads. The director has previously only done three computer animated features: ICE AGE (didn't like), ROBOTS (hated) and EPIC (really liked that one, and I bet you don't know what it is because what the fuck were they thinking with the non-descriptive title?). It's weird to me that with the exception of Tim Burton none of these animators-turned-live-action-directors seem to be world class visualists. Maybe they need to take some photography courses or something.
On the other hand, the unsustainably large budget obviously comes from the animated vehicle-squid, and in that area Wedge gets the job done. Creech is ugly-cute, like a big dumb sea lion. Admirably they never go too far into sentimentality or trying to give him human-like emotions. He's mostly a pet that you can drive, like Meredith's horse. I like the mechanics of the truck, modified to nudge Creech with the steering wheel, give him a view, open the sides if he needs to use his tentacles, or feed him gasoline for energy. As a living vehicle he can use his appendages to grab at pursuing vehicles, climb, leap frog, etc. For me it never got old watching what he could do.
The effects are great, but there seem to be a ton of real truck stunts too. I noticed the stunt coordinator and second unit director was Spiro Razatos, who provided vehicle action for many a MANIAC COP and FAST AND FURIOUS film.
If you are a parent you should be aware that the little kids in the sparsely-attended opening night showing giggled and "whoaaaaaaaahhhhhhhh"ed at every crazy jump, spin, flip or collision in the movie as well as the occasional puke or visible buttcrack. It's rated PG and definitely appropriate for kids but there are an awful lot of security assholes who, it would seem from the seriousness of their truck crashes, had to have died. (One of them even gets a Wilhelm scream, might as well be a Nazi falling off a bridge.) And the heroes make a conscious decision to do something that they estimate has a 95%-100% chance of resulting in their deaths. But overall the movie is goofy, funny and big-hearted enough that it's hard not to revel in its boyish enthusiasm for monsters and trucks.
On day 1 the multiplex downtown already only had four daily showings in their smallest theater. So I consider myself a coastal elite for having seen it. It's not tragedy that it's already considered a huge flop, but it's kinda too bad, because I bet they would've made a fun sequel with imaginative new variations on the trucks. Oh well. There were better family movies last year (THE JUNGLE BOOK, KUBO AND THE TWO STRINGS, PETE'S DRAGON, FINDING DORY) but I really enjoyed this unusual flavor of ridiculousness and I don't think I'll be the only one. I mean, it's pretty much what I expected. The trailer gives away most of what happens, and is an accurate portrayal of what it's like. If you, like me, were immediately sold on this monster-who-lives-inside-a-pickup-truck gimmick, go see it.
If not though one of the writers, Derek Connolly, is Colin Trevorrow's guy so he's writing STAR WARS EPISODE IX: TREACHERY OF THE SPOOKY PERIL, so you better pray this is good. This is pretty much the same story but better executed.