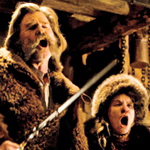 (SPOILERS. This is a don't-read-before-seeing-the-movie review.)
Quentin Tarantino tries out a couple new tricks in his new one, THE HATEFUL EIGHT: he shot in extra-wide 65mm Cinemascope, and helped hook up a bunch of theaters with 70mm projectors (and projectionists, I assume) to show an early, longer version of the movie complete with an overture, intermission and program. He got Ennio Morricone to compose and orchestrate some new music for it (Tarantino's only previous original scoring was some bits by RZA and Robert Rodriguez for the KILL BILLs). But it also feels pretty familiar: his second extreme-racism western in a row, with chapter titles like KILL BILL, full of conversation suspense scenes like INGLOURIOUS BASTERDS, mostly one location like RESERVOIR DOGS, some non-linear jumps like most of his movies, and a cast with plenty of his regulars (Samuel L. Jackson, Kurt Russell, Tim Roth, Michael Madsen, James Parks, Zoe Bell, Waltong Goggins [I almost forgot he was in DJANGO UNCHAINED). Just as INGLOURIOUS BASTERDS got away with some out-of-the-blue, seemingly incongruous narration by Jackson, HATEFUL EIGHT follows up its intermission with some omniscient narration that you suddenly realize is Tarantino himself. I can see why some people would hate that, but I loved it. I mean, who are we fooling, we all know it's this guy talking to us through this movie anyway. And it helps kick off the second half with an energy the first was lacking.
Here's something brand new for a Tarantino movie: I didn't immediately love it. I'm honestly still trying to figure out how I feel about it. I'm not sure I get it. I remember that with both INGLOURIOUS and DJANGO I had misgivings on the first viewings that later seemed completely irrelevant. With the former it was thinking that Brad Pitt seemed like Brad Pitt playing a funny character, he didn't inhabit the character the way previous Tarantino leads had. With the latter it was that Tarantino had never done a movie that followed one character chronologically, and it seemed kinda too simple for him. Both of those seem like dumb complaints to me now, and I loved both movies without reservations on subsequent viewings. Even so, their first times I liked better than this first time.
To complicate matters, I think my cold reaction to this one is at least partly due to the movie intentionally preventing the audience from ever getting comfortable. These are all terrible people, and not in a funny Vincent Vega kind of way, or a fantasy-fulfilling way where they get revenge on Nazis or slavers or baby-stealers. You feel like you can get behind a guy, like Major Marquis Warren (Jackson) for example, and then he tells a story about mouth-raping a dude. I mean it's likely made up to get a specific reaction, just like the letter he carries that he says is to him from his pen pal Abraham Lincoln, but still. You wonder. I know this isn't by accident. I know Tarantino is poking at us. I just don't know how much poking to accept.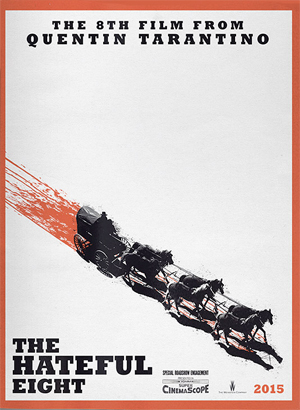 I like the atmosphere. The snow, the howling wind, the cold breath sometimes happening indoors. It's great to see Jackson in the lead again, since he speaks Tarantino more fluently than anyone, and it's not surprising that Walton Goggins (as Sheriff Chris Mannix) is a natural at it too after years of hyper-literate hillbilly soliloquies on Justified. The Morricone music is, of course, a treat. I was surprised it was more his driving, kindy funky style, driving '70s bassline and cymbals, not the majestic ONCE UPON A TIME IN THE WEST type. But of course we should expect both Tarantino and Morricone to not want to give us what we pictured.
A note about the film presentation: Unfortunately at my screening the projector seemed a little misaligned, causing the text to ghost, and it didn't look as impressive as I've heard it's supposed to, or as 70mm films I've seen at other times have been. This is because it was in an AMC multiplex that the Weinsteins provided a projector to, and obviously a place like that that went all digital years ago doesn't have experienced projectionists or incentive to hire them just to show one weird movie cowboy movie. That's a shame, but I still think it's kind of a miracle that Tarantino somehow made this happen. In my opinion the mistake in this whole thing was releasing it against fucking STAR WARS. If they didn't do that it would be playing on the giant screen at Cinerama, where they know how to show 70mm. I'm sure this is the case in other cities too.
Anyway, when we first meet John Ruth (Russell), he refers to him as "black fella" and points guns at him. But he's actually one of the less openly racist white people of the period, a proud Yankee veteran who talks smack about bushwhackers and tears up talking about Lincoln. His prisoner Daisy Domergue (Jennifer Jason Leigh) immediately starts calling Warren the n-word, so every time Ruth elbows her hard in the face (which is alot) we're torn between our objections to woman-beating and to racists. This movie would be totally changed if she never said anything racist, and was just a horrible criminal. All we'd be able to talk about is how much Tarantino hates women. But no, Daisy Domergue has proven her equality to men by being a piece of shit worthy of being punched in the face.
All the racism and the recent past of the civil war is a major (or the major) theme. Warren gets his revenge on Sandy Smithers (Bruce Dern) for being a Confederate General, Ruth hates Mannix for being a rebel marauder and son of an infamous bushwhacker. Now Mannix says he's the new sheriff of Red Rock, so what does that say about our chances for fair law enforcement? I think the implication is intentional that this is still where we're at. It's easy to see a parallel to the shit we're still seeing today. We just have to hope the people with the guns are going to be good people who rely on their best instincts, in a country where some people still fly the flag of enslavement, sometimes even in an officially state sanctioned capacity. We have to take their word for it that, as the habitual excessive force apologists always tell us, this had nothing to do with race. Don't worry about Sheriff Mannix, he's good and pure, he's gonna leave his history behind and do the job. How dare you suggest otherwise.
I wonder if Tarantino means to play with modern racial tensions by reversing the situation. Warren, a black man representing the law (and who has a past of killing many white men), lines up a row of white men, makes them put their hands against the wall, insults and threatens them. He also intentionally creates a confrontation and escalation with Smithers, provoking him so he can kill him and have it technically be legal. (Making a mockery of the concept of "dispassionate justice" described by Tim Roth's character Oswaldo.)  He's also quick on the trigger, blowing a man's head off during an emotional exchange with his sister. They aren't human to him. Just thugs.
Of course, if this is the angle Tarantino was going for he might've flubbed it by making the victims all be dishonorable murderers of civilians. Warren doesn't do any killings you feel too bad about. It's easy to see that it's fucked up but hard to empathize with his targets.
THE HATEFUL EIGHT is alot like a play, extremely heavy in the dialogue, but when the violence does happen it's over-the-top enough to be in FROM DUSK TILL DAWN. That feels weird in a context that, to me anyway, doesn't play as funny at all. I guess an exception is that headshot. Hard not to laugh at least in discomfort when Daisy abruptly goes from a rare moment of warmth to having gooey wads of her brother's brain dripping down her face. And she'd already had blood puked in her face and been beat up so bad she looked like Regan from THE EXORCIST or a basement Deadite.
It's technically way less violence than in a KILL BILL, but it feels extra brutal for Tarantino because it has no good guys vs. bad guys or even guys we like vs. guys we don't like justification to hang it on. Any good guys in this movie died a long time ago.
One of the most interesting aspects is that Lincoln letter. We accept it as a holy relic, and its desecration is one more reason to hate Daisy. Turns out it's total bullshit, which is crushing to Ruth. What, did we judge this man not on the content of his character, but on what we thought President Lincoln said about him? And now that we know he didn't, what is our opinion of him based on?
I heard a story about a walkout before they even got to Minnie's, a man who got up and yelled at the audience as he left for being a bunch of white people watching a movie where everybody keeps saying the n-word. I don't know. I would agree if I felt Tarantino was using it as a cheap button-pushing technique or shock tactic. But I think it's kind of what the movie is about, and even if it wasn't, I believe it truly comes from a philosophy of not watering down the ugliness of the time. He's being honest about our country's dark past (and symbolically our present) by casually slapping us around with it. Kinda like MANDINGO. If he was doing a Thomas Jefferson biopic he would not try to brush past the part about having slaves. That can be uncomfortable or even painful to watch, but I believe it comes from good intentions.
On the other hand, if that guy who walked out had kept watching, I doubt he would've felt much better about it by the end. If it's indeed a movie mainly about racism it's obviously not as clear or as cathartic as it is in DJANGO. It's more symbolic and doesn't allow us the fantasy of being about to get some payback. There is no satisfaction in this one.
If there's anything hopeful in the movie at all it must be the way Warren and Mannix sort of turn into a sick parody of a Riggs and Murtaugh type interracial buddy team. Suddenly we have these two violent bastards from opposing sides of a war, who despise each other's races, but nevertheless choose to make a last stand together, to die together, and get some joy from hanging a woman together. Again, I truly don't know how to feel about this. I don't much feel sorry for her. She's a horrible person, a murderer and a disgusting racist whose escape plot caused all of the horrible deaths in this movie, except I guess General Smithers. But I want to glean a small bit of optimism from this friendship in death, and it's hard to do when they're smiling at a woman on a rope.
They spend their last moments bonding over a made up letter from President Lincoln. Nice sentiments that they know are bullshit. I've been puzzling over that. Just a nice moment of irony, or is it saying something I'm not catching?
Mannix was offended by the gang comparing themselves to his Rebel father, saying something about the nobility of fighting a losing cause. And I guess he tries to find honor in the losing cause of going through with Domergue's death sentence when he could accept a bribe and survive. The language of cinema tells us that what he's saying is real deep and admirable and shit, but of course it's not. It's not always honorable to fight for a losing cause. His daddy's losing cause was the enslavement of human beings. Hans Landa's was killing Jews. Samuel L. Jackson's was THE SPIRIT. Sometimes people are just wrong.
I think that frustration is intentional. You want to find a character to get behind and you can't. These people are all murdering, demeaning scumbags. Even the pre-massacre Minnie's Haberdashery, a seeming wonderland of multi-cultural harmony, is not without its faults. We see in the flashback chapter that Minnie was a friendly black woman who loved to share her delicious coffee, stew and jars of candy with guests of all stripes. She had a mostly black staff, but her partner or husband Sweet Dave was a white man, and he was even hospitable to Smithers, although there's tell they were annoyed with him and wanting him to leave. Minnie seemed to be great pals with the kiwi Six-Horse Judy and beloved by one and all, including both Ruth and Warren.
And yet, we are told, Minnie despised Mexicans. It's always gotta be something I guess. Everybody's an asshole. Everybody's a hateful eight.
[UPDATE: A couple people have wisely pointed out that just because Warren says she hated Mexicans doesn't mean it's true, and the flashback chapter doesn't seem to support it. So for a second I thought maybe there was hope. Then I remembered that even if Minnie's was a paradise of equality they all got slaughtered by the hateful.]
Although overall I liked this movie, I didn't have that usual rush of wanting to immediately see it again. I didn't have some character that jumped out at me as someone I was fascinated by and wanted to know more about. In fact, I think a bunch of these actors, particularly Bechir and Madsen, are wasted. You know because it's a Tarantino movie that their character is gonna turn into something really interesting. And then they don't. I don't think that part was meant to play with our expectations.
But as I write about it and think about it I realize I do want to see it again at some point. I think I'll have to if I want to understand it, and I do want to.