NEXT is a 2007 Nicolas Cage sci-fi vehicle from director Lee Tamahori (ONCE WERE WARRIORS, xXx: STATE OF THE UNION). I finally got to it because I saw that KILL THE IRISHMAN movie and liked it enough to want to look up what else Jonathan Hensleigh has been up to. He's credited as a writer on this along with Gary Goldman (BIG TROUBLE IN LITTLE CHINA, TOTAL RECALL, NAVY SEALS) and Paul Bernbaum (Riptide, The A-Team, 21 Jump Street, etc.). I got a hunch which one was the primary visionary behind this, but I'm not gonna say it.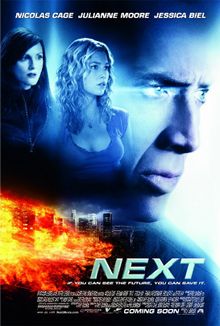 Despite my fascination with Nic Cage, NEXT never caught my attention before. I actually wasn't clear what it was about, and the shitty DTV-style cover doesn't help. Maybe it's partly the title. Not only does it not give you an indication of the movie's content, it practically dismisses itself. Next!
I don't think there's any way around saying that NEXT is a bad movie, and Cage doesn't do any mega-acting or any other impressive type of acting in it. But I absolutely recommend watching it. It's some funny shit, never boring, constantly befuddling. I don't know how those guys did it but they wrote a movie that's almost ingenious in the way it breaks every common sense rule about how a story like this is supposed to work. I want to say it's subversive, but I think that would be pushing it. I'm pretty sure it's just stupid.
"Based" on a Philip K. Dick story about an animalistic, gold-skinned mutant in a post-apocalyptic dystopia, NEXT is the story of a Las Vegas magician named Frank Cadillac (Nicolas Cage) who has the ability to see two minutes into his future. Chased by casino security after using his powers for small-time gambling, he's found by an FBI special agent (Julianne Moore) who knows about his skills and needs his help to track down a group of terrorists who stole a nuclear bomb and plan to detonate it in Los Angeles (a plan you know they fuckin got from BLACK DAWN).
The way his powers work is he can see up to 2 minutes into the future, and then based on what he sees he can change his mind about what he's gonna do and then see 2 minutes into the new future created by that different decision. So the movie will have something happen and then skip back and re-do it a bunch of times in a row until he's satisfied with the results.
Because of this gimmick the Cage and Moore characters don't actually meet each other the first time. He only imagines them meeting and then decides not to do it. Later when they encounter each other they act like they already met, but they didn't. That was just a possible 2-minute future that he rejected.
The other thing about seeing into the extremely near future is that, let's say a bird is gonna shit on you, well you'll know it and you'll move out of the way. That doesn't happen in the movie but it's an example of the type of incredible power this character wields. In my opinion the movie should be called THE DODGER, because that's mainly what he does. He dodges a whole lot of punches, bullets, rolling cars, flying objects. He uses it to weave through a casino evading all of the security guards, to walk through traffic without getting hit, to lead a SWAT team move-by-move so they can take out the bad guys without being harmed.
That's fun and everything, but the uniquely crazy part of the movie is he's not only dodging flying objects, he's also dodging being a hero. When you first learn that he has this power and then learn about these terrorists you think okay, so he's gonna use this power to stop these terrorists. No! Instead of helping he makes a run for it. Instead of coming up with a new plan for stopping the terrorists, Moore chases after him. The guy who doesn't want to help stop the terrorists.
Moore's superior officer points out that her plan is terrible. Her partner seems skeptical too. Her S.W.A.T. team seems annoyed. Still, all of these highly trained and experienced adult professionals spend days on a comprehensive manhunt for a 2-minute psychic instead of trying to track down the people with the nuclear god damn warhead. Since they haven't bothered to track the terrorists they don't notice that the fucking guys are right near them the whole time, also following Nic Cage. Why are they following him? Because they saw that the FBI was following him. So even the bad guys in this movie can't keep their eye on the ball. All they gotta do is set off a bomb, but they get distracted chasing a small time Vegas magician, and they don't even know why.
Usually if a movie hero has an opportunity to save millions of lives he'll either go for it or (if he's Snake Plissken) be forced into doing it. This guy doesn't get forced until the last act. He passes on heroism, and instead tries to meet the hot girl he's had visions of (Jessica Biel), then when he sees her he imagines the different ways he could hit on her and how they would all go wrong. So basically this is a movie about a psychic who won't stop a nuclear attack and is trying to get laid.
Biel is the most innocent character. All we know about her is that she has a stalker ex-boyfriend, she doesn't believe in fate, she teaches Native American children (probly remnants from an earlier script where those scenes had a purpose), and for some reason she's willing to give the weirdo who got punched by her ex a ride to Flagstaff. And stay in a hotel room with him. And then sleep with him. So I gotta assume she's an idiot too, but I kinda feel sorry for her. But it might be mainly because she's real good looking. I apologize. But she doesn't have the asskicking powers she had in BLADE TRINITY or even THE A-TEAM, so she spends most of the last act tied up and gagged.
Before that, 56 minutes into the movie, the poor girl finally finds out about the psychic powers and the FBI manhunt. She speaks for the audience when she says, "I don't understand. If you can help, then why don't you?" (His answer: "Because I can't. I can only give them a two-minute head start." Well then tell them that, dude! Do you realize you're leading them on a cross country manhunt when there's a nuclear bomb out there they should be looking for instead of your dumb ass?)
So let's go through that again real quick. The main factions in this movie are:
1. A man with very limited psychic powers who refuses to help stop a nuclear attack on Los Angeles
2. An FBI team who know there are terrorists about to launch a nuclear attack on Los Angeles who instead choose to focus their efforts on chasing a dude who one lady believes can see two minutes into the future.
3. Psychotic terrorists on the verge of detonating a nuclear bomb who decide to first chase after a guy because they saw the FBI chasing after him
4. A lady who gives a ride to the unheroic psychic, has sex with him and then gets tied up
I think it's also important that we discuss Julianne Moore's plan here. Once she finally gets him late in the movie they strap him to a chair, give him some of those CLOCKWORK ORANGE eyelid holders and force him to watch the news. 'Cause he can watch news 2 minutes in the future and then if they report a nuclear bomb going off he'll have a 2-minute window to go find the guys I guess. Shitty plan, right?
Never fear! They have more than two minutes. See, she tells him to push his 2 minutes as far as he can, so then he's able to see a day or so into the future. So actually it was a really good plan, to tell him to do that, and have it turn out that he never realized that yes, he can do that.
I know what you're thinking: this sounds fucking ridiculous. But I can explain. Frank Cadillac is only his stage name, because he's a magician. His real name is Cris Johnson. So you see, it's all perfectly reasonable, although admittedly an unusual spelling of 'Chris'.
At the beginning Cris narrates that he's a magician and does some magic tricks to hide his real abilities, but why does he need to hide his abilities? Just to avoid the responsibility of helping the FBI save millions of lives? He makes his money with small bets in the casino, avoiding large bets so that he's not detected. But why doesn't he just get a real job? Wouldn't being able to see the outcome of every possible action help him in pretty much any high paying job? In fact, couldn't it help him to get the high paying job in the first place? Get him past the interview, anyway.
The movie is pretty out in the open about being stupid as shit, but then all the sudden at the end it gets lofty and (SPOILER)  let's you imagine whether or not he's able to stop the bomb, and how he does it. Like hey man, it's not really about stopping the nuclear bomb, it never was. It's about the people, man. That's what matters. Frank Cadillac and that girl.
One part I like is when a nuclear bomb is about to go off he grabs Jessica Biel as if he's gonna shield her from it. I don't know man, I guess I kinda believe it though, that a man would have that instinct to grab her and protect her. I guess I would do that too. It's still funny to see Nic Cage do it, though.
In conclusion, don't be a loser like me and sit around for years failing to watch NEXT. Make NEXT next on your list!
the end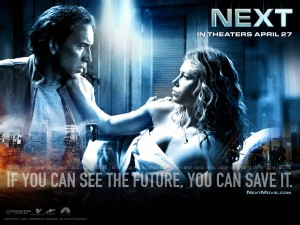 appendix: birth years
Nicolas Cage: 1964
Julianne Moore: 1960
Jessica Biel: 1982
This entry was posted on Saturday, August 13th, 2011 at 9:22 pm and is filed under
Reviews
,
Science Fiction and Space Shit
. You can follow any responses to this entry through the
RSS 2.0
feed. You can skip to the end and leave a response. Pinging is currently not allowed.