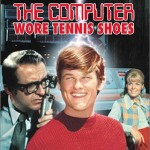 After seeing Paul Not Thomas Anderson's remake of DEATH RACE 2000 and finding it surprisingly enjoyable, I decided to finally go back and see that Kurt Russell movie he made more than ten years ago that I wanted to see but didn't because everyone said was garbage. And maybe the lowered expectations helped, but I thought SOLDIER was a good one.
The movie begins in the '90s with a group of babies being taken out of a hospital into military custody (wonder if the parents noticed?) where they will be raised to be super soldiers. The opening is a montage of these soldiers from infancy to their 40s, being indoctrinated, training and participating in various intergalactic conflicts. I was impressed that I could immediately tell which kid was supposed to be Kurt Russell. I thought they did an amazing job of finding a kid who looked like him, but then I found out they just cast his son, which is kind of cheating. Anyway this character's name is Todd, but don't worry, if you forget that it's tattooed on his face, they all have their names and numbers tattooed on their faces. (I honestly think it would be cool if the movie was called TODD.)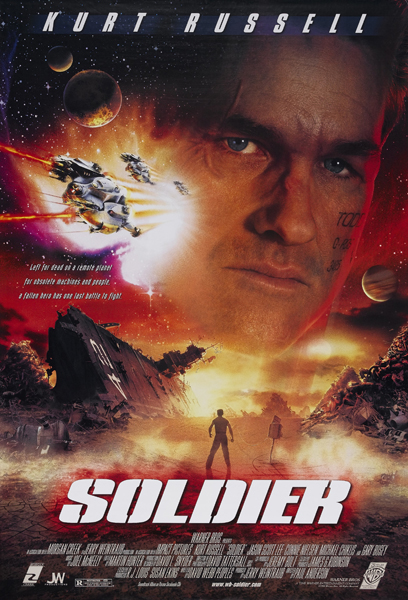 Of course, they get the usual kind of training – running, shooting practice, etc. – but also they have to watch three dobermans fight a boar without looking away. So you can understand how this kid grows up into a stoic, glassy-eyed Kurt Russell, sort of channeling Michael Dudikoff in AMERICAN NINJA. I don't mean that as mockery either, I thought Kurt Russell was great in this role. He is credible as a great soldier and also as a sort of Frankenstein monster who doesn't know how to relate to normal humans.
The real story begins when the soldiers are in peace time ("in between wars"), pretty much just sitting there motionless. (That's what they do.) Todd is the best of the bunch, so he gets to sit at the front. Then Jason Isaacs (with sinister mustache) shows up to brag about his new model of super soldiers, distinguished by their tank tops and led by Caine (Jason Scott Lee, now bald and looking about twice as big as he was when he played Bruce Lee.)
Gary Busey, who commands the old models, wants to stick with them because they've done a good job and he doesn't see how these new ones could be so much better. (Sort of how I feel about Blu-Ray vs. DVD.) The difference is that the new ones were created from ideal DNA profiles, no more of that bullshit of just taking any old baby and training it from birth. They're starting earlier.
So to test them out, Todd and Caine are pitted against each other in a series of tests, including running 15 miles, climbing a chain, and fighting to the death. I like this because Busey is standing up for Todd and the others, he obviously feels bad for them being tossed off like obsolete machines, and yet he still treats them like machines, commanding them to fight other people. At best he's treating them like fighting chickens.
Not surprisingly, Caine wins, and Todd and two others are thrown in the garbage. But Todd's not quite dead, so he ends up a refugee on the landfill planet where all the garbage gets dumped.
So then it's kind of a western, this mysterious killer drifts into a colony formed from the survivors of a space ship crash. They welcome him. He saves a guy's life. But he scares the shit out of everybody, and their merrymaking scares him. It seems like anything could set him off. He trains by using a big metal engine as a punching bag. Then a guy gives him a scarf.
In a way, Todd is the classic troubled Vietnam vet. He is John Rambo. They taught him how to kill but they didn't teach him how to turn it off. In fact, they literally didn't teach him anything else, he's been doing this shit since he was born. I bet he never even read Paddington Bear or anything like that.
So Todd gets cast away from the colony, but when those people are endangered by the super soldiers who also rejected him he chooses the side of the civilians.
This is a beautiful action movie setup for many reasons. He gets to prove himself to the colony by showing that his skills can help them. He gets to prove himself to the military by destroying their supposedly superior new models. And the geography and characteristics of the battleground have been carefully and subtly set up earlier in the movie, making for some satisfying payoffs. It's also cool because he does take them on single-handedly. Connie Nielsen tells him they are not cowards and that they will help, so you figure he'll teach them some moves and give them weapons. That's what usually happens. But he tells them no, he will handle it himself, so you figure at some point he'll be in trouble and then they'll all come out and show their solidarity by risking themselves for him… but that doesn't happen either. Nope, it's Kurt Russell vs. everybody.
I can't pretend to understand the reasons people hated this movie, but I bet part of it comes from the pedigree of the script. It was written by David Webb Peoples, one of the writers of BLADE RUNNER and the writer of UNFORGIVEN. At least one of those is a masterpiece, and most people would say both. They are movies that try to transcend their genre a little, and say something about the human condition or some shit like that. So that's what people want from this movie, even knowing it's the director of god damn MORTAL KOMBAT. Making expectations even higher, it was said that the script took place in the same world as BLADE RUNNER, and apparently there are some visual references to that in the movie (although I never noticed them).
Well, Paul W.S. Anderson is no Ridley-Scott-at-his-peak. I can see how this script could've been given to a better director and it could've been a masterpiece. If this same story took place in a more vivid and atmospheric type of world, like an ALIEN, it would be one for the record books. Instead it feels kind of like a precursor to CHRONICLES OF RIDDICK. I think that's where my colleague Mr. Knowles was coming from 11 years ago when he complained that they didn't have some battle that was in the script and the acting is the worst ever and the movie is shit. He was imagining the groundbreaking sci-fi masterpiece it maybe could've been, who knows.
But you know, coulda woulda shoulda. For what it is, SOLDIER is very enjoyable. When held up to UNFORGIVEN, yes, it is bad. But compared to UNIVERSAL SOLDIER it's fucking great. If you see it as lowbrow sci-fi action it actually transcends its genre because it seems serious about this poetic idea of a killer finding a small piece of humanity. I'm not saying this is THEY LIVE or anything, but it's somewhere near that neighborhood, the effective b-movie that also has a little something to say if you're open to it.
This entry was posted on Tuesday, January 27th, 2009 at 1:53 pm and is filed under
Action
,
Reviews
,
Science Fiction and Space Shit
. You can follow any responses to this entry through the
RSS 2.0
feed. You can skip to the end and leave a response. Pinging is currently not allowed.