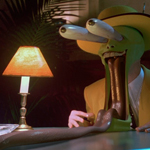 When I was invited to write my recent Polygon article about comic book films of the '90s, I looked over a list and was a little surprised that I had seen and was very familiar with close to all of them. I checked out a few I hadn't seen, like TEENAGE MUTANT NINJA TURTLES III (not great, but not really my thing), and there were a few I felt I really needed to rewatch because I hadn't seen them since they were released. In the case of THE MASK, holy shit, that was 25 years ago. I'm not sure it's a movie anybody talks much about anymore, but I thought it was interesting enough to earn a full review.
I believe that wave of movies I wrote about were all ripples that came out of the giant splash that was Tim Burton's BATMAN in 1989. More than just a hit, BATMAN was a cultural phenomenon. It's hard to explain to people who weren't there, but the hunger for Batman caused by that movie does not have a contemporary comparison I'm aware of. Wearing of bat symbol clothing (licensed or bootleg) rivaled Seahawks gear around here during playoffs. It was a time when they made Converse with bat symbols on them and then I swear to you they made a phone shaped like Converse with bat symbols on them. So studios scrambled to find another old character who could capture the zeitgeist like Batman had, and all those movies being in production paved the way for adaptations of lesser known comics (we didn't call them "properties" back then because we didn't want to sound like assholes).
Enter Oregon's Dark Horse Comics, founded in 1986, now known for publishing Hellboy, Sin City and 300, as well as licensed titles like Alien vs, Predator, Star Wars and Buffy the Vampire Slayer. In 1991 Disney released THE ROCKETEER, the first movie based on a Dark Horse comic, and in 1992, founder Mike Richardson expanded into movies and television himself. Dark Horse Entertainment's first film was DR. GIGGLES (which some places say is based on a comic, but I think the comic was just released as a tie-in) followed by THE MASK, based on one of their early titles created by Richardson. TIMECOP, BARB WIRE, MYSTERY MEN, VIRUS, AMERICAN SPLENDOR, HELLBOY, 30 DAYS OF NIGHT and POLAR were all produced by Dark Horse.
Little did they know when they started making THE MASK that the comedian they'd hired to star would be white hot by the time of release. Despite having appeared in movies since the early '80s, to most of us Jim Carrey was still "the white guy from In Living Color" when ACE VENTURA: PET DETECTIVE became a surprise smash. THE MASK came out five months later.
Also relevant: this was the summer after JURASSIC PARK convinced us computers could do anything. Here Industrial Light and Magic applied that burgeoning technology to a cartoon tradition, giving ol' Rubberface the ability to stretch his limbs, pop his eyeballs out and drop his jaw all the way to the floor. We'd never seen anything like it.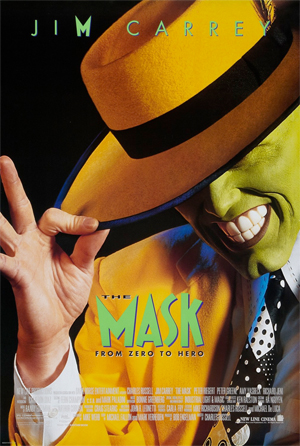 Carrey plays Stanley Ipkiss, an awkward, lovable loser and savings and loan employee who finds a magic mask floating in the river and when he puts it on it turns him into a green-faced, big-toothed id-creature who does cartoon things like grow a giant tongue to pant with when he's horny, or pull a bunch of huge guns out of his pants. As Stanley later explains, "It's like it… it brings your inner-most desires to life. If deep down inside you're… a little repressed and a hopeless romantic you become some sort of a love-crazy wild man."
He can zip around, spin like the Tasmanian Devil and crash through walls, so he robs the bank and does a sexy dance number with bank customer/torch singer/gangster's moll Tina (21-year old model Cameron Diaz in her first ever acting role). One of those gets the police after him, both get the mob after him, specifically an up-and-comer named Dorian (Peter Greene, his movie between PULP FICTION and THE USUAL SUSPECTS).
Something many of the '90s comic book movies took from BATMAN besides gothic scores and icon-based poster art was a fascination with the '30s and '40s. Though it didn't take place in the past, BATMAN reveled in the era of the early Batman comics, bringing in art deco, old timey newspaper men and gangsters with tommy guns. I think that carried into the retro sensibilities of DICK TRACY, THE SHADOW, THE PHANTOM and THE ROCKETEER. And THE MASK is a weird offshoot of this because it takes place in the '90s but when his asshole buddy Charlie from work (comedian Richard Jeni) gets him into the "hottest new joint in town" where "only the creme de la creme need apply," it's a retro place called Coco Bongo that's somewhere between the swing revival (yes, The Brian Setzer Orchestra are heard) and straight up cosplay. Tina seems like kind of a bootleg Jessica Rabbit or Breathless Mahoney, and at the end she 1) gets tied to a bomb and 2) tricks the bad guy by asking for a "last kiss." Also, in The Mask form Stanley wears zoot suits.
Okay, admittedly that's because he idolizes the wolf from Red Hot Riding Hood. I guess to give a reason for all the animated antics, Stanley seems to be one of the Warner Brothers Studio Store's best customers. In his apartment he has a maquette of that wolf, collectable cels of Daffy and Porky, and a Taz pillow. When he comes home from work he pops in a tape of Tex Avery's Screwball Classics to relax.
In the comics, from what I've read about them, The Mask (called Big Head) is more of an anti-hero, or even a villain. The mask passes to different wearers, but the first story is about Stanley, and it sounds much grimmer than in the movie. Apparently after going on a rampage he starts being verbally abusive to his girlfriend, and when he has to put the mask on to escape from cops he ends up killing eleven of them. In the movie they make a point of him not hurting innocent people – when he does his "Cuban Pete" number it causes the police to sing along and even join in dancing, in that extremely corny "You'd never expect it from these hardcases, but look at them boogie!" comedy tradition.
There's an exception though. There are these two auto mechanics who seem to be maybe taking advantage of Stanley, keeping his car too long and maybe lying about what needs to be fixed, and he doesn't know how to stand up to them. So as the Mask he, you know… brutally rapes them. They don't call it that, and we don't have to see it, but they're carried out on stretchers with mufflers stuck up their asses. A cop yells for a proctologist. The incident is played for laughs and never mentioned again.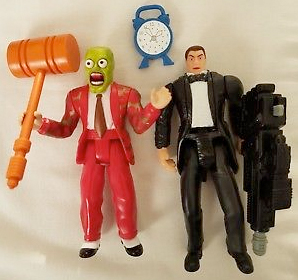 Otherwise it plays enough like a fluffy comedy-romance that it wasn't crazy when they made a line of action figures (I'm sure the Peter Greene one was the most coveted) and a kids' cartoon. New Line Cinema originally saw it as a horror franchise, so they hired Chuck Russell (A NIGHTMARE ON ELM STREET 3, THE BLOB) to direct, but he didn't like the violence in the comics and hired screenwriter Mike Werb (DARKMAN III, FACE/OFF, LARA CROFT: TOMB RAIDER) because he had written a CURIOUS GEORGE script. (Story credits go to Michael Fallon [additional dialogue: HARDWARE] and comics writer Mark Verheiden for earlier drafts.)
The dark undercurrent I do see doesn't seem entirely intentional. The movie strongly pushes that idea of the aggrieved "nice guy" who believes he's deserving of love that he's only deprived of because he's so damn nice and you know how the women are they pick the mean guys am I right why don't they pick me god damn it why. Stanley literally wrote a letter called "Nice Guys Finish Last" to local advice columnist Peggy Brandt (Amy Yasbeck, star of SPLASH, TOO). Working as a reporter, Peggy meets Stanley, learns that he wrote that letter, and raves about it, claiming that many women wrote to her wanting to meet him. She seems like she's going to end up being his sweetheart, and in a later scene when he confesses to her about the mask, she tells him, "I don't know what's happening to you, but I do know this: that letter you sent my column, that was from a guy with more guts and more heart than any of the creeps I've met in this city. Whatever that mask is, you don't need it. You, Stanley Ipkiss, are already all you'll ever need to be."
"Gosh, Peg," he says. "Do you really mean that?"
"Actually… no," she says. The mob paid her $50,000 to lure him in and she was just stalling. "Sorry. You really are a great guy, I just can't lose my condo." You see, because nice guys finish last and if you want to finish first, second or third you need to unleash your green side that violates mechanics and acts very Pepe Le Pew and turns Cameron Diaz on.
The thing some of these Nice Guys are missing is that maybe just because some hot lady came into the bank where a Nice Guy is working doesn't mean she owes it to him to fall in love with him. Maybe she has her own thing going on – in this case, casing a bank to rob. The movie doesn't take time to learn much about her personality and Stanley knows even less, so she's just Hot Lady, the prize for Nice Guy to win from Bad Guy or get mad at if she chooses Bad Guy over him.
(She chooses Stanley, so if he still counts as a Nice Guy then sometimes they do get a ribbon.)
Stanley being such a Nice Guy doesn't seem to affect his opinion of his piece of shit only friend Charlie. When Tina walks into the bank Charlie says, "Hold the phone. Killer at three o'clock. Stand back and observe." Sure, we're supposed to be happy when she brushes him off for Stanley, but then Stanley still goes out with Charlie that night. Later Charlie tells him, "A girl like that is always looking for a BBD. A bigger, better deal." How does he know one single thing about "a girl like that"? I don't believe he does. And more importantly who the fuck makes up abbreviations like that and says them as if they're useful? I'm against it.
But as far as a comic book movie trying to channel the spasmodic comedy powers of Jim Carrey into a character, THE MASK is far superior to BATMAN FOREVER. He's sort of like Robin Williams' genie but doing most of the movements and facial expressions for real. He skips around to different voices and passionately imitates lines from old movies and I don't always know what the fuck he's talking about, but he throws himself into it. Since he imitates Clint's "Do I feel lucky?" line from DIRTY HARRY I am required to point out that Carrey himself was in a DIRTY HARRY movie: THE DEAD POOL, as well as Clint's PINK CADILLAC.
He's also very natural in the makeup and wears giant teeth without looking uncomfortable, so he probly should've starred in BOHEMIAN RHAPSODY.
Man, people sure loved his dog Milo back then. You know how fickle people are about celebrity dogs, they go crazy and they pump up the one from Frasier or the one from THE ARTIST but then when it comes time for them to greenlight their passion project everybody has moved on to some new up and coming pup. It's an ugly business. But I'm happy to say that the part where he wears the mask and gets a vicious Ed "Big Daddy" Roth type head is still pretty cool.
Plans were made for a THE MASK II, with Russell, Carrey, Diaz and even Yasbeck returning as a reformed Peggy Brandt. But Carrey decided he didn't want to do it. One funny side effect of that is that Nintendo Power Magazine had done a contest to win a walk on part in the sequel. Here's the guy who won the contest explaining how they made it up to him:
Ten years later, New Line released SON OF THE MASK starring Jamie Kennedy, which I haven't seen (yet). The animation and comedy seemed horrifying on the trailer, the movie flopped and received reviews so bad that Kennedy got sad and made a documentary comparing critics to hecklers. Perhaps if New Line/Dark Horse hadn't poisoned the waters so badly with that one people would remember THE MASK more fondly, or maybe it's just too much a product of its time. They could do a late sequel now, but those types of cartoony FX would seem less novel, plus Diaz says she's retired, and the plot would have to be about how Stanley' status as a beloved member of the community is threatened when it comes out that he raped those mechanics.
So maybe it's best if THE MASK remains a hazy green and yellow memory of how ssssmmmmokin' things were back in 1994. No shame in that.
This entry was posted on Tuesday, March 12th, 2019 at 11:15 am and is filed under
Comic strips/Super heroes
,
Reviews
. You can follow any responses to this entry through the
RSS 2.0
feed. You can skip to the end and leave a response. Pinging is currently not allowed.