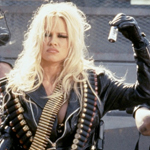 "Do I look disenchanted to you?"
I think it's important to be honest, so here it is: I saw BARB WIRE years before I ever saw CASABLANCA. So now that I've finally seen the Humphrey Bogart one I thought I should rewatch to find out if the Pamela Anderson one really is loosely based on it.
Actually, not that loosely! It's kind of a sci-fi world, based on a little known comic book, and it's gender-swapped: Barb Wire (Pamela Anderson, BORAT) is the Rick character, the supposedly not-taking-sides military veteran running a club where dangerous people congregate. Curly (Udo Kier, BLADE) is the waiter guy. Police Chief Willis (Xander Berkeley, WALKER) is the pain in the ass but sort of sympathetic cop raiding the club and kissing the ass of the visiting assholes. Instead of Nazis those guys are "Congressionals" from Washington DC. But their uniforms look like the Gestapo and their leader, Colonel Pryzer (Steve Railsback, LIFEFORCE) likes to torture people.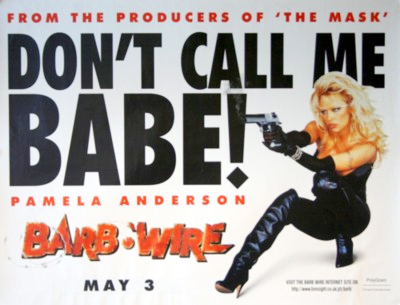 Instead of papers, they're all fighting over a set of contact lenses that can be used to get past a retinal scanner. Instead of wanting a flight to the United States via Lisbon they want a flight out, to Canada. Instead of a Czech Resistance leader it's a doctor named Cora D (Victoria Rowell, FULL ECLIPSE) who defected to the rebels when she found out the government was using a deadly HIV-derived virus on the people of Topeka. She has the cure in her blood and has to get it to Canada. That would make her husband Axel (Temuera Jango Fett Morrison, THE MARINE 2) the Ingrid Bergman, and yes, he once was in love with Barb but ditched her and now there are hurt feelings and she has a sad late night drink thinking about it and they're still attracted to each other but eventually she has to realize that the problems of three people don't amount to a hill of dystopian beans in 2017 during the Second American Civil War.
(And I bet when they made this they didn't think we could watch it in February 2017 and not be able to 100% rule out that we'd be fighting a civil war in the next 11 months.)
Instead of him leaving her in Paris, it was in Seattle (represent) and they were both soldiers at that time. And a character named Schmitz is the sleazeball who brings the lenses to Barb, which makes sense, since Clint Howard was the Peter Lorre of the '90s.
Steel Harbor is "the last free city," so just like Casablanca there are all kinds of people on various sides of the law who intermingle there.
One major change: there's not a Sam or a sentimental song that reminds them of their broken hearts. There is a house band at the Hammerhead, but they don't talk to Barb. Instead her blinded-in-combat brother Charlie (Jack Noseworthy, BREAKDOWN) fulfills the role of confidant to Barb who sees (well, hears) people from the past coming in to the club and worries about her.
The Hammerhead is an interesting club. They have chain link fences all over like it's a rough and tumble place, but then they have waiters wearing tuxes and old fashioned diner booths and stools. The music is fucking terrible. The one and only thing about this place that's an improvement on Rick's Cafe Americain is the security. The bouncer is Tiny "Zeus" Lister and she also has a dog that's trained to bite a dude by the dick and show him the door.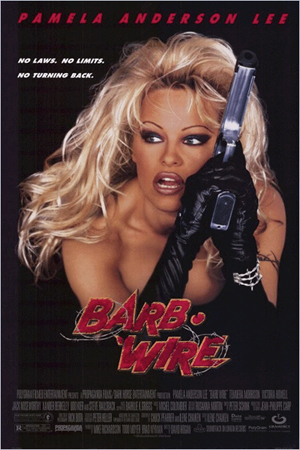 I like the idea of Barb Wire, the ass-kicking veteran who both runs a bar and uses it as her office for bounty hunting, the troublemaker who tortures assholes with her buxom blondness because she'll use it to lure them or lower their guard, then she'll beat them up or shoot them with a cigarette blowgun. She drives a missile-firing motorcycle and an armored van, she slices through walls, hangs from cranes, straps guns and grenades to her form-fitting leather, keeps a gun near her bubble bath. And Anderson's aggressively artificial taste in makeup and cosmetic surgery kind of makes her a novelty in the context of a theatrically released movie. I think there was sex appeal at the time that for me at least has been replaced by a sort of snobbish disgust at a fake porn star type of look. But there's part of me that roots for her as an underdog, a person who came from Playboy and a ridiculous TV show and tried to make something more of herself. And especially since we know now that this was not the stepping stone out of trash culture that it seemed like it could've been at the time. I want her to prove us all wrong.
So I dearly wish I could say that Anderson is awesome in this, but the truth is she's pretty bad at intoning those low tough guy lines. She doesn't pull it off. She does have at least one well delivered joke: after a long fight and shootout she checks her long, polished nails and says "God damn it." Also, she looks hilarious wearing army fatigues and helmet in the war flashback. Not on purpose, probly, but I enjoyed it.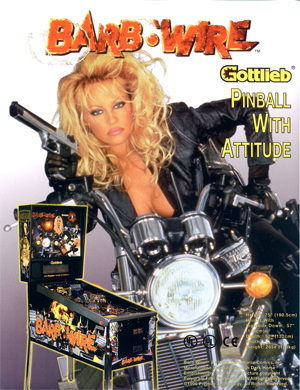 This has kind of a junky feel to it. I think of it as a major movie because I saw it in a theater, but these days it's rare to see this kind of warehouse district production design in a "real movie." The climax involves a crane and getting her foot stuck in a thing, for crying out loud. And the low bar is established by the opening credits scene of Barb being spraying by water, rubbing her big boobs to the tune of a horrible nu metal type song that you suddenly realize is an indefensible cover of "Word Up" by Cameo. I forgot about this post-THE CROW era of rock 'n roll soundtracks. Not for me.
But, you know, occasionally they have a good shot of an ominous orange sky, or they introduce the crime boss Big Fatso (Andre Rosey Brown, BLOODFIST III: FORCED TO FIGHT), who sits in a raised bulldozer shovel like it's his throne, or they make their CASABLANCA ripoff intentions really transparent, and then it's kinda fun. For the record, their version of CASABLANCA involves a car chase and gunfight to get to the airport. It doesn't have a "hill of beans" speech, but it does end with the same sort of sacrifice.
The screenplay is credited to Chuck Pfarrer (the Navy SEAL who wrote NAVY SEALS, DARKMAN and HARD TARGET) and Ilene Chaiken (later a writer and producer on The L Word). I remember reading that Adam Rifkin (THE DARK BACKWARD) had originally been hired to direct. According to this interview he was hired by Dark Horse, the comic book company, without the knowledge of the other producers, Propaganda, so he was the victim of their power struggle. Instead he went off and wrote MOUSEHUNT, which is actually a better movie. Propaganda was a company for music video and commercial directors, so they chose David Hogan, who had done the "u got the look" part of SIGN O' THE TIMES. That must be why they frankly didn't give a damn that he'd been the second unit director on BATMAN FOREVER. His only other feature is the Keenen Ivory Wayans action vehicle MOST WANTED. I always wanted to see that, but there is a possibility I did see it and it just didn't make an impression. Not sure.
I did kinda remember BARB WIRE though.