(yes, the 'Three' is spelled out on the actual movie, so I consider that the official title)
[by the way since the movie's been out a week or more in most countries this review is written in the spirit of HEAVY SPOILERS]
IRON MAN THREE takes the modern super hero movie and shakes it up a little bit, weirdly enough to be interesting and fun, but not well enough to be great. Directed and co-written by Shane Black, the writer of LETHAL WEAPON and THE LAST BOYSCOUT, it's an odd mix of the ongoing Iron Man story and the unmistakable Shane Black style.
I know the script is originally written by Drew Pearce, but it's got Black all over it: burnt out, mentally disturbed protagonist, conversational and self-aware first-person narration, most characters have witty responses to most situations, little moppet hardened by messy parental situation, constantly sets up movie conventions only to deflate them, and yes, it follows LETHAL WEAPON, THE LONG KISS GOOD NIGHT and KISS KISS BANG BANG in taking place at Christmas. Coincidentally it even has a crazy white guy and straight laced black guy buddy team.
I like that, but it's messy. IRON MAN grounded its super hero adventure in some kind of a real world, then lightened the mood with Downey's smartass responses. It's not dour like a Batman movie, it's alot of laughs, but the story is serious. In THREE Tony Stark is still constantly making wisecracks (even in serious moments like the one where he thinks he just let the woman he loves die but then finds out she's alive), and on top of that you add Black's many comical detours, even using the villains for silly comedy scenes, kind of a no-no in modern (or even good) super hero movies, which I'm sure is why he did it, but still.
It even opens in jokiness with a 1999 flashback scene where Jon Favreau (returning as Stark's head of security Happy) has a wig and bolo tie like Vincent Vega, and Guy Pearce plays awkward nerd in the style of Chop Top in TEXAS CHAINSAW 2. Also the song played during this scene was pants-pissingly funny to a bunch of people in the theater, so look out for that one, people who are familiar with whatever song that is.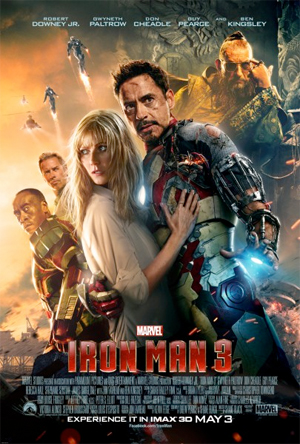 Structurally it's a mess that wanders around more than it builds (for example there's the long middle section where he has no Iron Man suit and is investigating a crime with the help of a little boy) and it surpasses my threshold for things-that-don't-seem-to-make-sense-to-me: if he had an army of Iron Men hidden underground the whole time why did he spend 2/3 of the movie sad that he had no Iron Man suits? How did the press not know that Tony Stark lived in the awesome Malibu cliffside mansion until he gave out his address? I get that he wouldn't ask for SHIELD's help, but why does Colonel Rhodes find out vital information about the country's #1 enemy and just try to handle it himself? Was I supposed to understand that Pepper actually wanted Tony to stop being Iron Man, and why is she so happy about him doing so moments after she told him she understood why he wanted the suits?
This brings up an issue with the ending: it does that thing where it acts like it's a happy ending that he's gonna stop being Iron Man. But we want him to be Iron Man! That's why we came to see IRON MAN THREE. It's kind of a mini-version of the problem with THE INCREDIBLE HULK (somewhat addressed in THE AVENGERS) that it was a story where the hero's goal was to not be the Hulk while the audience's goal was to see him be the Hulk.
Of course THE DARK KNIGHT RISES also used the hanging up the cape bit, but I think Bruce Wayne earned it. He was being Batman out of a deep pain and tried to quit already in part 2, so I felt happy for the poor bastard, this was what he wanted. But in IRON MAN they deliberately went the unheard of route of having the hero reveal his secret identity to the world and revel in his well-earned fame. He loves being Iron Man. Why are we suddenly acting like that's a problem?
Those are all nitpicks, hopefully they won't bother you guys, but for me they started to add up to something.
Luckily it's also full of good ideas and moments: Tony's implants that summon the separate armor pieces to his body, the subsequent surprise (and relationship moment) of directing the armor not to himself but to Pepper when they're both trapped in an exploding building, the time when he can only get a couple pieces to come and has to make do fighting with one Iron Man hand, the image of Tony dragging a broken suit through the snow, Rhody and Tony both using their wits and skills to kick ass without armor, Rhody getting his armor painted red white and blue and being repeatedly sent to home-invade innocent people in Pakistan, the villain being a genius inventor and military contractor peer of Tony's, Pepper getting to kill the villain, Tony having some form of PTSD from the fantastical events of THE AVENGERS. There's even a little meta thing going with Favreau's character no longer being Stark's bodyguard but being attached and trying to look out for him, reflecting his switch from director on IRON MAN 1-2 to executive producer on THREE and THE AVENGERS.
Like inside Tony's brain there's alot of shit going on in this movie, flying in all different directions. Unlike inside his brain he doesn't find the time to fully develop them into sleek, working machines.
I'm glad it has the Black humor. There are plenty of funny lines and turns of events. And it wouldn't be a Shane Black movie if there weren't a couple lines that sound like they must've been witty but I don't know what they mean.
Unfortunately I think the constant cheekiness works against itself. You can only see Tony's awesome super hero moment deflated by wacky screw-up so many times before you stop expecting him to just have an awesome super hero moment. And you can't laugh as much at Rhody as Iron Patriot taking a comedy phone call in the middle of a Pakistan mission as if we'd first seen one where nothing wacky happened. Plenty of this stuff is still funny, but it becomes predictable unpredictableness. And I'm afraid Downey is the same for much of the movie, he makes little quips and we're supposed to be charmed by him but it's like how Jack Spade was starting to wear a little thin by the third PIRATES OF THE CARIBBEAN movie. It's less effective now that we all see it coming.
On the other hand, stepping out of the Marvel movie expectations is a wise move. I think I liked IRON MAN 2 more than most, but it definitely suffered from demands to tie in with upcoming movies. This one goes in the opposite direction, refusing to build the larger movieverse, even giving it problems to deal with like Tony blowing up his entire arsenal and promising his girlfriend he won't do that shit anymore. Whoops, might have to address that in the next one.
It also sort of disavows what I understand is a major Marvel character, which is ballsy. But I mean, I said the same thing about Spider-man's evil dance number in part 3, and look where that got the Spider-man series. I can admire how well Black handles the "Tony Stark hangs out with a little boy" section of the movie while also thinking "are we already at the Tony Stark hangs out with a little boy stage in the Marvel movies?"
But it's not like it doesn't deliver some of the super hero goods too. The action set pieces that you see parts of in the trailer are all good and, from what I remember, more exciting than most of the comparable scenes in the last two chapters. In fact, I think it's fair to say that the IRON MAN movies have a strong first 2/3 and get weaker in the last third where they're about CGI metal man fights. THREE in my opinion reverses the trend, having a stronger climax than setup.
The action movie veteran in Black can't help but to find many clever variations to the action: what if Tony had only part of the suit? What if his suit wasn't working? What if he had no suit at all but made his own weapons from items purchased at an ordinary hardware store? What if he had the suit but was fighting against a guy with the power to melt metal with his hands? etc.
I enjoyed watching IRON MAN THREE, and I respect it, but I can't claim it's a very good movie. I'll be surprised if it holds up very well, but at least it'll stand out a little from the other ones, and hopefully give Black that "I directed a movie that made like a billion dollars so now I get to do whatever I want" shine for a little bit.
p.s. I watched it in 2D because the Marvel ones are always fake 3D. I've heard the 3D version looks shitty and I believe it because it's another one that climaxes with a bunch of CGI robots flying around at night.
This entry was posted on Friday, May 10th, 2013 at 11:38 pm and is filed under
Comic strips/Super heroes
,
Reviews
. You can follow any responses to this entry through the
RSS 2.0
feed. You can skip to the end and leave a response. Pinging is currently not allowed.