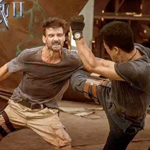 (also being called WOLF WARRIORS II)
Some time in the last year or two I saw WOLF WARRIOR, the 2015 sophomore directing vehicle of martial arts star Wu Jing (KILL ZONE 1 and 2, FATAL CONTACT), but I barely remember it. Scott Adkins was the mercenary villain, and I remember it was cool to see him play a bad guy in a Hong Kong movie again, and that their fights were pretty good. But otherwise the movie made such little impression that I didn't even feel like I had enough thoughts about it to write a review.
But now there's a WOLF WARRIOR II and it's such a big deal in China that it has already beaten THE MERMAID's record as their highest grossing film ever. And rather than making us wait for it to come over here later, they have it playing at the AMC theater downtown. Meanwhile, some people on Twitter were talking it up, and promised me that they enjoyed it without having seen the first one, so I decided to give it a shot.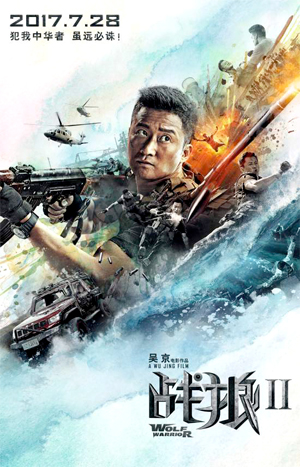 I knew I'd made the correct decision maybe a minute in, during the underwater martial arts brawl and knife fight against pirates. They've just incapacitated a cargo ship when Leng Feng (Wu) dives into the water unarmed, wearing what looks like his casual cruise attire, shakes them out of their boat and fights them. It's done as a oner, with some really spectacular camera moves around the battle, and I know there's trickery involved but, I mean, they still shot a choreographed fight underwater. It's like the pro-wrestling adage: no, it's not real, but it is dangerous!
The sequence ends with a CGI bullet and an explosion and a metal logo loudly clanging onto the screen, which is the #1 way to begin an action movie sequel.
Feng didn't just get lucky – he's a super duper ultra mega badass of the elite Chinese special forces Wolf Warrior squadron. But right at the beginning he becomes a civilian by kicking a disrespectful slumlord through a windshield (I was unclear if he killed him or not). He does three years and when next we see him he's living in an unnamed African country, a well-liked immigrant trading goods with the help of his Kobe-Bryant-jersey-wearing African godson Tundu.
When rebels (including soldiers in scary clown masks) attack the town, Feng and his Chinese friends have to fight their way to the embassy for evacuation on a battleship. He manages to get Tundu on board, but the poor kid doesn't want to go without his mom, and Feng overhears soldiers talking about not being able to rescue an important doctor. Feng introduces himself and volunteers to rescue the doctor along with Tundu's mom and other workers trapped in a Chinese factory. On this mission he faces
1. rebels
2. an army of asshole American mercenaries led by a guy called Big Daddy (Frank Grillo [THE GREY], an actor I really like, but fuck Hollywood Reporter for calling him "an upgrade on Scott Adkins from the first film").
3. a deadly and highly-contagious plague
Oh and by the way he's in Africa to search for the origin of a unique bullet that was found at the scene when his fiancee disappeared on a mission and now he wears it around his neck as a reminder.
He ends up unable to save the doctor, but promising him to rescue an African girl named Pasha, with the help of another doctor named Rachel Smith (Celina Jade, THE MAN WITH THE IRON FISTS). I was familiar with the very likable Jade from SKIN TRADE, but there was an important biographical detail I was not aware of until now: she's the daughter of Roy Horan, writer and producer of NO RETREAT, NO SURRENDER 2. Or, to put it another way, her dad is Lewis, the Caucasian villain from GAME OF DEATH II, who has a pet monkey and a private island stocked with trained attack peacocks and lions! This guy: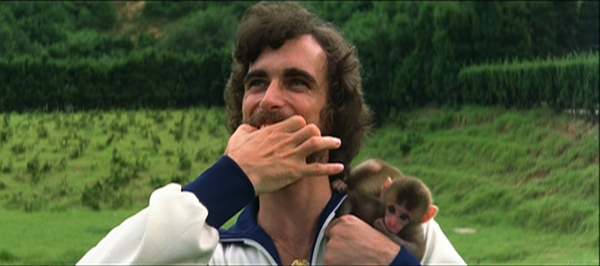 Amazing! The Lewis Legacy continues.
Anyway Feng takes them to the factory, where he tries to get along with members of the security team to get past the mercenaries who have them trapped. There is some rivalry, some bonding and some preparation, but eventually there's gonna be a battle with martial arts and jumping and shooting and exploding and crashing through buildings. This is the first movie I've seen where a tank zooms in and skids out like a sports car and sideswipes another tank.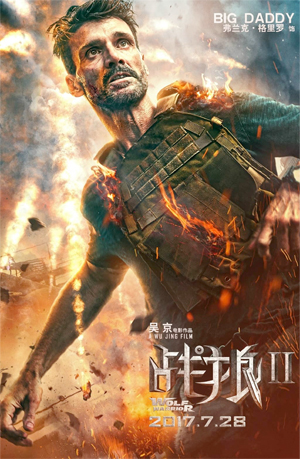 As big budget movies become more and more international, and they want to hire real actors from different parts of the world (see Matt Damon in THE GREAT WALL), we may be getting past the days when we get to laugh at some Australian stuntman stiffly reading cue cards as the American general or whatever because they didn't have many white guys to choose from. Unsurprisingly, it's fun to see Grillo playing the cocky prick who's gonna get his ass wolf warriored. And I guess if we're going to be slandered as villains I'd rather be represented by a sneering Grillo than a vaping John Cusack.
Of the mercenaries, the second most notable one is the scarred female sharpshooter Athena. She looks tough like an MMA fighter – turns out she's Heidi Moneymaker, a frequent stunt double for Scarlett Johansson and Michelle Rodriguez who also shows up as an assassin in JOHN WICK CHAPTER 2.
I'm not saying it has any of the emotional depth, but Wu has made Feng into kind of a Chinese Rambo (circa part 2), an ex-soldier who turns into a one-man-army to help people, tastelessly mining drama from real life conflicts, attempting to swell the hearts of his countrymen with nationalistic pride. He literally turns into a flagpole at the end, waving the red and yellow from his arm. And though he's not fighting to redeem his country for a disastrous past conflict like Rambo was, he at least gets Big Daddy to admit that the Chinese military are better than he thought.
I often mention my love for how RAMBO III picks up with him in a far flung locale and drastically different lifestyle. This one goes ahead and gets that over with during a FAST FIVE style mid-credits scene that made me want to cheer.
The action filmatism is a little on the shaky/chaotic side, but not at the expense of clarity, to my eyes. Wu of course gets to show off his martial arts skills and stunt work, but there is a heavy emphasis on large bullets, shells, grenades and other things that cause fiery explosions. I was surprised to see some American names in the credits. The action director is Sam Hargrave of ATOMIC BLONDE fame – he's so American that he was Captain America's stunt double in THE WINTER SOLDIER. I believe fight choreographers Thayr Harris (THE PURGE) and Aaron Toney (KUBO AND THE TWO STRINGS, CAPTAIN AMERICA: CIVIL WAR, stunt double for The Falcon) are also American. Interesting that these guys all worked with Grillo and Moneymaker on the CAPTAIN AMERICA movies. This is apparently because Wu met the Russo Brothers and they introduced him to their team because he wanted to up the ante on the action. That seems backwards to me (it should be the Americans asking him!) but it worked out here.
Jack Wai-Leung Wong, who worked on KILL ZONE 2, also gets an action director credit. WOLF WARRIOR II is not a next level action movie like that one, either in execution of action or emotional content. It's something dumber and crasser. To me it feels like kind of a throwback to what I liked in '90s Jackie Chan movies and '80s American action. But in that lane it excels. I'm really impressed how much Wu has grown as a screen presence and a director, and that he's gone so quickly from forgettable-part-1 to I-hope-they-make-four-more-of-these-and-that-they-keep-getting-more-ridiculous.
I assure you that it is not necessary to have seen part 1 to understand part 2. But if you're worried about it, I've noticed that the first one is streaming on Netflix. And it's definitely decent, if not nearly as spectacular as the sequel.
For some of you it might be worth reading this much more critical review from Simon Abrams at rogerebert.com. By "much more critical" I mean that he gave it one star and called it racist and "intellectually repugnant." I don't disagree with all of his points. Honestly, if it were a better movie – a KILL ZONE 2 – I might be harder on its depiction of Feng's African friends and enemies, but I see all of the characters as broad in a RUMBLE IN THE BRONX sort of way, so I have a hard time taking them that seriously.
I do think the story is more humane and less China-first than his review suggests. Feng's mission is specifically to rescue Chinese citizens, but he defies the factory owners by refusing to leave behind their African employees.
You'll notice that Abrams' review and mine both compare WOLF WARRIOR II to RAMBO: FIRST BLOOD PART II, but only one of us means that as a compliment. That pretty much sums up our disagreement.
I mentioned what a big hit this is in China, get this: According to Box Office Mojo, TRANSFORMERS: THE LAST KNIGHT has grossed $594 million worldwide since its release seven weeks ago. WOLF WARRIOR II made $682 million in its first 17 days. Another sign that we're not the main market for movies anymore. I go see these Chinese imports sometimes and I'm usually there with less than ten people. There were maybe three or four times more than usual at the matinee I went to for this one, and a week later I saw a full summer movie sized crowd (all Asian) coming out of a showing. So this seems to be a genuine phenomenon. That is not to say it's the best Chinese cinema has to offer, but it's a big macho pop action movie and since many of us like that sort of thing around here I highly recommend it.