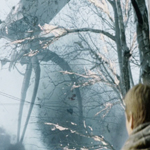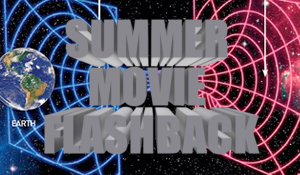 Wow – WAR OF THE WORLDS holds up. I remember it being the most intense PG-13 movie ever, but I thought maybe with the escalation of that rating since the Joker stabbed a guy with a pencil in DARK KNIGHT maybe it wouldn't seem as harsh by today's standards.
Nope. This movie is a fuckin nightmare! It starts as an anxiety dream (oh shit, what if my kids come over and I show up late and forgot to clean up and my ex-wife and her husband see that I don't have any food and…) then one of those ones where you see weird shit in the sky (a strange electrical storm) and in the distance (3-legged alien attack machines), and then it's a disaster one (mobs attacking your car at night, thousands of people trying to climb onto the same ferry), then a war one (running into the hills at night as tanks roll in the other direction) and then a more intimate things-that-go-bump-in-the-night one (alien in the basement). All of this executed with the classic Steve Spielberg filmatistic chops.
It feels like JAWS for a while, except Janusz Kaminski gives it a washed-over pallor. I'm actually a little mixed on that. It's creepy, but sometimes maybe a little too painterly, reminding me that it's an image, not a real world. Maybe that's how they avoided the R.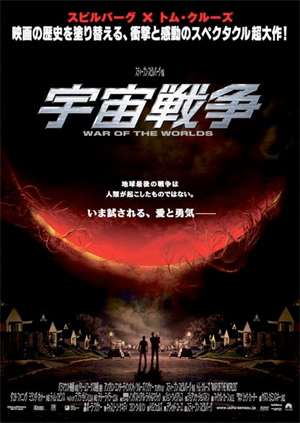 I like what a loser Tom Cruise plays. This guy Ray, at work he's probly pretty awesome, telling his boss off, driving away in his cool car, wearing his Tom Cruise leather jacket. But with his family he sucks. His remarried wife looks at him with pity, his son doesn't want to talk to him, his daughter makes fun of him, when he can't get them to listen even under threat of alien attack he pathetically threatens to tell their mom later. He doesn't even remember his daughter's severe peanut allergy. I found it touching when, trying hard to comfort his daughter, he has to keep apologizing for not knowing the lullabies she's asking for. It makes him cry. He knows he sucks.
There's one very Tom Cruise scene where he's gonna make them sandwiches, and he lays the bread slices out like he's dealing cards, claps and rubs his hands together excitedly. As my buddy said it makes you wonder if Tom Cruises has never made a sandwich before. But it's a good, weird way to slice through the front he's putting on. He's trying to act like he's in control, but he can't even make lunch.
I notice a couple interesting themes here. One is about dad proving himself to his family. This one time he better fuckin come through. He tries at first by being a selfish survivalist – stealing them a car that works, avoiding picking up other people. Let's keep our eyes straight ahead, move swiftly and don't take risks. But after getting dragged out of his car and threatened with a gun he switches to his kids' P.O.V., wanting to help others, yelling for the people running the ferry to let more people on. He sees his son selflessly trying to help people climb on, and he learns from it. (Well, but later he gets real Machiavellian in the basement. I forgot about that part.)
At the end he's managed to fulfill his duties as a father, returning his daughter safely, and his son has Become A Man off somewhere on his own, so they respect each other now. And his ex-wife even looks at him with admiration for what he has accomplished.
But they don't invite him in, because he's still fuckin Ray. The guy that doesn't know his own daughter's deadly allergy. Fuck that guy.
Another theme is the spread of misinformation. For once the media is mostly off the hook, because the electricity is off. No news. But the movie observes how willing people are to hear some bullshit and repeat it as fact. One guy heard the storm was solar flares, even though another guy points out lightning has nothing to do with solar flares and that doesn't make any sense. One guy heard everything is normal in Europe, other guy heard it's worse even than here. Nobody knows shit but they all talk like they do.
Did you guys know Amy Ryan was in this? She's his next door neighbor that he talks to briefly at the beginning. I didn't know who she was at the time. I'm not afraid to admit it. We don't have to know everything.
Whenever I talk with people about this movie I guarantee you they'll bring up two things that they say killed the movie. Number one is the son, the kid from DRAGON'S BALL, being SPOILER alive at the end. He goes over a hill just before some fiery explosions and dad takes off assuming he's dead I think (although he tells Tim Robbins that they're gonna meet in Boston, which turns out to be true). This still doesn't bother me, because I always assumed he was alive, otherwise they would've shown him bite it. I'm not sure why people are so bothered by that.
The other thing is the holed-up-in-a-basement-with-Tim-Robbins section. I admit that it's the weakest chunk of the movie, and would work better with an old grizzled guy instead of Robbins. He's not that legit. But I still like it. If nothing else, this section has a long dialogue-free suspense sequence, the RIFIFI of hiding-from-aliens scenes. I was fine with it.
(by the way, remember when E.T. had to hide from the humans? Times have changed.)
The best part I forgot about is the plane crash. They're in the mother's fancy basement and hear a horrifying loud sound and the lights go out. Out of context it's hard to recognize as a jet engine. The next morning, before he finds plane wreckage near the destroyed house, there's a great shot framed to show him in front of the intact half of the living room, as if it's an interior shot, but we can tell it's wrong because it's natural light shining on him. He's outdoors.
There are so many great, scary images. There's a scene where Fanning wanders off by herself and comes to the edge of some water. It's like the little girl at the beginning of THE LOST WORLD, but instead of getting swarmed by tiny dinosaurs she just watches, mesmerized, as deady body after deady body after piles of more dead bodies floats by.
I like how you mostly see the tripods from a distance, and almost never straight on. Usually from the side or the back, and it's not necessarily coming towards us. So it doesn't look like an FX money shot. It looks like "oh shit, make sure he doesn't hear us."
I was thinking about how now whenever a building gets knocked over in a movie people complain that it's exploiting 9-11 imagery. But WAR OF THE WORLDS I remember being praised for being maybe the first movie to deal with 9-11 in that way. I always remember the scene where Ray is running in a crowd and the woman in front of him gets zapped by the aliens. She turns into ash and covers his face. He doesn't really process until later when he's inside that he has a dead woman all over him. And there's a a very believable kind of panic.The kids keep asking him what happened, and he doesn't know how to even put words together.
"Is it the terrorists?" his little girl asks at one point, but of course it's worse. (Or maybe not. The problem of terrorism isn't gonna die off from getting human germs on it.) They have some good fear in this movie. I forgot how good Dakota Fanning was, whispering "Are we still alive?" in the dark.
This movie oughta get more respect.
* * *
other movies that came out that summer: BATMAN BEGINS, REVENGE OF THE SITH, FANTASTIC FOUR, THE ISLAND, STEALTH.
trivia: I actually started this series because I was jonesin to watch REVENGE OF THE SITH again, but I decided to hold off for a more thorough prequel study
highest grossing movie that year: HARRY POTTER AND THE GOBLET OF FIRE
This entry was posted on Wednesday, August 28th, 2013 at 2:02 am and is filed under
Reviews
,
Science Fiction and Space Shit
. You can follow any responses to this entry through the
RSS 2.0
feed. You can skip to the end and leave a response. Pinging is currently not allowed.