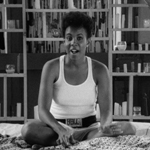 "A nice lady doesn't go humping from bed to bed."
I think the last time I saw SHE'S GOTTA HAVE IT might've been in a theater in 1989. I remember when DO THE RIGHT THING came out one of the theaters here did a double feature of this and SCHOOL DAZE. So I was just learning who Spike Lee was and what he was all about.
All this time later it's kinda crazy to go back to his DIY jointational debut. It's the work of a young man trying to prove himself, show his style and stretch his budget while also saying something about relationships between men and women. As much as you can anyway when you're 28 years old.
It's in black and white. He plays one of the main characters. His sister Joie is in it (which is her doing him a favor, because she gives the most natural performance in the movie). His dad Bill did the score. It's not about race, and I don't think there are even any white people in it. And though you could say it started the black film movement that ended up being mostly about gangs and crime (BOYZ N THE HOOD, MENACE II SOCIETY, STRAIGHT OUT OF BROOKLYN) it has no guns or fights in it. (The end credits also boast that there were no drugs or jheri curls in the movie.)
It's middle class, too. The titleistic SHE is Nola Darling (Tracy Camilla Johns, NEW JACK CITY), a magazine paste-up artist, daughter of a jazz pianist (played by Lee's jazz pianist father, of course), who lives in a huge (though sparse) apartment. "Gotta Have It" means she loves sex, specifically with men, though her friend Opal (Raye Dowell, MO' BETTER BLUES) hopes she'll expand her horizons some day.
Nola doesn't believe in monogamy. She has three guys she's seeing: Jamie Overstreet (Tommy Redmond Hicks, THE METEOR MAN), who followed her and asked her out after she walked past his bus stop; Greer Childs (John Canada Terrell, THE RETURN OF SUPERFLY), a rich model who has been accused of talking white; and Mars Blackmon (Lee), who makes her laugh.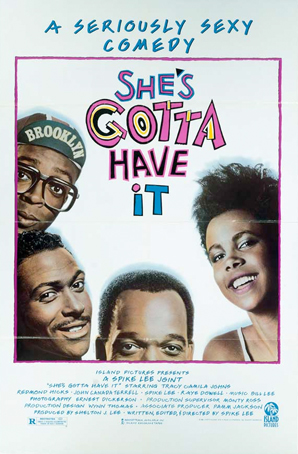 All three know about each other and are jealous. Jamie makes derisive comments about the others, Mars does too, but it seems like he's just snapping on them, he's so not in their league. He's either deluded or making a hail mary pass at her heart. Greer tries to win her with money, inviting her to the Bahamas with him. When that doesn't work he tries to get her to see a therapist (S. Epatha Merkerson in her very first role – before even Pee-wee's Playhouse) about sex addiction.
If there's a winner in the bunch you'd think it would be Jamie. He's the more down the middle square one – he reminds me of Ben from NIGHT OF THE LIVING DEAD – but he seems more reasonable and he's nicer to her. Except ultimately he does the worst thing to her that any of them do in a really disturbing scene where he unleashes all his anger on her. It's kind of the same trick Lee would later use in DO THE RIGHT THING, making people wonder why this nice Mookie kid throws the garbage can through the window. But like Sam Raimi and the tree scene in THE EVIL DEAD, Lee now says he regrets the scene. Though Nola does tell him off and call it what it is I think Lee is right that the movie handles rape too lightly.
Before that Jamie seems like such a good guy. Of the three he's the only one who's sincerely romantic with her. He writes her a poem (Mars makes fun of it) and for her birthday he surprises her by having her click her heels and suddenly they're in the park, in color, watching a duo's romantic dance to a jazz song played from a reel-to-reel.
That might sound corny, but it's a really good scene, partly because the music in this movie is so great. Getting good music is such an obstacle for so many low budget productions, but Spike happens to have a world class jazz musician in the family. It's almost unfair. Bill Lee also composed the scores for SCHOOL DAZE, DO THE RIGHT THING and MO' BETTER BLUES before handing the torch to Terence Blanchard. Like Clint Eastwood or Tim Burton, Spike definitely has a specific type of sound that's associated with his movies. But this one stands out because it's more stripped down, mostly piano and bass, sometimes horns but not a whole orchestra. More like a small jazz band.
Listen to this:
I'd say it worked out well. It could've been that he had a brother that played noodly guitar and we would've had a whole different movie. But it's perfect, as if he would've hired him even if it wasn't his dad. It doesn't just sound like a real movie, it stands out from the movies made by other people without the same tastes.
That's another thing about why Spike Lee was so immediately striking: he found a good balance between arty and populist. It caught on because it's funny, it's sexy, it's quick, it's not too heavy for the most part, it doesn't have a big message, it has the characters talking directly to us like they're our friends. The Mars Blackmon character was likable enough that Lee reprised him as a spokesman for Nike Air Jordans. On the other hand it's in black and white, it has a melancholy jazz score, it opens with a quote from Zora Neale Hurston followed by a pretty long still photo montage of the people of Brooklyn, basically an overture.
Despite the black and white and lower production values it definitely has the energy and feel of what we would come to know as a Spike Lee joint. It has the confidence to alternate between dramatic emotion and goofy comedy, like Greer carefully folding all his clothes as he takes them off for would-be passionate sex, or the montage of Mars showing off his bike, his Nikes, his custom jewelry. Mars tells jokes, he's obsessed with the Knicks, he argues about Larry Bird. The montage of dudes saying ridiculous pickup lines right into the camera is a pre-cursor to DO THE RIGHT THING's montage of racial slurs, and the sensual body closeups foreshadow its Rosie Perez ice cube scene. We also see Lee's taste for cyclical stories. DO THE RIGHT THING opens with the neighborhood waking up to a hot summer day, and ends with them waking up to the aftermath of a bad night, on an even hotter day. SHE'S GOTTA HAVE IT opens with Nola getting out of bed and ends with her going to bed.
The story comes to a head when Nola invites all three of her boyfriends over for Thanksgiving, forces them to eat together and alternate between trying to impress her by getting along and trying to one-up each other. It's a pretty devious ploy by Nola. I think in her head she's trying to prove a point that it's okay for her not to be monogamous and that they're immature if they can't get along. But somewhere in there she's gotta understand that she's rubbing it in their faces too, and provoking them to be assholes to each other.
So if I hadn't disowned Jamie by the end of the movie it would be nice to see the scene where he and Mars are on a bench somewhere talking about their mutual ex Nola. They get in an argument about her, but they're friends now. Mars isn't talking to him because of Nola, he's just trying to tell him to forget about her, and when he leaves he tells Jamie to call him. Also of note: at one point in the argument they both stop to watch a woman walk by.
Here's something I find interesting. SHE'S GOTTA HAVE IT was the first ever winner of the Independent Spirit Award for "Best First Feature." Plenty of other movies I like have won this award, but not too many of their directors have gone on to careers like Lee. In '87, believe it or not, the award went to DIRTY DANCING, whose director Emile Ardolino went on to do THREE MEN AND A LITTLE LADY and SISTER ACT. '88 was MYSTIC PIZZA, first feature by the later director of TURNER & HOOCH (tv version), GRUMPY OLD MEN, RICHIE RICH, MY FAVORITE MARTIAN, MISS CONGENIALITY, and I'm gonna go ahead and stop there. Pretty sure if they could take one back it would be that guy, Donald Petrie. '89 was a well deserved win for HEATHERS, but I'd say HUDSON HAWK is the most significant thing Michael Lehman has directed since.
Of the other winners, the ones that went on to have a well regarded output at least for a while would be Whit Stillman, Robert Rodriguez, David O. Russell and Spike Jonze. So I'd say Lee is in an unusual breed of directors who hit strong out of the gate.
In many ways Lee got better after this debut. For sure this is his movie with the stiffest acting performances, and as he got older I think he got a little more wisdom about people and relationships. But there's also a unique charm to young, hungry Spike with less money and less bombast. And after all these years it's exciting to go back and see where it started. There was no mistaking that this was somebody special.
NOTES:
* Ernest Dickerson is the cinematographer. He got his start with Lee on the student film JOE'S BED-STUY BARBERSHOP: WE CUT HEADS, but beat Lee to features, having already shot THE BROTHER FROM ANOTHER PLANET, DESIREE and KRUSH GROOVE. These days he's directing TV, mostly The Walking Dead.
* This is the production design debut of Wynn Thomas, who continued to work on most Lee movies. He had previously been the art director for BEAT STREET.
* The "dogs" in the pick-up line montage include Erik Dellums (Luther Mahoney on Homicide: Life On the Street), Reginald Hudlin (director of HOUSE PARTY, writer of Black Panther comic book, producer of DJANGO UNCHAINED), and of course Fab 5 Freddy (graffiti artist, co-star of WILD STYLE, host of Yo! MTV Raps).
This entry was posted on Monday, March 23rd, 2015 at 9:45 am and is filed under
Comedy/Laffs
,
Drama
,
Reviews
. You can follow any responses to this entry through the
RSS 2.0
feed. You can skip to the end and leave a response. Pinging is currently not allowed.