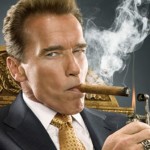 In James Cameron's idea of a romantic comedy Schwarzenegger plays Harry Tasker, an agent for the "Omega Sector" secret spy agency who protect America from terrorism and are led by Charlton Heston with an eyepatch. He has one eye on the enemy, the other eye on infinity. Or something. The opening shows that Harry is willing to blow shit up but is more of a suave James Bond type than the usual Schwarzenegger character. He gets his way through trickery, wears a tux and even does a tango with Tia Carrera. (Remember when she was supposed to be a big deal?) He just happens to be a muscleman under that tux but nobody seems to notice in the movie, it's not really relevant to the character.
Harry spends alot of his time being followed in a van by his woman-hating loyal manservant Tom Arnold (before he sidekicked for Jet Li or Steven Seagal) and his GGWATBOADSINR (good guy who appears to be of Arab descent so it's not racist) Academy Award nominee for GOOD NIGHT AND GOOD LUCK Grant Heslov. But when he's not trying to stop terrorists from getting nuclear weapons he faces the much bigger problem of relating to his wife Helen (Jamie Lee "I cut off Michael Meyers's head" Curtis) who thinks he's a boring computer salesman.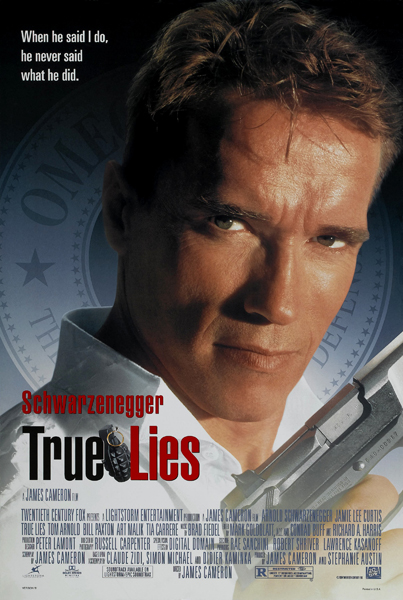 That's the comedic part of the movie is that it's more about the wacky home life than the spy shit. Harry always blows it and gets home late for work when an extended action sequence comes up, so his wife and kid (Eliza Dushku) think he's a dirtbag. But we know he's really a charmer because of the way he always apologizes to everybody as he rides a horse through a crowded hotel chasing a dude on a motorcycle.
The real gimmick sets in when Tasker accidentally catches his wife on the phone with some guy named Simon, who turns out to be Bill Paxton as a sleazy used car salesman who has convinced her he's a secret agent and needs her help. Harry thinks she's cheating on him so he uses our tax dollars to fund an elaborate stakeout (with helicopters). This is actually where the movie gets dicey and the reason why I hated it when I first saw it years ago. Tasker is a likable hero but he is a neglectful husband. You forgive him for that and you understand his anger (I laughed when his tight grip shattered a lens on his binoculars) but he crosses the line when he locks his poor wife up in an interrogation room and makes her think she's been captured for aiding a spy and humiliates her in front of Tom Arnold. In my opinion that is no way to treat a woman. Take Tom Arnold out of the equation and it's still questionable but definitely with him in there it's over the line.
Harry realizes his wife wants adventure in her boring life so his way of adding spice to the marriage is to trick her into thinking she is being forced to pose as a hooker and do a striptease for some guy. The some guy is actually Tasker himself, but she doesn't know this due to a magical face-covering shadow that unneccessarily stretches the credibility of the movie like it was made of taffy. (Couldn't they just tell her the guy likes to wear a lucha libre mask or something? I'm sure there's people that get off on that shit.)
Well I'm no expert but in my opinion this was a poor way to jumpstart the marriage. If they hadn't both been kidnapped by actual terrorists right at the moment where it went sour I think he would've been looking at a divorce.
I used to think this movie was real racist because of its depiction of Middle Eastern terrorists. But my colleague in geocities badass theory Ryan Kenner has a good point that if it wasn't Middle Eastern terrorists it would be Russian mafia or Triads or some other action movie stereotype. And of course there really are terrorists from that region who would like to use a nuclear weapon on the US, it's not completely made up, we especially know that now. So I didn't find it as offensive all these years later. But I still think it's hilarious to see the filmatists and fans of the movie dance around logic to prove that it's not offensive. They went out of their way not to reference religion in the dialogue so it wouldn't be seen as anti-Muslim, and I've seen posts on IMDb where somebody says that people are crazy for thinking the terrorists are supposed to be Muslims because they never say they are Muslims or mention Allah at all. To which I have to say – Dude, they're called Crimson Jihad. Also, we live in the real world and have seen terrorists from that part of the world and it's pretty easy to guess what religion they claim. But since they don't specifically mention Islam we're supposed to assume these guys are non-denominational Arab terrorists? Are you for real?
The worst part involving these characters is the scene where some wacky terrorists die and it's played as a joke. I have no problem with bad guy deaths getting laughs in action movies, but the way it's done in this part is just stupid. You gotta do it with a straight face, they do it nudging your ribs and saying "Eh? Eh? Ya git it?" They have these cartoon middle eastern atheist terrorists accidentally fire a rocket launcher backwards and blow up their own truck, and then they make funny faces and get upset. They eventually end up dangling from a blown up bridge and they think they are balanced but a pelican lands on their truck and knocks it over. I know this movie is a comedy but you can't treat it mostly serious and then all the sudden near the end have one scene that turns into Wile E. Coyote. Since they are such bumbling idiots and you're supposed to laugh at their deaths it's easy to think of it as racially degrading like those funny WWII Japanese guys with the buck teeth. But really it's more offensive as a misjudged tonal shift. Like alot of action directors James Cameron is better at staging chase scenes than telling jokes.
Another TRUE LIES joke: they scare Bill Paxton so bad he wets his pants. Get it, he's a sissy. And he pees. They liked that one so much they did it twice.
But this movie is really not as bad as I used to think it was. It was sad to see the guy behind such strong female characters as ALIENS Ripley and T2 Sarah Connor do a movie where the women get knocked around and manipulated and called "bitch" and everybody's supposed to high five each other when Tom Arnold says "Women. Can't live with 'em, can't kill 'em." But sadly after the advent of Michael Bay the hatred in this movie seems fairly tame. And as an action movie it actually works. Schwarzenegger is really good and likable. I really like his apologizing and the way his oneliners seem to be sincere more often than sarcastic. Like when he knocks two dobermans' heads together and says "stay" I don't think he's trying to be funny.
And it's a really big spectacle back when spectacles were still expected to have thrills. My favorite action scene is the horse vs. motorcycle through a hotel chase, which I suspect was the inspiration for the part in ADAPTATION where he says, "the cop's after them on a motorcycle and it's like a battle between motors and horses, like technology vs. horse." There's also a very good public restroom brawl which I'm sure partially inspired such later classic bathroom fights as the one in MERCENARY FOR JUSTICE and the one in TERMINATOR 3. I'm glad these kind of bathroom fights always happen in nice establishments (here I believe it's a Marriott hotel) because if it was some normal place where they don't clean the bathroom every two minutes it would be pretty disgusting. And I have never seen a cinematic bathroom fight where they wash their hands before they leave.
The battle on the bridge is pretty impressive too, especially the actual shot looking down on Jamie Lee Curtis as she dangles from the helicopter. She really did it so all that stuff you see below her, that's really below her. The magic of actually doing shit, there's something you don't see in enough action movies these days.
And of course the most famous is when Tasker flies a Harrier jet in and attacks terrorists in a skyscraper. This probaly inspired the most ridiculous scene in LIVE FREE OR DIE HARD but for this one it wasn't CGI, they used some actual Harriers as well as a life sized model of one on a crane. If TRUE LIES has left a negative legacy it is this – the introduction of the military-industrial-action-movie complex. T2 was a huge fucking movie with its truck chase and its groundbreaking liquid metal CGI, so the way Cameron chose to top himself was to get ahold of this advanced military vehicle that had never been in a movie before. To get a Harrier you have to win over the military and then to top TRUE LIES you have to win over the military even more and get them to give you something even more elusive and powerful than a Harrier, and this sort of thing still happens. Michael Bay for example got the military involved in TRANSFORMERS, said in interviews that it would be "a great recruiting tool," and was able to use some stupid jet that had never been seen in a movie before, it had only been seen by poor people right before they died. Similarly, Schwarzenegger in real life saw the stupid Hummer cars that the military was using to roll over and die in in the desert. He got them to give him one and paved the way for civilian Hummers, rapper Hummers, Hummer limos and the flip-off-a-Hummer movement.
So TRUE LIES is by far the weakest of the James Cameron action movies, and the most harmful to the progression of the genre. I read somewhere that he got a divorce right before he did this one, and maybe it was a bad idea to take all his anger out in a romantic comedy. Maybe a horror movie next time, bud. And there will be a next time. But I would still have to say this movie is worth watching. It's a real good Schwarzenegger role, some great action scenes and as silly as it is it's action on a scale you don't see very often. For the first time I'm actually wishing they would make that sequel.