This movie has a reputation as kind of a mess. Admittedly it is a 2 1/2 hour broad comedy about paranoia right after the bombing of Pearl Harbor. In my opinion a 2 1/2 hour broad comedy about paranoia right after the bombing of Pearl Harbor was not necessarily one of the top two or three things the world hoped for as Steven Spielberg's followup to CLOSE ENCOUNTERS OF THE THIRD KIND. But fuck 'em. It's what they got and they oughta fuckin appreciate it.
This is still the only straight-up comedy Spielberg has ever made. Sometimes I think his humor can be out of place (I always remember the jetpack-roasting-burgers gag in MINORITY REPORT) but when it's all throughout like this it works for me. There's definitely alot of Spielberg in the execution of the movie, from the John Williams score to the jokey, highly-involving action. There's a motorcycle chase that could easily fit into an INDIANA JONES, for example. And the opening is a beautifully shot parody of the opening of JAWS, with the same girl and with Williams doing a self-knockoff.
But if I saw this without knowing anything about it I would definitely guess that it was a John Landis movie. It has that type of deadpan but broad comedy with a huge cast of great character actors and little cameos and all kinds of side characters that keep popping up. It has both Blues Brothers and various Animal Housers in it. Most of all it has huge, expensive, elaborate, excessive mayhem in the service of laughs. Chases, stunts, fights, riots, crashes, chain reactions, jokes.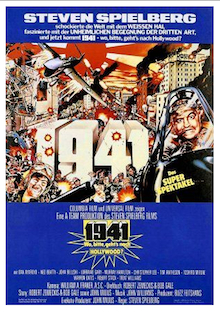 Look at this damn cast, man: Toshiro Mifune. Christopher Lee as a Nazi. Belushi, Aykroyd, Candy, Joe Flaherty. He doesn't really get to do anything, but Mickey Rourke is in there, his first role. Eddie Deezen and a ventriloquist dummy. Nancy Allen. Ned Beatty. Slim Pickens as a constipated redneck Christmas tree salesman who refuses to give up the location of Hollywood under torture. Sam fuckin Fuller is in here. Warren fuckin Oates is in here. Treat The Substitute 2 Williams is in here. And Robert Stack. Laverne and Lenny and Squiggy. Dick Miller, John Landis, the guy that directed HITCH, James Caan. Pretty much everybody but R2D2 or Dr. Joyce Brothers is in this movie somewhere.
They all play people on the California coast when America is reeling from the attack in Hawaii and bracing for the possibility of another one. Sure enough, a Japanese sub helmed by Mifune (and with Lee on board) has gotten lost, found California by accident and has decided to attack Hollywood. If they can find it.
But there's an American lost too: drunken, clearly insane Belushi flies a jet over canyons, to dusty gas stations, between buildings. When he does land he happens to meet up with a general just as crazy as him played by Warren Oates. The story is credited to John Milius – maybe he wanted to top Colonel Kurtz by having two of him.
Today 1941 almost plays like a parody sequel to PEARL HARBOR. It's about the same length and has a similar structure: young soldiers and the women who love them try to hook up and go to dances and shit, meanwhile a Japanese attack is imminent, racial tensions rise, and everybody checks in for a scrappy attempted defense against an attack involving excellent dogfight special effects. But while PEARL HARBOR has a weirdly goofy tone for a while it does try to get serious, something 1941 never even comes close to.
Both John Wayne and Charlton Heston turned down roles in the movie, and Wayne tried to convince Spielberg that it was offensive to make a joke out of this. He had a point. I mean, DR. STRANGELOVE is an obvious influence, and that's about as dark of a topic as there is, but it didn't involve an actual historic incident where lots of people died. That made it easier to laugh at, I think.
On the other hand there's something really powerful about taking such a serious moment in American history and portraying everybody as a bunch of goofballs. It reminds us that we can and do take ourselves too seriously and that just because shit is real doesn't mean we're not being idiots. Or that there's not something funny about us. It says that even in our nation's most trying moments we can be doofuses. And it's okay to laugh about it.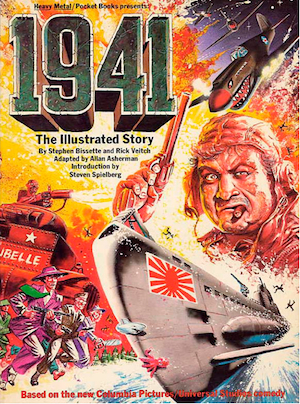 It's hard to even explain the plot, it's a complicated series of events, but along the way many women's garters are exposed, crotches are shoved into faces, a tank drives through a paint factory causing beautiful candy-colored explosions, a Rube Goldberg style chain reaction knocks over everything in a dance hall and wakes up unconscious Treat Williams. There's a general (Stack) who makes several major military decisions based on the fact that he wants to be left alone to watch DUMBO. Karen Allen has an extreme fetish for sex on airplanes. Deezen's ventriloquist dummy can always be counted on to be in a crowd shot having a funny reaction to a speech, or to pop his head out of the water gasping for breath while Deezen is apparently drowning. Aykroyd has a great moment where he tells Beatty that the government has decided to set up a big gun on his property. He can't contain his smile, like he thinks he's telling him he won the lottery. And in fact Beatty is excited about the news! Pickens has quite a battle with the Japanese when he swallows a Cracker Jack compass so it won't help them attack Hollywood, then tries to outsmart them while they wait for him to shit it out. "This has not been honorable," Mifune later says about the whole shitting thing.
One motif I get a kick out of is all the bad dancing in the movie. My favorite is the cook in the diner kitchen prancing around, even cracking eggs to the beat like he thinks he's in a big musical number. Spielberg shoots it like it might be the real thing, but of course it's amateur hour. It's all off and he looks like an idiot.
I have to take a moment to compliment the visual effects on this movie. There's this whole airplane chase between buildings that looks amazing, and doesn't have any of those black outlines you usually see on that type of stuff. I assume they did it sort of like the space battles in STAR WARS, but it wasn't Industrial Light and Magic that did it. It was actually the guys who did effects on TORA TORA TORA and APOCALYPSE NOW. They got an Oscar nomination on this one but honorably lost out to ALIEN.
Also the music by John Williams is very catchy and patriotic-sounding and I'm pretty sure it's what they were trying to imitate with the POLICE ACADEMY theme. So, influential.
I can see how 1941 could be too long or too broad or too too-soon for somebody, but it makes me laugh. Comedies with this level of technical complexity and production value are pretty rare – it really is an epic – so it's impressive when you come across one. I like it.
note: I watched the extended version. I can't compare it to the other one since I haven't seen it, but it sounds like the way to go since the studio made Spielberg cut it shorter than he wanted to and he later went back and added stuff back in before it started playing on television.
This entry was posted on Thursday, January 5th, 2012 at 10:26 am and is filed under
Comedy/Laffs
,
Reviews
. You can follow any responses to this entry through the
RSS 2.0
feed. You can skip to the end and leave a response. Pinging is currently not allowed.