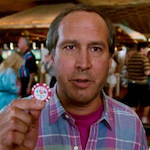 VEGAS VACATION is a standout in the VACATION franchise saga in that it's the only one that doesn't have a NATIONAL LAMPOON'S in the title. I don't know if they sued to get it off of there, like Stephen King did with STEPHEN KING'S THE LAWNMOWER MAN, or if National Lampoon said "VACATION is old hat, we decided to be strictly in the VAN WILDER business now," or if it's just an acknowledgment from Hollywood that by 1997 nobody who didn't go to Harvard in the '70s gave a shit about that magazine or was even totally clear what exactly it was. Whatever the reason, the name wasn't on this one, the brand showed weakness, and before long if I'm not mistaken National Lampoon was forced to change its name to American Pie Presents Magazine.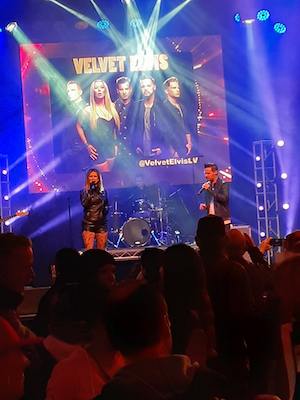 I can't claim to be an aficionado of the VACATION mythos, but after watching NATIONALLY AVAILABLE SPIN-OFF OF THE HARVARD CAMPUS COMEDY MAGAZINE'S EUROPEAN VACATION for the Summer of 1985 series I decided to be a completist and watch the only one about a vacation I've actually taken. I first went to Las Vegas with some friends who, like Clark and Ellen in the movie, went to renew their vows. I honestly have no interest in gambling, but it's interesting to watch for a little bit and then walk around taking in all the people, the art on the slot machines, the crass opulence everywhere, enjoying food and alcoholic slurpies and a zipline and late hours and walking past outdoor stages with '80s cover bands and realizing the unifying power of Bon Jovi. Seriously, I never liked Bon Jovi growing up, but you hear those songs and somehow everyone seems to know them and want to sing along and it's weirdly inspiring.
I can completely understand having an aversion to the place, especially if you don't drink (a little day drinking is part of the fun for me), but I enjoy it there, I find it interesting. So I have a soft spot for Vegas and I like seeing movies filmed at places I've seen in real life. I'm easy that way.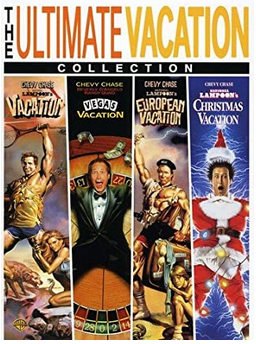 The previous three installments had had two and four years between them. This one was eight years after NATIONAL LAMPOON'S CHRISTMAS VACATION COPYRIGHT 1989 NATIONAL LAMPOON MAGAZINE. So fourteen years after the first film Chase was in his mid-'50s, but his kids were still teenagers. I'm not complaining – that's kind of funny.
As required by the passage of time, as well as franchise tradition, both kids have been recast. Rusty is played by Ethan Embry (CAN'T HARDLY WAIT, DISTURBING BEHAVIOR, VACANCY, THE GUEST, LATE PHASES, THE DEVIL'S CANDY, BLINDSPOTTING) and Audrey is Marisol Nichols (SCREAM 2, FELON). Embry and Nichols both bring a wide-eyed, good-natured vibe that makes them easy to like as they helplessly put up with their doofus dad.
Not that the movie is very funny. Nothing wrong with the idea of moving this comedic formula to this location, but it's got the seen-that-before weakness of all comedy sequels, plus the plummet from Chevy-Chase-between-CADDYSHACK-and-FLETCH to Chevy-Chase's-followup-to-MAN-OF-THE-HOUSE, and from director Harold Ramis to rookie Stephen Kessler. But each of the family members has their own little storyline. Clark, of course, gets hooked on gambling, and loses all his money, which I didn't get much out of, except for the scene where he finds a low rent casinos with games like War and Guess Which Hand?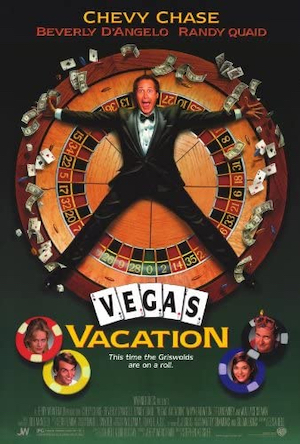 But all the other characters have funnier subplots. Rusty's is about getting a fake ID so he can gamble, accidentally impressing a high roller at a blackjack table (producer Jerry Weintraub in a very authentic portrayal), getting comped a hotel suite and building a secret other life as a super rich party guy. It's a less gross take on the old idea of awkward horny Rusty trying to pull off a too-good-to-be-true scenario while away from home.
Audrey has a fun time because after the family visits with cousin Eddie (Randy Quaid after a run of INDEPENDENCE DAY, KINGPIN and GET ON THE BUS) and Cousin Catherine (Miriam Flynn, Maa from BABE) on their HILLS HAVE EYES style desert property she hangs out with their daughter Cousin Vicki (recast as Shae D'lyn, CAN YOU EVER FORGIVE ME?) and her Vegas performer friends. There's a very 1997 moment when we see that Vicki has a Barenaked Ladies poster in her room – both a reference for the pop culture time capsule and (I think) a joke about her being a stripper. Ironically when we see her at work there are no barenaked ladies – you only know the dancers symbolize strippers because they're in cages or on poles.
Sure enough, this is not even PG-13, but PG. Other PG rated movies of 1997 include MY BEST FRIEND'S WEDDING, CONTACT, EVITA, GEORGE OF THE JUNGLE, FLUBBER, JUNGLE 2 JUNGLE, MOUSE HUNT, AIR BUD, HOME ALONE III and GOOD BURGER.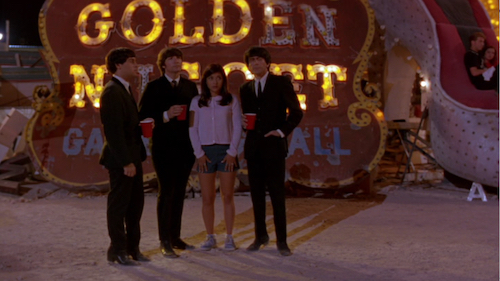 Anyway, Audrey gets to hang out with Vicki and some Beatles impersonators at the Neon Sign Museum. That would be an amazing spot for a party, even if you didn't get to climb up the signs like they do. I knew it from MARS ATTACKS!, and it's in some other movies. They usually make it seem like it's a public place you can run through while escaping from an alien attack, but in reality you pay admission to walk through the "boneyard," a little loop where all kinds of vintage Vegas signs are piled up. It's pretty cool. And when I was there in January they had a temporary exhibit called Lost Vegas, which had Tim Burton-designed sculptures peppered through the regular collection.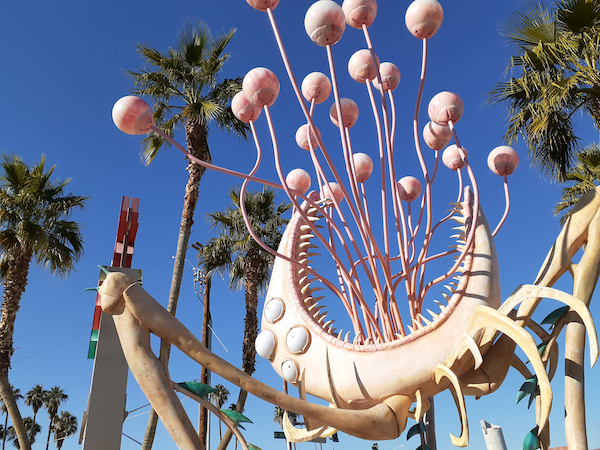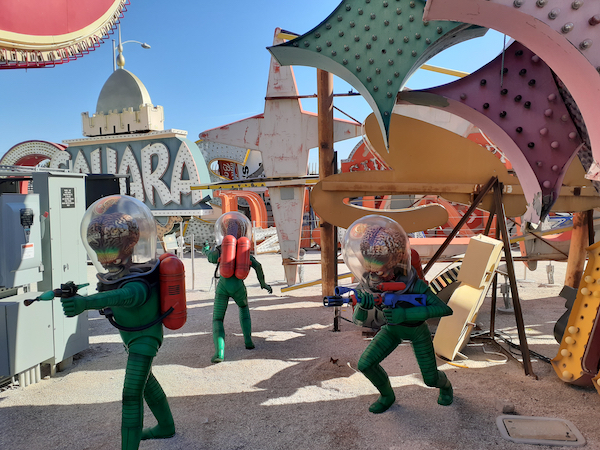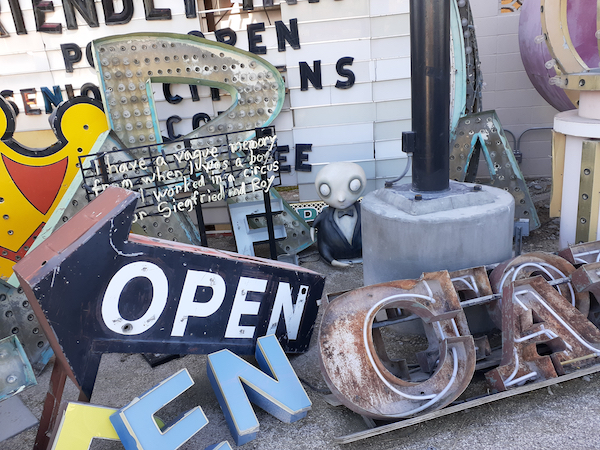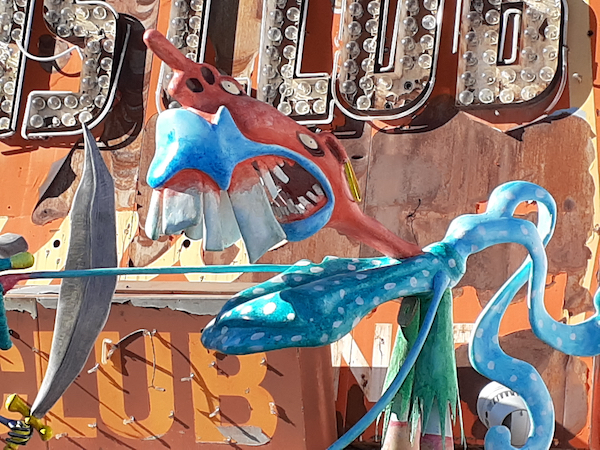 The stuff with Vicki hits on something I find interesting: there are people who live in Vegas! I'm so interested in what the locals are like. You'd think the tourism would be annoying, but you must have to make peace with it. In some places you can spot a burgeoning scene of young musicians and artists. Not just sword swallowers, but, like, singer-songwriters and stuff. It's gotta be so different than in any other city, though.
The VEGAS VACATION subplot that I found genuinely pretty funny is Ellen's – she's spotted in a casino by iconic Las Vegas entertainer Wayne Newton (played by iconic Las Vegas entertainer Wayne Newton, BEST OF THE BEST 2), and Clark is too oblivious to notice what's going on at first. Ellen is delivered a fancy dress and free front row tickets to a show, and Mr. Newton brings her up on stage to sing Minnie Riperton's "Loving You" with him. As Clark is assuring himself this is his shtick for every show, a woman in a Wayne Newton t-shirt leans in and says, "You're lucky. I've been to every Wayne show for the last 15 years. I've never seen him do anything like this."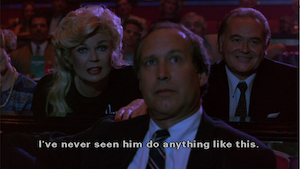 They also go to a Sigfried & Roy show, of course. If it was now it would be Celine Dion or Cirque du Soleil or Blue Man Group, I guess. I'm too cheap to experience that part of Vegas. The only celebrity I've seen there was when we were walking through the endless promenade and a guy tried to direct us to his sports collectibles shop. "Pete's signing right now!" We look over and make eye contact with Pete Rose sitting alone at a table waiting for someone to want his autograph. All I could think was man, Pete Rose should not be here!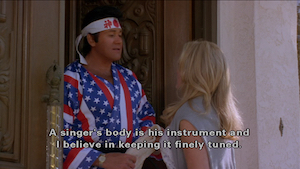 From what I've observed, casino workers have to be very friendly, so the joke that blackjack dealer Wallace Shawn (THE METEOR MAN, CLUELESS) constantly taunts and insults Clark doesn't ring true. Maybe that's part of the joke. Or maybe it's different over there on the Strip. My friends prefer to gamble downtown – the older, less fancy part – so we stay at the Golden Nugget, which Clark and Cousin Eddie walk past in the one scene in that part of town.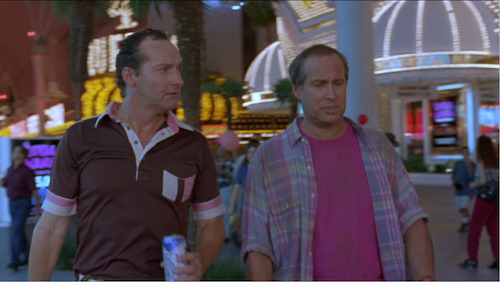 Some bright spots come from familiar faces in bit parts. Julia Sweeney (PULP FICTION) has a scene as a hotel desk clerk at the Mirage, and I got an "it's true" chuckle from her ridiculously complicated directions to their room. (I never realized until I'd been there just what endless labyrinths the casinos are.) Wendy Kaufman, a.k.a. The Snapple Lady, appears briefly as a blackjack dealer. I didn't catch a specific joke about "hey, this is a lady you know from commercials," but she had done them for a few years then so I assume we're supposed to know her. And I thought a paramedic was Eric from Head of the Class, but it turned out it was Billy Morrissette, the bleach blond punk dude from PUMP UP THE VOLUME. He comes in after a pretty funny appearance by Sid Caesar.
The Griswolds also mix it up and go to the Hoover Dam where there is 1) a joke about the tour guide repeatedly saying "dam" in contexts where it sounds like "damn," ha ha, and 2) some compositing of Clark swinging on a wire in front of the dam that's so crude it almost looks like cutout animation.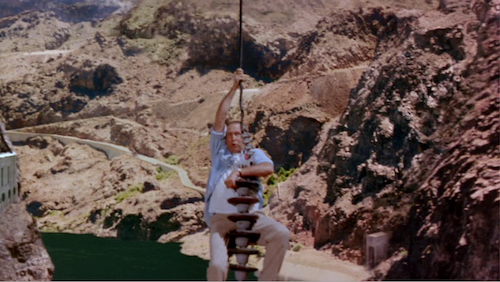 The part where he tries to plug a leak with gum is kind of funny though. I laughed a little at that.
Releasing this sort of proved that things had changed in the world of comedy, and this was Chase's last starring role in a movie with a real theatrical release. Director Kessler only did one other narrative feature – something called THE INDEPENDENT starring Jerry Stiller. But he did do a 2011 documentary that I saw in the Seattle International Film Festival and enjoyed (and thought I reviewed, but I can't find it) called PAUL WILLIAMS: STILL ALIVE. It's one of those "why is the director putting himself in this so much?" situations but ultimately turns into a moving story about Williams' recovery, and his relationship with Kessler and the documentary is pretty central to it.
Writer Elisa Bell went on to write BEHIND THE CAMERA: THE UNAUTHORIZED STORY OF 'THREE'S COMPANY' and that Brittany Murphy movie LITTLE BLACK BOOK. Bob Ducsay, who got the "story by" credit, is otherwise not known as a writer, but he had already been working as an editor on Stephen Sommers' early movies CATCH ME IF YOU CAN, THE ADVENTURES OF HUCK FINN and THE JUNGLE BOOK. That led to doing the director's big movies like THE MUMMY, VAN HELSING and GI JOE: THE RISE OF COBRA, which must've got him the gig on LOOPER, and that led to THE LAST JEDI and KNIVES OUT – wow! I guess he's the one who came out of VEGAS VACATION with the biggest winnings.
(Do you like that last part, it's like a metaphor type of writing that I did for professionalism.)
In summary, VEGAS VACATION is about as not-good as everybody said, an actual Vegas vacation can be fun, but don't go during a pandemic that's fuckin crazy I don't care if they have hand sanitizer. Stay safe, everybody!
This entry was posted on Thursday, September 17th, 2020 at 10:38 am and is filed under
Comedy/Laffs
,
Reviews
. You can follow any responses to this entry through the
RSS 2.0
feed. You can skip to the end and leave a response. Pinging is currently not allowed.